Quirky fashion must be having a moment. But basic fashion trends can never get outmoded. That 'jeans and t-shirt' kind of fashion simply ceases to go by the wayside.
In such a scenario, you can always keep your style statement intact without really trying too hard or looking over the top. If basic winter fashion still feels difficult, then we have some basic winter outfit ideas to copy right now. Here are some Elegant Minimalist Fashion Style Ideas For Women you can try out. Have a look-
Basic Winter Outfit Ideas To Copy Right Now
A chunky sweater teamed with jeans
Out of all the basic winter outfit ideas to copy right now, this one is probably the most amazing. With a chunky sweater and a pair of jeans, you can never look boring. Although you will see half of the world donning this outfit, you will never be bored of it. And that is why this outfit figures high in our list of basic winter outfits. If you really want to play with the look, just go for a quirky sweater design. Although plain designs are no foe, you will dazzle more in a sweater that probably has hearts all over it. Also take a look on Ways to Wear A Scarf This Winter.
Longline sweaters with boots
When it comes to basic winter outfit ideas to copy right now, you simply can't forget to mention longline sweaters. They are a winter must-have for sure. Your longline sweater will help you get through days when you really can't decide what to wear. They are a no-fuss clothing item and are really easy to style. All you need to do to get the best out of your sweater is to team it up with a pair of sexy knee-high boots. With a bun tied high up on the head and a pair of round shades, you are all set to set the streets on fire.
Jackets and scarves
Sweaters are fun, no doubt. But some people simply can't get over the fact that they are so basic. If you want to look fun, wearing something other than sweaters, then go for a jacket. It really doesn't matter which jacket variety you opt for, all that matters is how well you pair it up with a scarf.
Leather pants are too cool to ignore
When it comes to basic outfits, a lot of people might not like to include leather pants in the list. But leather pants are an absolutely no-fuss clothing item. And guess what, they look absolutely amazing. With shirts or crop tops, they can make you look like a million bucks. One added benefit is that they protect you from the chilling winter cold. Also, here you will find some of the most Practical Fashion Ideas for Skinny Women. Check out-
An ankle-length dress with boots
Long dresses are probably everyone's favorite. And guess what, they don't make you look over the top. Besides making you feel like a diva, they keep you protected from the cold. To make your dress look extra stunning, just pair it up with a pair of ankle length boots. Basic yet marvelous!
An all-white outfit with a camel coat
Do you love white? Well, your love for white is understandable- it looks pure and divine! But an all-white outfit gets hundred times more glamorous on being teamed with a camel coat. Try out before you judge!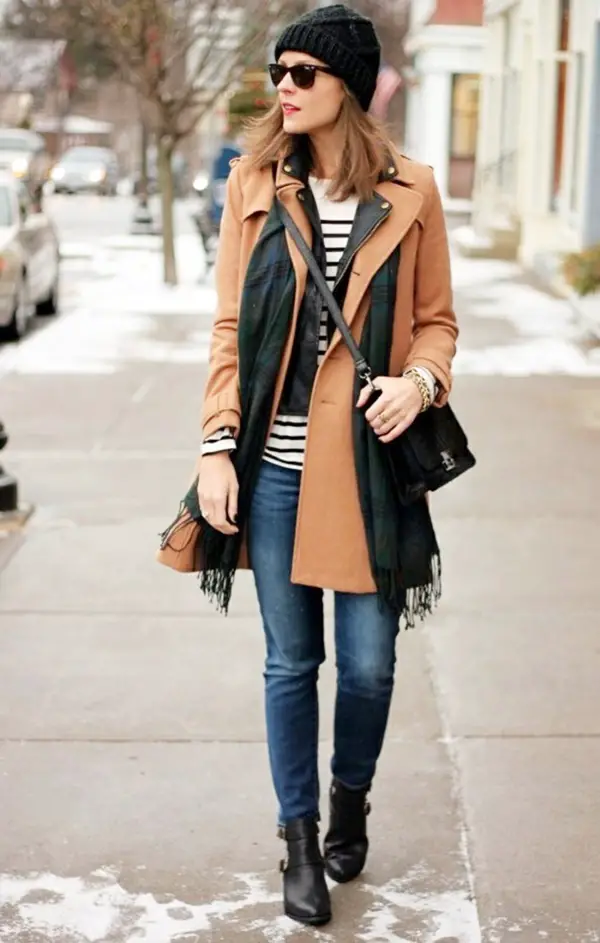 Image Source
There shouldn't be a single moment when you are required to live off fashion. Even when you are dressed in basic clothes, you should be looking like a glam diva. But is it possible to look fashionable in basic clothing? Above you found some basic winter outfit ideas to copyright now which testify that winter clothing doesn't always need to be boring, no matter how basic they are! Also, check out these Ways to wear Camel Coat this Fall / Winter and slay with your layered outfits-