Are you in the phase of creative block and do not know what to paint next? Worry not, we have come up with around the top 10 acrylic paint ideas for you. All you have to do is, be excited about this creative journey. Stuck at one place and not knowing the next step is really irritating. Sometimes to get inspired you have to look at other's work. Be ready, stock your supplies, wash your brushes, and get started!
Here are 10 acrylic painting ideas for you to get inspired!
1.     Get Started
Anyone who is good at acrylic can paint such a painting. It is neat, clean, and precise. You to be patient and detail-oriented to paint something like this. In this painting, all the borders are sharp and bold. Choosing a subject when you are facing creative's block can be difficult. But you can draw any object by keeping in mind this technique. This simple painting is a combination of very few colors. There is no mixing-up of complex combinations but the painting can easily capture anyone's attention. Its systematic approach makes it more valuable.
Try to paint with rules at first, decide which colors you are going to use, be flexible, and imagine the object in your mind. This idea will help you to get started.
2. Make it colorful!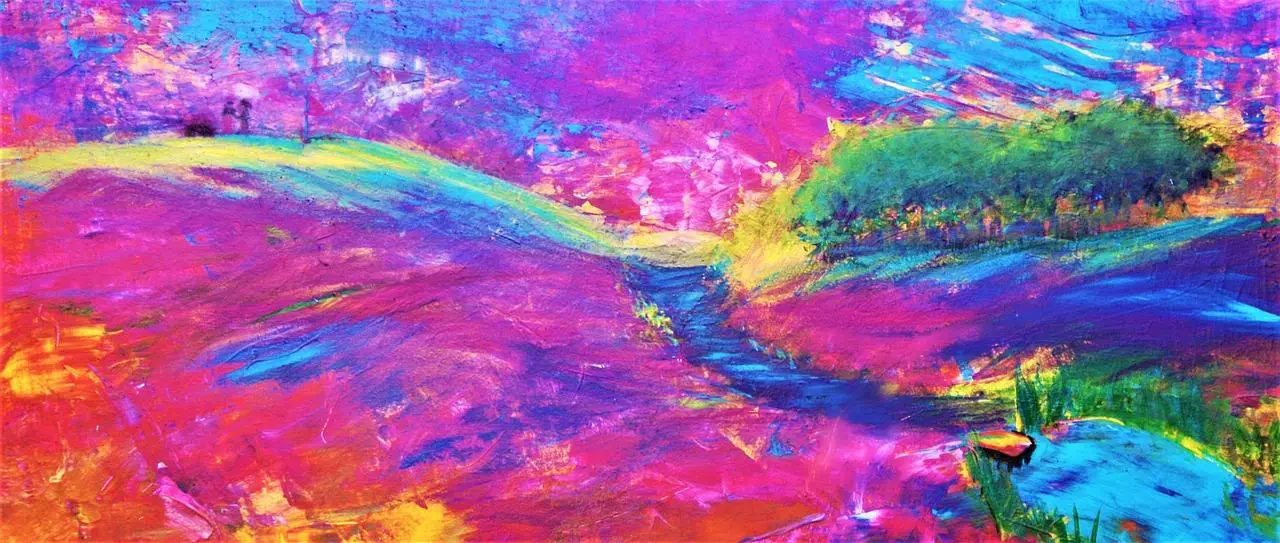 Adding colors to your imagination is always a creative idea. Why don't you create anything and decorate it with a good combination of colors? After all, acrylic paintings are all about flowing colors without any boundaries. You can get a white canvas and start adding colors to it. Make it colorful and vibrant. Decide which colors you are going to add, select one series of colors. Do not think much about an idea or concept, just get started. It will end up being a beautiful acrylic painting. It is not as difficult as you think. Once you surround yourself with acrylic colors, brushes, and canvas, you are all set to go.
The above painting has natural scenery painted using many colors at times. The sky, river, trees, and the ground everything is painted by using vividly bright colors.
3. Live the moment!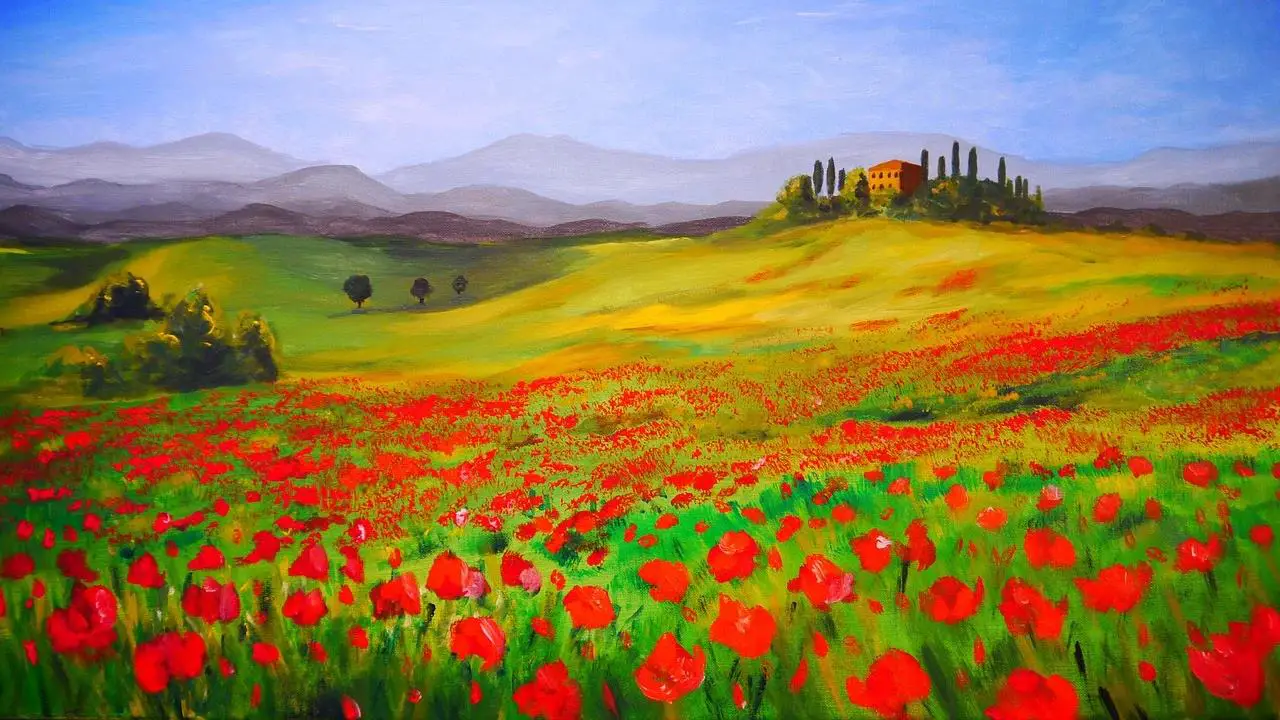 This beautiful scenery is a creation of acrylic paints, can you believe that? You have to believe it because acrylic paints can do miracles on canvas. Even you can try this idea. See the shades of sky and mountains in this painting. The painter has used all the possible shades to make this painting more lively. The red flowers are blooming with their own grace. This painting is soothing scenery. You may get lost in its beauty and simplicity. Observe the scenery well and paint something like this. You can do it!
The painting seems a basic one. But if you see the detailing and how the painter has used his or her observe will be overwhelmed by this artwork. The painting has many detailing which you can use in your acrylic painting, specially the one which allows your eyes to zoom out the painting.
4. Look at those eyes!
The above-given painting is too much for the beginner but if you are a skilled painter then this may arise your creativity level. The face in this painting is painted in many colors like a natural one. Every one of us has slightly different shades on cheeks, neck, forehead, and nose. The painter has done wonderful work. Especially, the eyes are speaking a thousand words in this painting. You can try out painting a human face and adding different shades to it. Make the painting alive. Do the hard work and let your painting speak for you. The painting may not be perfect or may not give the outputs you are expecting. But, it doesn't mean you must never try. Sometimes an idle mind can give you most attractive idea. Try your brushes on the canvas and let the creative forces work for you.
5. Paint nature!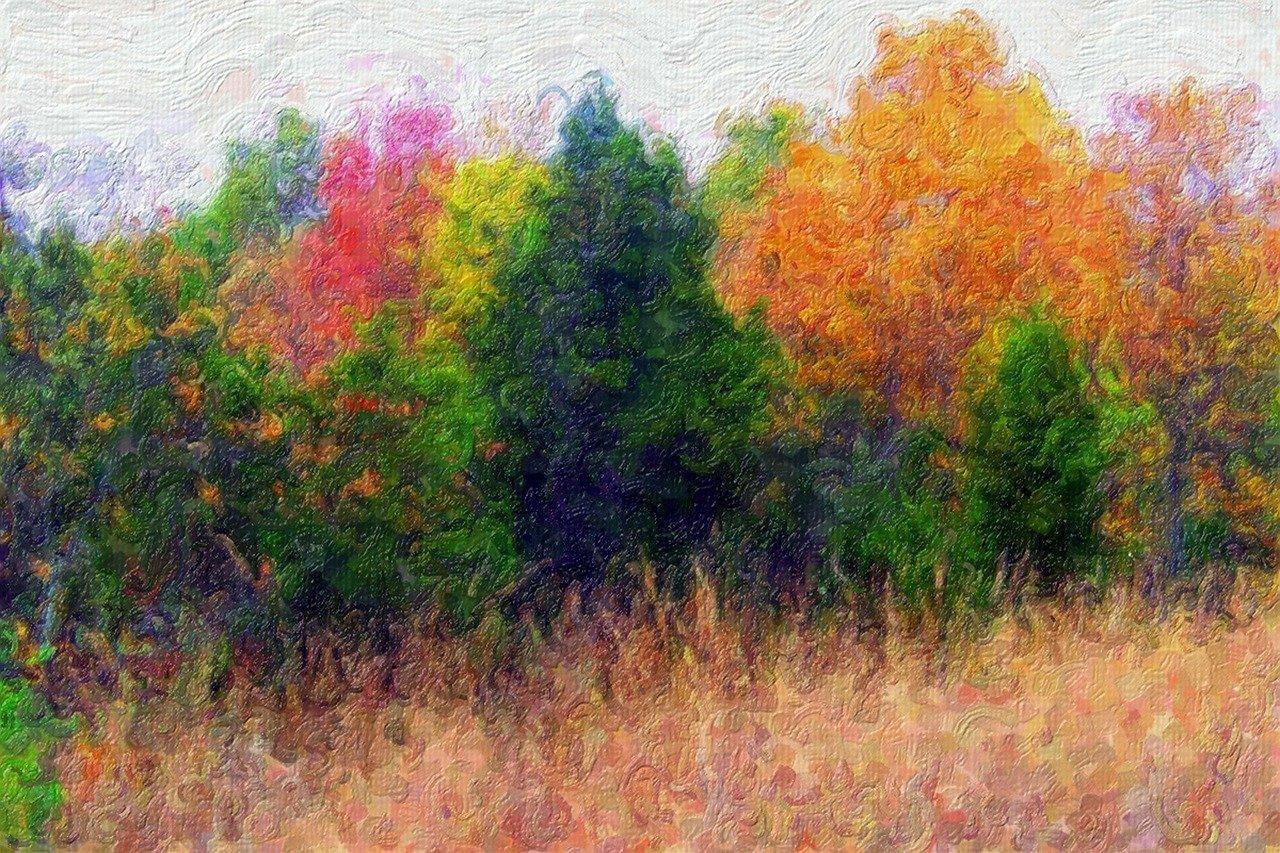 Look at this painting, do you also feel, the painter has used some different technique to create those invisible waves? The artist behind this beautiful artwork has painted a canvas with an idea by mixing up many colors. And then he or she has used a different and similar stroke to every element of the painting. All the trees are colored with a different shade. Even the grass is not in usual green, it has a unique touch of creativity. The sky is limited and hardly has any variation of shades. There are no borders as such. Every element is merged in another, and yet they stand apart from each other.
6. Express yourself!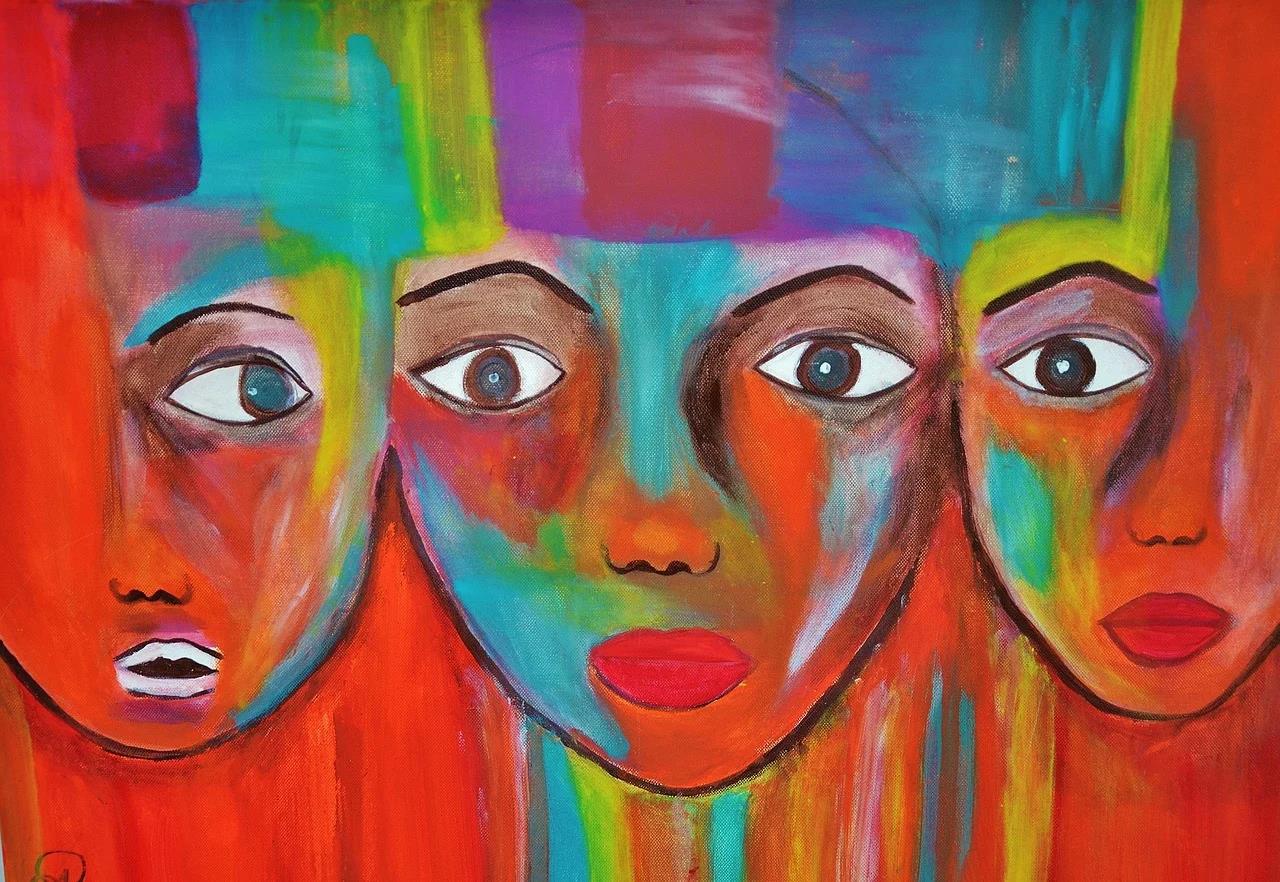 The eyes in this painting are expressing the hidden emotions of the painter. It is denoting fear and helplessness. You can also paint something that can express your emotions. It need not be sad or depressing. You can express joy, love, and happiness too. Paint a happy face with a smile or a butterfly with vibrant colors and so on. This painting is an idea of how you can express yourself through your painting. Even the painting is divided into parts, you can use this technique too. There are three similar faces in this painting and yet every face is telling a different story. The diversity of human emotions can be traced in such paintings.
7. Paint what you see!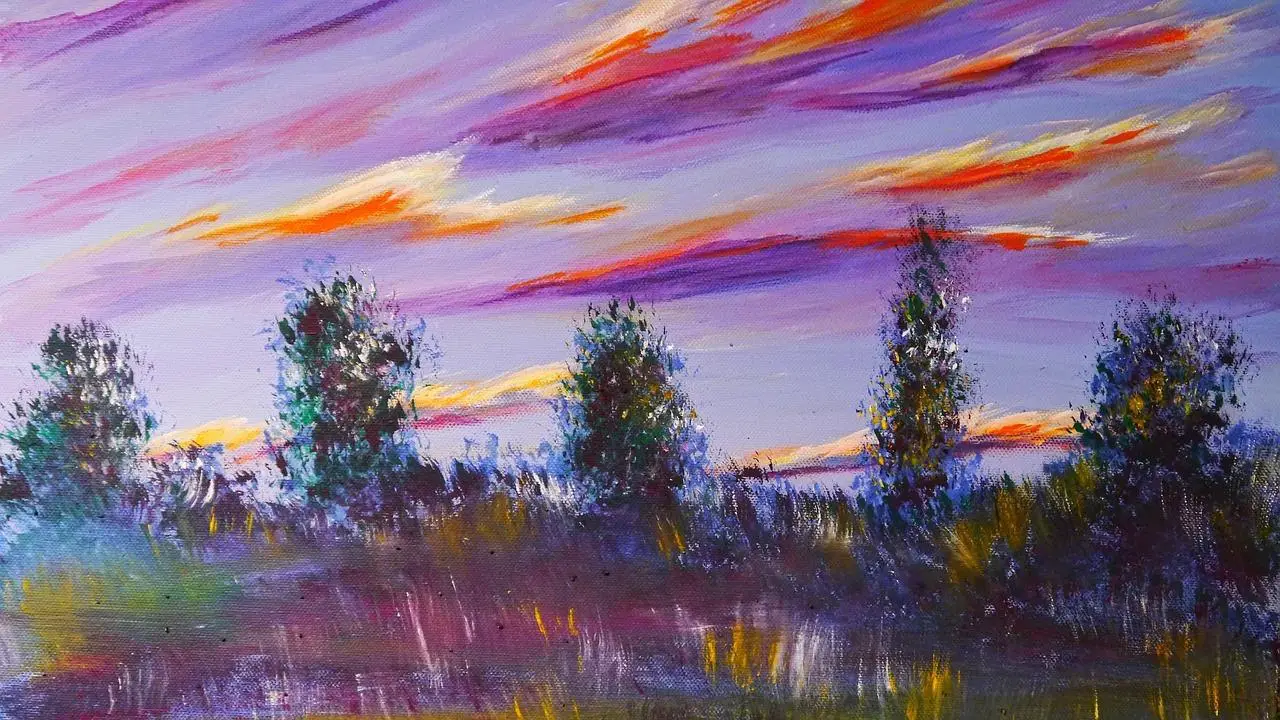 Sometimes inspiration is before our eyes, but we do not think of it as an inspiration. To get inspired, you can always carry one small paperback blank book and a pencil with you. No matter where you are, inspiration or idea can always meet you. It can be a garden, in the supermarket or outside your window. Every inspiration is waiting for you to draw and paint it. It is waiting to be on your canvas. All you have to do is keep your creative eye open all the time.
The above painting is a subtle scenery of an evening. The shades of sky are vividly at odds yet it is meaningful.
8. Be absurd!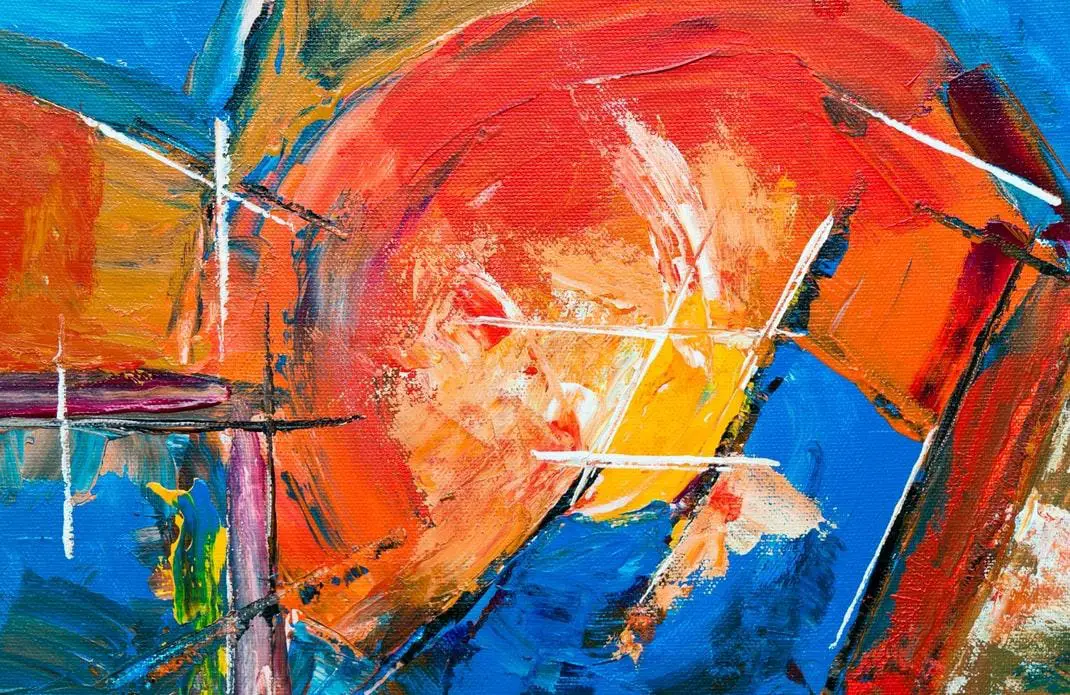 You do not need to be sensible all the time. Sometimes all you have to do is let your creative flows to float on the canvas. The absurd is an art very few dares to apply to their works. Be one of them, especially when you are running out of ideas. Absurd have their own meanings. These types of paintings show the inverted side of the real world. It forces others to look at life in a different way. Abusrdism is a style and not mere foolishness. It has many elements unknown to many. Even the artists have to put their lives to understand the depth of an absurd painting. Be it any way, paint what you think. Give colors to your vivid imaginations.
9. Simplicity is the best at times!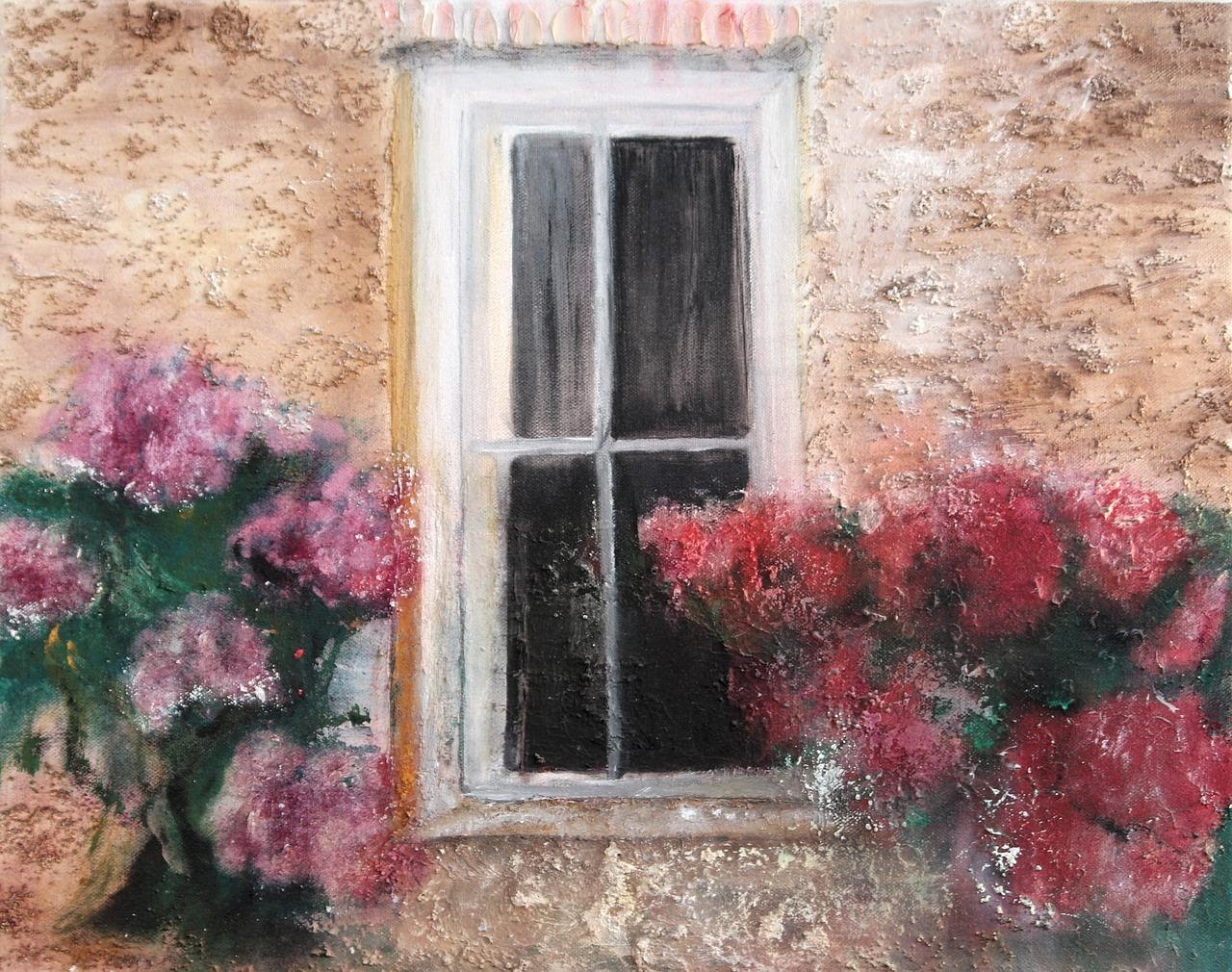 When you try everything but nothing good comes out, try to paint the simplest things. These simple objects can be a window painted in this above-given painting. It can also be your kitchen table, a door, a bicycle, and anything else which captures your attention. Even when your mind is empty and you are running out of ideas, sit with your canvas and colors and start painting any object in your surrounding. It will help you to get rid of your creative block. It may turn out to be your best painting so far.
While talking about the above painting, all the colors are subtle yet the painting is more appealing. All the used shades are merging in each other with harmony.
10. Surf with your creativity!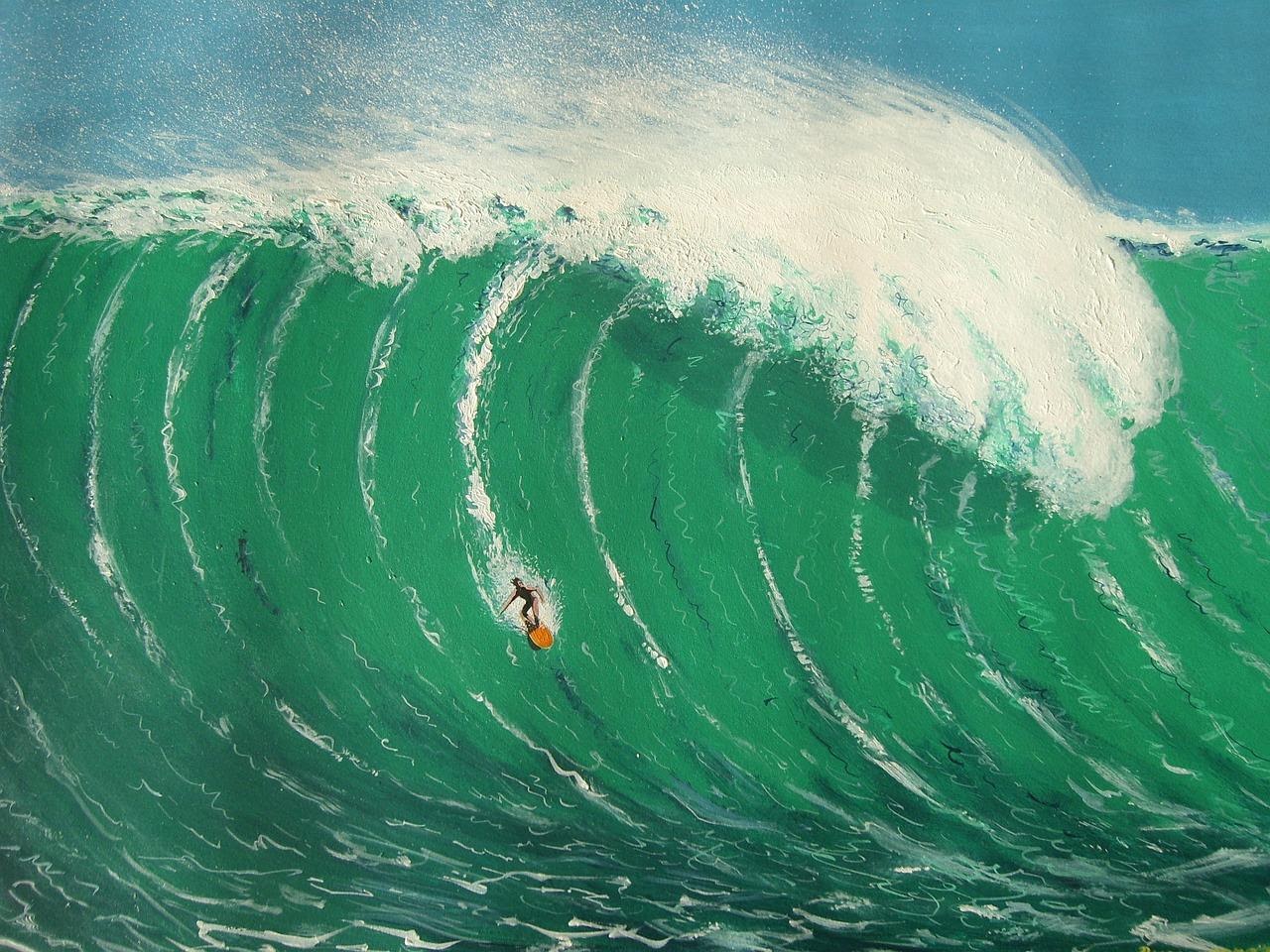 As in this painting, the painter has painted the scenery at the beach. A human is surfing at the sea. Give a close look at those waves, it feels like the real one. This is the magic of painters, they make the art relatable to the extent that we feel the reality is mere fiction. The painter must have given a lot of hard work and sleepless nights to reach this much perfection in his or her work. The detailing and noticing even the minor object is seen in this painting. If you want to paint something like this, you have to be that cautious too.
You don't need to be always serious to carry out the art within you. Sometimes, all you have to do is, let the creative flow do the magic. Here we have given the 10 acrylic paintings ideas for people who want to try acrylic paintings. Not all the above paintings can be painted by a beginner or an amateur but a skilled painter stuck with a creative block can give it a try. Acrylic paintings are fun. They have depth but if you want to hush off your creative block, you must take it as a fun activity. Let your mind and hands do the rest.