Christmas is at your door knocking. And you sure don't want to welcome it dressed ordinarily. It is definitely the biggest festival we celebrate. And there is simply no reason why one shouldn't put in efforts to look great. Although there are many things you can wear, your choices get a little more varied when you are a teenager.
Yes, it's good news, but it's bad too. With myriad choices at hand, you are certain to feel confused as to which option to zero in on for Christmas. To make choosing easy, we have a few cute Christmas outfit ideas for teens out here. Also, here is a list of cute winter outfits for teens. Just choose whichever impresses you most and dazzle on the special day of Christmas-
Cute Christmas Outfit Ideas For Teens
That sexy red overcoat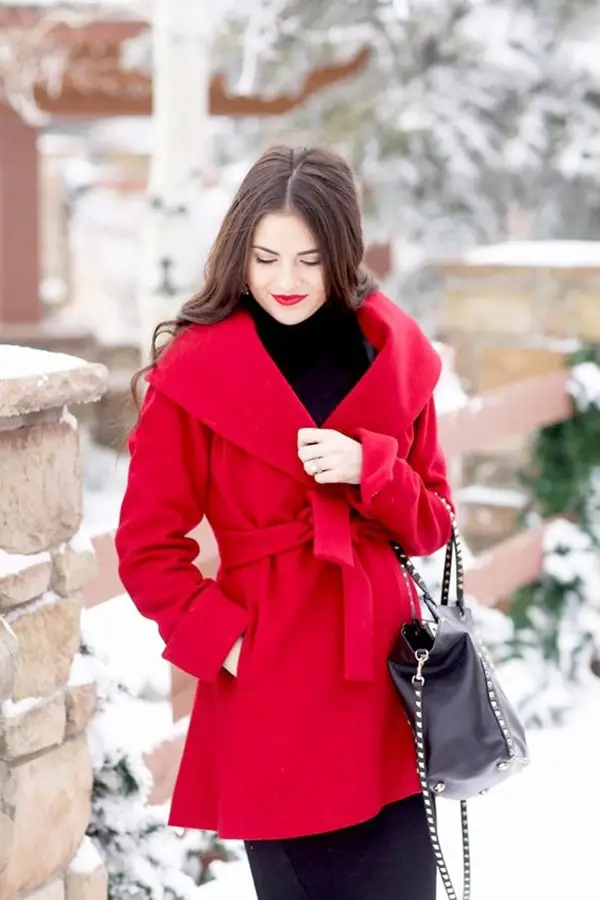 Image Source
When it comes to cute Christmas outfit ideas for teens, nothing can beat the charm of a sexy red overcoat. If you are thinking of heading out somewhere to celebrate, you will definitely need that extra dose of warmth on your body. That, you can achieve with an overcoat. The reason why a red overcoat is what we suggest is that it is Christmas, first. And secondly, it is the winter season.
A sequined dress
Although there are many cute Christmas outfit ideas for teens, you can't overemphasize the importance of a sequined dress. Sequins carry that party feels you can't overlook. Whether you are at home and your friends and relatives are coming over or you are thinking to go out and celebrate, a sequined dress will help you fit into all occasions. When in a sequined dress, keep your accessories at the minimum.
Little red sweater dress
Little red dresses and celebrations have a deep connection. But sadly, when it's a winter celebration, you can't slip into any random little red dress, you must wear the sweeter variety. It will not just keep you looking hot but also feeling hot. Complete the look with a lovely pair of knee-high boots. With a beanie and a belt around your waist, you can look like a million bucks.
Red midi skirts
Midi skirts have a solemn feel to them. And that is probably the reason people wear them to the office too. Thankfully, this solemn feel associated with midi skirts makes them an appropriate clothing item to be worn on Christmas. If you want your skirt to ooze out that celebrate Christmas feel, just wears it in red. Red midi skirts are just lovely and with white lace tops, they make you look as gorgeous as you could get. If you fail to style it appropriately, you reap only partial benefits. So, check out these Ways to wear Camel Coat this Fall / Winter and slay with your layered outfits
Red and white plaid scarves
If you haven't bought anything special to wear on Christmas and you want to keep yourself looking simple and beautiful, then just pep up your look with a plaid scarf. Plaid scarves are too trendy. Besides, in red and white, they look stunning when worn on Christmas.
Jeans, white shirt and jacket
If you are staying home during Christmas, you will probably choose comfort over style. And if you will, then here is a winning combo for you- a pair of jeans, a white shirt and a jacket. If you are a teen, the opportunities you have at hand are more varied than anyone else. Here are some of the most amazing and Cute Winter Outfit Ideas For Teens 2018.
A pair of jeans and a chunky sweater with a beanie on the head
Now, this is a kind of outfit that will make you feel festive and chick at the same time! If you want your sweater to look themed, you can choose one with reindeer or heart patterns. No, it's not going to make you look cheesy, it's going to make you look youthful.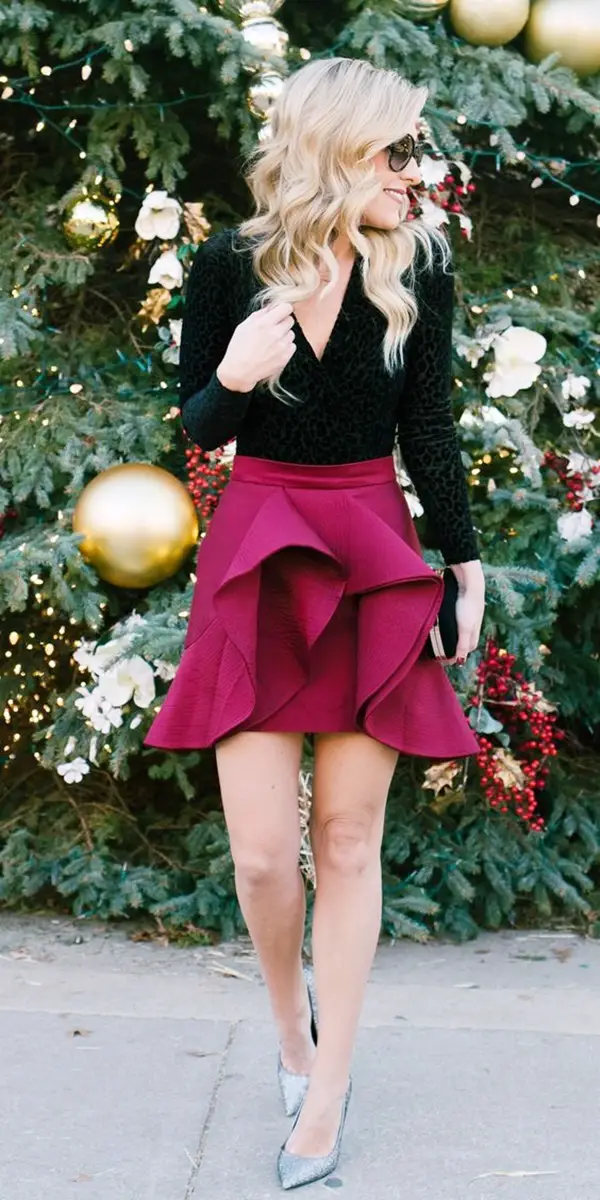 Image Source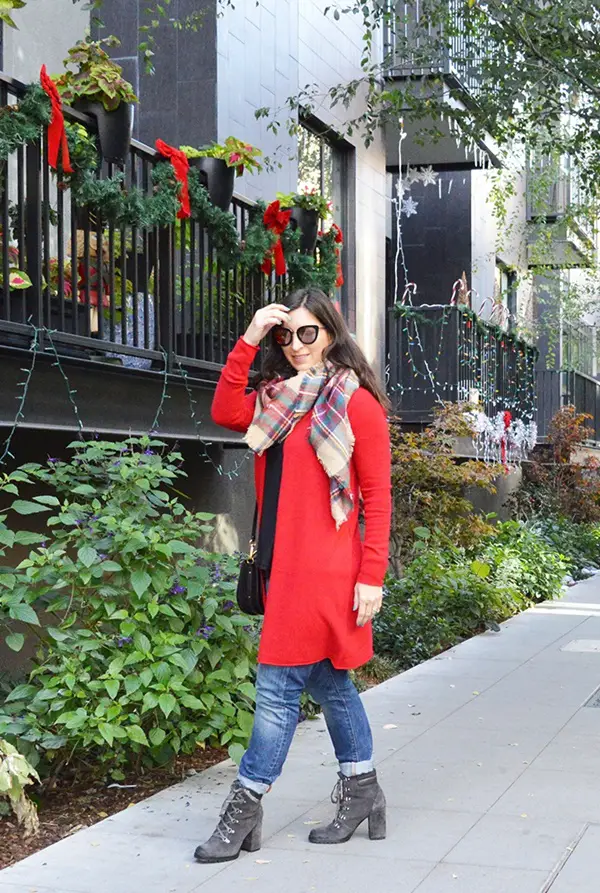 Image Source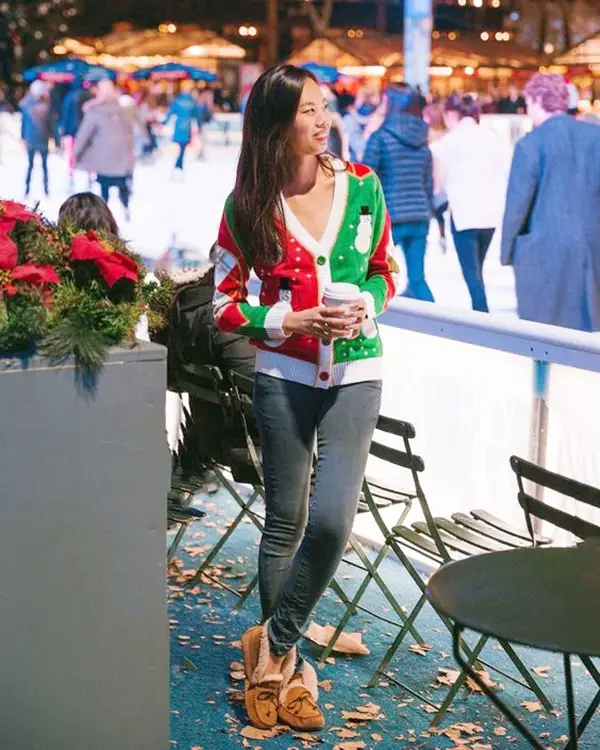 Image Source
The above cute Christmas outfit ideas for teens are special for another reason- they can be worn without apprehensions. They are not too gaudy. And they won't make you look like you are ready to attend some wedding. It is this balance of glamour and simplicity that makes these outfits extra special. Here, we have some of exclusive Christmas party outfit ideas, you can also check these ideas.