Yes, we know you don't need another outer outfit like a blazer or a coat to wear this fall/ winter. But according to fashion experts, your fall wardrobe is going to lag behind if it is not going to say 'yes' to a camel coat. Now, what a camel coat is?

It's a coat made of either pure camel fur or fur mixed with some fiber. It offers great warmth along with style. But if you fail to style it appropriately, you reap only partial benefits. Also Here are some of the most amazing and Cute Winter Outfit Ideas For Teens 2018. So, check out these Ways to wear Camel Coat this Fall / Winter and slay with your layered outfits-
Ways to wear Camel Coat this Fall / Winter
Team your camel coat with horizontal stripes
There are many Ways to wear Camel Coat this Fall / Winter, but the beauty grows hundredfold when the coat is teamed with a striped outfit. It could be anything starting from a top to a dress.
Go all black with a camel coat
Out of all the Ways to wear Camel Coat this Fall / Winter, this one is quite in rage. For this, you need to get into an all-black outfit, and then throw a camel coat over it. The caramel hue of the coat goes incredibly well with the all-black outfit.
With a denim on denim outfit
The denim on denim outfit is quite in demand these days. Starting from men to women, everyone seems to be falling for this style. And guess what, with a camel coat, you get a winning combo!
Jazz up those leather pants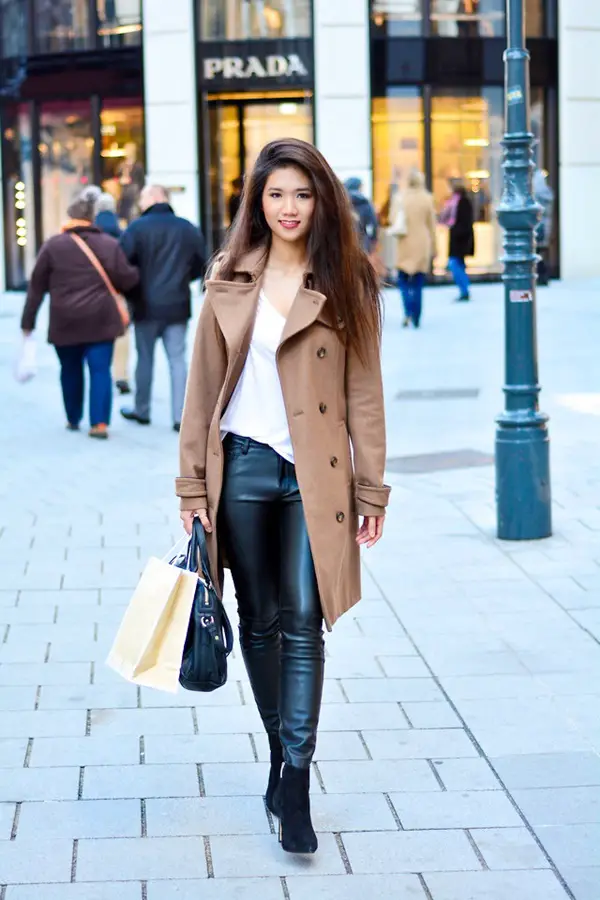 Image Source
If you wish to look smoking hot this fall, just slip into a pair of leather pants. The impact grows significantly when the pants are paired with a camel coat. Camel coats kind of balance the sensuous feel that a pair of leather pants oozes out.
Team your camel coat up with a crop top and a pair of jeans
If you are a teenager or a young adult, you probably swear by crop tops and jeans. Well, crop tops are cool, but they can make you feel uncomfortable when a mild breeze intensifies the chills of a winter evening. To protect yourself from such spine-chilling cold, you need a camel coat, which also offers you some added fashion benefits.
Camel coat with checks
Whether it is a checked shirt, a top, a dress or a skirt, if you want to make it look more fashionable, just team it up with a camel coat. Camel coats and checks go extremely well together, so much so that they look like parts of the same dress.
Camel coats with turtlenecks
When it comes to a cold weather, you need outfits that cover you well. And no, too much clothing is not boring. Think turtlenecks! Aren't they the sexiest winter time clothing item for both men and women? Well, why not! Pair them up with camel coats for a killer overall look. Also take a look at cute fall winter fashion outfits for teens.
Pair these coats with skirts
Just imagine slipping into a sexy skirt, teaming up with a pair of leggings or jeggings or stocking and a pair of boots. You get a flawless winter look. Also you can take some idea for your daily lifestyle from cute everyday style outfits for women. Can you grow its beauty? Of course, you can! Just add that much-needed spark of a camel coat to the outfit.
Camel coats are a fashion must-have. They are sexy, stylish and of course warm enough to comfort you on any cold fall/ winter day. Also we have collected some of the best Elegant Winter Work Outfit Ideas and Acrylic nail art designs that can help you to dazzle at the work. So, why wait? follow the above Ways to wear Camel Coat this Fall / Winter, and make your style stand out.