Are you looking for different ways on how can you pull off a classic sneaker look? Have you ever thought of trying sneakers with your favorite office attire? If not, then you must take a close look at these 7 outstanding informal work outfit ideas with sneakers. Trust us! You will forget heels and stilettos once you try on sneakers.

Well, there are several types of sneakers available out in the market and choosing the right one for you and your outfit is extremely important. So, we are here to save you from the torment of wearing usual formal office attire and foot cracking heels at work by showcasing these great ideas. After all, who doesn't need the comfort of easy footwear for the whole day at the office? If you're searching for an appropriate work outfit that's both stylish and comfortable, then we suggest you take a closer look at some of the best modern office and work outfits ideas for women mentioned here.
Informal Work Outfits With Sneakers
Blazer with Knee-Length Skirt!
This one is little trickier to master, but you must give it a try! As per the fashion requirement, in order to pair sneakers with blazer and skirt at work, the skirt needs to be at least knee length. To achieve a more casual look, you can opt for crop blazer and match it with a skinny knee-length skirt. Choose lighter shades such as white and baby pink to look elegant while working.
Sneakers with Ripped Jeans!
To add vibration to your informal business look during hot summer days, ripped jeans with sneakers is the best combo and every girl loves to wear them together with a loose tank top.  Try to go for sneakers in black and white color. This combo will prove to be the most powerful informal work outfit with sneakers.
Sneakers with Jeans!
Adding glam factor to your informal work attire is a nice way to get noticed, right? For girls who are crazy to achieve a funky look, sneakers are the best option for you. Nowadays, lots of sneakers are there in the markets that have cool and funky patterns on them. So, choose the one that suits you best and pair them with jeans shorts and a sleeveless tank top.
Leggings with Colorful Sneakers!
Are you going out for jogging or planning to hit the gym? Then, this outfit will be the finest choice for you. Without any second thought, pair your favorite blue leggings with light colored sneakers to let others know that sneakers can easily be paired with dresses. For example – you can wear a tribal print dress with sneakers for outings with friends. If you don't have this skill, don't worry! Get here some of the coolest Ways to Wear Sneakers with Work Outfits.
Pair Sneakers with Fitted Trousers!
Gals, if you're like me and always want to look perfect professionally, the easiest way is to pair your sneakers with clean, crisp trousers as cutest informal work outfit idea with sneakers. Make sure your trousers fit well and don't give that weird baggy look or look like super tight leggings.
Sneakers with Black Outfit!
Contrasting colors are quite unusual to see and add a fun factor to the overall appearance of the wearer. Such as – you can opt for a total black outfit including black top and black jacket. For the contrasting part, wear funky pink sneakers to give your outfit a whole new look. Also, here are some Perfect Office Outfits To Update Your Wardrobe with.
Tights with Black and White Sneakers!
This outfit hits a new level of fashion. All you have to do is wear silver colored tights full of sequins with dark blacktop. To complete the look, wear classic black and white sneaker for instant glam.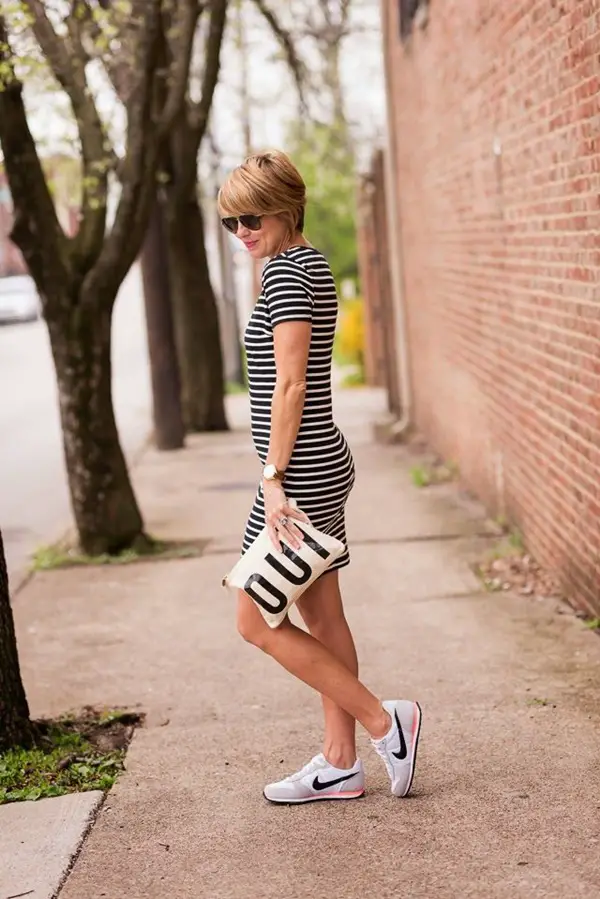 Image Source
At last, it's correct to mention here that with the changing pace of time, wide choices of informal work outfit with sneakers are available to suit working women fashion needs. So, pretty ladies! Don't miss the golden opportunity of buying something unique with a comfortable pair of sneakers which makes you feel happy at work and long official meetings. You can also, try out these Casual Work Outfit Ideas To Be Non-Boring, and rock your office look–