Pretty Ladies! We understand that figuring out a different outfit for every day of the week is a tough challenge. If you're searching for an appropriate work outfit that's both stylish and comfortable, then we suggest you take a closer look at some of the best modern office and work outfits ideas for women mentioned below. These stunning work outfit ideas will easily get you through every conceivable job challenge in a stylish way.


In simple words, no matter how specific is your work environment and responsibilities? You can always go for closed-toe pumps or flat sandals, sleeveless tops or dresses, pencil skirts or wrap dress, etc. Here we have some Perfect Office Holiday Party Outfit Ideas. We bet you'll love all of them, take a look –
Modern Office & Work Outfits Ideas For Women
Fitted Pants with Official Blazer!
Ladies! Are you looking for appropriate business attire that's not only comfortable but also provides you with freedom of movement? Fitted pants are the most favourable choice, especially when you have to go out for official tours or work for long hours. For a decent look, you can match your favourite skinny jeans having dark tones such as blue and black with a shirt or blazer.
Short Blouse with Polka Dots!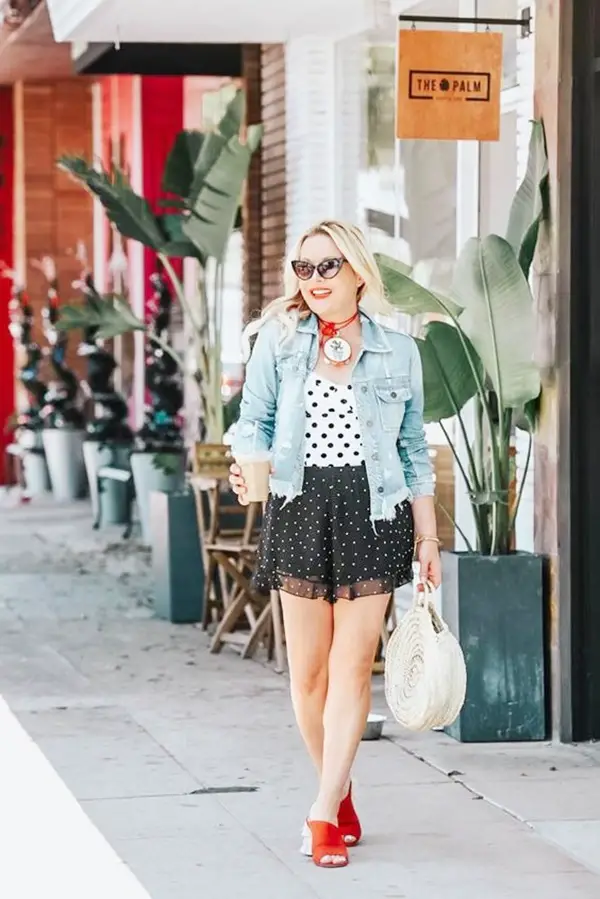 Image Source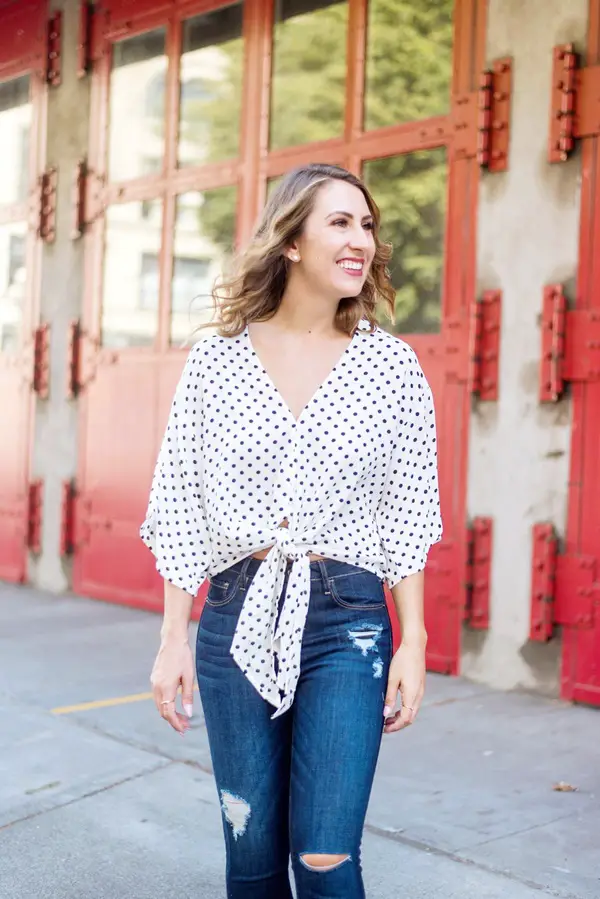 Image Source
The short blouse is for all those sexy women who love to have fun with clothes. This modern office and work outfits idea for women gives an elegant and proficient look when worn up with the simple accessory, Hurray! Polka dotted white blouse tucked in midi will surely enhance your look during board meetings.
A Super-chic LBD works best at work!
As long as it isn't too revealing, an LBD is a perfect dress to be worn at the office for a casual event and it will never go out of style. Accessorize it with suede heels, a simple leather bag, and minimal jewellery to achieve a smart work look. Moreover, the little black dress is a perfect go-to option for office during the summer months.
Midi Dress with a Tote Bag!

Image Source
Want to achieve an outstanding official look? Head over to the office in a printed midi dress. Try a feminine floral printed piece that's both chic and summer-appropriate. Finish the look by adding a pair of block-heel sandals and don't forget to carry a tote bag for keeping your personal essentials. Here are some Perfect Office Outfits To Update Your Wardrobe with.
Silk Camisole with Arm Jacket!
If you want to wear a dress for a smart casual event at work, try this modern office and work outfit idea to add polished style. Coordinating silk camisole with arm jacket looks extremely professional. The outfit looks awesome when paired with classic heels and creates a new statement of style.
Flare Sundress with Denim Vest!
Another attention-grabbing look for hot sunny days is pairing your favourite fit and flare sundress with a denim vest that in turn helps you to achieve a highly standardized look. Do you notice that there are certain days when you feel too lazy to dress up for office? This outfit will never let you down. Pairing it with ankle boots and a bold statement necklace gives you a cool look. Also, take a look at Casual Work Outfit Ideas To Be Non-Boring.
A Cotton Button Down!
How hot is this look? A long-sleeve cotton button down shirt is the ultimate piece that you'll surely love to assemble in your wardrobe and put on for office for those late hours official party. Wherever you go, make sure to complete your look by wearing black sunglasses with a side purse.
So, whether your office is super-casual or all-business – don't be disheartened. Just wake up and start singing a song of joy because it's again Monday and use that extra hour before work to try on these stunning, modern office and work outfits ideas for women with a big smile on your face and incorporate these key pieces in your summer closet to look stylish every day. If you are a fan of the black and white combo, then you will probably love these Unique Black and White Outfit Ideas For Women immensely.