Every woman has that little lazy girl inside her. And it is this lazy self of the woman that prevents her from looking dressed up on all occasions. But is it really important to look dressed up every day, every time? Of course not! Whether you dress up or dress down, you should look your best. And that should be the goal.

You can imagine how cool a laid-back outfit could look when worn at a non-formal occasion. All you need is to know how to put things together. Also here you can find some of the most Practical Fashion Ideas for Skinny Women. So, why wait? Let's check out these amazing Lazy Girl Outfit Ideas To Stand Out From Crowd-
Lazy Girl Outfit Ideas to Stand Out from Crowd
A pair of high-waisted jeans and a cropped sweatshirt
Although there are many Lazy Girl Outfit Ideas To Stand Out From Crowd, nothing can beat the combo of a pair of high-waisted jeans and a cropped sweatshirt. Yes, this is a basic outfit, but you can always accentuate it by completing the look with shades, sneakers, a chunky bag and other cool accessories like a cap.
A chunky sweater along with a pair of jeans
Talking about Lazy Girl Outfit Ideas To Stand Out From Crowd, we can't leave out jeans. Yes, a pair of jeans is what you need to set yourself apart from the crowd. Don't forget to team it up with a chunky sweater for all that extra cuteness. This is probably one of the most laid-back outfits to try out this winter. While the denim pants will protect your legs from being bitten by the cold, the chunky sweater will offer your upper body enough warmth to survive chilly breezes. Here are some of the most amazing and Cute Winter Outfit Ideas For Teens 2018.
A lazy shift dress with a pair of sneakers
If you want to keep it simple and stylish, then slip into a cute shift dress. The best thing about a shift dress is its fit. It's a little loose on the body and creates rather a straighter silhouette. Despite all of that, it makes the wearer look super cool. So, if you are feeling too lazy to dress up, a shift dress is your go-to outfit. Complete the look with a pair of nice sneakers for the maximum impact.
A track pant with a tank top
You might say, this outfit will only make you look dull and boring. But that's far from reality. If you think track pants and tank tops are boring, then you probably haven't seen celebs sporting this outfit with such grace. Just make sure your track pants look great on you and the tank top you choose to wear with it is extremely high-quality. With a cap and a pair of nice sneakers, you can look like a million bucks. Also, here we suggest some cute everyday style outfits for women to transform their daily boring outfit into one that will grab everyone's attention.
Rompers
Out of all the laid-back outfits we have here, this one is probably the most loved. Yes, rompers are quite a thing these days. And not just teenagers, they are also ideal for adults and young adults. They have a cool side to them. And when worn with shrugs, they make you look quite attractive.
A pair of printed jumpsuits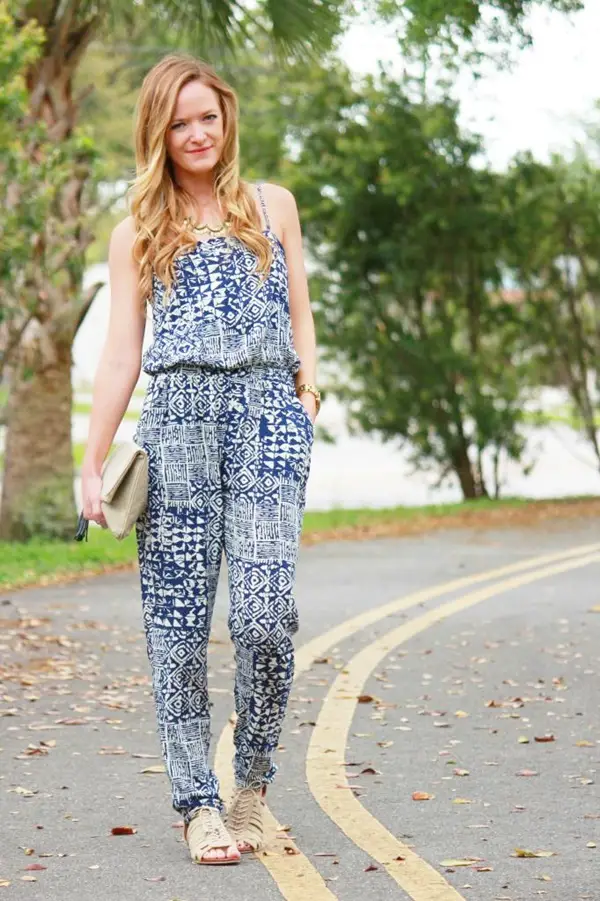 Image Source
Jumpsuits are a no-fuss outfit and they are totally stylish. So, if you want to be a head-turner, without making a lot of efforts to look like one, then slip into a jumpsuit. It will work wonders on you!
If you don't like spending a lot of time in front of your wardrobe and then in front of the mirror, then the above Lazy Girl Outfit Ideas To Stand Out From Crowd are ideal for you. If you are also looking for inspiration for some new high-class work outfit ideas for this spring, check these out! Try them out and set yourself apart from the world!