Acrylic nails are quite a rage these days. The product is applied to your natural nails, which then hardens and provides you with a perfect canvas for nail art. If you are fond of acrylic nails, then sure go for them. But to ensure they look as adorable as the nails of professional models in fashion magazines, you need to paint them with the right colours and designs.
Don't scratch your head wondering which designs to for instead you better try with easy beautiful nails designs with tips. There is a truckload of options that you can try out. Here, we dish out some of the most Stunning Acrylic Nail Art Ideas To Try This Summer. Have a look-
Stunning Acrylic Nail Art Ideas To Try This Summer
Bring on some downtown charm with leopard print
Talking about Stunning Acrylic Nail Art Ideas To Try This Summer, we simply can't get over the alluringness of leopard print. On your nails, leopard print designs can simply create magic. This design is for those strong women, who want their personality as well as style to be bold and courageous. Leopard patterns are perfect for almost all occasions including important ones like parties. But make sure your outfit has that touch of boldness to it so that it goes with your nails.
The classy ombre effect
If you thought ombre is just for your tresses, then you couldn't be more wrong. This gradient-like application of colors is also suited for nails. Although you can go for any two colors to create the effect, the use of white as one of the two makes the ombre effect pop out perfectly. You don't need any special tools to create an ombre design on your acrylic nails, a piece of sponge can do the trick. And for instance, check out these beautiful spring nail art designs and colors.
The basic bicolour
Stunning Acrylic Nail Art Ideas To Try This Summer also include this bicolour design. The best thing about this design is definitely its ten-on-ten simplicity. Yes, it's extremely simple but the kind of delicate charm it oozes out is worth a glance. Now, the question that arises here is- how to go about this design? Well, for this, you need any two summery nail colours (to make your nails look summer-ready!). While one of the colours sprawl your nail beds, the other one covers the tips. This design needs no special artistic expertise, but yes, you might need a little precision in your hands.
Go for some shimmery charm
Summers and shimmers have a deep connection. Whether the scorching hot summer sun is touching the desert sand or reflecting in the water, a shimmery radiance is what results. To make this radiance reflect through your nails, you need a shimmery nail design this summer. If it's about summers, then you can try matching hairstyle with easy summer hairstyle to do yourself.
Geometric neon designs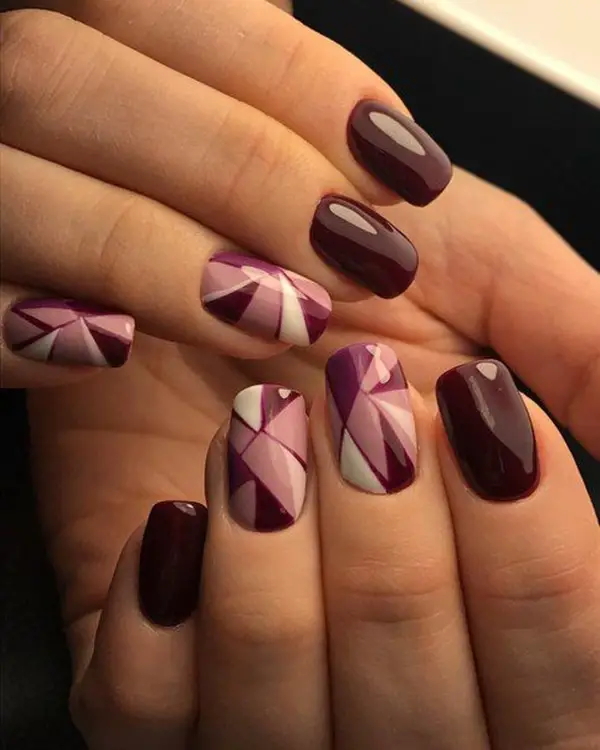 Image Source
Whether you go for a neon green nail paint or a neon pink glittery colour, you can make your nails ooze out oodles of elegance with just a hint of neon. And no, your nails won't have to have neon colours all over. For a subtle elegance, you can mix match neon with other nail paints. As an alternative, you can paint beautiful neon geometrical designs on a nail bed that has already been painted in some subdued nail colour. Moreover, if you want your attire suitable to your nail art then you must know about the dresses every woman must have.
Stunning Acrylic Nail Art Ideas To Try This Summer like the ones above are an absolute favourite among young girls. That said, we don't mean older women rely only on their natural nails. Acrylic nails are for women of any age and they can really up to your fashion game. No matter how older you are or what your body type is yet we have fashion hacks for curvy girl around there. If you are looking for some really gorgeous easy to do acrylic nail paint designs, then the options above are outright perfect for you. Try them out and make your nails a subject of envy for all and sundry!