Red was, is and will be an attractive color. Although men don't like much of red, it's popular among women and works wonders on them. If you are a woman, who is head over heel in love with red, then you probably have a corner of your wardrobe filled will 'red everything'.

But if you really want to look sexy in red, then you should try out the following outfits, and not any random outfit lying in your wardrobe. The under-mentioned hot red outfit ideas to steal hearts are perfect for any fashion-forward woman's wardrobe. Also, here are some of lovely Valentines Day outfit ideas 2018. Have a look-
Hot Red Outfit Ideas To Steal Hearts
A red leather skirt
When it comes to hot red outfit ideas to steal hearts, you simply can't avoid talking about a shiny red leather skirt. Now, does this need telling how sexy a leather skirt with some glossiness looks? Perhaps not! And that is probably the reason it is a popular outfit option for date nights. Red leather skirts also ooze out a celebratory feel. And hence, are appropriate for parties as well.
A red lace dress
Although there are many hot red outfit ideas to steal hearts, there is nothing that can beat the charm of a red lace dress. With some sensuous makeup and a pair of nice stilettoes, you can take your charm up by several notches. The length of the dress doesn't really matter. But in lace, dresses look great when they touch the thighs.
A pair of red wide legged pants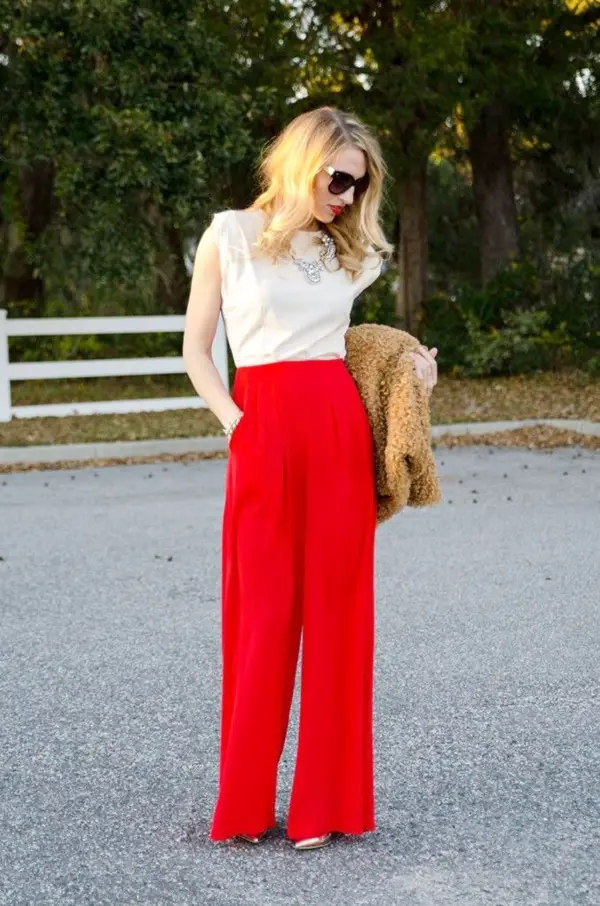 Image Source
Skinny fit bottom wears are a hit no doubt. But if you want that easy-going charm, you must slip into a pair of wide-legged pants. With a fitted shirt or a sleeveless turtleneck top, you can look like a million bucks. What can add that extra dose of oomph to your look? Well, your middle parted straight hair. If you want to have the temperature soaring, just place a blazer or a jacket on your shoulders, without really slipping into it. Also, take a look at Korean fashion style outfits.
Red rompers
Rompers are a cute little thing, women are lately obsessed with. What makes them so popular is definitely the kind of sensual appeal they have. Even in the simplest of makeup and hair, your rompers can make you look like a diva. Such is the charm associated with them. And the style simply grows hundredfold when the rompers in question are red in color. Your red rompers might not make you look sexier than when you wear a red bikini, but they will also not make you feel any less sexy.
A red sequined dress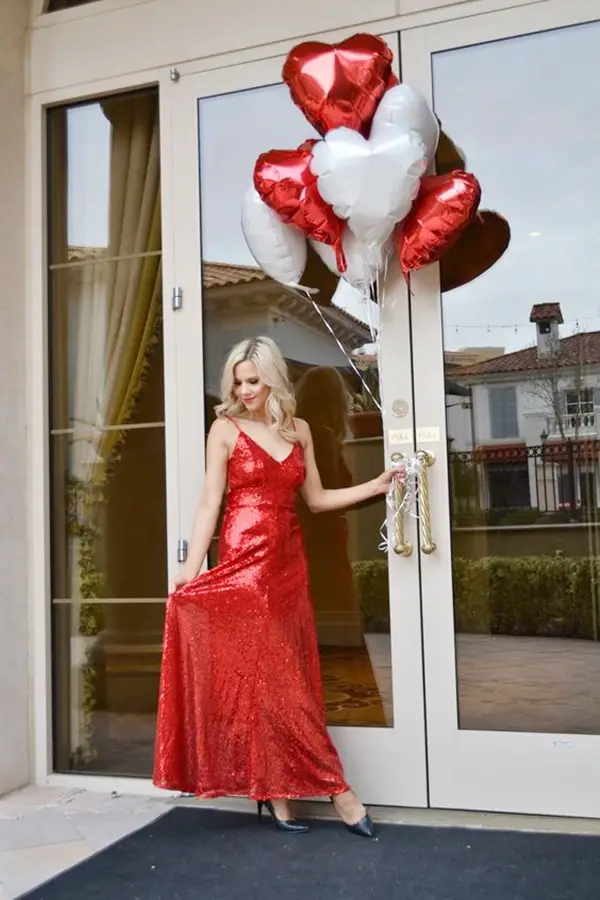 Image Source
Whether you are thinking of attending a party or planning to spend the night out with that special someone, you can always look piping hot in a red sequined dress. When you are in a red sequined dress, you don't really need a lot of jewelry for the purpose of accessorizing. But still, a dash of kohl and a nice bag will take you a long way. Also, here we have some classy work outfits ideas for this summer.
Sexy red off-shoulders
Now, off shoulders are sexy. And we say that without even taking your consent. Whether you are dressed in an off-shoulder top or a dress, you are going to look stunning. In fact, red off shoulders should be your wardrobe staple, considering the amount of versatility they show.
Looking sexy in red is easy. But guess what, with the above hot red outfit ideas to steal hearts, looking sexy in red is a thousand times easier. So, why wait? Do some shopping right away, and paint your wardrobe red with these amazing outfit options given above. If you haven't given a thought yet, this year can make a difference. Whether men or women, the very idea of finding some exclusive Christmas party outfit ideas shows how much you are willing to walk the extra mile in looking dapper. Check out-