It's truly said that a perfect nail design can complete your evening dresses glamorously. Besides, you'll love to have different color polishes on your long nails. Gals! If you don't like dark and funky colors, glamorous bling nail art designs for 2017 are waiting for you and they turn to be a safe option for any occasion.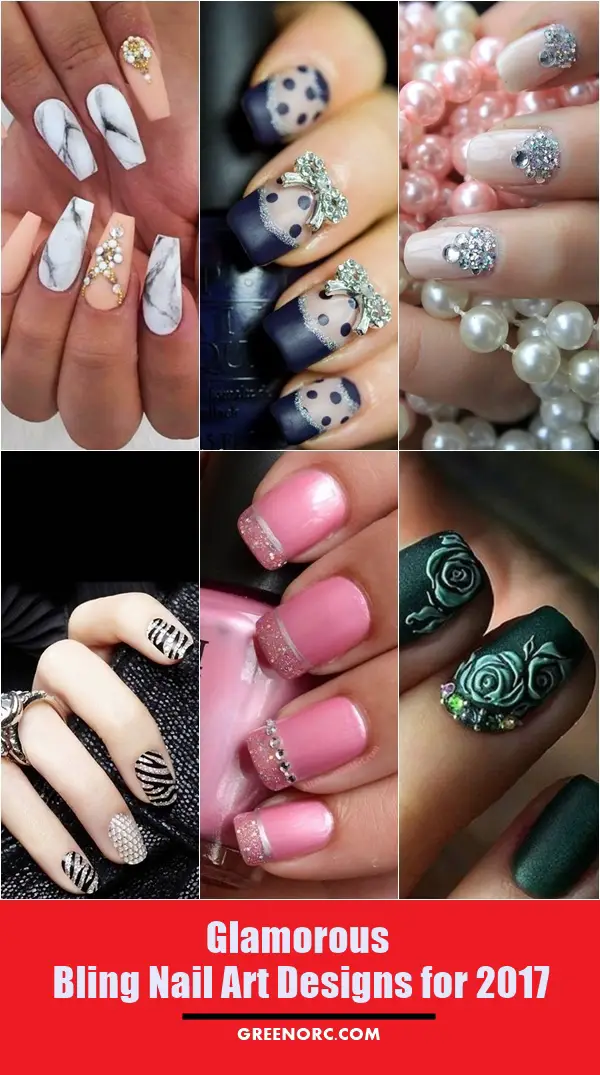 Hey, fashionables! Looking for some inspiration?Acrylic nail art needs no introduction. These latest trends in fashion are perfect to make you a femme fatale at the event. With glittering and eye-catchy designs, acrylic nail art designs and ideas suit every occasion. Bling nails are definitely beautiful to behold. But, how to attain them is a big question? This summer, in order to add a little something extra to your overall look, investing time in finding a perfect bling nail design that suits your personality is a worthwhile endeavor. Today, let's take a look at 8 beautiful bling nail designs mentioned in this post.
Glamorous Bling Nail Art Designs for 2017
White, Peach and Glitter!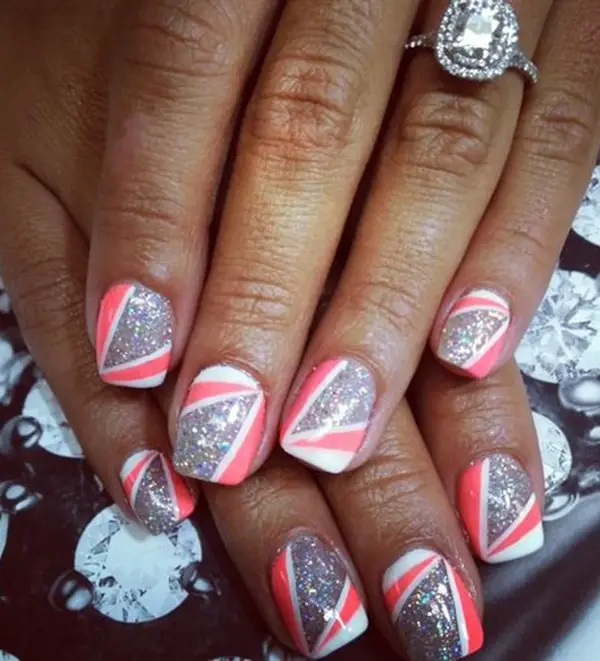 Are you worried because you have shorter fingers? The idea of applying glitter on nails looks perfectly well. Also, the bling works best with white and peach colors as one of the most popular combinations when it comes to nail art. Furthermore, the combination is great for making a sober statement.
Bling Animal Print Nails!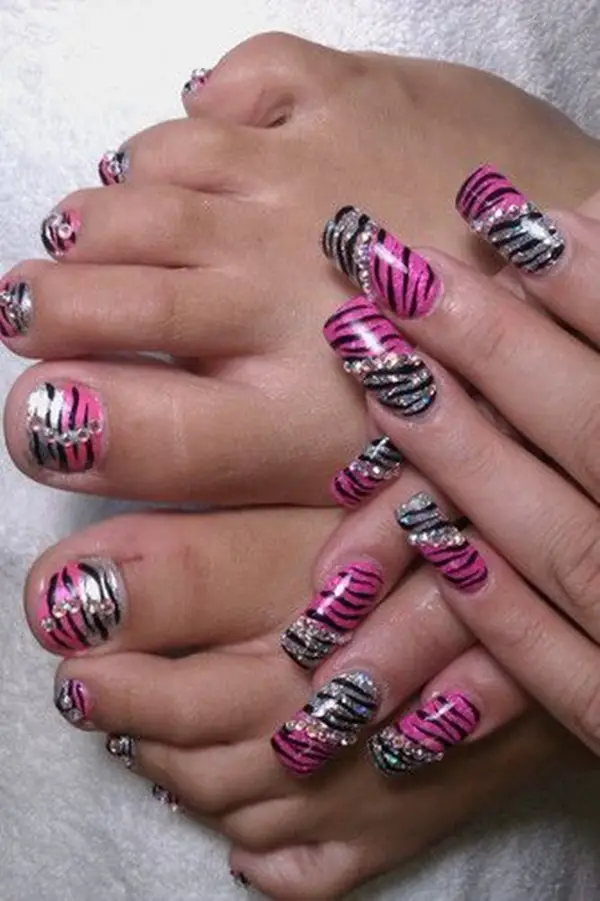 Looking for a unique nail art design? Consider incorporating awesome patterns such as   animal prints or strips into your bling nails. Moreover, the design gives you a classy, sexy and mysterious look. For extra glam-up, add some rhinestones to your design and here are some Beautiful winter nail art designs and colors that will leave you spoilt for choice. Such are the variations that you will indeed have a difficult time selecting your type.
Polka Dotted Fun Design!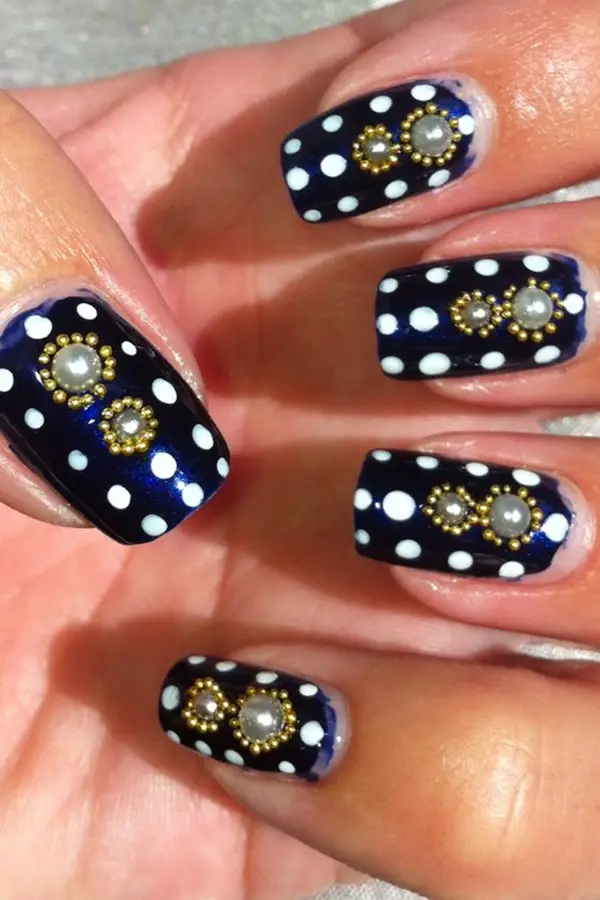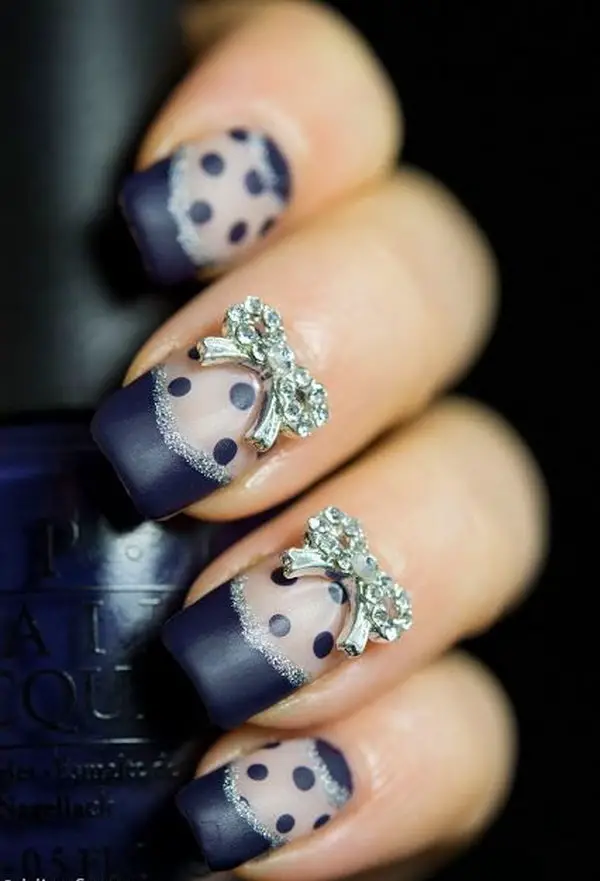 Aren't many of you crazy for spending fun time with your friends? Well! The polka dotted bling design is sure to be an eye pleaser this summer season when paired with summer dresses and light spring wear. This nail design ranks among top glamorous bling nail art designs for 2017. 
Pink and White Bling Nails Design!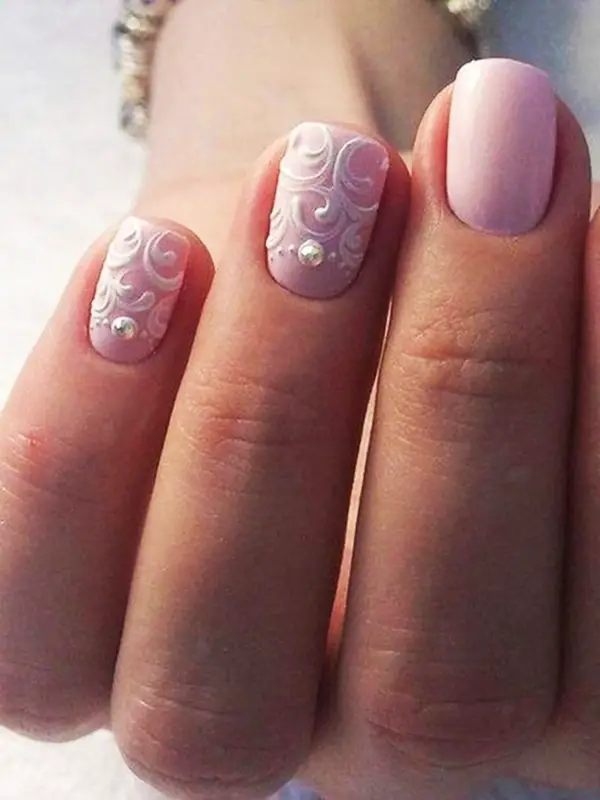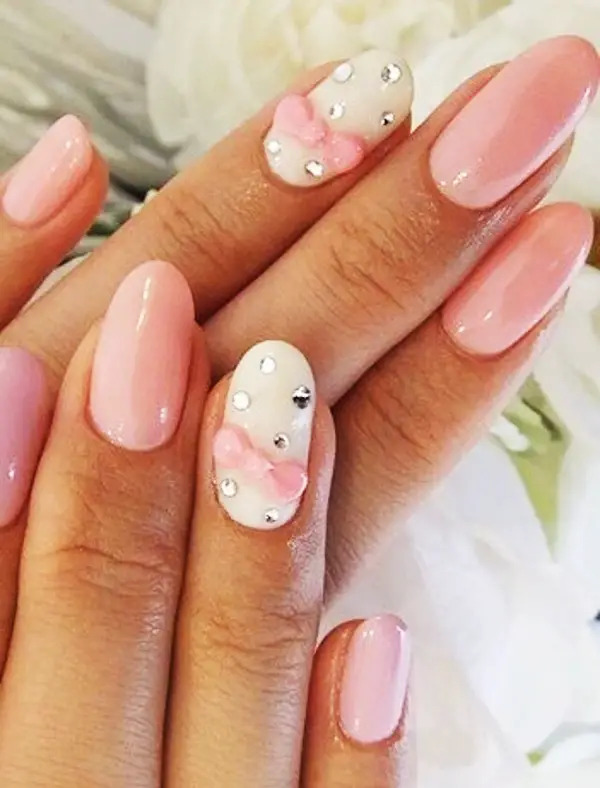 Among bling nail designs, pink and white nails with gems or jewels are quite popular. Remember, blending two or more bright colors and embellishing them with glittery precious stones easily gives you the desired bling nails without much fuss.
Bling French Tips!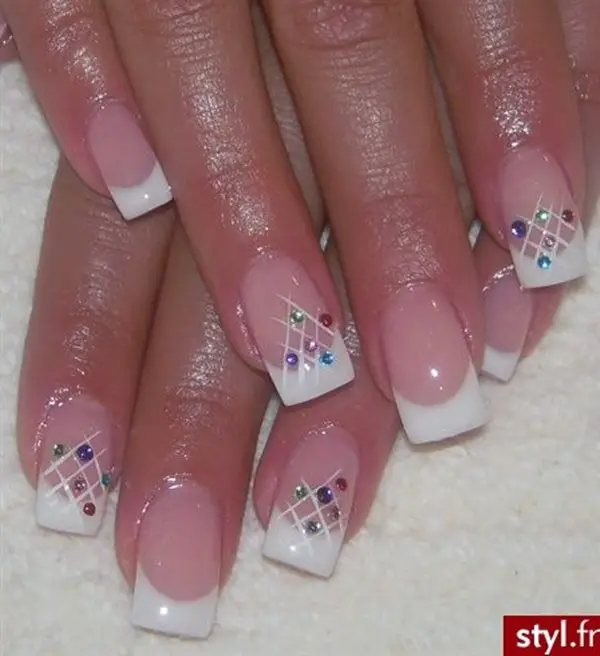 Bling French tip nails are a new trend and popular among celebrities these days. For a classic event, bling French tips add a unique twist to your look. To make the design look more complex, you can add some well-placed lines using different colors starting from the corner.
Elegant Bling Nail Art Idea!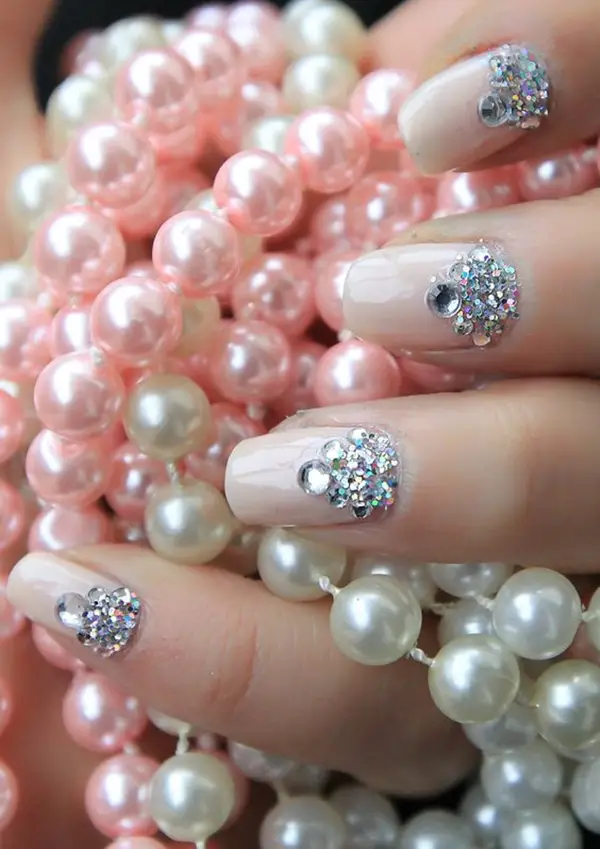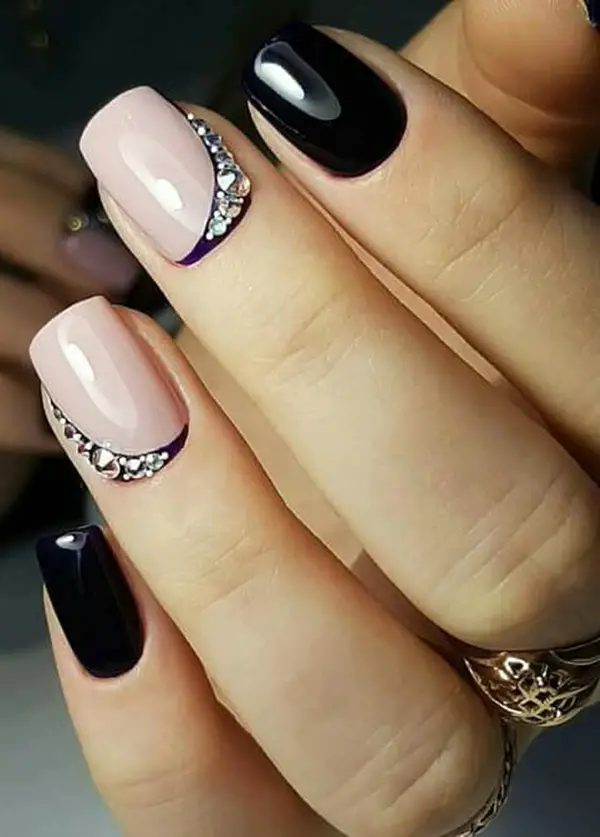 Embellishing your nails with beautiful gems is a great way of grabbing attention. These days, there are many options of elegant bling nail styles to choose from. Try your hand at one of this most glamorous bling nail art designs 2017 and feel the change. Basically, you need to apply a base coat of your choice and then place the desired gems, jewels or pearls.
Crispy Lines Bling Nails Design!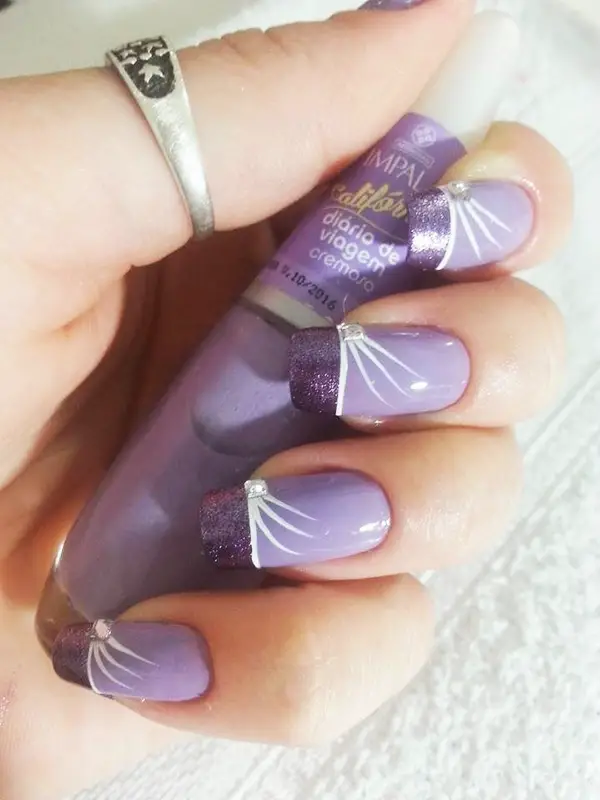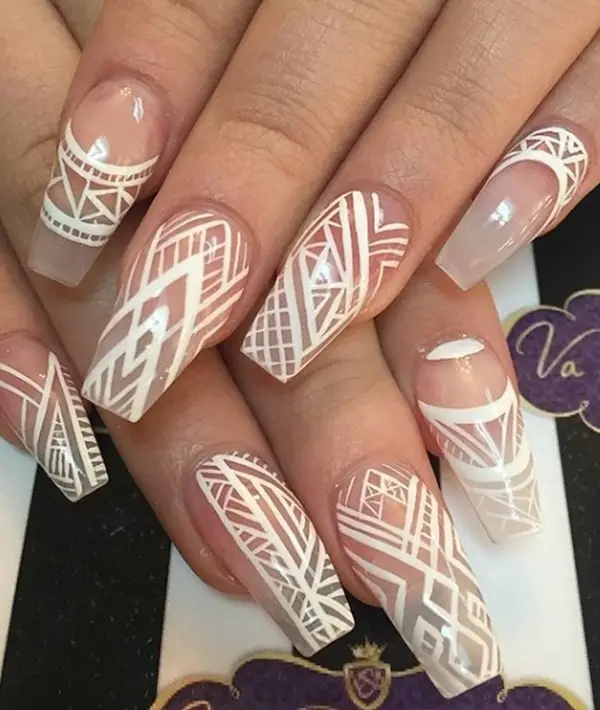 This nail design gives you a striking look! To create this super easy bling pattern you need to apply white nail paint, light blue and orange nail enamel in a diagonal way. And, yes don't forget to use a nail tape that's the key to create neat and crispy lines.
Bling Stiletto Nails Design!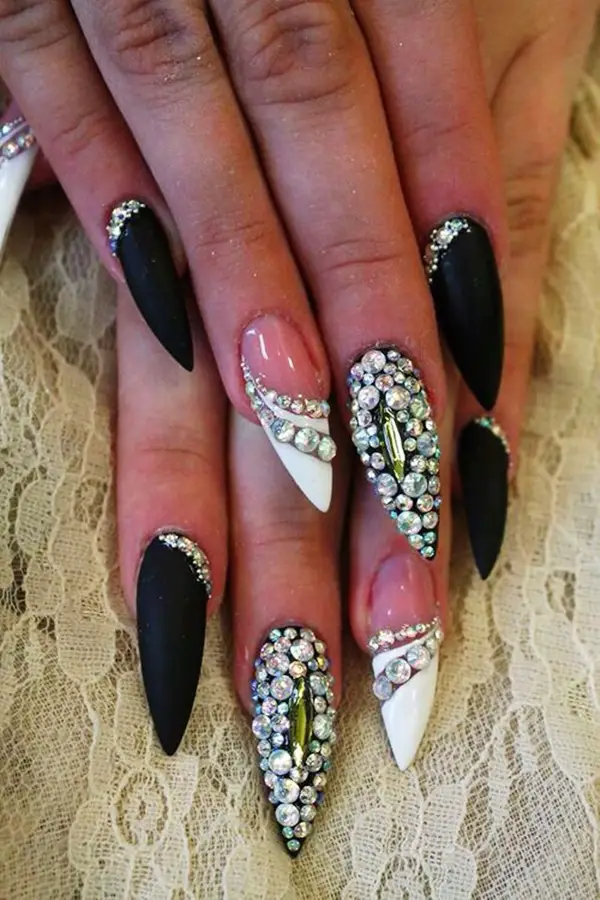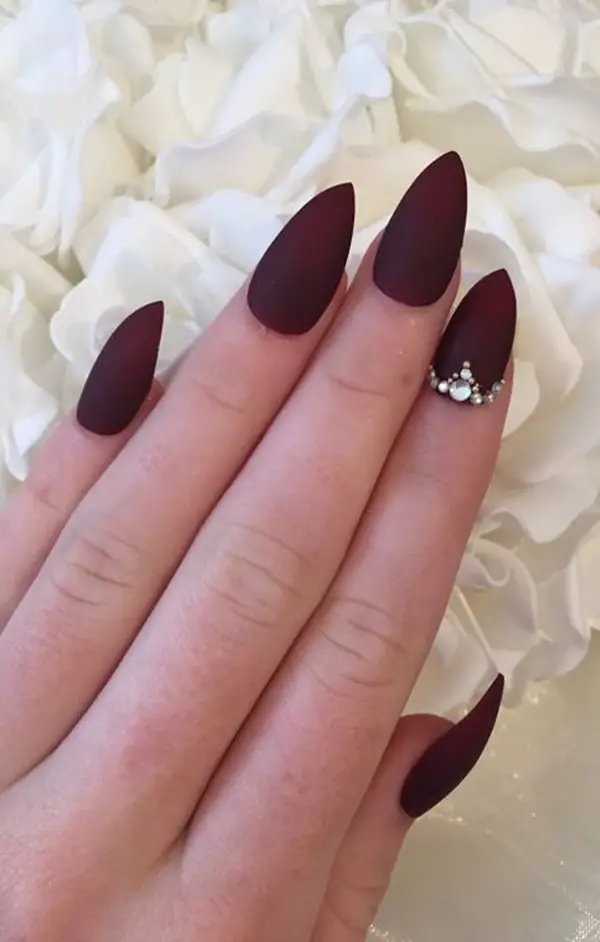 This nail design is the perfect combination of beauty and elegance. The great thing about stiletto bling design is the right balance of glitter and rhinestone. The use of peach color at the base helps to create an overall balance and provide a neat, attractive appearance. Here are some splashy rainbow nail art ideas that are perfect for any time of the year and they are also pretty easy to do.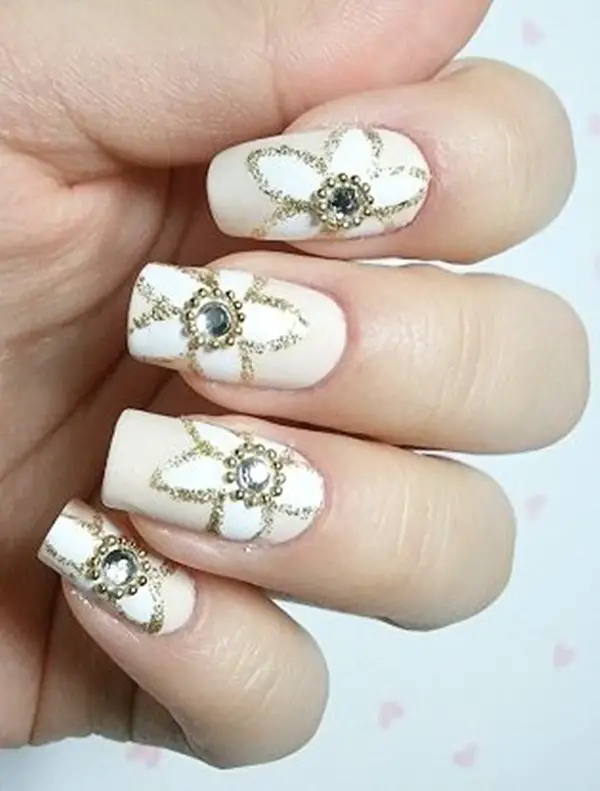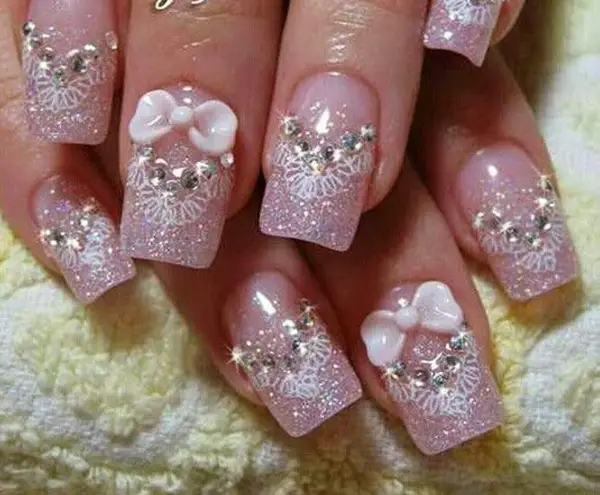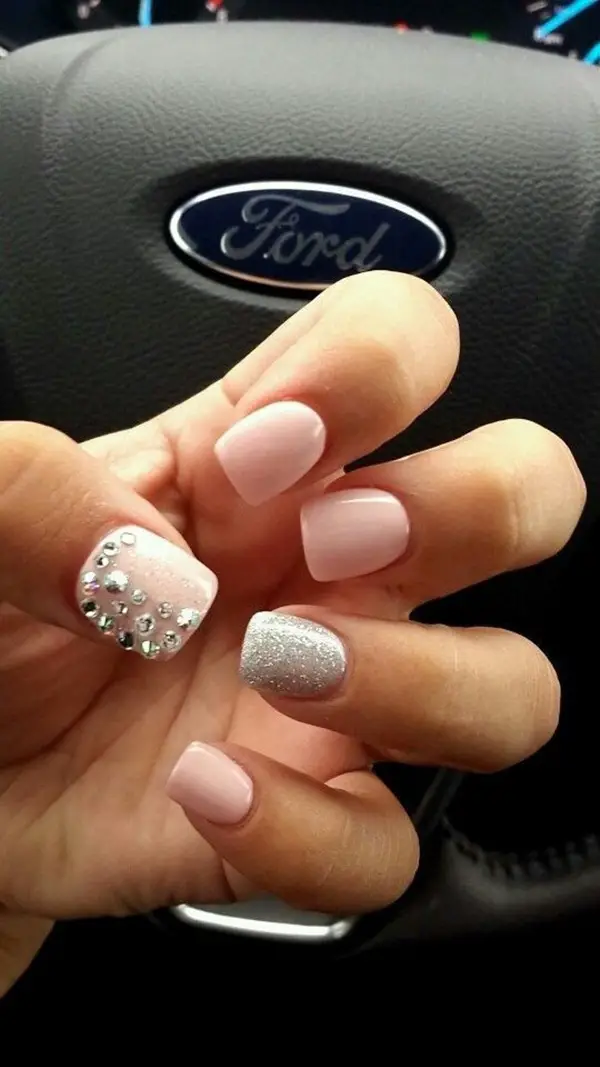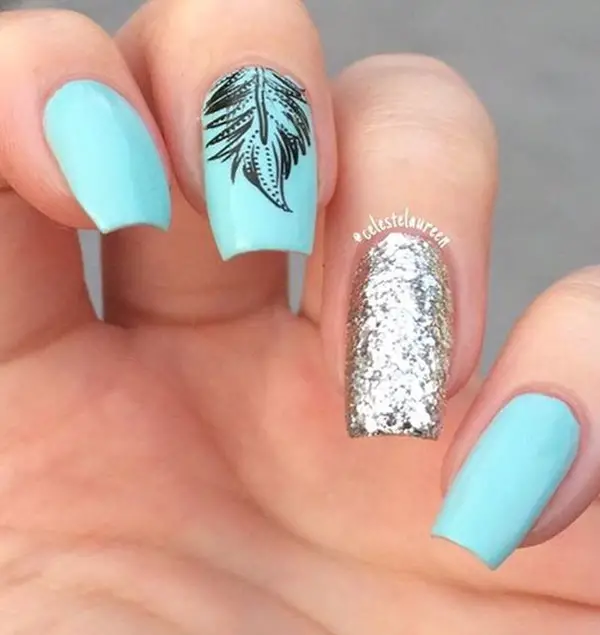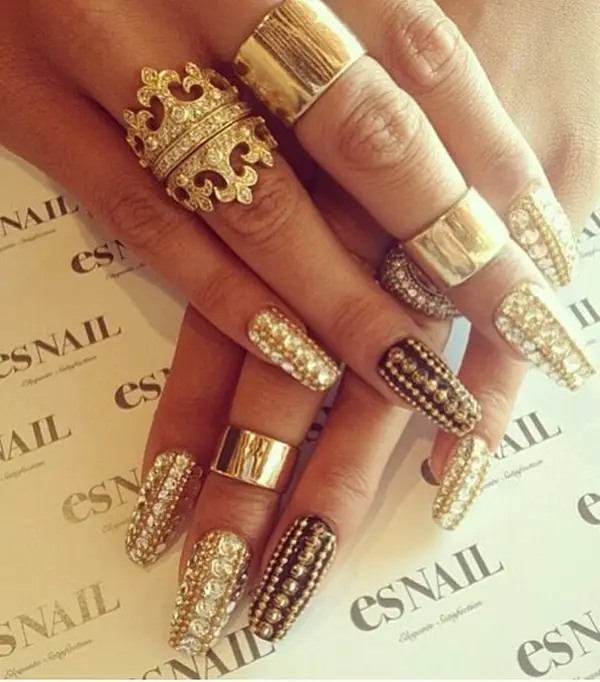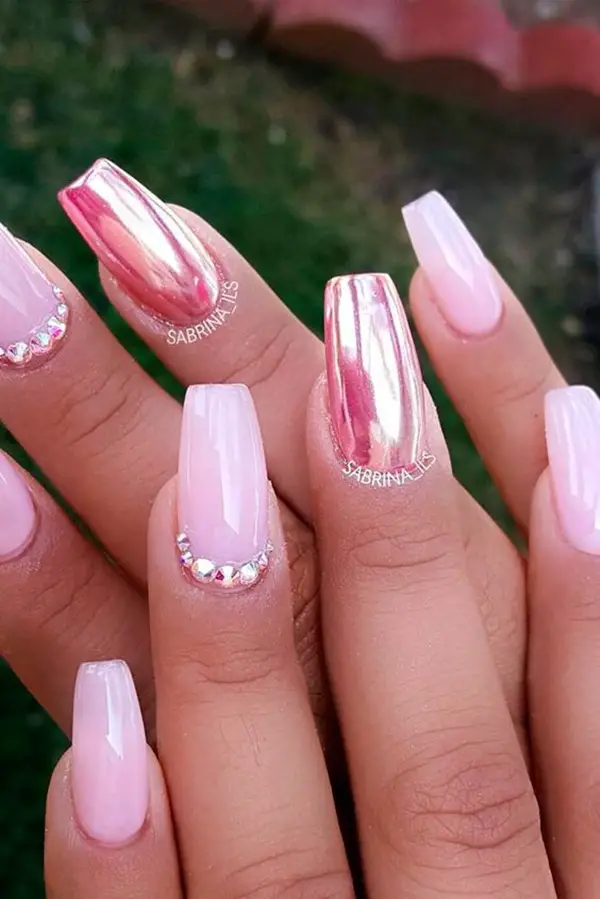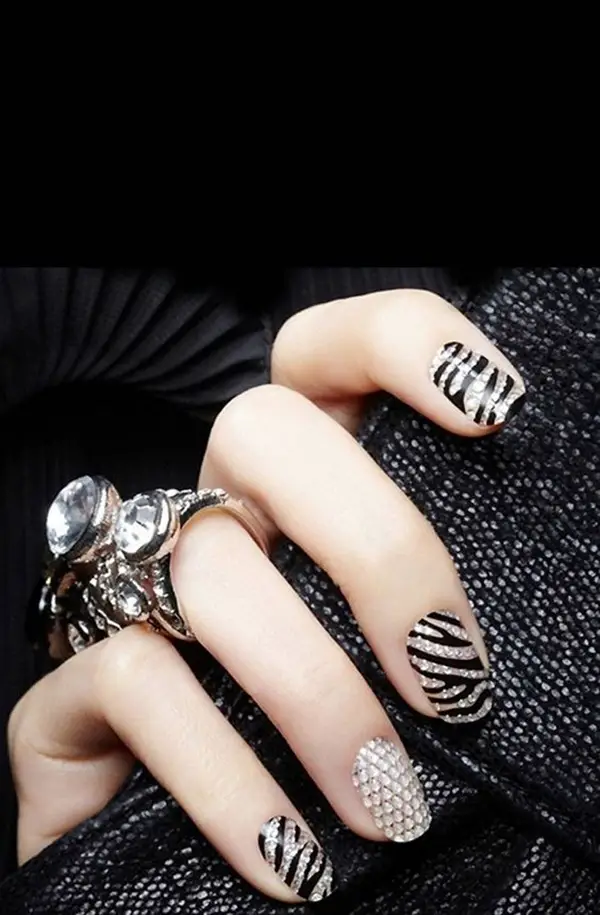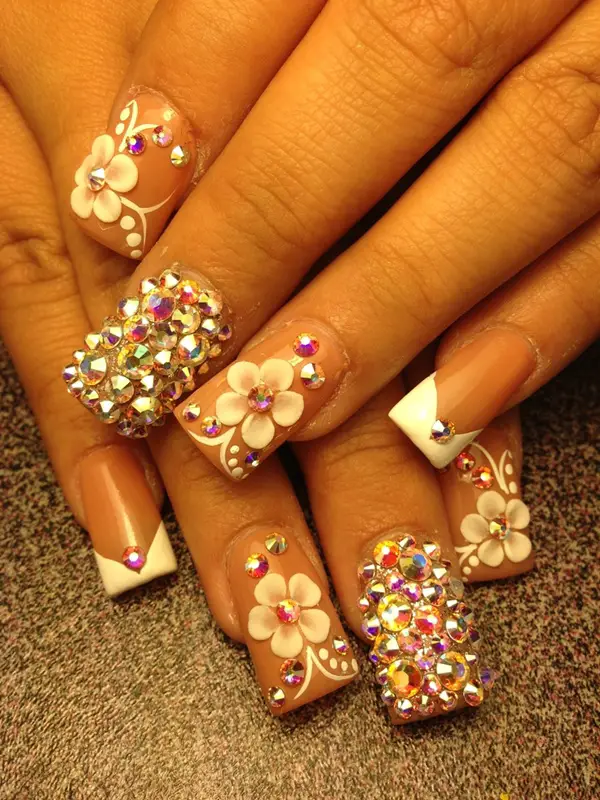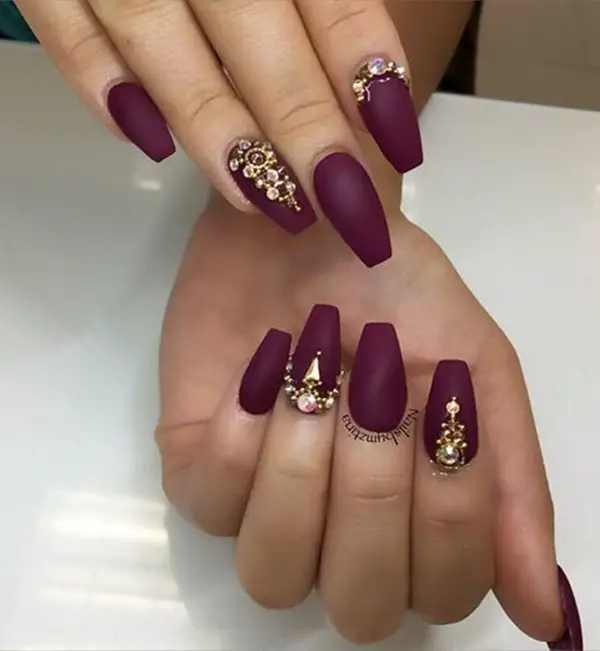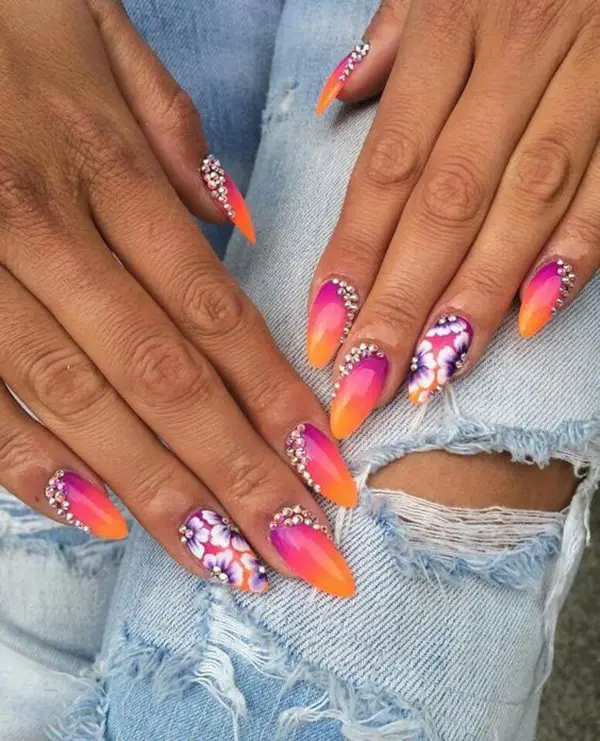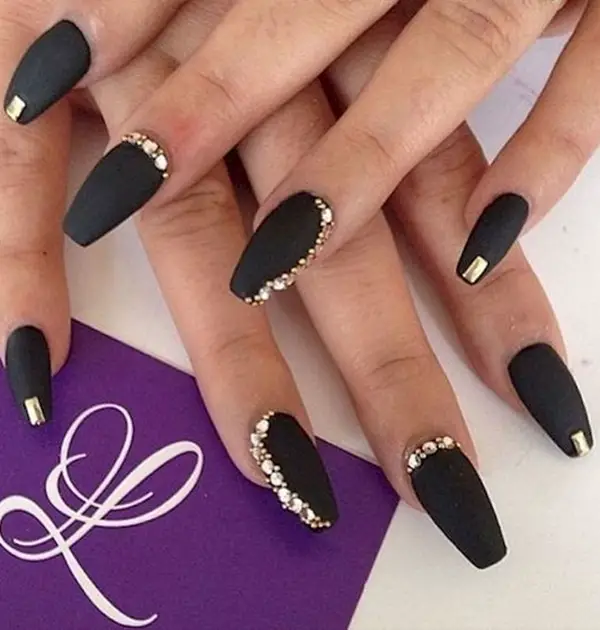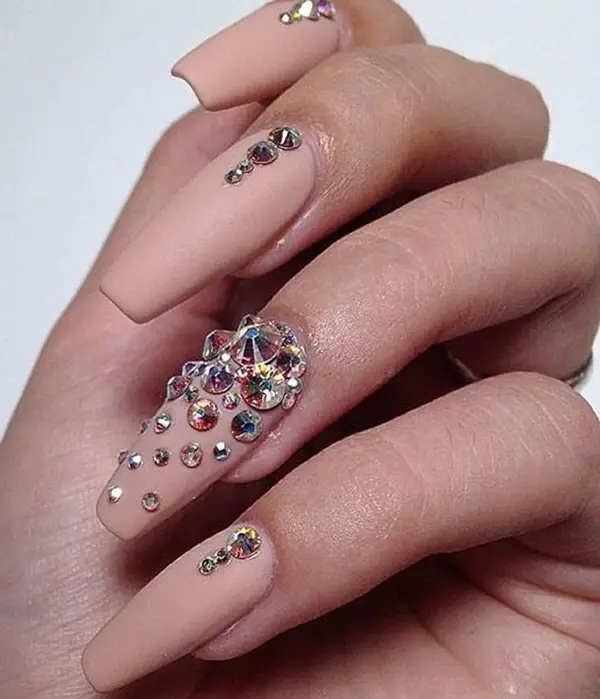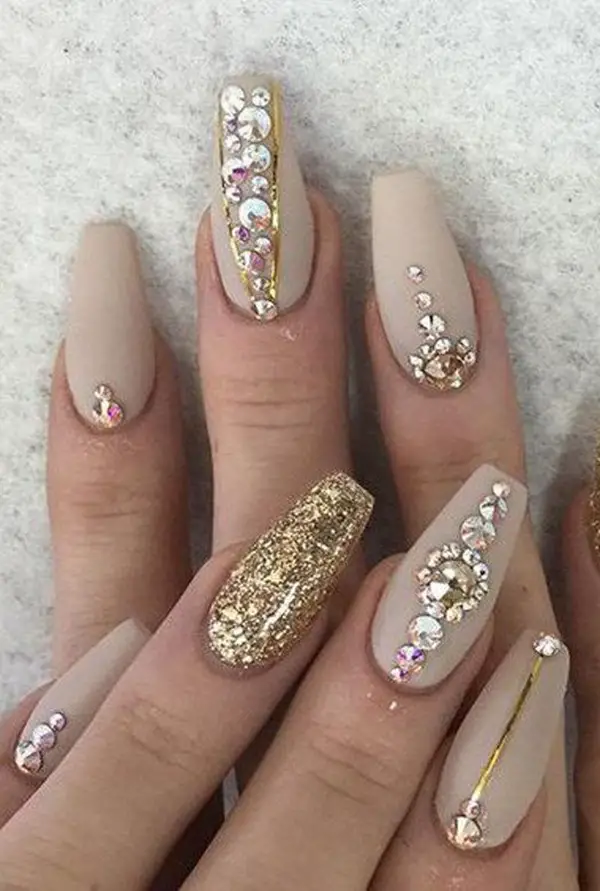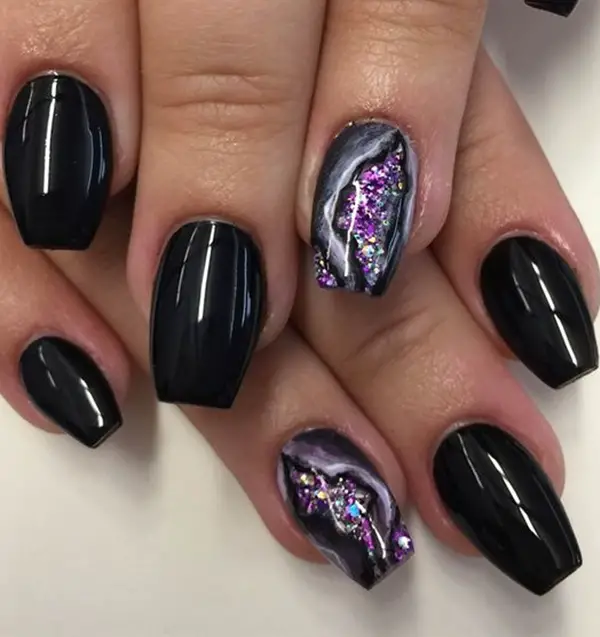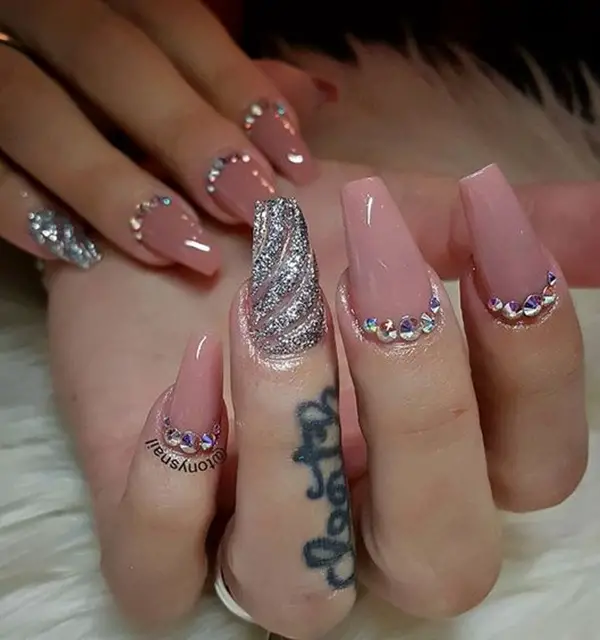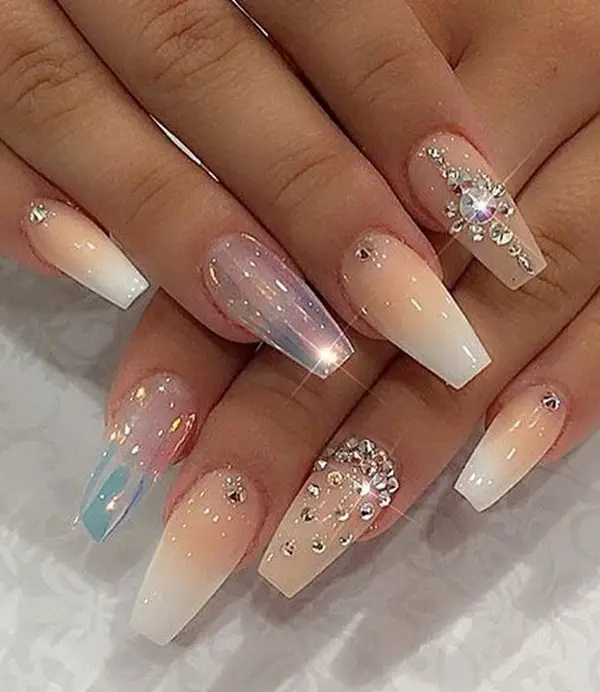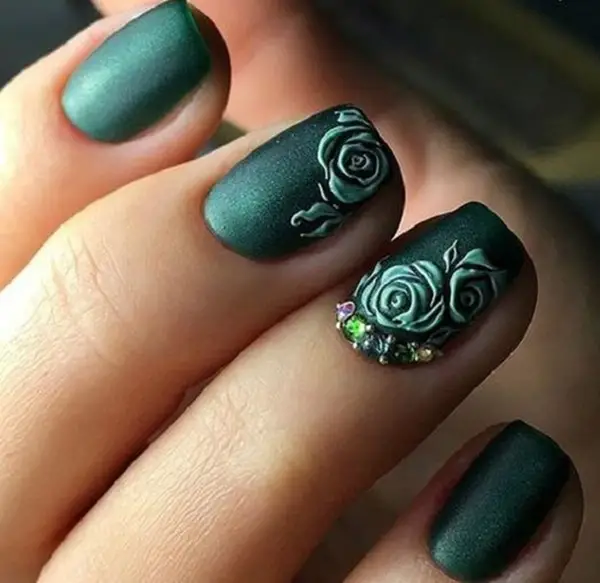 So, we hope you all loved our massive collection of glamorous bling nail art designs 2017 because for many girls – trying a new nail design everyday has become a fashion symbol and a ritual. These nail designs are sure to be found attractive by everyone on some or the other special day of their life.