How many of you find the term 'girl' or 'woman' objectionable as both of these terms are misused and abused by the patriarchal society we live in? No matter how much a woman achieves in her life, she is always judged on her looks, attire and her personal relations with others. But, with the changing times – the people have become more broad-minded, their attitude towards life have changed and the two major concerns 'women empowerment' and 'gender equality' have occupied center stage with a bang.
Many people in the world usually think that a woman can't ever have 'girlish' tendencies, but that's not right! It's just that a girl doesn't take enough time to become a mature lady who not only has a deeper understanding of the world, but perceives and interacts with the people living in the world in a more superficial manner. Also here is collection of inspiring women empowerment quotes for women mentioned in the post aimed at motivating women to step-out of limiting self-beliefs that keep stuck in roles of lack of economical power, victimhood, abuse and lack of self-respect! So, we thought to present few things that separate women from girls. Check the list to know actual reasons!
Things That Separate Women From Girls
Sexuality!
A girl always tries to take advantage of her looks and consider sexuality as a primary tool to get what she desires, whereas, a woman is always well aware about her looks and  confident about her sexual relation.
Latest Trend!

'Gals' in their pursuit to look smart and fashionable blindly follow the latest trend in the market while women on the other hand, have their own sense of dressing appropriately. They choose dresses that make them feel young and comfortable. Know the current fashion and add a bit of style to your outfit. Let people stare and make it worth their while.
Relationship!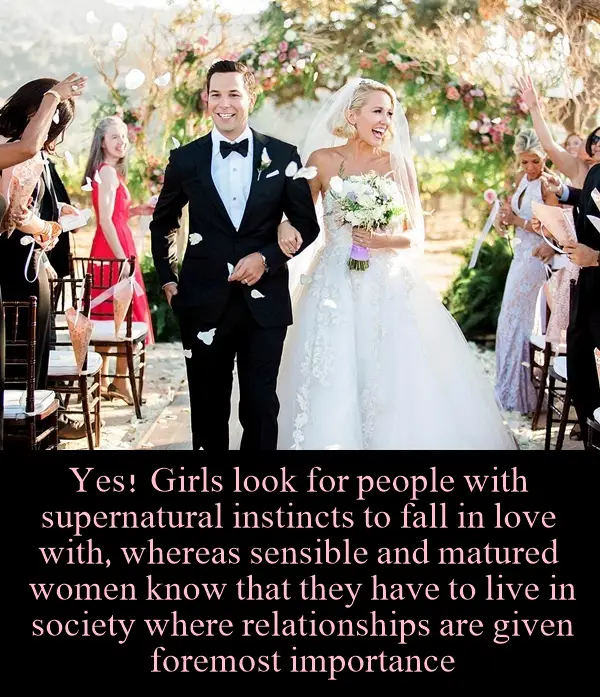 Yes! Girls look for people with supernatural instincts to fall in love with, whereas sensible and matured women know that they have to live in society where relationships are given foremost importance. Therefore, women always consider marrying to the person chosen by the society or family.
Appealing Personality!
Personality ranks among top things that separate women from girls. Well, young girls try hard to get the attention of the people. Whereas, matured women don't have to do anything out-of-the-way to get noticed. They get attention automatically wherever they go. Here are Daily Skin Care Routine for Working Women which gives you reliable and efficient ways by which you can take good care of your skin.
Knowing How to Dress Appropriately!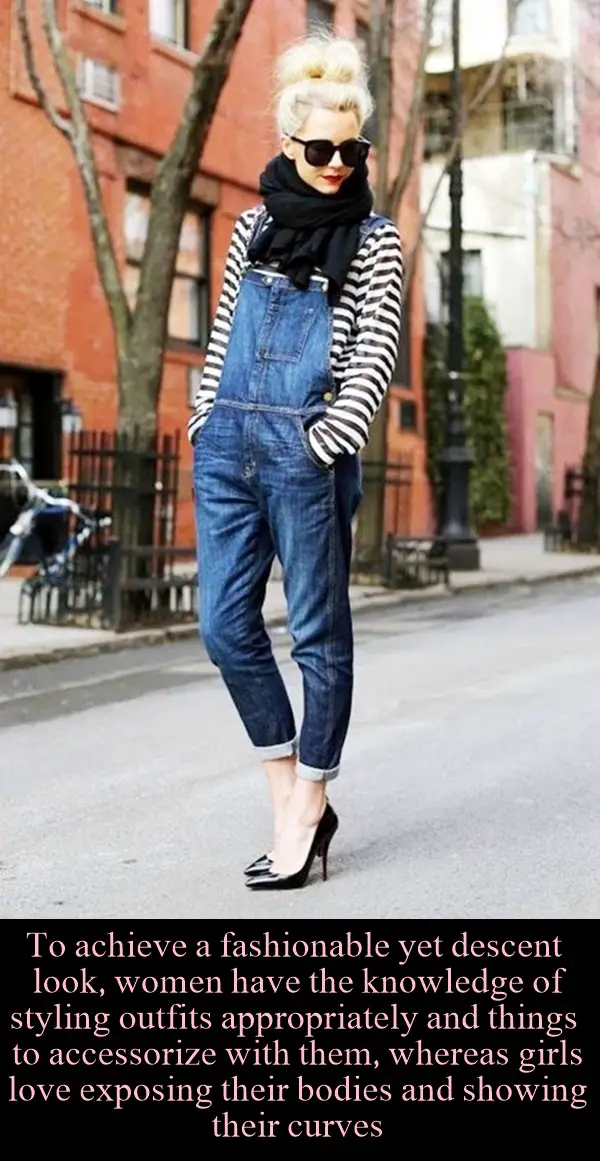 To achieve a fashionable yet descent look, women have the knowledge of styling outfits appropriately and things to accessorize with them, whereas girls love exposing their bodies and showing their curves.
Fashion Diet!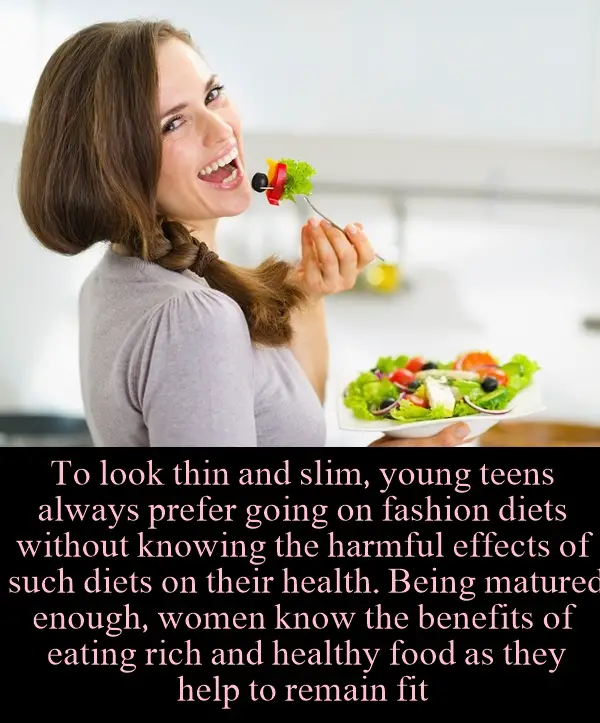 To look thin and slim, young teens always prefer going on fashion diets without knowing the harmful effects of such diets on their health. Being matured enough, women know the benefits of eating rich and healthy food as they help to remain fit. Learn few fashion tips on how to look slimmer as they leave a great impact on the way we look.
Financial Independence!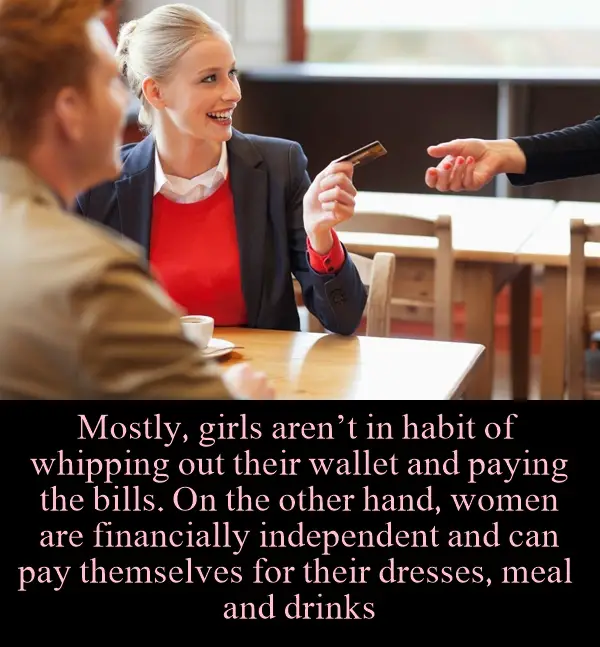 Mostly, girls aren't in habit of whipping out their wallet and paying the bills. On the other hand, women are financially independent and can pay themselves for their dresses, meal and drinks.
Happiness!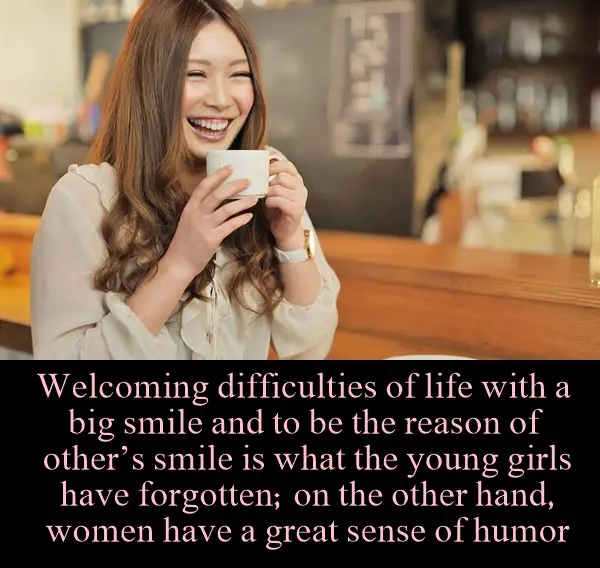 Welcoming difficulties of life with a big smile and to be the reason of other's smile is what the young girls have forgotten; on the other hand, women have a great sense of humor. So, this seems to be the most important things that separate women from girls.
Killing the bugs!
Women know how to kill mosquitoes and spiders by themselves. They also know how to handle such situations with intelligence and maturity. However, girls scream and call the closet person to save them.
Self-awareness!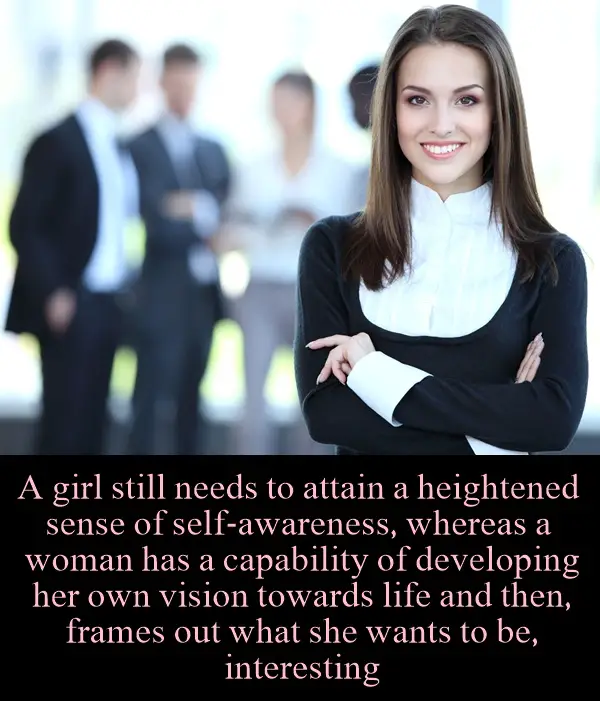 A girl still needs to attain a heightened sense of self-awareness, whereas a woman has a capability of developing her own vision towards life and then, frames out what she wants to be, interesting!
Fridge and Cupboards Stocked up!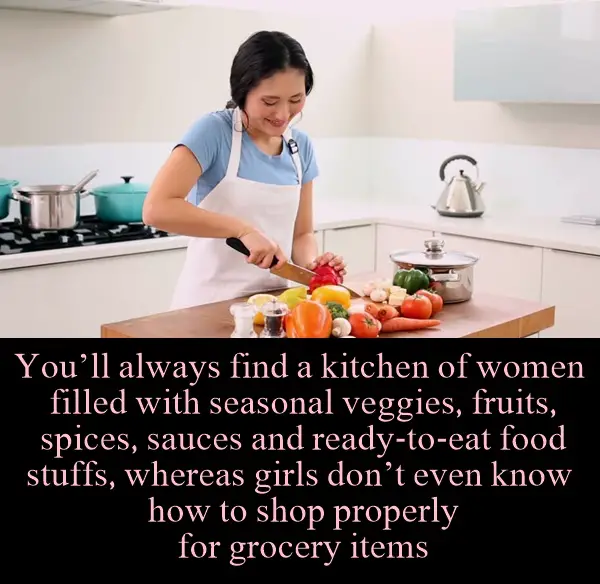 You'll always find a kitchen of women filled with seasonal veggies, fruits, spices, sauces and ready-to-eat food stuffs, whereas girls don't even know how to shop properly for grocery items.
Well, Friends! There is a need to understand that a woman who is the manager of a multi- millionaire company has the right to have a 'night out' with her friends and spend a memorable time with them, but that doesn't mean she is not a responsible women. We all are individuals, unique in our own way, so one cannot impose the 'traits' that can make a 'girl' a 'woman' on other person and there isn't any need to do that, right!