Source: Pexels
Graffiti and street art have never found their place among other traditional artforms. The fact that graffiti and street art is illegal in many places speaks a lot about its representation. However, graffiti and street artists have defied the odds and still managed to make some of the most beautiful art that this world has ever seen. It is true that an artist can create art in any way – the mode doesn't matter. With time, graffiti and street art has slowly slipped into the mainstream and is beginning to be accepted as a legitimized art form. Here are some of the most iconic street art graffiti from across the world.
1: Balloon Girl by Banksy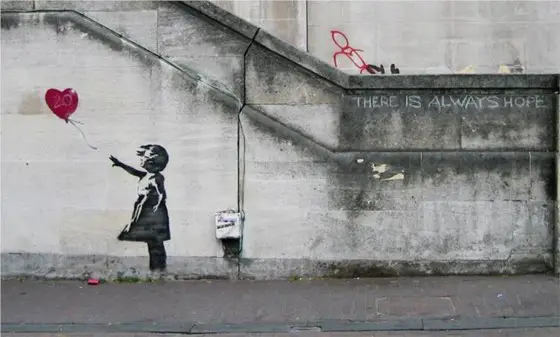 Source: WikiArt
Banksy is an English street artist who has been active in the scene since 1990. His art is often political and sparks political discourse. He is one of the most popular street artists from all over the world with 10.5 million followers on Instagram. His art mostly consists of dark humor, satire, and has a contemplative feature to it. The stenciling technique of Banksy is quite different from other street artists and is easily recognizable. Critics and street art and graffiti appreciators have often claimed Banksy to be one of the best street artists in the world, both form-wise and substance-wise.
Banksy's career
Banksy's career grew from the underground Bristol art scene. He has collaborated with a lot of underground artists and considers 3D (another artist) to be his inspiration. Banksy has been at the receiving end of several awards including the Person of the Year award at the 2014 Webby Awards. Banksy has always preferred to hide his real identity. Although, due to his fame and popularity, he has had to make public appearances. Some speculate that his name is Robin Gunningham. Although, the identity of this amazing artist doesn't matter as his art speaks for itself. His art has been often vandalized and damaged. Yet, now he has been recognized as a proper artist and his presence has helped legitimize street art and graffiti as real art.
His most famous work is perhaps the 'Balloon Girl' which was first seen around the location of Waterloo Bridge, London. Although, it is no longer there. This piece of his has also been ranked number one for United Kingdom's favorite artwork by a poll conducted by Samsung. In a 2018 auction, Banksy shredded this very artwork live by the means of a shredding device hidden in the frame of the said piece. He called the shredded remains 'love is in the bin'. For the first time in history, an artwork was created live during an auction.
2: The Lion's Den by Lee Quinones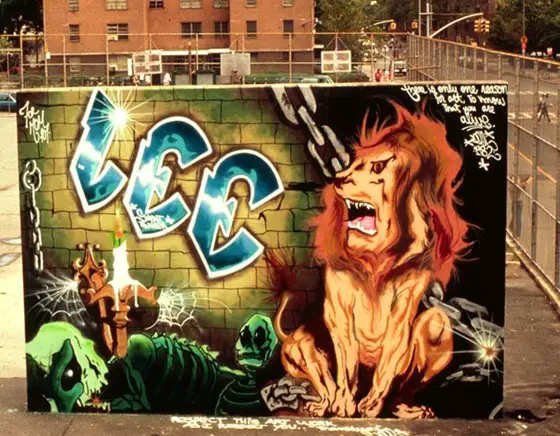 The Lion's Den is a piece of street art by Lee Quinones. It is an iconic piece of street art and graffiti talked about by street artists all over the world. One can even say that this artwork is Quinones' greatest creation ever, especially in terms of popularity. Due to this particular mural's popularity, Quinones recreated it at the 'Beyond The Streets' festival in Los Angeles. It was one of the most enticing attractions of the festival, as claimed by the audience and critics who attended the festival.
Lee Quinones, the artist behind this legendary graffiti work, is a Puerto Rican artist born in 1960. Apart from graffiti and street art, Quinones has also dabbled in acting. During his childhood, it became clear to Quinones' parents that he was interested in art as he began drawing at the age of 5. He started writing graffiti at the age of 14. However, his focus was not on walls, a traditional canvas for a graffiti artist, but on cars. He ended up painting close to 125 cars in his career. He soon joined crews of graffiti artists and began doing whole-trains.
By the 80s, he was a prominent figure among street artists. Due to his rising popularity, he was offered cameo roles in music videos and films. Quinones was even invited as a speaker at various European universities. His art caught the attention of other celebrities too. In 2008, all of his paintings were sold to the famous guitarist and musician Eric Clapton. Lee Quinones is also a philanthropist as he helped raise money for the victims affected by Hurricane Katrina.
3: Berlin Murals by Blu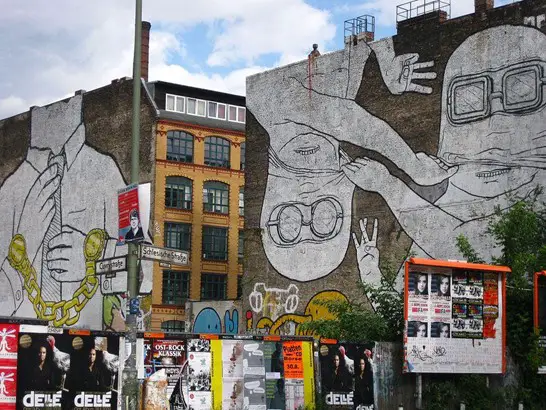 Source: Wikimedia commons
Berlin is a city full of amazing street art and graffiti. Every artist knows that Berlin was the cultural hotspot in Europe for street artists due to the Berlin wall. Prior to its fall in 1989, the Berlin wall's west side was full of graffiti writings and street art. Even today, there are exhibitions and museums that feature graffiti writings and street art. Rightly so, Berlin was dubbed as the place where graffiti found its home. Thus, it only makes sense that if one wants to see some iconic and jaw-dropping street art, they have to visit Berlin.
Berlin murals made by the graffiti artist Blu are worth checking out if you're into street art. His famous graffiti in Berlin incorporate elements of surrealism. They are a bit unsettling yet beautiful pieces of art. One of his Berlin murals consists of two masked entities, drawn in white on a dark background, trying to unmask each other. One look at this particular mural will make you realize how Blu uses surrealism in his art.
Like other graffiti artists, Blu also prefers to conceal his identity. His nationality is Italian and has been active in the Italian street art scene since 1999. He was born in Senigallia and now lives in Bologna. He has collaborated with another renowned street artist, Ericailcane. While Ericailcane drew animal figures, Blu experimented with human-like entities. After Blu shot to popularity and fame, the number of his joint ventures with Ericailcane dropped. Blu is one of the very few artists who have left their mark on several continents. His work can be found in Central America, South America, North America, England, Austria, Eastern Europe, Germany, Italy, and Spain. He is yet to leave his artistic mark in Asia and Australia, but that may be changed soon.
4: Los Angeles Street Graffiti by Seen (UA)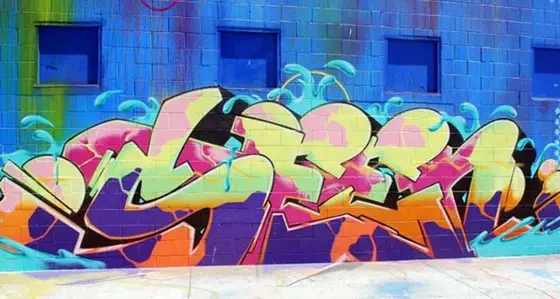 Source: Learnodo-Newtonic
Graffiti writing has been a major mode of expression for oppressed communities. Moreover, this form of art has been claimed by gangs of Los Angeles which use it to mark their territories. Apart from gang signs in graffiti writing, Los Angeles has been a place popular among graffiti artists. One such artist is Seen (UA).
Richard Mirando, or Seen (UA) was born in 1961 in Bronx, New York City. His graffiti art is so popular in the U.S.A. that he is known as the godfather of graffiti. He began his graffiti career in New York. He mostly painted on the New York subway system. After that, he moved on to cars. Mirando's work on cars and the subway system inspired many other young artists of the time. During the early 80s, he shifted his work to the canvas. His more traditional art was featured in exhibitions, museums, and art galleries. It was bought by many private collectors. Thus, it is safe to say that Mirando's art resulted in monetary success.
His art traveled across the globe, but Mirando stayed true to his roots. He continued to work in New York City. Eventually, he was included in the PBS documentary, Style Wars. Mirando also dabbled in tattoo artistry. After graffiti, he moved on to 3D art. In 2009, the 'Seen' gallery opened in Paris. Later on, the gallery became Seen studios.
The graffiti featured in the image is Mirando's most popular work. It is in Los Angeles, the American home of graffiti art.
5: 9-11 Tribute (2001) by Lady Pink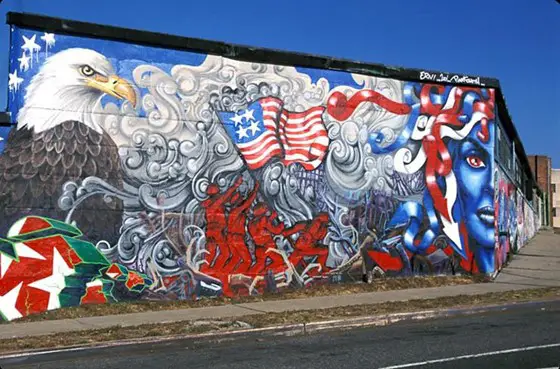 Source: BrooklynStreetArt
Sandra Fabara, popularly known as Lady Pink is an Ecuadorian-American graffiti artist born in 1964. She is a very important figure in the graffiti scene. Her art is themed around feminist issues and women empowerment. There are very few female graffiti artists in the scene even today. Thus, the presence of Fabara becomes even more important for budding female graffiti artists. The nickname given to Lady Pink by her fellow artists is 'The First Lady of Graffiti'. Fabara was quite active during the 1980s, a time when women were struggling for equality in workplaces and even elsewhere. She even formed an all-girl graffiti crew called LOTA – Ladies of the Art. Apart from cars, she has also worked on freight trains.
Fabara was born in Ecuador but moved to America to look for better opportunities. After she lost her boyfriend, Fabara turned to graffiti art as a way to cope. Eventually, she mastered the art and the rest is history. Her love for graffiti art attracted other competent artists. She married Roger Smith, another graffiti artist. Lady Pink incorporates elements of surrealism in her art. More specifically, her art has been labeled as Pop-surrealist. Her collections can be viewed at the Whitney Museum of American Art, Metropolitan Museum of Art, and Brooklyn Museum.
She made the 9-11 tribute in 2001 after the 9/11 terrorist attacks. It is perhaps her most famous work. This work of hers is a symbol of transnational solidarity between Ecuador and the USA. Her fight for equality, peace, and women empowerment through her art continues as she still churns out graffiti works, street art, and even traditional art paintings on canvas.
6: The Owl – Greek Street Art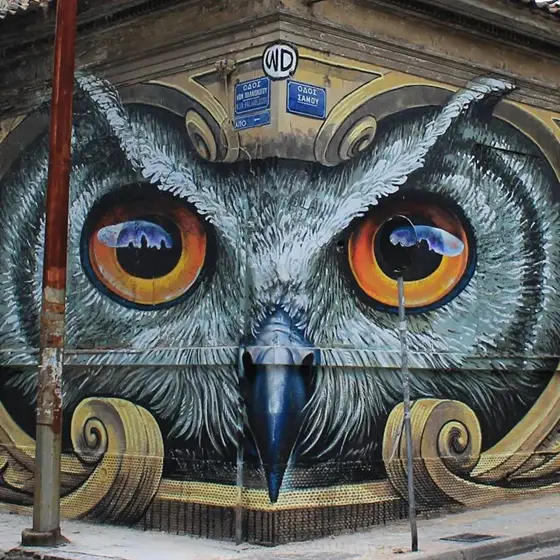 Source: Pinimg
Greece is another place very popular for its street art. It is said that great art comes from tormented hearts. Greece is a country that has been through a lot, and its people have also suffered a lot. Thus, the people of Greece have used visual art as a mode of expression for their individual inner self as well as a collective self. Due to its enormous national debt, Greece has plummeted into a financial crisis. The effects of this crisis have been thoroughly felt by the people of Greece.
Thus, the art of Greece has a distinct dark vibe to it. The struggles of Greek people are accurately reflected in the street art of Greece. Athens, in particular, is a city where tourists can find a lot of graffiti writings, murals, and street art. Many prominent street artists have jumpstarted their careers in Greece. Most of the art in Greece makes a political statement. It ridicules the state for its incompetency. Another reason for a large number of artworks in Greece is unemployment. With no work, the young people of Greece have turned to art. Thus, you would often find youngsters out in the streets with a spray paint can engaged in artistic endeavors. On one hand, this is alarming and should force the government of Greece to improve things. However, for art, Greece has been a wonderful cultural hotspot.
The mural dubbed 'The Owl' by the locals is a very grim piece of street art. The name of its creator isn't known. This is common in Greece as people usually draw and run away. Nevertheless, it is a beautiful piece of art. One can easily be hypnotized by the eyes of the owl in the mural.
7: The Giant of Boston (2012) by Os Gemeos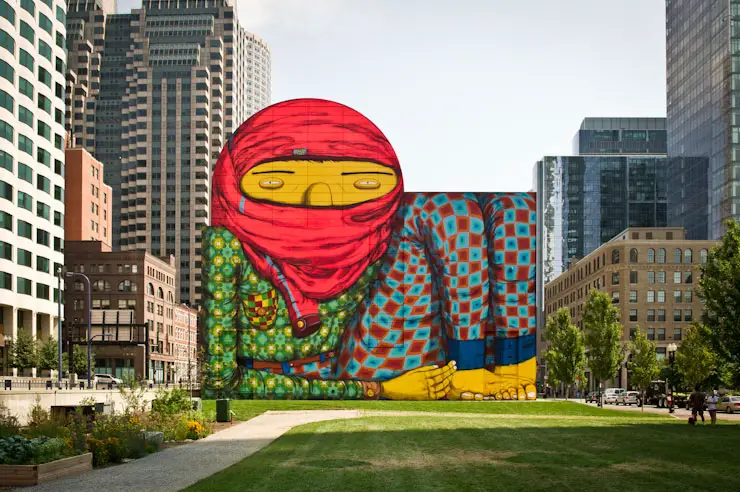 Source: Huffington Post
The Giant of Boston is a mural made by Os Gemeos in 2012. The mural features a giant human-like entity that seems to be stuck in a very closeted space. The image triggers a feeling of claustrophobia at first look. However, it makes use of bright colors and its color scheme induces a feeling of warmth. This contrast between form and substance is what makes the duo of Os Gemeos great. The mural is also a bit cartoonish, differing from other graffiti art.
Os Gemeos is the name of the duo – Otavio Pandolfo and Gustavo Pandolfo. 'Gemeos' means "twins" in Portuguese. The duo comes from Brazil. There, they are well-known for their graffiti art. Their art tends to be playful while delivering a strong message. The Giant of Boston is perhaps their best-known work. Os Gemeos have influenced a lot of young artists in Brazil. Many up and coming artists from Brazil cite the twins as their source of inspiration. Their art speaks for their greatness. Moreover, they have defined the distinct graffiti style which has been adopted by graffiti artists in Brazil on a national scale.
Their work has been appreciated by critics and audience alike. Their work has been featured in numerous art galleries. The twins have claimed that they were particularly influenced by American Hip-Hop culture. Of course, graffiti writing is a major part of the American Hip-Hop culture and many graffiti artists have been inspired by Hip-Hop. Because of their love for American Hip-Hop, the duo has worked extensively in the USA.
8: Etnias (2016) by Eduardo Kobra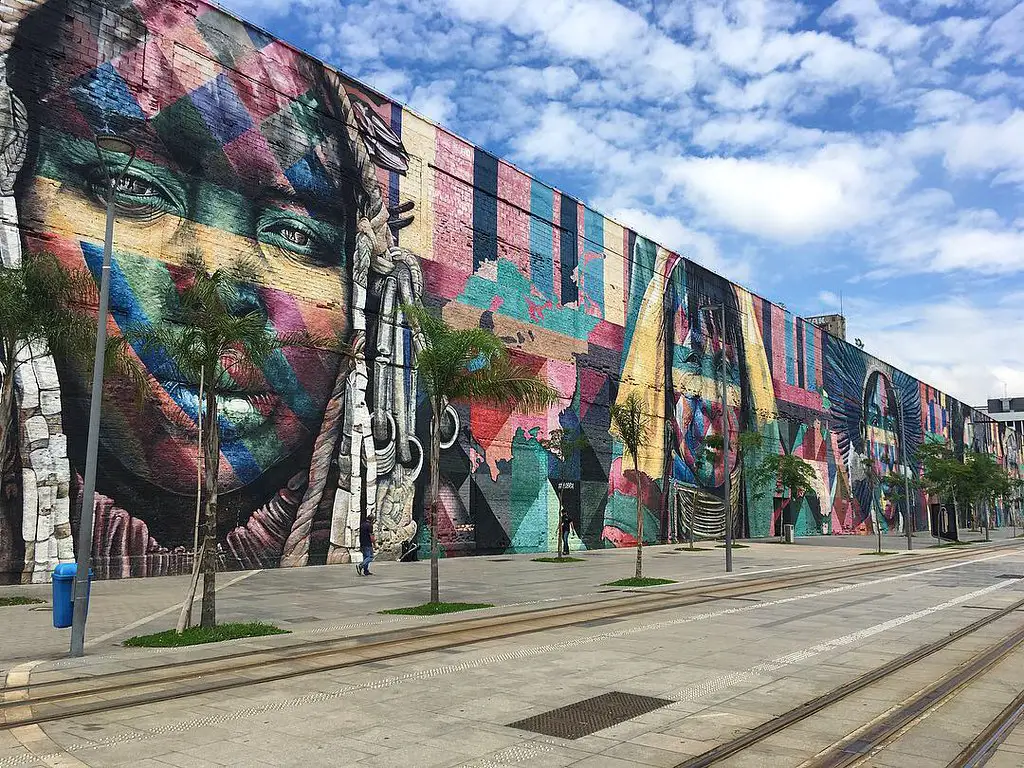 Source: Freewalkertours
Eduardo Kobra is a graffiti and street artist born in 1975 in Sao Paulo, Brazil. Eduardo has been an ardent fan of visual art ever since his childhood. He began his career as a street artist when he was just 12 years old. After that, there was no stopping him. Ever since then, Eduardo has painted over 3000 murals. His work is distributed over 5 continents and he is one of the very few artists with such diverse geographical distribution of his art. He has painted commercially too, on commission. Even after traveling worldwide, Kobra prefers to paint in his hometown. He lives in Sao Paulo still and paints there.
He has stated in interviews that he was influenced by the likes of Banksy, Eric Grohe, Keith Haring, and Diego Rivera. If one were to categorize his work, it would be under Realism. His works are very realistic. Yet, you can still see fantastical elements in it.
Etnias is perhaps the most famous work of Eduardo Kobra. It is enormous in size and makes use of a diverse color scheme. He created it in 2016, which suggests that the peak of his career isn't over yet. Eduardo prefers to paint portraits of famous people. He even holds the Guinness world record for the world's largest graffiti art.