Parties are always fun. And your office holiday party is no exception. But just like any other party, dressing for an office holiday party is not a piece of cake. The reason why it is difficult is that office holiday parties are not routine parties where you can show up in any outfit of your choice.

They are subtly solemn. And you won't want to show up in front of your boss wearing some crazy outfit. Having said that, we don't mean you should go all formals on such a party. Your outfit should be a mix of class and fun. Also, here we present some Street Style Model Off Duty Outfit ideas. Wondering what such an outfit could be like? Well, look at the options below-
Perfect Office Holiday Party Outfit Ideas
A sequined skirt can take you places
Although there are many perfect office holiday party outfit ideas, there is nothing like a sequined skirt. Sequins and parties go hand in hand. If you think a sequined skirt could make you look a little over the top, just team it up with a basic black or white top. That will balance out the entire outfit. When you have a sequined skirt as you bottom wear, you don't really need heavy makeup on your face and a lot of accessories. Your skirt compensates for everything.
Your classic pants can go with a fun top
Yes, there is no dearth of perfect office holiday party outfit ideas, but a lot of people don't like to appear too dressed up. If you are one among them then you will probably love the idea of attending the party in a pair of classic pants. Now, if you team it up with a classic shirt, you will appear more professional than lively. And that is why it is advisable that you wear a fun top, which will certainly pep up the look of the outfit. Here we assure you comfy outfit's ideas to try this summer will definitely going to prove one of the classic must-haves for your wardrobe.
Team your basic jeans with a ruffle top
Is wearing a pair of jeans to a party a crime? Not at all, more so when the party in question is an office holiday party. But the question is- what should you wear to complement your jeans? Well, you should slip into a pretty ruffle top. The reason we say so is that ruffle tops have a party vibe to them, and that is why they cancel out the 'too-routine' vibe of a pair of jeans.
Just pep up any dress with red pumps
Don't have any special dress to wear to this occasion? Slip into any pretty outfit you have. And make it extra special with a pair of red pumps. But make sure your red pumps don't get into a riot with your clothes. There has to be color agreement besides style compatibility. Also, here we have party outfit ideas.
A statement dress and a fur jacket
When it comes to the perfect office holiday party outfit ideas, nothing can beat the glam factor of a statement dress. When you are in it, you don't really need anything else to be complimented on. Still, who doesn't like some bonus complements for a beautiful fur jacket thrown over a pretty statement dress? Yes, these clothing items together create magic, perfect for any office holiday party.
A glittery dress
Glittery dresses are available for purchase in all imaginable colors. So, choose one that suits your complexion and of course, the mood of the party. If you want to play safe, just go for a golden or a bronze dress.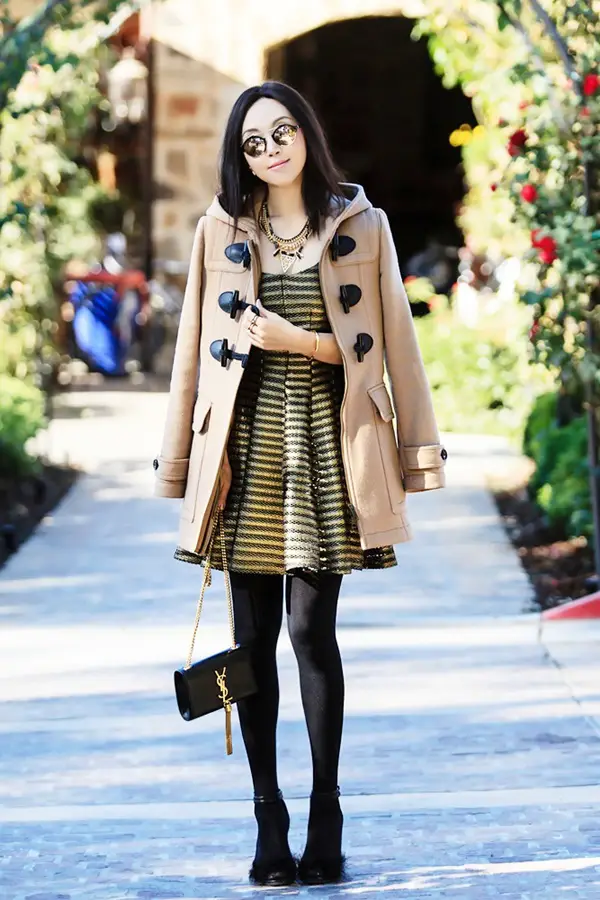 Image Source
Perfect office holiday party outfit ideas like the ones above are a must-have in your wardrobe if you are a working professional. Such parties are a common workplace affair and should never be ignored under any circumstance. Just because office holiday parties are not as fun as an intimate party with your close friends, you should not miss them. They allow for some great fashion experimentation, which you certainly can't miss out on. Here, we suggest some cute everyday style outfits for women to transform their daily boring outfit into one that will grab everyone's attention.