Fashion does no injustice to anyone! A lean woman looks stunning in a body-hugging dress, so does a curvy chic. All you need is to know what is made for the kind of body silhouettes you have. A lot of curvy women go for clothes based on what's trending; they don't really pay attention to their suitability.

But then if you want people to appreciate your sense of style, you will have to pick your clothes, shoes, and accessories carefully. And you will have to make sure, what you wear compliments your body contours and not contradicts it. Here are some Mandatory Fashion Tips For Women With Curves, you can start following right away. Also, here we have some Essential Fashion Tips For Curvy Women. Have a look-
Mandatory Fashion Tips For Women With Curves
Be finicky about your undergarments
Although there are many Mandatory Fashion Tips For Women With Curves, this one makes ample sense. Buy the best undergarments your money can afford. And by best, we also mean the best fitting ones.
Invest in good shapewear
Shapewear can hide bulk effectively. If you are sick and tired of looking fat-laden around your torso, then shapewear can help you immensely. Good shapewear can make any outfit look stunning on you.
Choose clothes that highlight your assets
Gone are the days when curvy women used to go for loose fitting clothes. Today's diva likes to wear clothes that highlight her assets. So, whether it's your boobs or your bum that needs focus, the right clothes can allow for it.
Know how to accessorize
Curvy women can up their fashion game simply by means of accessorizing. Whether it is a pair of shades, a necklace or a watch- it can go a long way in making you look stylish. But don't over-accessorize yourself and don't pick accessories that refuse to go with your personality.
Clinch your waist with a belt
Out of all the Mandatory Fashion Tips For Women With Curves, we have here, this one is a lot of women's favorite. Yes, we are talking about belts. They can add so much of oomph to your body contours.
Avoid turtlenecks
Turtlenecks are a great way to make your neck and upper body look slimmer. But it's a strict no-no for women having shorter necks. A turtleneck could make a short neck appear unpleasantly shorter.
The best dress cut is fit and flare
If you want to slip into a dress, sure do so. But make sure, it's a fit and flare dress. Fit and flares are not just cute but also extremely appropriate for curvy bodies.
Do wise layering
A lot of women avoid layering when they are curvy. That's simply because they think layering could make them appear bulkier. But then when you choose your layers wisely, you only get your body flaws masked. Also, take a look at plus-size dressing ideas for the modern girl.
Love wearing rings? Buy adjustable ones
A lot of women love to wear rings. And curvy women with plump fingers feel more in love with this accessory. Well, if you are investing in statement rings, make sure you buy the adjustable ones. You won't want to ditch your collection once you get slimmer. Will you?
Skirts are a big yes
For every curvy woman, choosing the right clothes is extremely important. Thankfully, skirts are what can make any curvy chic look feminine and stylish. So, load your wardrobe with them.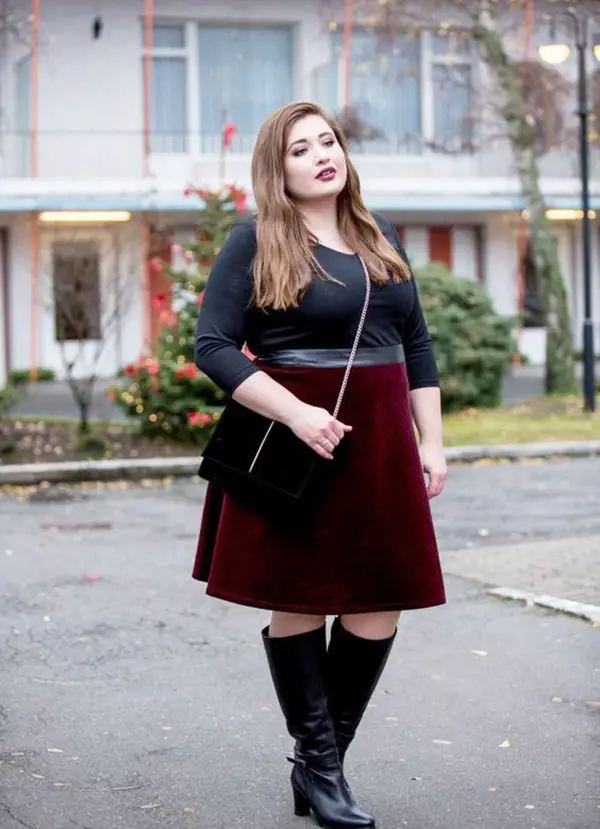 Image Source
When it comes to fashion for women with curves, choices have to be a little careful. After all, they don't have that mannequin body considered ideal in the world of fashion. But then if you know your body well, and you have a great sense of style, you will definitely dazzle in your own sartorial choices. The above Mandatory Fashion Tips For Women With Curves only help you do that. So, try them out and make people jealous of your curvy body. Also, you can take some idea from Classy Plus Size Work Outfit Ideas.