The most important part of your house is definitely the living room. And that is why no one leaves no stone unturned to make it look beautiful. The adornment of the living room is a subject no one ignores. But then in a bid to decorate, a lot of people end up over-decorating this space. Trust us, you don't need all the decoration in the world in your living room; a minimalistic touch to the décor is more than sufficient. If, however, you are short of ideas, then the following extraordinary minimalist living room ideas are what you need to check out. Here we present some amazing Classic Men Bedroom Ideas And Designs.

Extraordinary Minimalist living room ideas
Try out an almost monochromatic color theme
Although there are many extraordinary minimalist living room ideas, there is nothing like trying to maintain a monochromatic palette. Since pure monochrome would be boring and lifeless, a little pop of some contrasting color here and there will add that much-needed spark in the design.
Infuse wood into your room décor plan

Image Source
When it comes to establishing minimalism in your living room, incorporating wood can have a magical effect. Wood has a subdued charm in it. The mere incorporation of a few wooden accents here and there will spice up any living room. If you want that natural effect along with simplicity, just say yes to wood dominance in the living room.
Try out something with a Japanese influence
Japanese home décor is too fine to believe! And it is this finesse that makes it such a hit across the globe. One of the most prominent features of Japanese designs is that they are overly minimal. And it is with their simplicity that they impress onlookers. A sliding door, a low seating arrangement, and a subdued colour prevalence will all make your living room look really simple yet gorgeous. Here we are giving you some amazing Game Of Throne Style Home Decor Ideas. Have a look-
Neutral shades are a big yes
Colours play an important role in how your living room finally appears. In fact, a sofa in a particular design in yellow could be part of some quirky home décor, and then the same sofa in some neutral shade could make a living space look so calm and serene. That's how influential colours can be! For a minimalistic look, your living room décor should be based on a neutral colour palette.
Minimalist French-style living room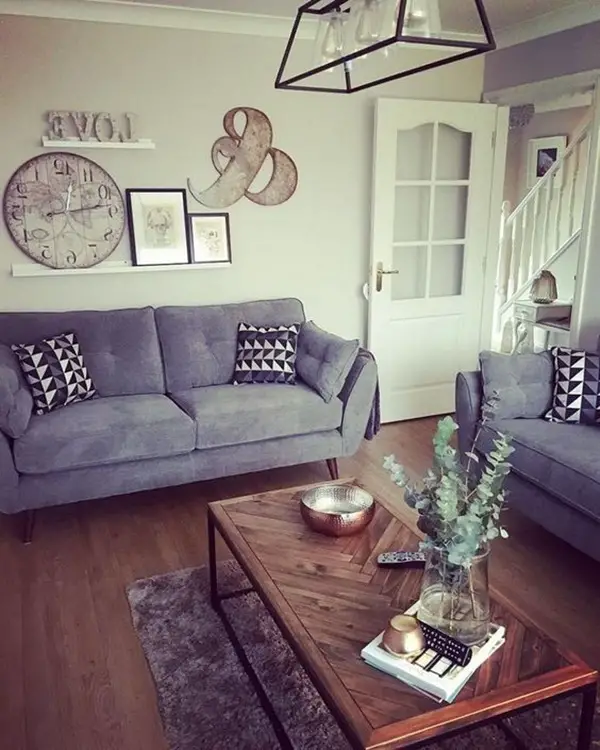 Image Source
French interior design and décor are popular for all good reasons. A lot of fabric in use and pastel colours sprawling the living area can make it look extremely cosy and comfortable, and of course, minimally beautiful. So, now you know that it's not just French nail designs that have a minimalistic appeal, even French interior designs are no laggards in this regard. Here we have some beautiful Bohemian style home decor ideas. Have a look-
Minimalism with a rustic touch
A lot of people- far more in number than you can imagine- love to have a rustic appeal in their interior decoration. Rustic decoration has its own charm, and it, of course, says a lot about your grounded personality. If you want to offer the same personality to your living room, just let it have a rustic feel. It's interesting and minimalist at the same time.
When the décor items you use are minimalist art
Talking about extraordinary minimalist living room ideas, this one bears special importance. Don't do much, just decorate your living room with minimalist art pieces, and you are good to go. You actually don't need anything else to offer your living room a minimalistic touch!

Image Source
A plain living room makes more sense than an overly decorated one. And that is why you should avoid everything over the top. Starting from the furniture you place in the space to the décor items you put on display, everything should be simple. And when we say simple, we don't mean boring. There is no dearth of extraordinary minimalist living room ideas that are sexy and appealing at the same time. The above ones are of course some examples. Try them out and feel the difference! Here we are giving you some wonderful master bedroom decor ideas that you will definitely find useful.