When it's winters, layering is a thing we shut our eyes and go for. More so, because it's so much in. But the wrong layering can make your outfit look really ugly. If you don't want to appear shaggy with layered outfits, then find out what we have in store for you below. Here you find some of the best and Most Important Layering Outfits for Winter. Winters these days is all about fashion and knowing how layering can add oomph to your personality. Whether you are a minimalism lover or someone who loves things to be over the top, you will love these Hot Winter Outfits That Every Girl Needs for Her Wardrobe. So, let's have a look-

Most Important Layering Outfits for Winter
Layer with a Chunky Sweater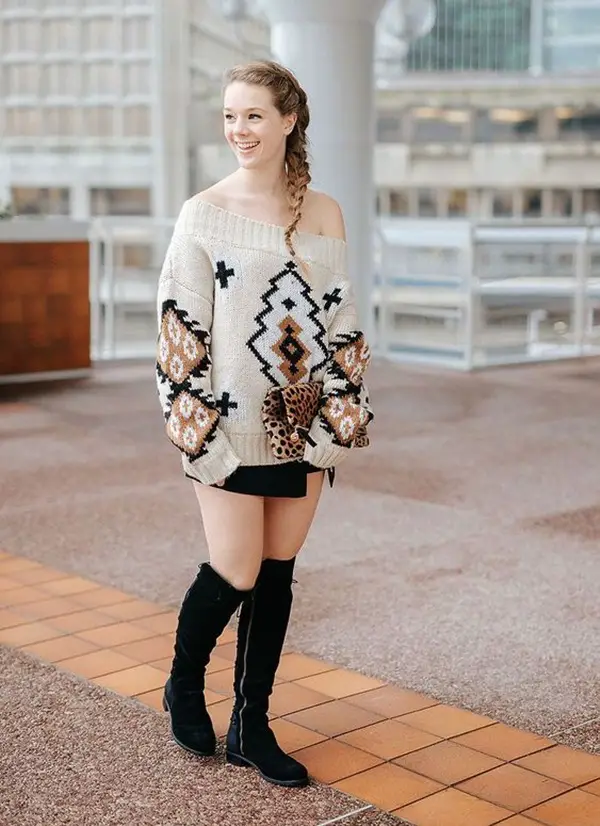 Image Source
When it comes to the Most Important Layering Outfits for Winter, we simply can't neglect a chunky sweater. It's so much more than just a way to layer your outfit. Chunky sweaters are warm, cute and of course, an absolute go-to when all you want is comfort dressing.
Match your Cardigan with a Scarf
Talking about the Most Important Layering Outfits for Winter, it would be unfair to leave out cardigans. They are such a craze these days. All you need is to match your cardigan with a scarf, and you are good to go.
Cardigans with Longline Tops Underneath
If you want to enhance the look of your cardigan, simply complement it with a longline top. Although this outfit is ideal for older women, even the young lot will do justice to it.
Turtlenecks and Trench Coats
If you love trench coats, then sure go for them. They are a hit winter outfit to try on. But for that glam element, you can always team it up with a turtleneck top or sweater. The combination of turtlenecks and trench coats is winning a lot of hearts worldwide. Also, here we have some basic winter outfit ideas to copy right now.
Overcoats with Gorgeous Mufflers
Overcoats might sound a little old-school. But trust us, they are a must-have if you love that old-school charm. An overcoat, a pair of sexy boots and a muffler around your neck- what else you need to slay?
Add Spark to Your Look with a Blazer
Layering can get difficult when you really need to look sexy and solemn at the same time. Well, your blazers can come for your rescue here. Just slip into one and feel like a diva this winter. Make sure you have a sexy scarf around your neck and a pull-over underneath for some added protection.
Shrugs for a Mild Winter
Winter at your place has still not begun to hurt yet. But you want to dress up like you are already shivering. Well, throw a lovely shrug over your shoulders, and you will feel the chills right away.
That Leather Jacket for Some Added Oomph
When you have to attend a party during the winter season, you feel like you are the most helpless person in the world. Yes, we understand the pain you go through when you have to layer for a party. But then, if you know how to layer right, you will nail your look anyway. Just slip into a leather jacket and dazzle.
Fur Coats are Quite a Thing These Days
Fur is back. And it is sure back with a bang. With a fur jacket, you will not just feel protected from the winter cold, but will also feel like you are some 18th-century queen. A win-win for you.
Have we Forgotten the Denim Thing?
Put on a denim shirt, and then throw a denim jacket on your shoulders, and you are all set to kill with your looks. The most amazing way to layer? Yes, it is!
The above listed are definitely some of the Most Important Layering Outfits for Winter; not just because of the amount of style they ooze out but also because they feel so comfortable on chilly winter days. If you don't want to waste time experimenting with your looks, then here are some fail-proof romantic winter date night outfits for you. So, try out these layered outfit ideas and make your winter fashion enviably chic.