Buddhism is a popular faith, and there is no denying this. Its ways are unique and it encourages people to look at life and the world in a pretty practical way. And that is probably the reason why the followers of this faith are not concentrated in the area of its origin alone, it is followed everywhere and with great fondness.

If you too love Buddha and his preaching, then you might also probably be interested in some really amazing sculpture works done in love of Buddha. Well, if yes, then the list below is for you. Here we have some of the Largest Statues of Buddha Around the World. Here we have some Buddha Painting Arts to Essence Your Environment with Peace. Have a look-
Largest Statues of Buddha Around The World
Hussain Sagar Buddha statue
Talking about Largest Statues of Buddha Around the World, the Hussain Sagar one is definitely important. Located in India's Hyderabad, this statue is sure an infrastructural marvel. In fact, it is the tallest monolithic sculpture of Buddha.
Monywa Buddhas
Out of all the Largest Statues of Buddha Around the World, this one is probably the most unique as it has got two statues, one reclining (90 m) and the other standing (116 m). Perched atop a hill, these statues make for a spectacular view and can be seen from faraway places too.
Leshan Giant Buddha
This Buddha statue, stationed in China, became a UNESCO world heritage sight in 1996. Its 71 m height makes it the tallest stone statue of Buddha in the world. It has the confluence of three rivers- Qingyi, Minjiang and Dadu in its front.
Temple of the Emerald Buddha
It is the holiest Buddhist temple in Thailand. This temple is also popular for the giant Buddha statue housed in it. Apart from being the palladium of Thai society, This statue is a reason why this temple attracts so many tourists from all over the globe.
Great Buddha of Kamakura
Japan's amazing historical landmarks include this statue too. It's a beautiful bronze statue in the Kamakura city and is a popular tourists' attraction. This 13.35 m tall statue was originally gold plated, but it almost lost all of its gold in the 1492 tsunami. Nevertheless, it still looks fascinating.
Ling Shan great Buddha
This magnificent Buddha statue located in China is 88 m tall and its height also includes a lotus pedestal of 9 m. To reach this statue, visitors need to take around 217 steps of a staircase. The entire experience is truly rewarding!
Temple of the reclining Buddha
Tat Pho temple in Bangkok is the seat of this gigantic Buddha statue. This reclining Buddha statue is 46 m long and 15 m high and has a gilded exterior. The core of the statue is made of bricks, though.
Ushiku Daibutsu
This 120 m tall statue in Japan used to boast of being the tallest Buddha statue from 1993 to 2002. Nevertheless, today it still is counted as one of the tallest statues in the world, among the top five, to be specific. With a 10 m lotus platform, it indeed looks majestic.
Gal Viharaya
It's a Sri Lankan rock temple where a group of four Buddha statues is housed. These rock statues here are definitely the temple's highlight. Interestingly, the statues have been carved on a large granite rock's face.
Tian tan Buddha statue
It's a huge bronze Buddha statue in Hong Kong that represents the beautiful bondman shares with nature. This 34 m tall seated statue is one of the largest seated statues of Buddha in the world.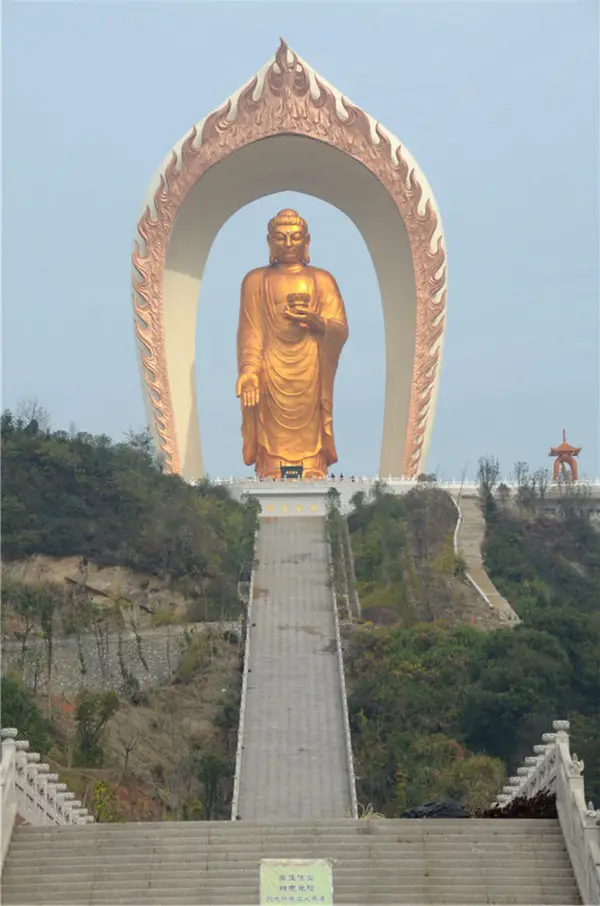 Image Source
The Largest Statues of Buddha Around the World as highlighted and discussed above make for a spectacular sight too. So, if you haven't visited any of them, it's time you did. Put them in your bucket list and do witness these mega sculptures before you die. Here we present some Peaceful Buddha quotes on life, peace, and love.