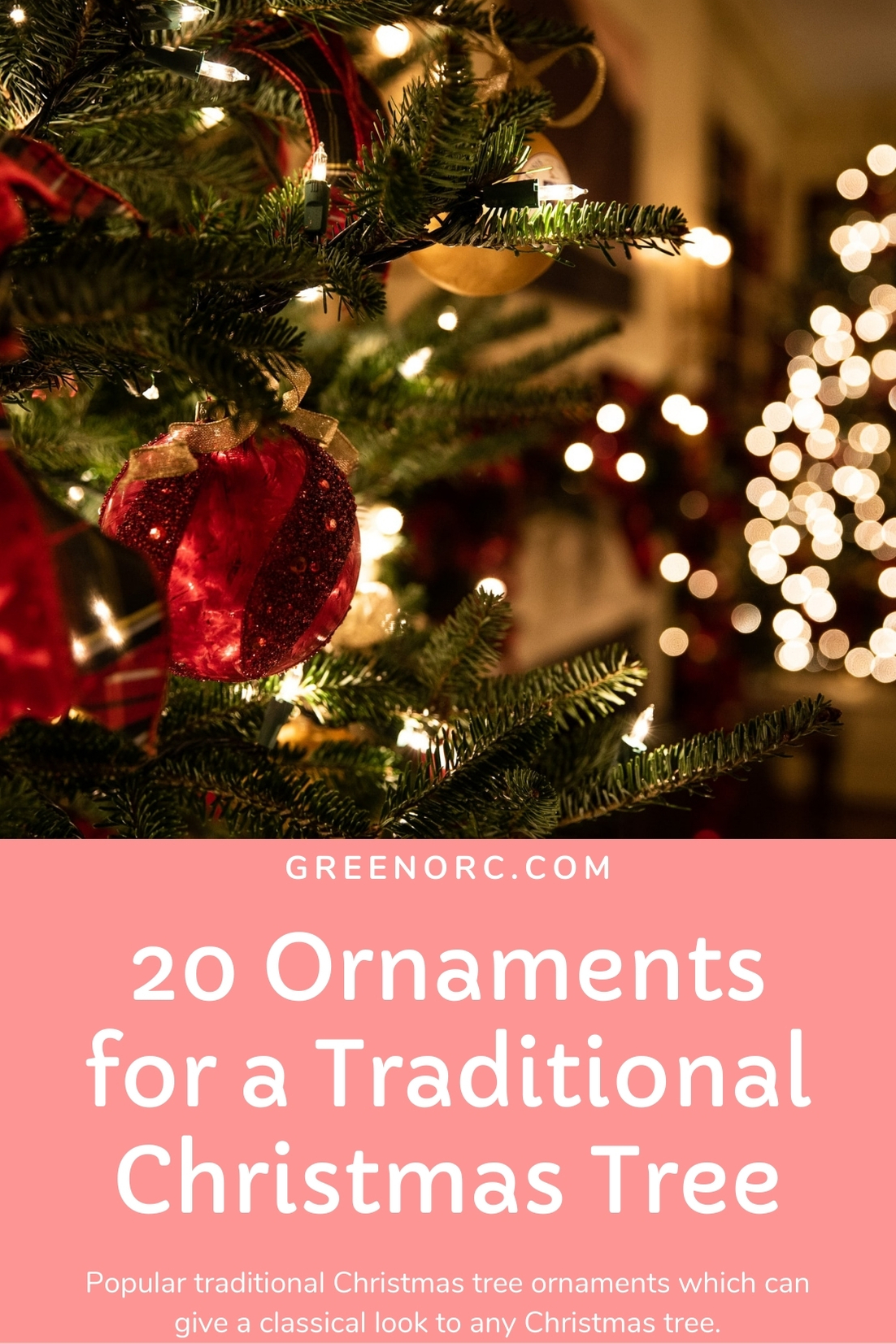 The most exciting part about the holiday season is decorating the Christmas tree. Whether sophisticated, fun, or whimsical, there are hundreds of ornaments to jazz up a Christmas tree but the old world charm lies only in decorating a traditional Christmas tree with traditional ornaments. Every Christmas tree tells a story and a traditionally decorated tree ushers in the bygone era.
Let's look at the most popular traditional Christmas tree ornaments which can give a classical look to any Christmas tree.
Glass Ornaments
Glass ornaments have adorned Christmas trees for time immemorial. These pretty and delicate balls represented everlasting life. They symbolized the victory of life by defeating death. They are hung in the hope of warmer days over severe cold weather.
Before glass ornaments existed, apples were used instead to decorate Christmas trees. It was in the town of Lauscha in Germany where the first glass Christmas tree ornaments were created. As the story goes, two gentlemen Hans and Christoph who did not have enough money to pay for apples. So, they made blow glass trinkets that looked like fruits and nuts to decorate their trees.
It was later in 1847, the ornaments got their reflective look with a mix of mercury and tin. This mixture was then inserted into the glass balls through a hole to coat it from the inside and then seal. Later glass ornaments were customized with hand painted designs. More ideas cropped up and glass tinsels replicating icicles, glass beads, hunting horns, vases, birds, etc. also became popular traditional Christmas tree decorations.
Festive Ribbons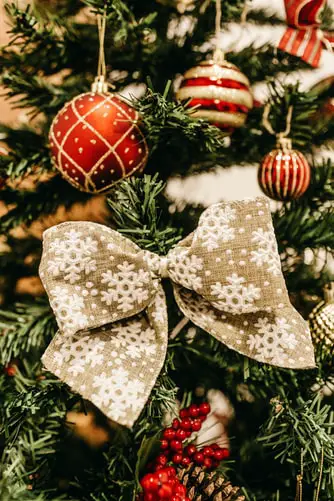 While shades of bright red and green are the traditional Christmas colors, trees in earlier times were often decorated with displays of checkered fabric or plaid. Ribbons of all sorts made extremely popular traditional Christmas embellishments.
Red ribbon garlands, bows, plaid ribbon decorations, or just hanging red and green ribbons to fluff up the Christmas tree have complimented holiday decoration schemes since time immemorial. A traditional Christmas tree decoration can never be complete without festive ribbons.
Candy Cane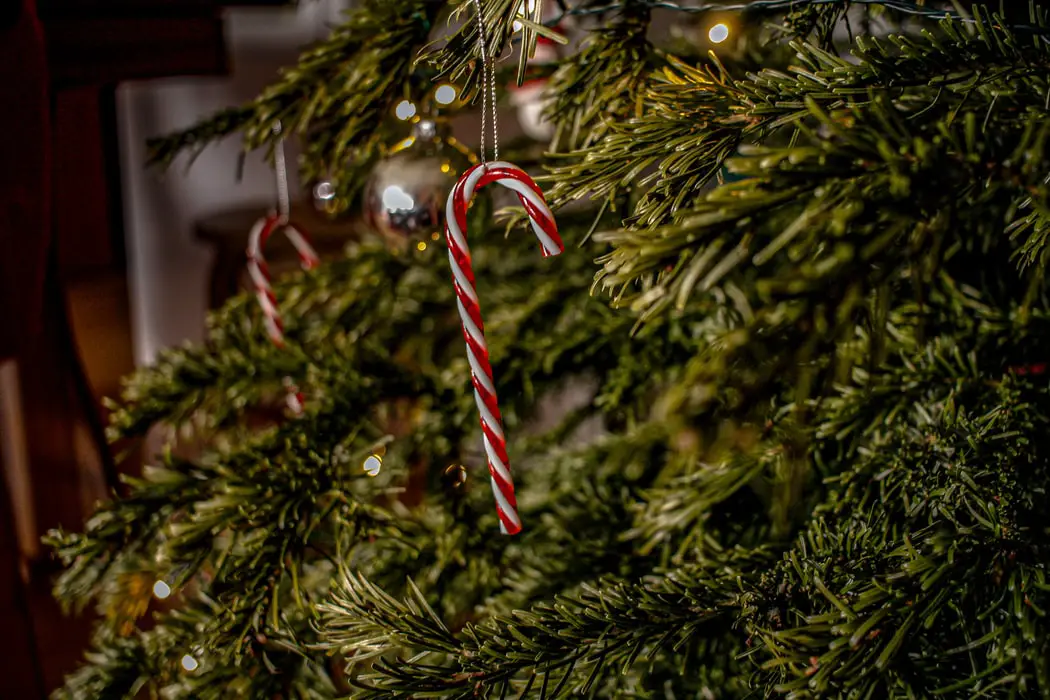 The red and white candy cane decorations add a sweeter look to the Christmas tree. These are traditional Christmas tree decorations and can also be found hanging on doors, walls, and driveways. Candy canes have been essential traditional decoration elements during the merry Christmas season.
Candy canes have significance and are not just put up for a decorative purpose. As folklore has it, a candy maker wished these red and white sweet sticks to represent the greatness of Jesus. Thus, the tradition began and the sweets resembling a shepherd's staff or crook associated with the celebration. Some believe because the candy cane when turned upside down looks like the 'J' symbolizing Jesus Christ.
Gingerbread garland
A perfect traditional Christmas tree decoration would never miss having some gingerbread decoration. Gingerbread houses, cookies, and edible decorations have been an important part of Christmas. The runaway gingerbread man is a Christmas symbol and a part of folklore and so familiar around the holiday time. Gingerbread decorations set the holiday mood right.
Poinsettias
No one can think of a traditional Christmas tree decoration without some bright red poinsettias. What is believed to be flowers is a bunch of leaves and have a deep-seated significance to Christmas.
There are different beliefs about this Christmas flora. Some people think poinsettias resemble the "Star of Bethlehem". To some the red hue stands for the blood of Jesus Christ and some others believe them to be the "flowers of the holy night". Poinsettias have been an extremely admired Christmas decoration for ages.
Nutcrackers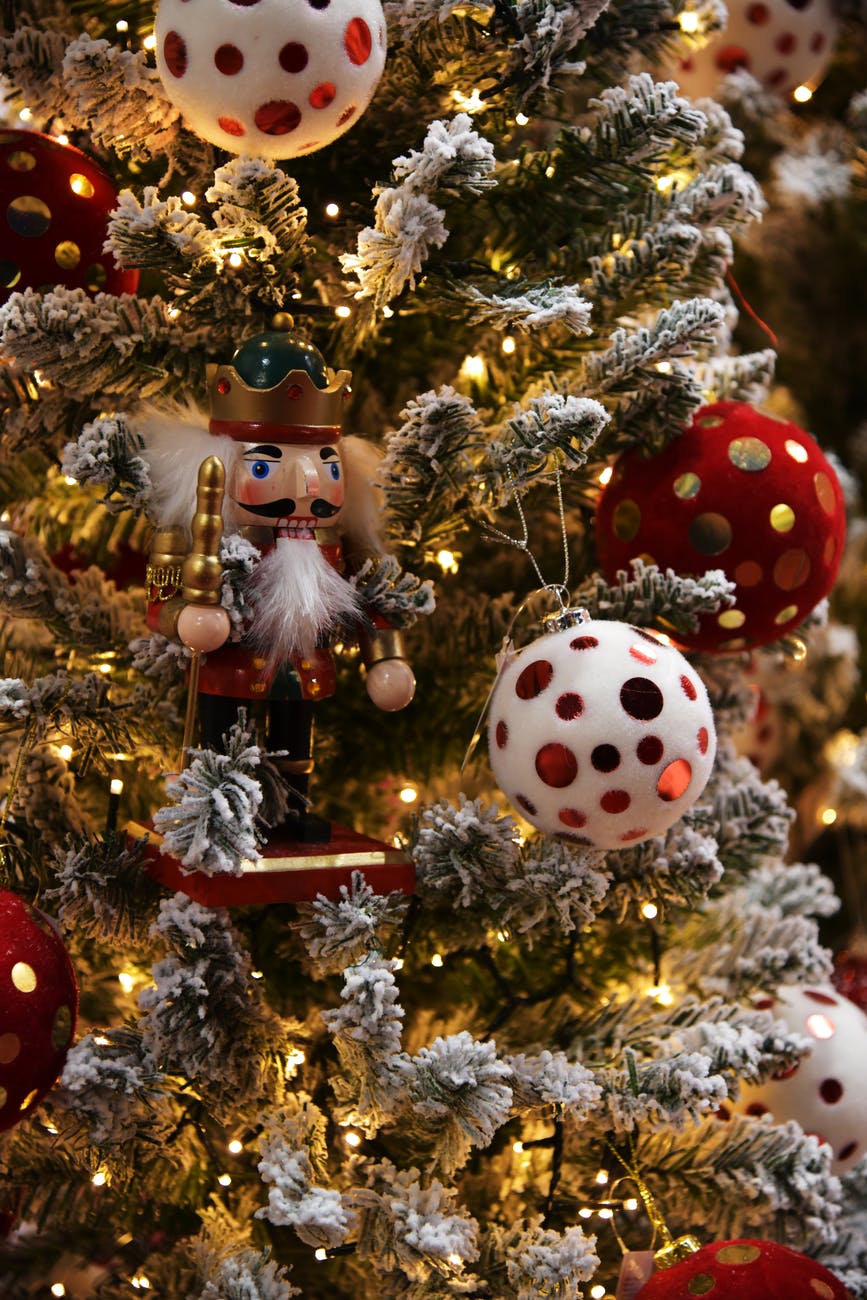 Traditional decorative nutcrackers were made from different materials including wood, metal, and porcelain. Decorating with nutcrackers was believed to invite good luck to the home and family.
They represented strength due to their soldier-like appearance and were supposed to guard a family like a watchdog. Decorative Christmas tree nutcrackers came in different colors and look. Some look whimsical showing their bare teeth to drive away evil spirits.
Bells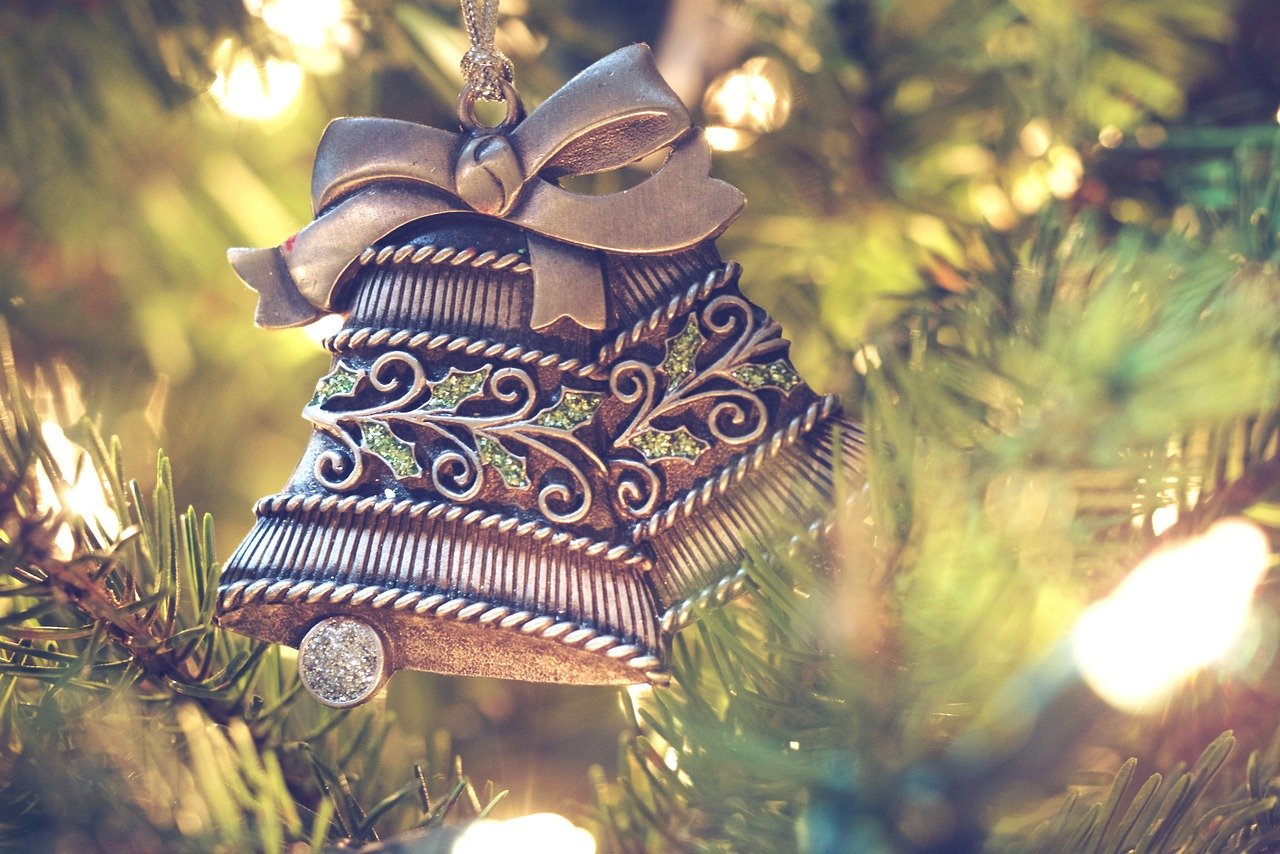 Traditional or modern, a Christmas tree decoration is never complete without bells. Christmas bells resonate with a religious melody. Bells signify many things like the arrival of winter, the birth of Jesus Christ, noise to scare evil night spirits.
Bells of all sizes and colors are hung to decorate a traditional Christmas tree. It's the merriest time of the year and the joyful tune comes from the jingling of bells!
Baby Jesus
In the oldest Christmas trees, the tree topper was a baby Jesus and not a star or an angel as seen today. Later it was swapped with stars and angels, and other Biblical symbols.
Exhibiting a nativity scene next to the Christmas tree was also important in olden tree decoration. Often made from driftwood, straw, pinewood boughs, burlap, and other handmade accessories and elaborated with figurines, this scene depicted the arrival of Jesus on the earth. Now considered shabby chic, the traditional decorations reflect simplicity.
Christmas Star
Traditional Christmas trees are always decorated with a large, or angel star positioned on top. Glittery, golden, bright, and beautiful it completes a Christmas tree.
Decorating with stars was considered very important in olden times as they represented the star of Bethlehem from the Biblical story and Nativity scene. It is believed to be the star that shines to give hope to humanity.
Ornamental Spiders
Tinsel is common on Christmas trees but many people do not know that Christmas spiders were also a popular traditional Christmas tree decoration.
The story of tinsels and Christmas spiders are closely related. There are many versions of the story which connect the shiny gold and silver tinsel to spider webs which were transformed by Santa Claus. It has been a tradition for long to decorate Christmas trees with tinsels and colorful, ornamental, Christmas spiders.
Wreath
Traditional leaf and flower wreaths and decorative wreaths made with holly and cedar leaves, paper, and fabric have forever been Christmas decoration favorites. Wreaths are now mostly hung on doors as a symbol of a family assembling but they originally were used as Christmas tree decorations. Those were simple circular wreaths that were easy to hang from the tree. It also represented divine perfection and endless love and rebirth.
Santa figurine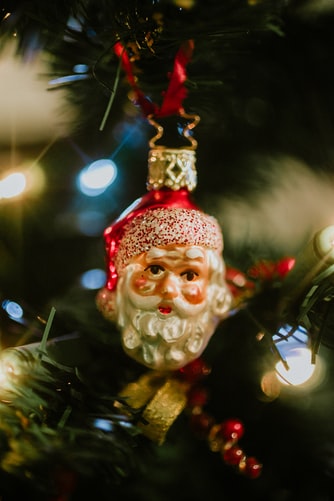 Without Santa Clause, the mythical plump figure dressed in red and white, there would be no Christmas cheer. For centuries Santa is believed to bring gifts for children and plays a significant part in Christmas decoration.
Candles
In olden times, it was common to decorate Christmas trees with candles. The candles signified Christ bringing light to the world. In the absence of electricity, candles were the best way to illuminate a traditional Christmas tree. To keep their trees safe but to include the old fashioned charm many people use felt candles or LED candles to decorate their trees even today.
Tinsel
Tinsels were originally made with strands of the real silver way back in the 16th century. These were not only decorations but were placed on the Christmas trees to reflect the light from the candles. Later, to make it affordable for all, cheaper metals like tin, copper, and aluminum were used to make tinsels. Today, tinsels are made with synthetic material.
Reindeer Figurines
Who helps Santa carry all those gifts? Of course, reindeer do! So, they are iconic Christmas tree decorations. Wooden reindeer ornaments were a traditional tree decoration for Christmas. They added an earthy and woodland feel to the whole tree setup.
Snow Globe
Snow globes were quite accidentally discovered but a favorite traditional tree decorations during Christmas. In olden times these were simple glass balls filled with water and semolina to mimic snowfall.
Angel Ornaments
Angel ornaments are hung from Christmas trees or are even used as tree toppers because they have a major significance. They symbolize the angel of Gabriel, who announced Christ's birth, and other angels who gathered to celebrate the announcement. In olden times, wooden manmade angels or straw angels were common tree ornaments. Later glassblowers started making showier angel ornaments to adorn Christmas trees. Later, angels with wings and flutes became popular.
Baubles
The oldest Christmas decorations were fruits and edible things. Baubles were created to symbolize them. The use of baubles started sometime in the 17th century. Moreover, colorful baubles added vibrancy and a joyful note to the Christmas traditional tree decoration. The idea of baubles originated from glass ornaments that were first created in Germany.
Snowflake Ornaments
The earliest snowflake ornaments for Christmas trees were made with straw. Since Christmas is a winter festival, snowmen and snowflakes are iconic decorations. Popular stories woven around frosty nights and snowmen made them popular traditional Christmas tree decorations. Snowflake ornaments have seen multiple variations over the years. Now they are made with metal, glass, glitters.
Natural Ornaments
Christmas is a religious celebration but is closely related to nature. The tradition of celebrating Christmas started during historical times when too many decorative things were not readily available. The most common decorations used were what could be found in nature. That includes holly berries, dried fruits, pinecones, rolls of cinnamon sticks, cranberries, and handmade ornaments with twigs and evergreen leaves. Adding some rustic decorations made with natural things will give any Christmas tree a traditional look.