"Jingle bells, Jingle bells Jingle all the way. Oh, what fun it is to ride, in a one-horse open sleigh". Doesn't this jingle fill your soul with joy and happiness? Well, it is that time of the year – 'Christmas 2020'. Looking around at what's happening in the world right now, all we need is a miracle. Christmas is a symbol of new hope and miracles, so don't act surprised if things suddenly start to change. So how do we invite happiness and good fortune into our house? YES! By decorating it with beautiful Christmas objects and spending time with our families.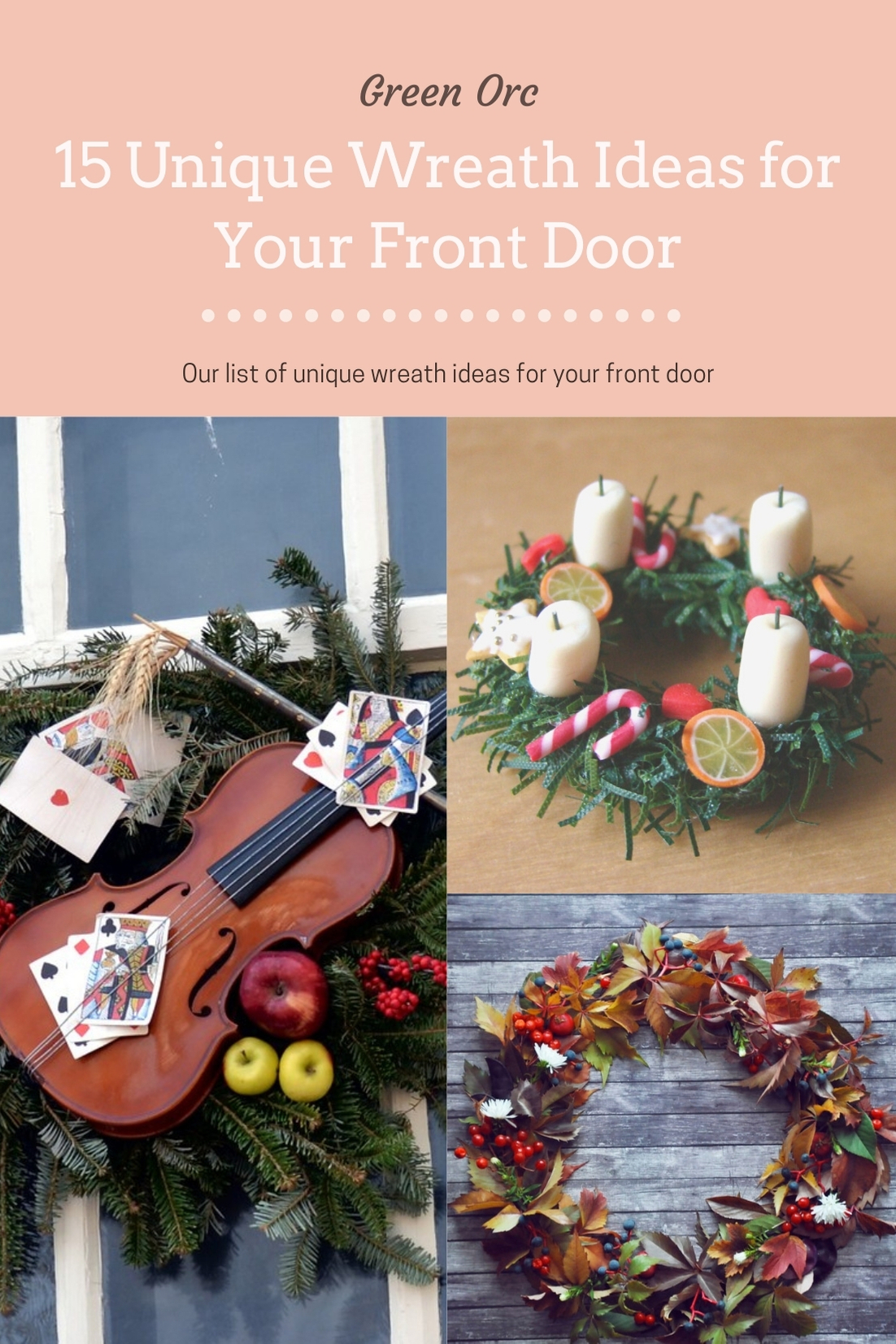 Here's presenting our list of 15 unique wreath ideas for your front door.
1. Santa Upside Down stuck with Gifts
Couldn't be a better way to start our 'Christmas Wreath' list than with Santa himself. Kids love Santa and Santa loves them as well. Every year he rides on his Open Reindeer Sleigh, traveling across the world and carrying gifts for every child who's waiting for him. Make it look like Santa got stuck while sneaking into your house with this DIY door wreath this Christmas.
2. Home Made Fabric Wreath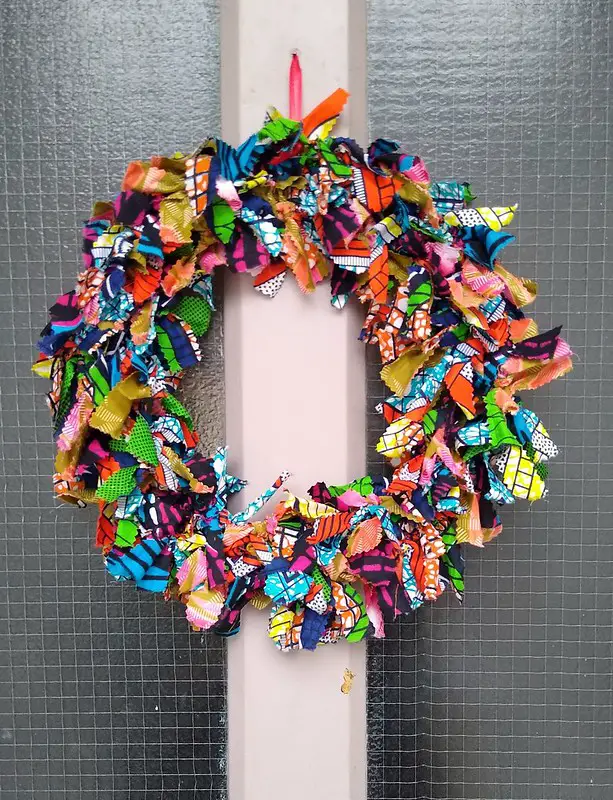 Christmas wreaths are not necessarily supposed to be costlier, as they can be attractive and still cost no more than a few dollars. This wreath idea is going to make your household look unique and thoughtful in your neighborhood. Open the closet and remove all the old, outdated clothes. Tear them apart and make this beautiful Wreath, and spend quality time your family while doing so.
3. Violin Themed Christmas Wreath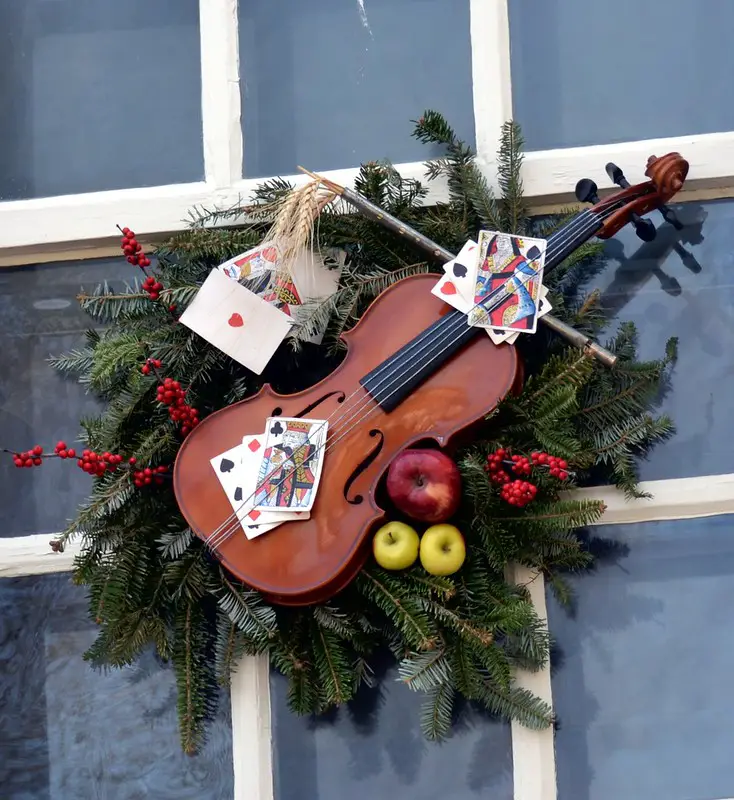 To all those violin lovers out there, this is going to be your dream wreath idea. Why just Violin lovers? You can add whichever instrument you love the most: guitars, drum, flute, etc. To make it look more attractive, you can even add a theme to it like portrayed in the picture with a deck of cards. So, get up off your comfortable sofas and beds and get thinking. The biggest festive season is at your doorstep, and you definitely don't want to miss this opportunity to be called the coolest in the neighborhood.
4. Miniature Village Themed Christmas Wreath
Christmas in the villages and in our hometowns are more fun and amazing than in the cities. That extra touch of the family getting together and nature makes Christmas the best time of the year. There are people who stay very far away from their hometowns and who are not able to make it to their hometown during Christmas. Because of their job lives or whatever the reason might be. Why not bring that thought of visiting your natives in a wreath? Teach your kids about the importance of celebrating Christmas in your hometown.
5. Cute Little Snowman Themed Christmas Wreath
Christmas brings families together. Kids of these families love playing in the snow and making a snowman. They wait the entire year for this Christmas gateway. Well, it's time to show thought to your children and present them with their favorite snowman right at your doorstep. They'll be so happy every time they enter the house, and they'll even invite their friends over just to show off their cute little friend. An easy-to-make, a thoughtful Christmas Wreath idea, which will make your kids love you even more.
6. Deborah's Wreath
As far as the 'Book of Judges' goes, Deborah was mentioned as a Prophetess of the God of the Israelites, and she is the only female judge mentioned in the Bible. This year, remember her and bring that thought of the Almighty onto your front door. This DIY Christmas wreath shall bring peace and harmony into your lives if you add your faithful prayers to it. Decorate it with unique and thoughtful items, and don't forget to be grateful for what you have in life. It will be your symbol of peace and harmony.
7. Berries Themed DIY Christmas Wreath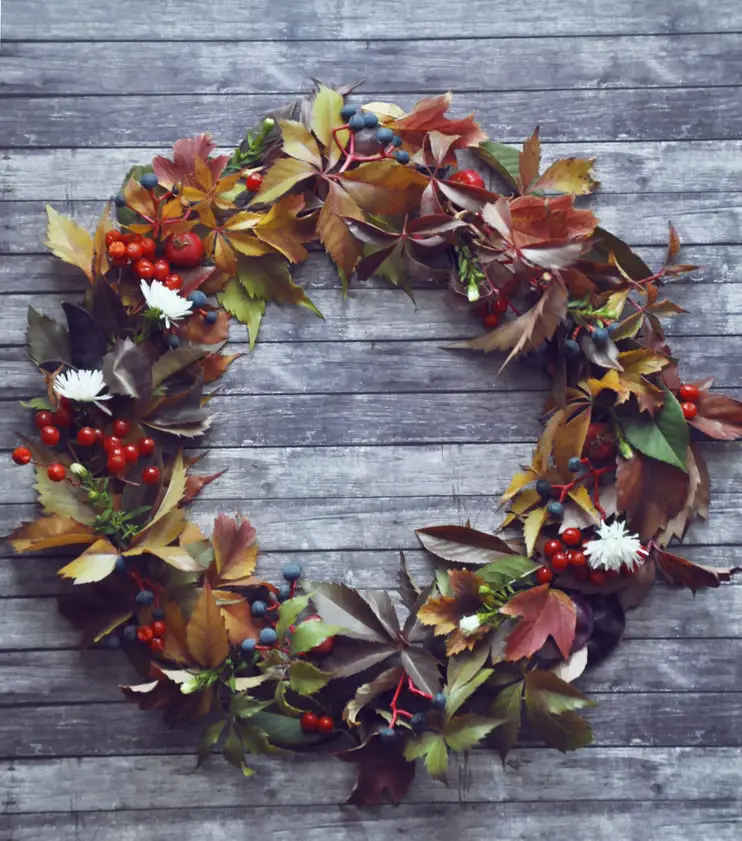 If you love mother nature and want to make something that can be easily biodegradable, you can try this Berries themed DIY Christmas wreath. This wreath is a symbol of change, as the change of colors of the leaves during this time represents change. This change is definitely positive and happens for a good reason because, without this change, we shall never get to see our favorite spring season. Different types of colorful berries will add to the beauty of your wreath and, in turn, to your doorstep. Learn to accept change in life because everything happens for a purpose- why not believe it to be a good one?
8. Mischievous Elf Themed Christmas Wreath
You must've told your kids many stories about the mischievous elf, and they love it, don't they? This Christmas, bring their imaginary elf friend into real life. Elves and Christmas cannot be separated from each other. Get yourself or make this unique and thoughtful elf-themed Christmas wreath, showing a naughty elf trying to enter your house but getting stuck due to his fat belly. Decorate it with miniature gifts and all the Christmas oriented stuff. Bring joy into your kid's life and let their smiles bring joy into yours.
9. Beer Caps themed DIY Christmas Wreath
If you are that beer lover, this one is for you. Make sure you don't throw away any beer bottle cap of all the drinks you're going to have until Christmas. Chilled beer in front of a warm fire, spending time with family, and having your favorite food, isn't this supposed to be heaven? Make your doorstep look like the boss of the neighborhood. This DIY wreath will not take a lot of effort, but it'll be worth it, so bring it on! It's not necessarily supposed to be beer bottle caps, it can be any caps of your choice.
10. Edible Christmas Wreath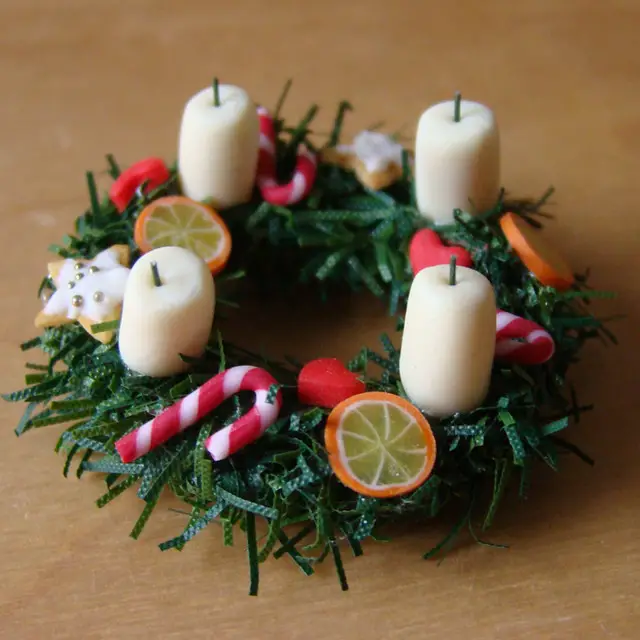 This one for all the bakers out there. Making cookies and cakes of every different shape and size is a tradition of Christmas. Well, why not make a few extra and arrange them in the shape of a beautiful Christmas Wreath? This beautiful and edible Christmas wreath will be a major attraction in the neighborhood. You can even make a candy-themed wreath out of it, consisting of all the chocolates, candies, and cookies you're planning to make this Christmas. You can donate this edible yet lovely snack or have it with your family after the Christmas celebration is over.
11. Sea Shells Themed Christmas Wreath
This one is for all the collectors, whether it be shells, beads, buttons, etc. Collectibles can be anything and can be brought together and portrayed in the form of an art piece. Bring out your most unique and beautiful collectibles, make this outstanding DIY Christmas wreath and become the center of attraction of your neighborhood. Christmas just became fun and creative at the same time. Don't forget to add a comment box beneath your beautiful wreath because people are going to love it.
12. Miniature Handmade Dolls Christmas Wreath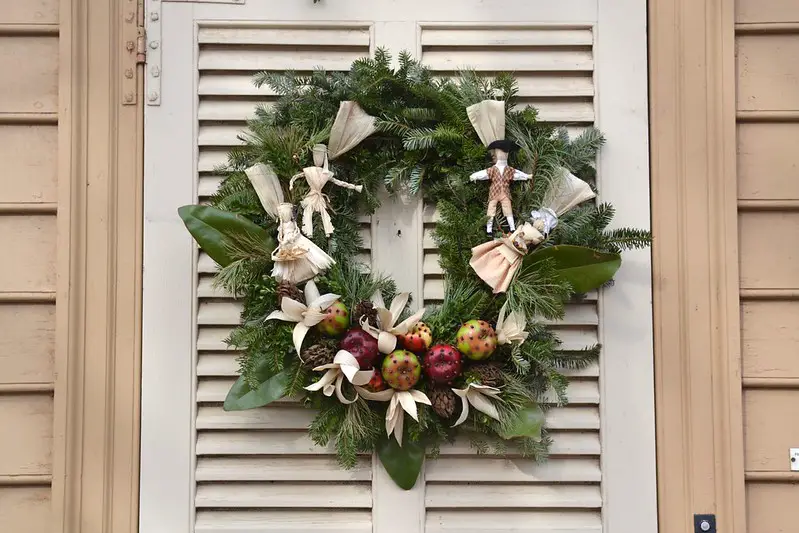 Bring out that hidden passion and artist inside you this festive season. It's 2020 and people are working from their homes. The point is, there's ample time to do something. Use this time to be creative and productive at the same time. The above image shows an Award-winning Christmas wreath idea. Get yourself one and flaunt it in front of your relatives and neighbors. An easy-to-make wreath idea, just put in your efforts and get a chance to be famous in your locality.
13. Pearl Bracelet Themed Christmas Wreath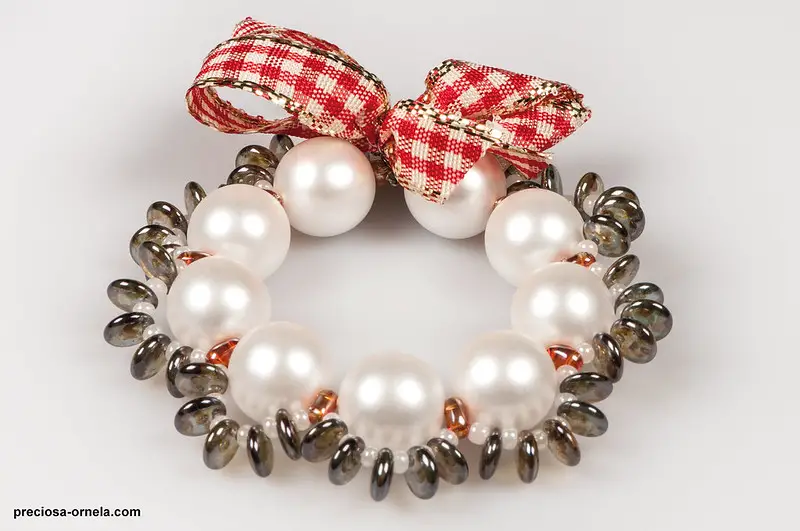 This miniature bracelet themed Christmas wreath will look very beautiful on your front door. It is not so difficult to make, and just requires some beads, some pearls, ribbons, and so on. This tiny and adorable piece of art will definitely draw the attention of people passing by and coming to your home. Set a goal of completing this tiny one within 1 hour and enjoy the thrill and excitement of the process.
14. Flute Themed Christmas Wreath
To all the flute lovers out there – this magical and mesmerizing instrument can also be used as a piece of art. Who would've thought? Shape your house into this magical and musical themed gateway this Christmas, starting with your front door. Simple to make but beautiful to look at, this piece of art is definitely going to attract people's eyes towards your house.
15. Dried Flowers Themed Christmas Wreath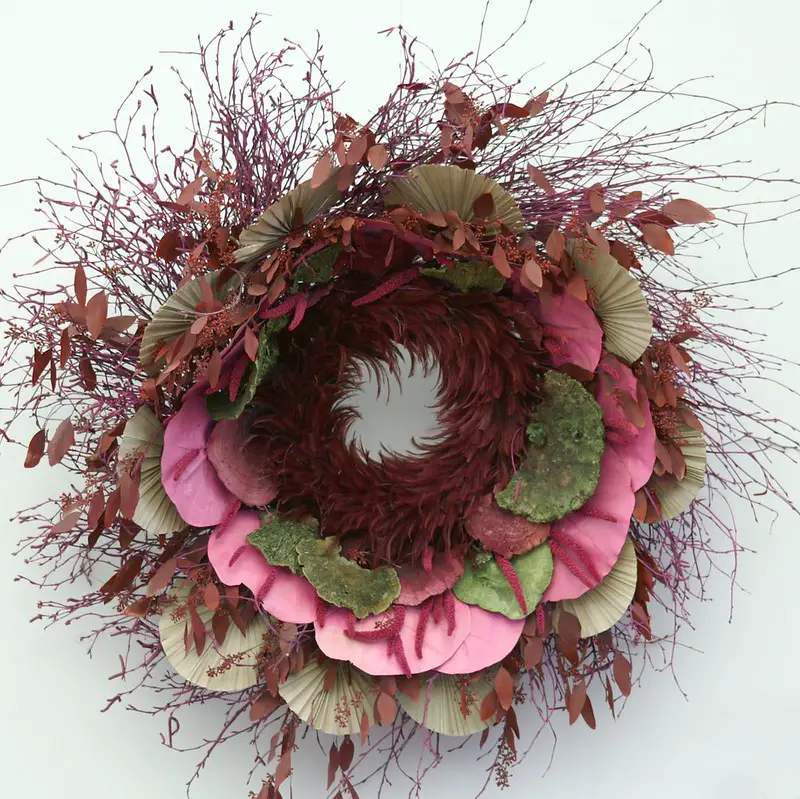 The last one on our list will be this beautiful dried flower-themed DIY Christmas wreath. Floral wreaths are quite common, and flowers only look the best when they are fresh. But they don't stay that way for a long time. This unique idea beautifully portrays the beauty of dried flowers and leaves. It sends the message that beauty does not fade away.