No matter what and how much you achieve in life, it is always good to stay grounded. The same principle applies to interior decoration. Yes, interior decoration has undergone a sea change over time, and it has a completely new face today. But then with an earthy vibe to it, it can always win hearts over. Every Earthy Modern Interior Design for Living Room dished out below will prove game-changing for your living space.

If you are looking to offer your living room an earthy touch, here is what you need to do.  Here are some Sleek and Sexy Masculine Bedroom Decor Ideas that you can check out for inspiration. Have a look-
Earthy Modern Interior Design for Living Room
Talking about Earthy Modern Interior Design for Living Room, you can't skip the classy stone fireplace. You might say, stone fireplaces have a rustic feel and might not fit into a modern living room. But then, it is through this contrast that this item is going to bring harmony to your interior space. It oozes a beautiful earthy feel, perfect for any modern home design.
Have you considered a wooden ceiling yet?
Wooden ceilings have always been popular among homeowners and interior designers. But with time, it began to lose its popularity. But if you want an earthy feel in your living room, a wooden ceiling can be the biggest contributor. Wooden ceilings have that natural charm no artificial ceiling can offer.
Place plants wherever you can
An important part of your earthy living room can be planted. Thankfully, plants are something that fits into any interior design theme and genre with ease. With plants around, your living room won't need much to ooze out that desirable earthy feel.
Choose a neutral color palette
Every Earthy Modern Interior Design for Living Room is special and unique. But one thing remains constant through all the designs- the colors in use. They are mostly neutral colors and earthy tones like brown and chrome. Hence, if you want to offer an instant facelift to your living room so that it radiates an earthy feel, then you can't go wrong with the neutral color palette.
Bohemian style rugs and carpets
Bohemian rugs and carpets are heavy on patterns. And that is why their use could make your living room look busy. There is something more than such spreads cause- making your room look quite earthy. Yes, that's right, bohemian rugs and carpets are perfect for your earthy living room.
Wooden furniture or furniture having wooden accents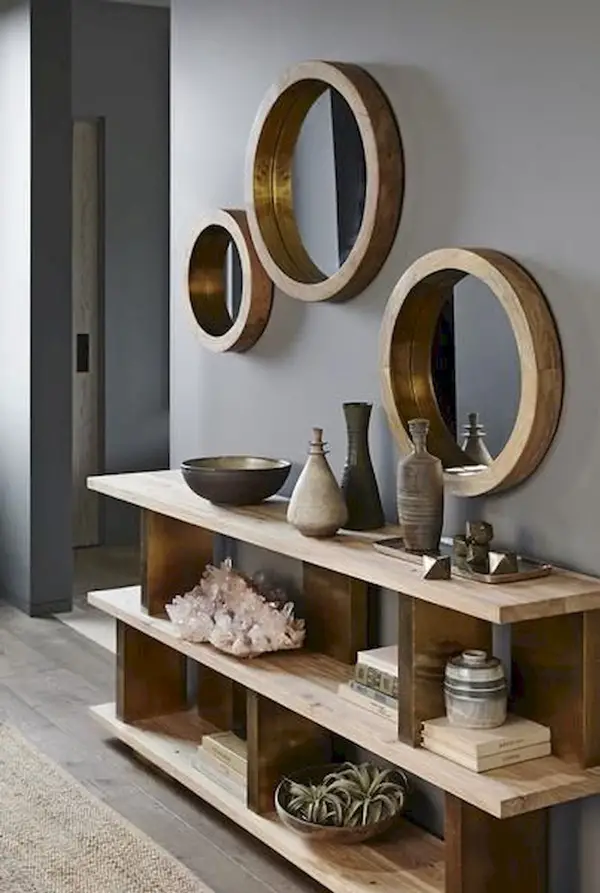 Image Source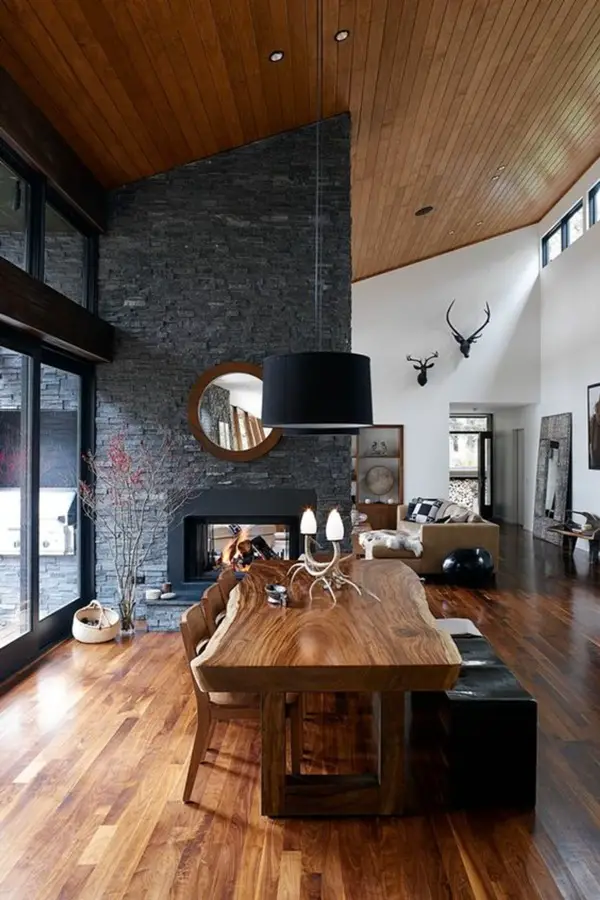 Image Source
If you want to offer your living room an earthy look, without much mental hard work, then just toss some wooden furniture pieces into the room. If wooden furniture is too much for you, you can also go for furniture with wooden accents. Remember, there is nothing that radiates that pure earthy feel better than wood. Also, you can take some ideas from Artistic Style Home Decor Ideas.
Wall art plays a major role
Want your living room to appear earthy without you having to invest a lot of money? Well, why don't you bring home some beautiful pieces of earthy wall décor? Go for paintings that don't just cover natural themes but also feature beautiful earthy colors like brown. You can also go for handmade crafts to mount on your walls. Wall decors are a great way to change the look of internal space.
Contemporariness coupled with an earthy feel is what more and more people are looking to achieve through their interior designs. If you are one among them, then every Earthy Modern Interior Design for Living Room as discussed above is a must-try for you. If you want to check out some really Classy Vintage Home Decoration Ideas, then here we have a list. Since the points talk about different aspects of interior design, you won't have a problem implementing all of them at the same time. So, what makes you wait? Roll up your sleeves and get going!