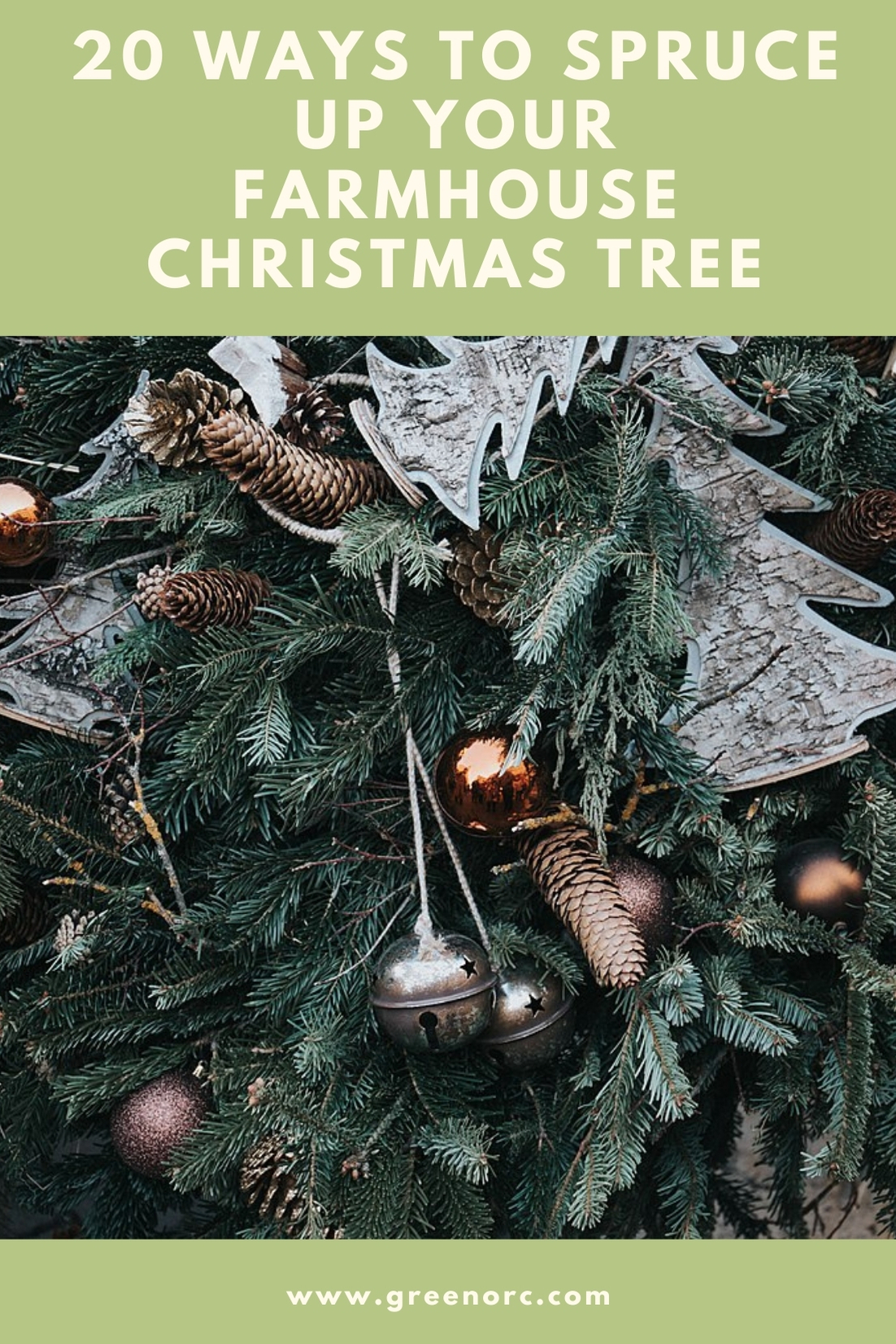 Christmas is Coming!
At Christmas, everyone is trying to outdo the other in terms of having the best trees and house decorations. Some of us just go out and buy ornaments to evoke that Christmas spirit. Several folks, on the other hand, like to do something different every year, and really innovate and invent themes to make Christmas a more quaint affair. A farmhouse Christmas tree is a rustic one, a tree that is as close to nature as it can get with its decorations and accents.
If you are confused about where to begin for decorating your farmhouse tree, here are some rustic tree decoration ideas to help you in your endeavor.
Ideas to Start you Off
For an earthy appearance, you can think of wrapping a burlap garland or plaid ribbon around your tree. Plain brown burlap looks good, or you can embellish it with white edges (to resemble snow) or tiny gold glitter flecks. If you're going with plaid, you can choose colors that align with the season. Go in for green and red, red and white, gold and green/red combinations of checkered ribbon or cloth. Instead of a plain stand, consider placing your farmhouse Christmas tree in a vintage bucket or a basket of wicker. You can also position it in an old wooden box.
Gingerbread Tree Toppers
Instead of the common star or angel, you can think of topping your rustic tree with a gingerbread man or a gingerbread house. Think of topping it with twigs (painted in gold or white) in a bunch, tied with a plaid ribbon. You can also have a sheaf of hay at the top of your tree, fanning out in an upward direction.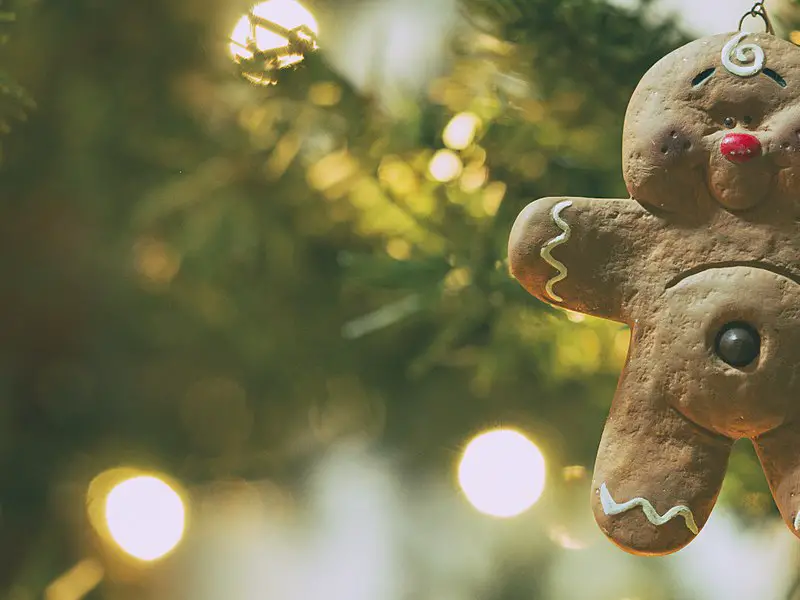 Natural Garlands
You can make a dried citrus garland or one of dried cranberries on a string and intertwine these between lights. This brings out a natural aura and looks interesting enough to pique the curiosity of your Christmas guests.
Candy on the Tree
An old-fashioned look can be created using candy canes and different shaped candies to adorn branches. You can make this candy-themed tree rest inside a large candy tin (pick up one at a thrift shop). You get wire garlands covered in candy cane colors (red and white diagonal stripes) and you can add this to finish off the candy theme on a rustic tree. Have twigs painted in white jutting out of tree branches for a great red and white theme.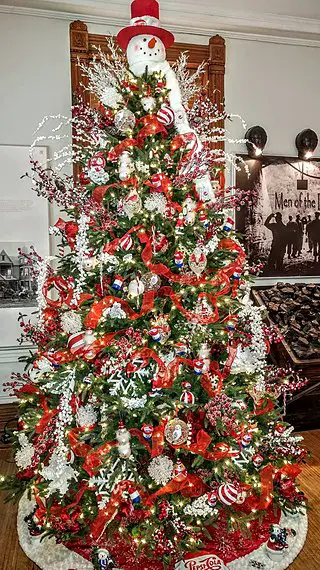 Below the Tree
What's below the tree is as much a part of your rustic tree decorations as what's on the tree itself. For a homely feeling, you can have cushions with plaid covers strewn around the tree, especially if it's a floor tree. Another good idea is to have a toy train going around the tree on a circular track. A nice vintage rocking horse with a red or green bow tied on its neck will look gorgeous around a tree too. Wooden toys always bring forth a farmhouse aura. You can have wooden birds, reindeer or anything that you can get of wood, and place it near your country tree.
Everything with Plaid
A checkered carpet, checkered cushions and ribbon, give your tree or tree area a very farmhouse feel. A plaid ribbon as a treetop bow looks lovely on a farmhouse tree and is the right accent for bright splash of Christmas color. Make a white paper hoop (links) garland and place it parallel to the plaid ribbon to add a dash of white.
Burlap is Beautiful
Burlap ribbon looks rustic too. Wrapping around the tree or draping this from the top of your tree, letting it cascade down to the bottom, looks earthy and natural. You can have alternating burlap and checkered ribbon cascading down. Decorate the burlap with small poinsettias fashioned from sackcloth. Another great option from nature for your farmhouse Christmas tree is to have a garland made from wooden beads. You can have two alternating colors like natural brown and white or red.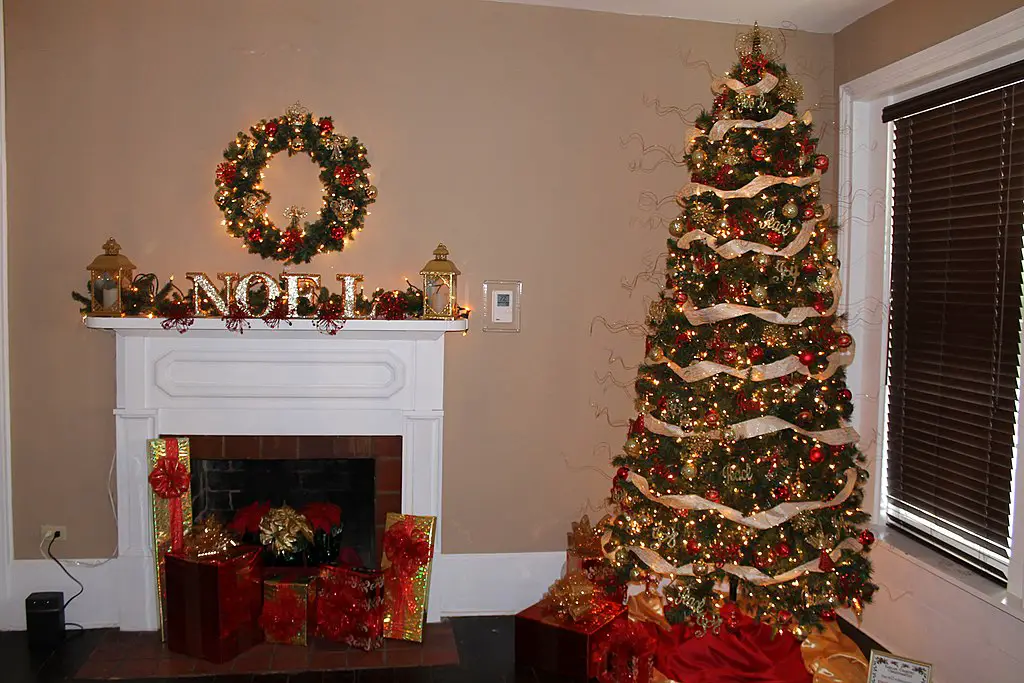 A Vintage Look
Farmhouse Christmas trees are known for the vintage look they sport. They are all about old-world charm and nature. Burlap and jute are great natural materials to work with at Christmas time. You can have a burlap or jute bunting wrapping itself around your tree. You can also create tags that attach to the bunting and hang down. Paint Christmas motifs on these. Motifs could be snowflakes, Santa faces, peace doves, or just plain holly leaves. You could have some meaningful messages on tags too.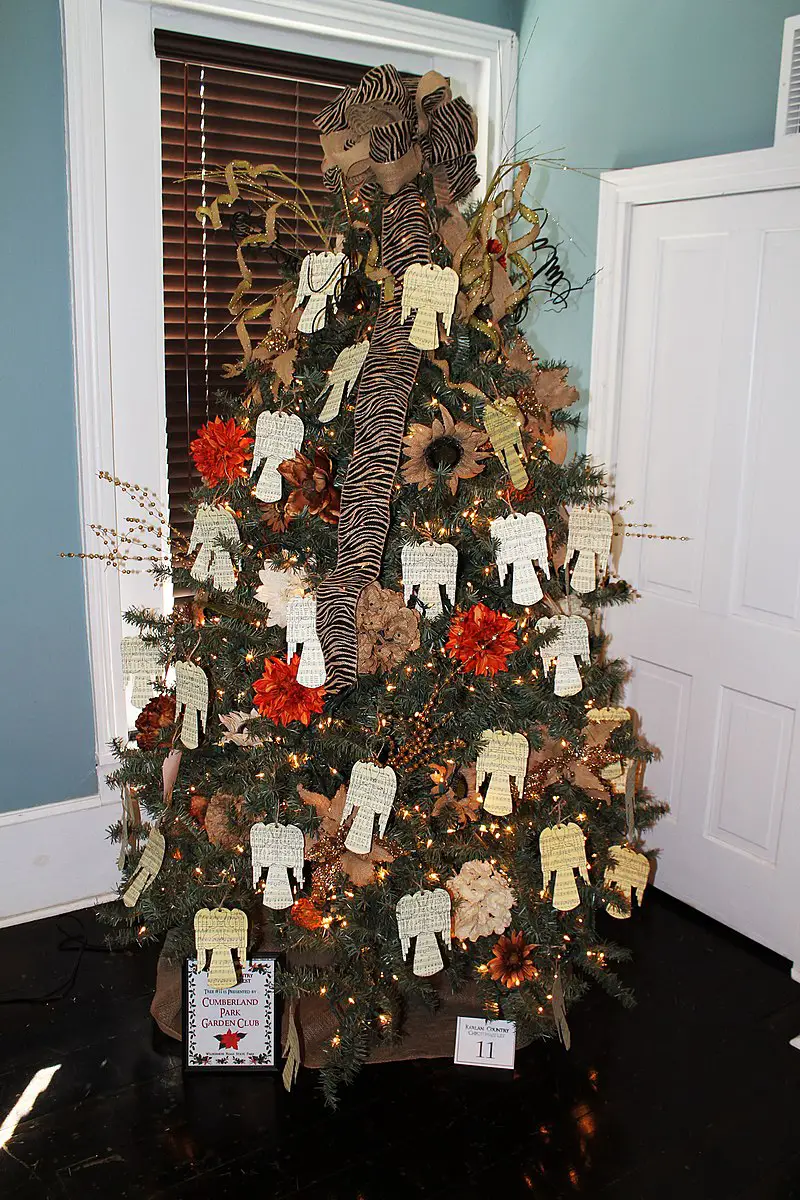 Pinecone Ornaments
A tree is all about the ornaments it holds. You can have everything from nature hanging down from the branches of your tree. Pine cones look lovely, as well as vintage tags that hang from red ribbon or jute string. Pine cones look great just the way they are, but there's no harm in adding a little white acrylic paint for a snowy effect. You can add some silver glitter too.
Animals from Wood
Small wooden animals like birds are intriguing as hanging decorations too. Rustic tree decorations can be hanging flowers and leaves too, in colors like white, red and gold, these stand out and give character to a rustic tree.
Lights
Lights on farmhouse trees are usually of the yellow light variety as these look the most natural. On the light string or wire, you can have acorns and hanging ornaments so that flickering lights reflect the beauty of the ornaments.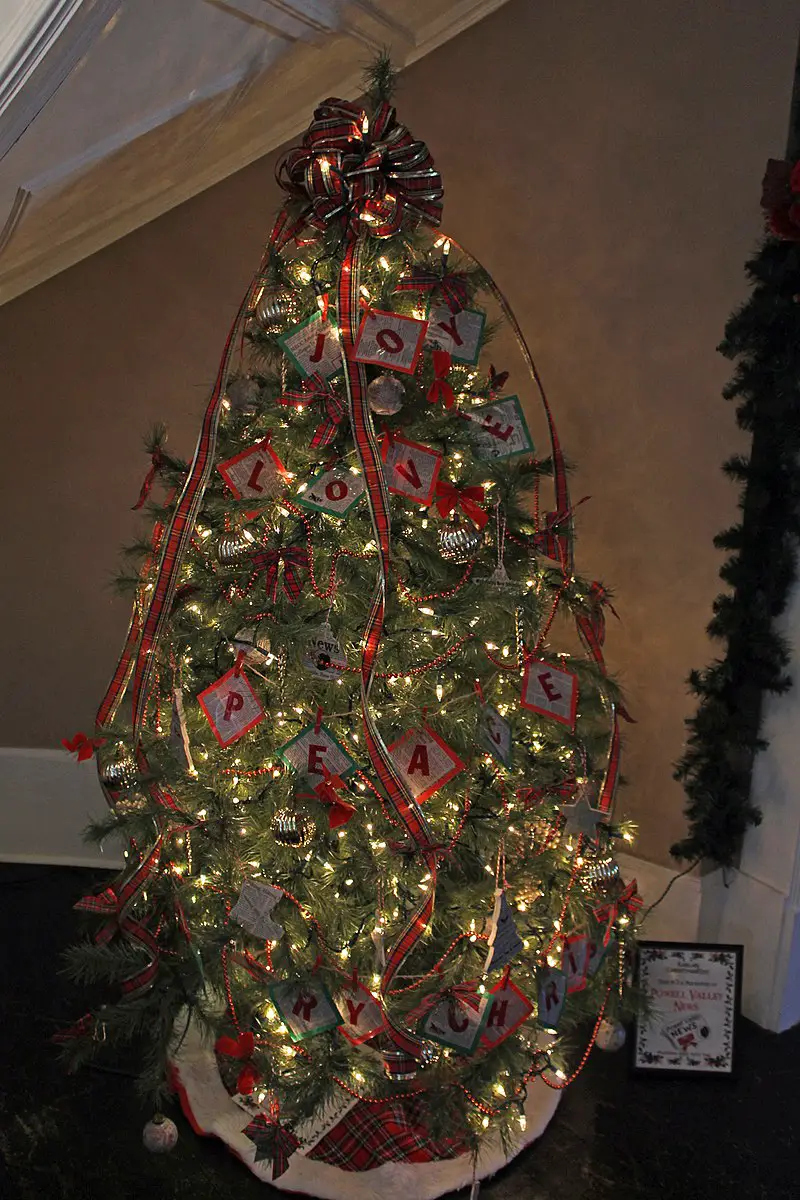 Candles
Sticking candles, light in weight, on the branches of a farmhouse tree look quaint and Victorian. Since wax candles will be heavy for tree branches, you can make some with stiff cardboard. If you do want to use real candles, you can tie them to the tree branch with flexible wire to hold them in place. You get electric candles (battery operated) especially to use on Christmas trees. Some old-fashioned ones look elegant.
Baubles
Baubles are just another form of hanging ornaments. If you want your farmhouse Christmas tree to look really natural, you can cover plain Christmas balls with jute or burlap cloth for a sac-like look.
Colors
When you are thinking of a farmhouse theme, you know you want your home to look as natural as possible. While you can have some store-bought commercial looking decor thrown in for effect, the total feel should be something from nature. Colors are important when you are decorating the tree. Think of the natural colors of Christmas and add one or two splashes of color for effect. So you can have a white and gold tree with wood accents, or a red and green tree with wood and gold features. Throwing in odd colors like purple or pink would do nothing for your farmhouse look!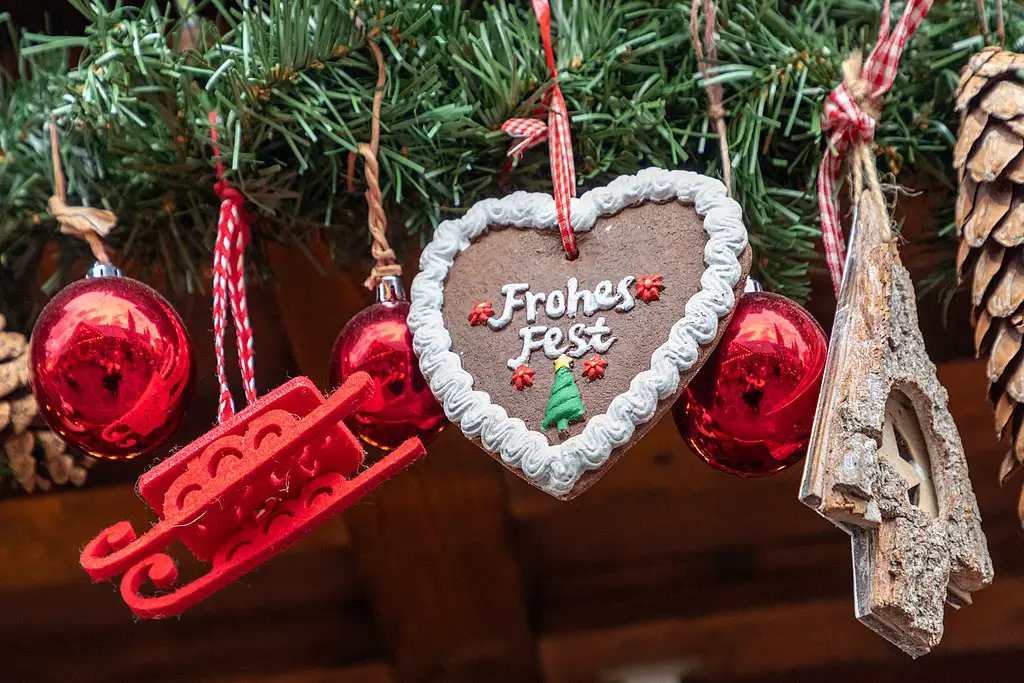 Metal and Wood
Rustic tree decorations in natural materials always give you that feel of being one with nature. Ornaments of the vintage kind are available in galvanized metal – they could have silver or bronze-like finishes. Lanterns, houses, stars, flowers and words (like "Joy") are available in metal to hang on your tree. To top it all, you can have a small metal windmill at the very top to finish the farm appearance. Wood works well too, but wood is heavier, as metal ornaments are fashioned into outlines of figures and some may come with filigree work.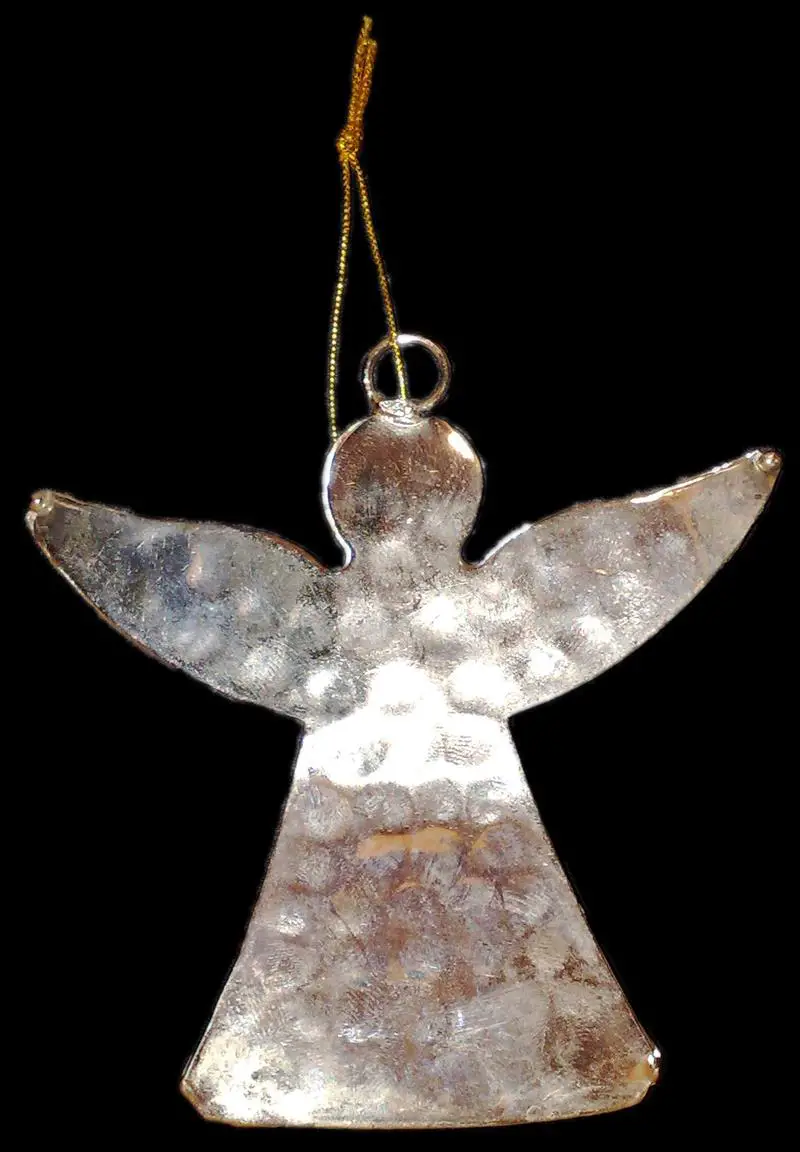 Bright Balls and Paper Baubles
Combine bright colored balls, like orange, red and green with paper stars and cardboard tags with motifs on them. You can actually make foldable paper baubles (some Origami ones are nice) or simply cut out shapes of stars, flowers and birds from corrugated cardboard to enhance an earthy appearance.
Tree Skirts
If your tree has to have a skirt and it is a farmhouse tree you want, then a quilted skirt with or without motifs looks very village-like. Choose colors like red or white, and see that too many motifs aren't present – you don't want to take attention away from the main tree. A patchwork quilted skirt looks very charming as well. If the colors don't match your theme, just add green or red bows to it, or any other color that is part of your theme.
Blend Decorations
For a farmhouse Christmas tree, you can blend looks and colors. In this way, you get the appearance of a quintessential farm, but with accents of color and details that sparkle. Combine store-bought material with home-made and earthy ornaments and you can have the perfect tree. If you have an all-white tree, you can have multicolored lights with burlap bows intermingled. Burlap matches with practically any other color, so nothing will look out of place.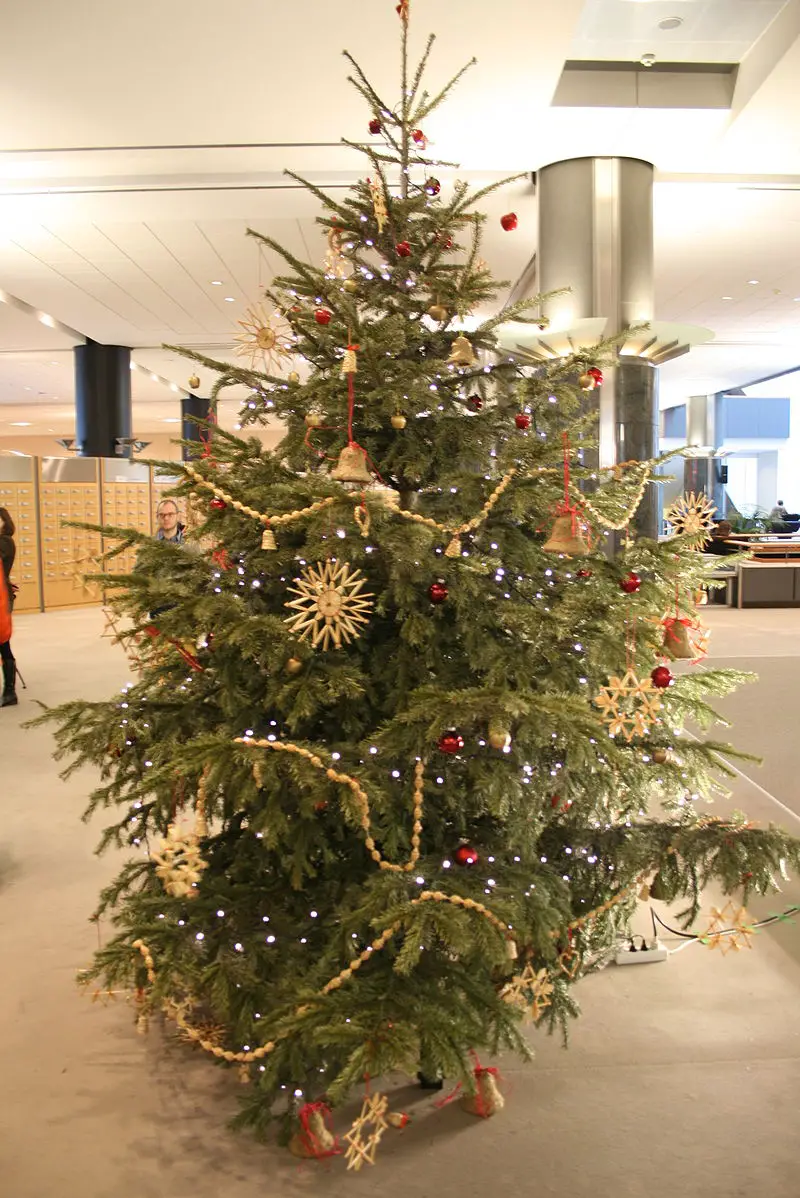 Black and White
You may not have ever imagined that black and white could be a color scheme for Christmas, but it looks quite enchanting. Black and white baubles, mixed with gold on a green tree, with rustic twigs as a tree topper, are great to look at. You can have rustic signage thrown in (in black and white) and this adds antiquated charm.
Fluffy and White
A tip to make your tree look "snow-capped" is to add white fluffy feathers to it. Have a green tree with feathers tucked neatly between branches – you can use a long white fur boa or two. Not only will this add texture, but cover holes too. Blend in wooden ornaments and your tree is fit for the best farm-themed Christmas ever!