When you think about rustic Christmas wreaths, think about how to keep them simple. Rustic wreaths may not ooze out urban sophistication, but they have a sweet, cozy, and welcoming note that no one can miss!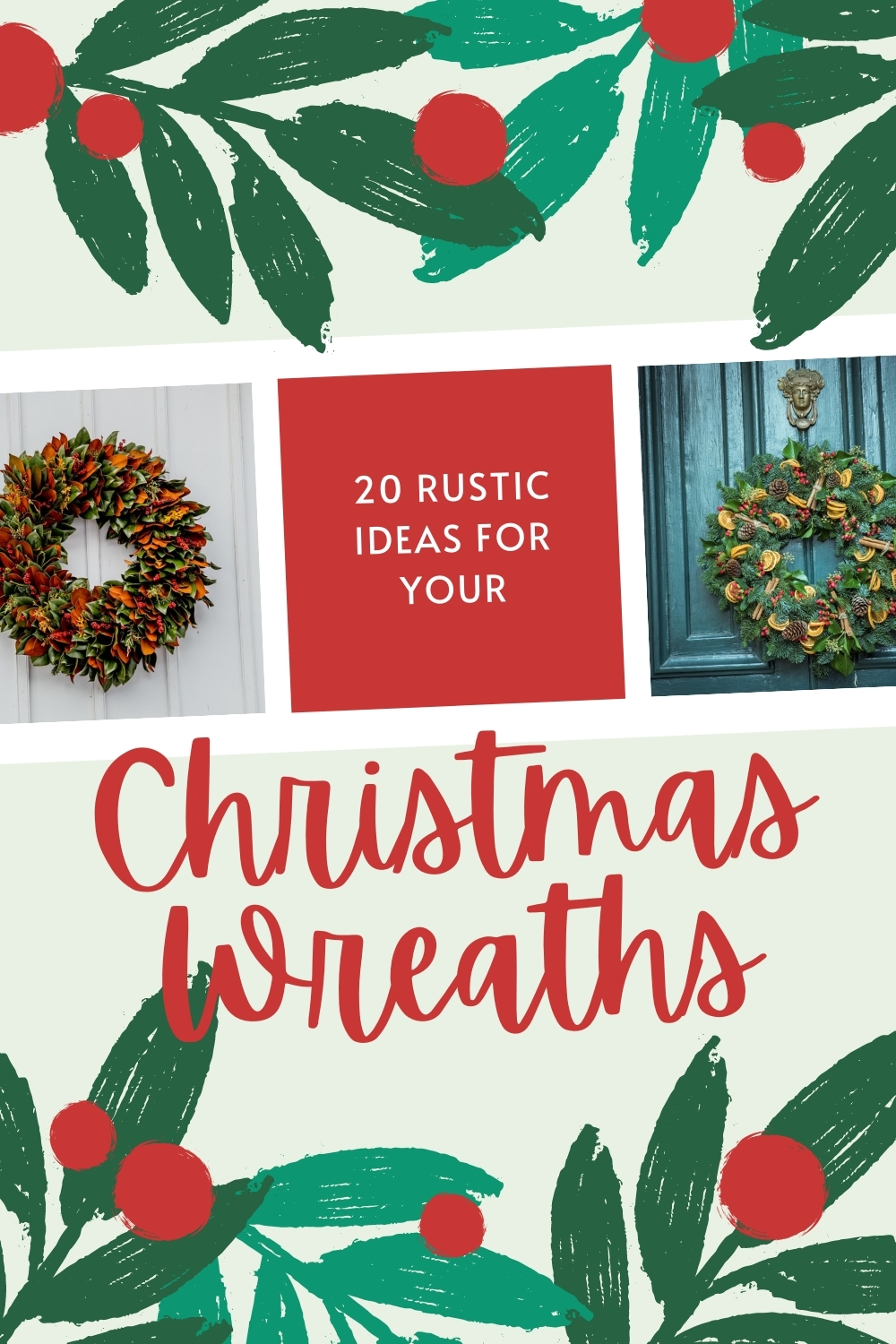 Rustic wreaths necessarily mean including natural things and old-time favorites like burlap and plaid bows. So, here are some rustic Christmas wreaths you can hang on your door or inside the house to get the feeling of a countryside Christmas.
Pinecone wreath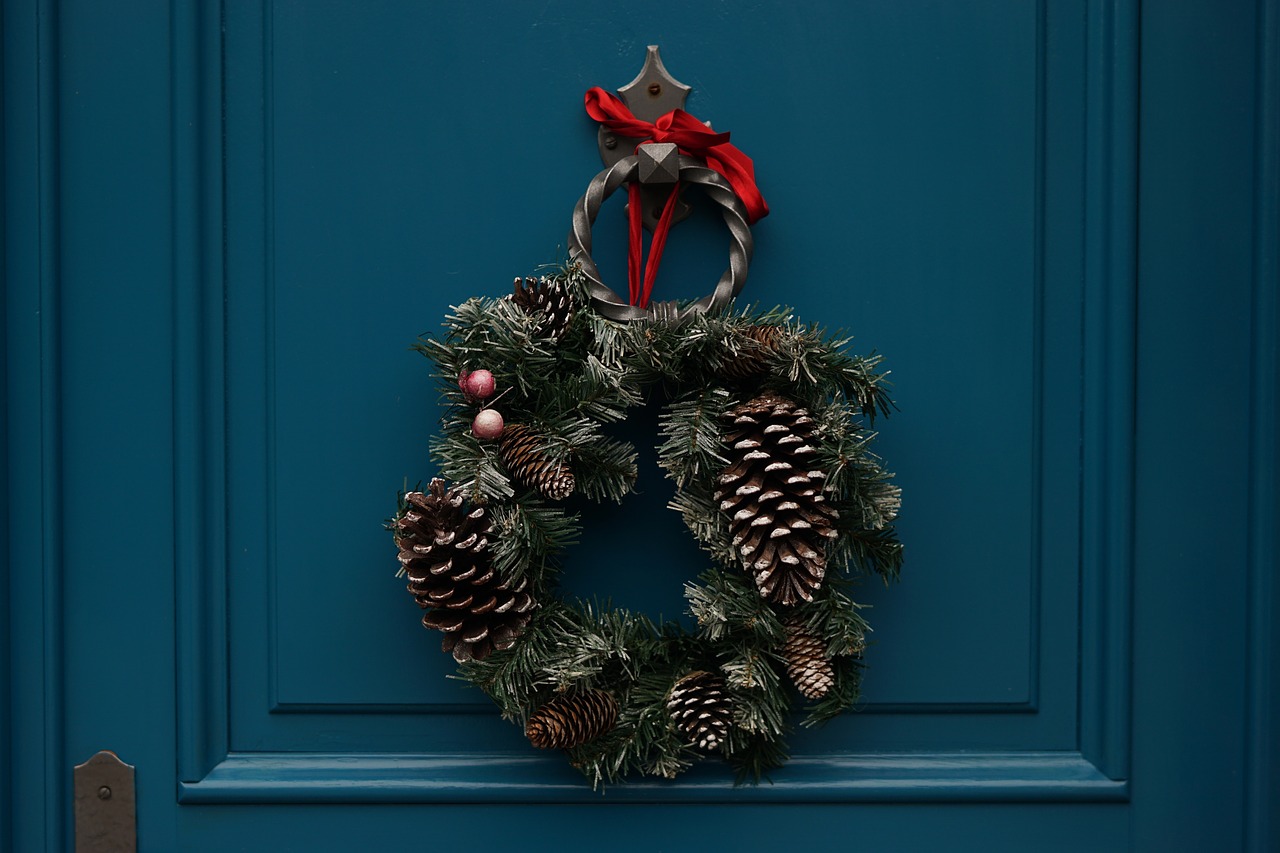 A pinecone DIY wreath is a wonderful decor project to take up. You have plenty of options to play around with pinecones. Just collect some pinecones and sort them according to their sizes. Wrap a wireframe with some burlap or ribbons. Arrange the pinecones and some foliage as you please. You can always paint the pinecones silver, gold or make them colorful before they go to adorn your rustic wreath. You can also brush them with Mod Podge and dust some glitter. Keep them simple or add a sparkly touch – take your pick! Stick the pinecones with hot melt glue to the frame in layers. Add fabric bows or bells as you please to give them a dash of extra appeal. Decorated with natural elements, this wreath will ooze out a country charm.
Plaid wreath
You can make gorgeous rustic Christmas wreaths with plaid ribbons of different patterns. Choose ribbon patterns that complement each other and go pretty well together. Wrap a ring or hoop with plaid pattern fabric or ribbons. Use bows and poinsettias to give it a bright Christmas feel. Some accessories like faux snowflakes, pinecones, and Christmas balls can be used to decorate the rustic Christmas wreath. Layer them well to add depth and some country charm.
Grapevine wreath
Grapevine wreaths are rustic. Bare grapevine peeking through pinecones, bows, foliage, or whatever you choose to decorate the wreath will give a homely touch to it. Remember to choose natural embellishments. Too much glitter or showy ornaments can steal the rustic experience. Painted twigs, flowers, and fresh pine leaves go extremely well with grapevine wreaths.
Poinsettia wreath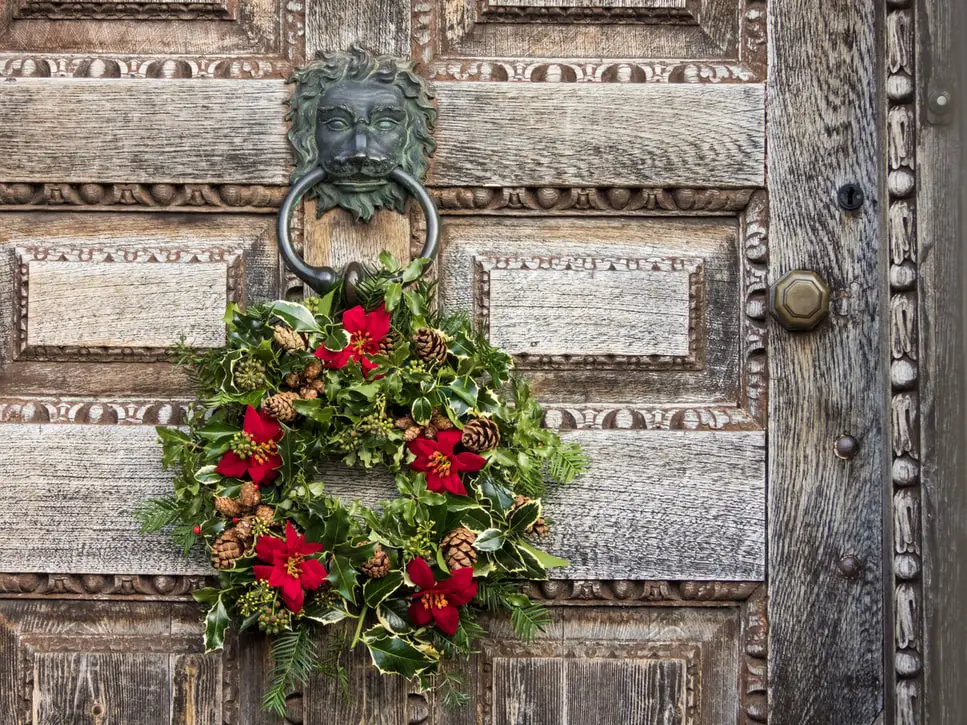 Poinsettia wreaths are wonderful but real poinsettias can be poisonous for pets. The best way to keep your Christmas wreath rustic, bright red, and floral is to use faux poinsettias. Gold and silver accessories go truly well with poinsettia wreaths. Add bells, balls, glittery snowflakes to give it a showy look. If you have only Christmas colors in mind, some green bows or pine leaves are the best accessories for a rustic poinsettia wreath.
Burlap Wreath
Nothing spells rustic more than burlap! Rustic Christmas wreaths with a touch of burlap give holiday decorations a rural feel. If you don't want to bypass the traditional Christmas colors choose red, green, and natural burlap to make a rustic wreath. Cut long strips of burlap, pleat and glue them to give a ruffled look. Stick them or stitch them around a round frame to make a glam, charming, and rustic Christmas wreath. You can also use Christmas plaid, pinecones, glitter snowflakes, or holly berries to adorn the ruffled burlap wreath.
Evergreen foliage wreath
Making rustic Christmas wreaths with evergreen foliage is like beginning an adventure. Venture out and collect the best you can find from Mother Nature's store! Remember it is a seasonal DIY craft and you must find things that are related to the season! Search for foliage in different shapes and sizes. Gather pinecones and twigs from your backyard or your most traveled hiking trail. When you have collected a handful, get started with a grapevine hoop or a wooden one, and layer the foliage the way you like. Don't forget to add a bright red or plaid festive ribbon to give it a cheery touch.
Colorful fabric wreath
Rustic Christmas wreaths are mostly made with things that are available at home. Open your sewing box and take out the most vibrant fabric scraps! Have fun with them and turn them into a unique, statement wreath. Any holiday-themed fabric print will add a special touch to your fabric wreath!
Wood and pine wreath
Think of any rustic decor and wood is the first thing that comes to mind. Use a plain wooden wreath and dress it up with fresh pine sprigs, holly, and gingham bow. Keep it sweet, simple, and filled with seasonal aromatic. To make it a little showy, you can always dust the pine cones with some glitter or faux snow. If one wreath is not enough for the door, join three in a row to cover the entire length of your entrance door.
Wreath with twigs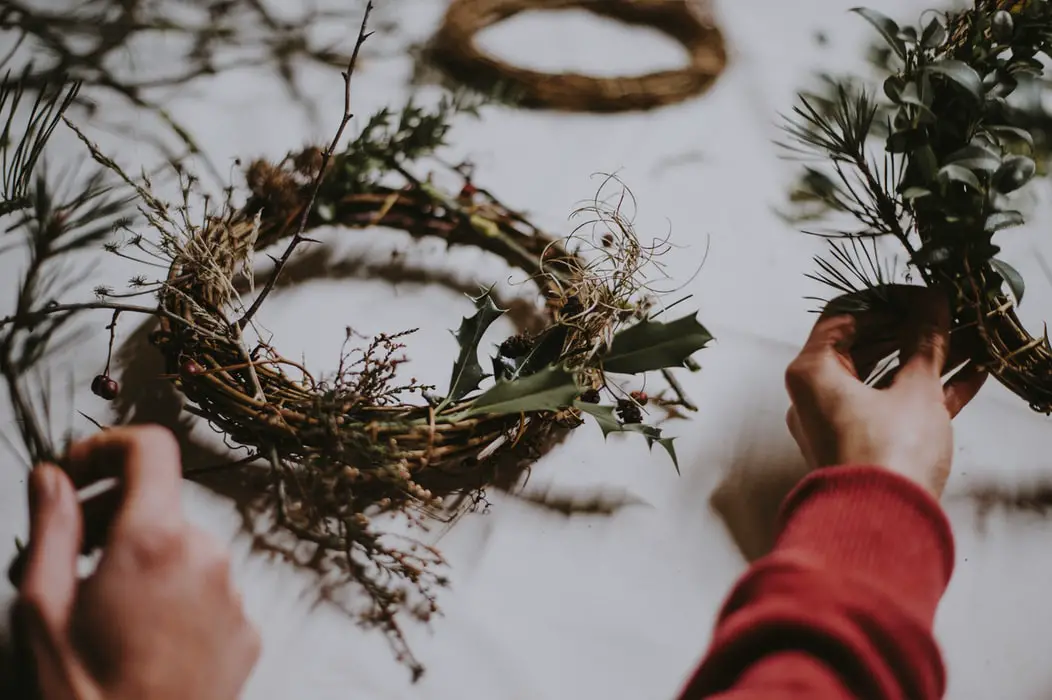 Twigs may look too simple for making a Christmas wreath, but a little imagination can turn them into something wonderful. Arrange twigs into a wreath and then paint them silver, add some snow dust or let the bare twigs show for a truly rustic look. Add some holly, evergreens, or flowers to it and a cool, rustic twig wreath with a wintery touch is ready to adorn your home.
Frosty Wreath
A frosty wreath at the door sure looks rustic! Gather some sticks and twigs and glue them to a foam or wooden wreath. To create the effect of snow, lightly spray a coat of white paint from a spray paint can. Embellish it with faux snowflakes, white ribbons, and silver balls to maintain the frosty effect. Top it with some artificial snow. It's now ready to adorn your door all through the winter.
Wreath with fruits and spices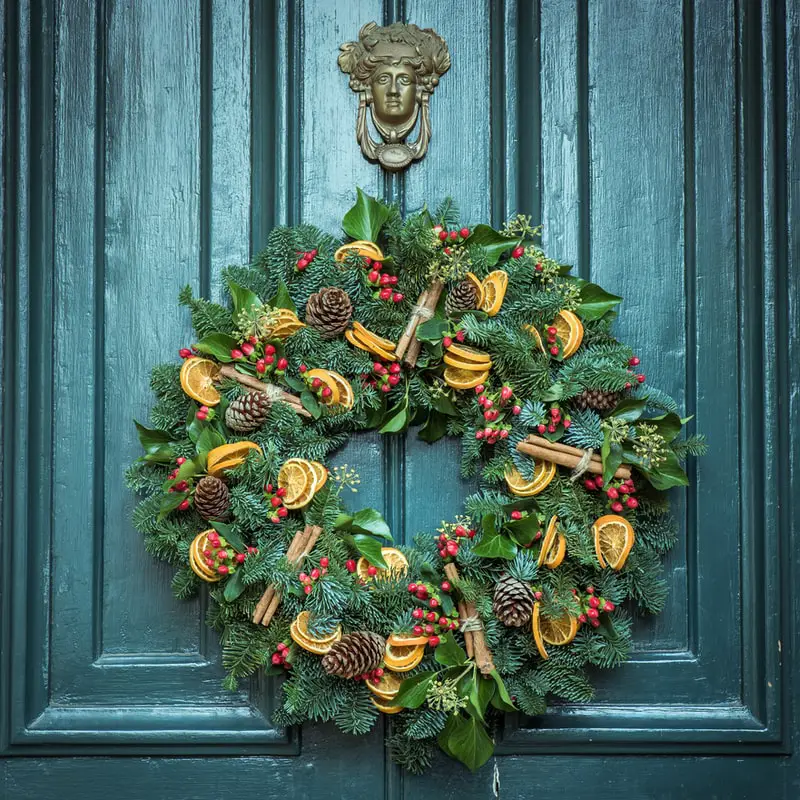 A Christmas wreath made with dried fruits and spices is not only welcoming but also all-natural! First, you need to cut the fruits into rings or slices without peeling them. Try to maintain uniform thickness when slicing them. Bake them or dehydrate them in a dehydrator. After the fruit slices cool down, arrange them on a wicker or grapevine wreath. Accent it with cinnamon rolls, nuts, acorns, pine cones, and a bundle of evergreens. A naturally aromatic wreath will be ready to adorn your door.
Wreath with Bells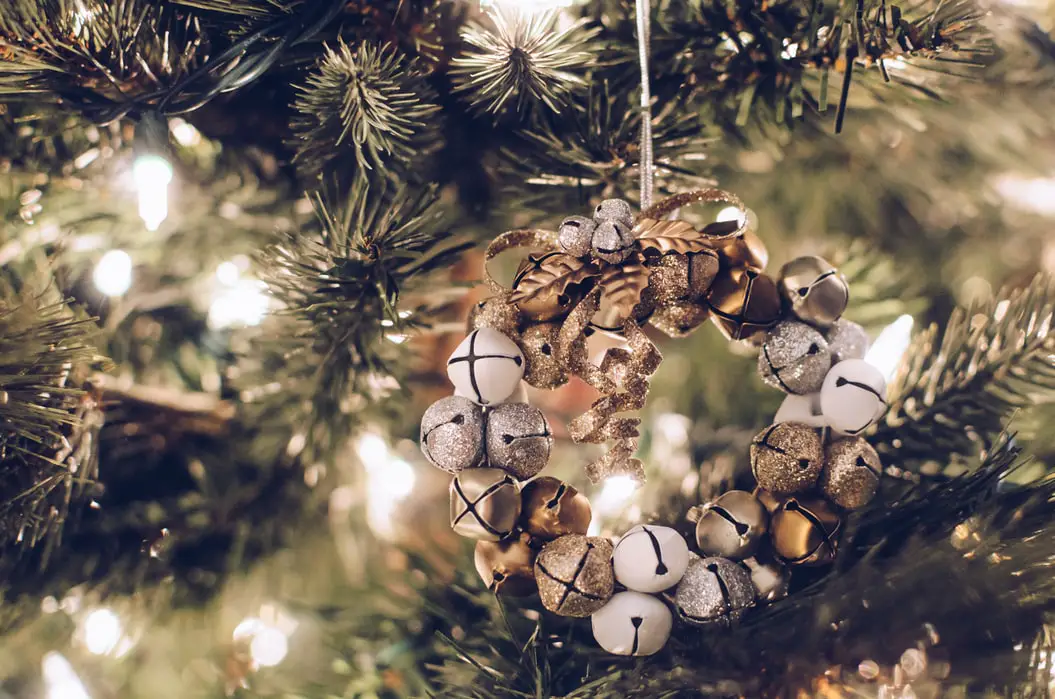 All you need to make a wreath with bells is a sturdy wire that holds its shape, jingle bells, and some ribbons to add festive colors. Choose shiny silver and gold jingle bells in a matte or glossy finish as you prefer. Make a round loop with the wire. Arrange bells in a way that they jingle, tinkle, and make some noise. Tie a red or plaid ribbon to finish your wreath.
Magnolia wreath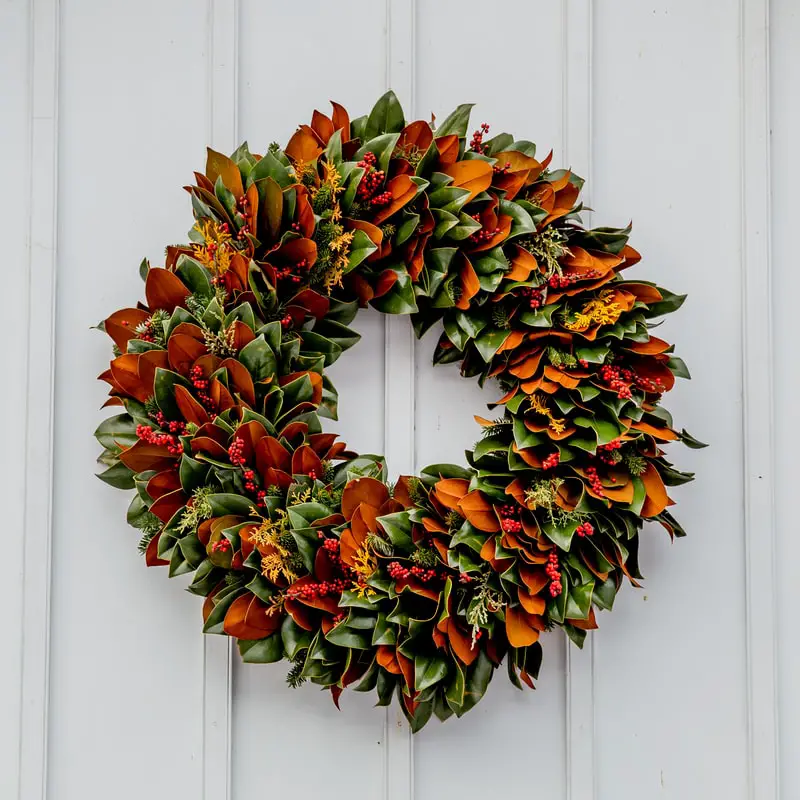 It's simple to make a magnolia wreath. If you have access to magnolia branches it's great! Else, pick up some from your florist. Soak a wreath made with florist's foam in water for a couple of minutes. Break magnolia leaves from the branches and push them into the foam. You can always give the wreath a glittery and festive touch by painting them gold and silver.
Wreath with berries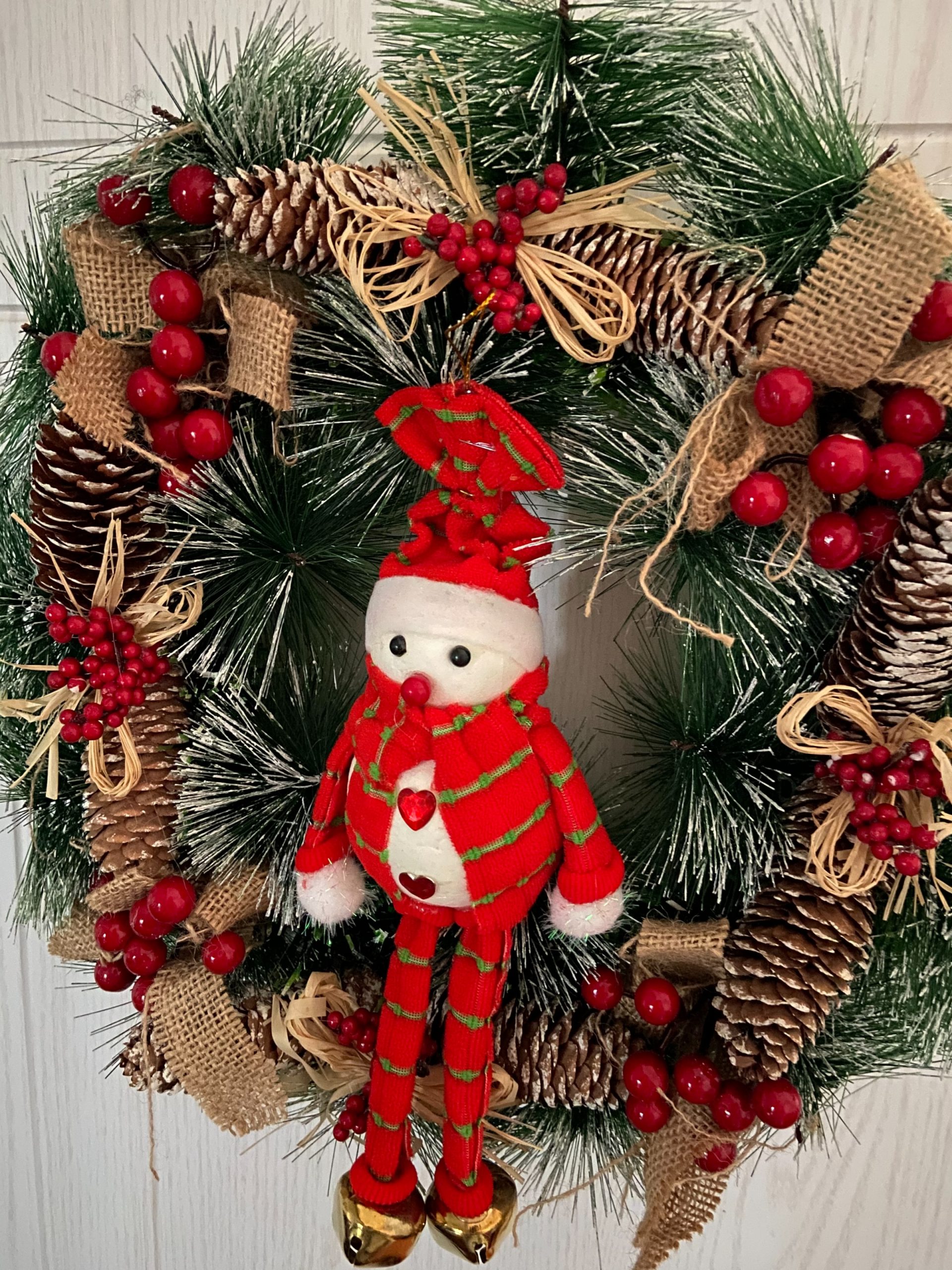 Rustic red berry wreaths can be the best Christmas décor. It's simple and easy to make with inexpensive supplies. All you will need is a grapevine wreath, a pretty bow, some faux berries, hot glue, and floral wire. Fix the bow to the grapevine wreath with wire. Adhere bunches of berries on both sides of the bow. Keep the arrangement symmetrical or asymmetrical as you like. Stick them to the wreath with hot glue. Or, you could cover the whole wreath with red berries if you wish.
Eucalyptus wreath
A silvery green eucalyptus wreath is not only aromatic but coo and wintry! Collect eucalyptus stems in different sizes. Take them one by one and weave them together to form a wreath. An easy way to do it is to use a round, low basket and use it as a mold. Add enough leafy stems to make a wreath that looks fluffy and full!
Bow wreath
Do you have a stash of bows from old gifts? You can always use them to make rustic Christmas wreaths. To make the wreath, you can use a wooden wreath or a Styrofoam wreath as a base. Use the festive, colorful, checkered, or floral ribbons to create something that oozes a fun note and something that's you'll not find in any store.
Acorn wreath
Give your festive decoration a woodland feel with a rustic acorn wreath. For this, it's best to use an old-fashioned straw wreath or a grapevine wreath and adhere the acorns with a hot glue gun. Arrange them as they fit and finish with a nice festive bow or some evergreens.
Cork wreath
 The color of the wine corks looks so rustic. Create a Christmas wreath by putting together wine corks of different sizes on a Styrofoam wreath base covered with rustic burlap or plaid fabric. Add faux grapes, berries, or other accessories to make it more interesting.
Cotton and burlap wreath
White fluffy cotton bolls and rustic burlap make pretty Christmas wreaths. You can add some faux blooms, berries, or greenery to give it a further natural and neutral look.
Chunky yarn wreath
Pick a super chunky yarn of your choice of holiday color. It could be white, red, or green. Wrap them around a wooden or metal wreath or you can even hand-knit them around the base. Use pleasant, contrasting evergreens, flowers, bows, or pinecones to adorn the holiday wreath.
When making rustic Christmas wreaths remember to keep the palette subdued and as natural as possible. Try to use only neutral accents. If you are keen on using blooms and berries, keep them fresh and choose old-fashioned varieties that are found in the countryside.