The magic about the month of December is the inevitable festival spirit in the air. There may be a nip in the air that's making you uncontrollably shudder all the time, but your high holiday spirits are the perfect insulation.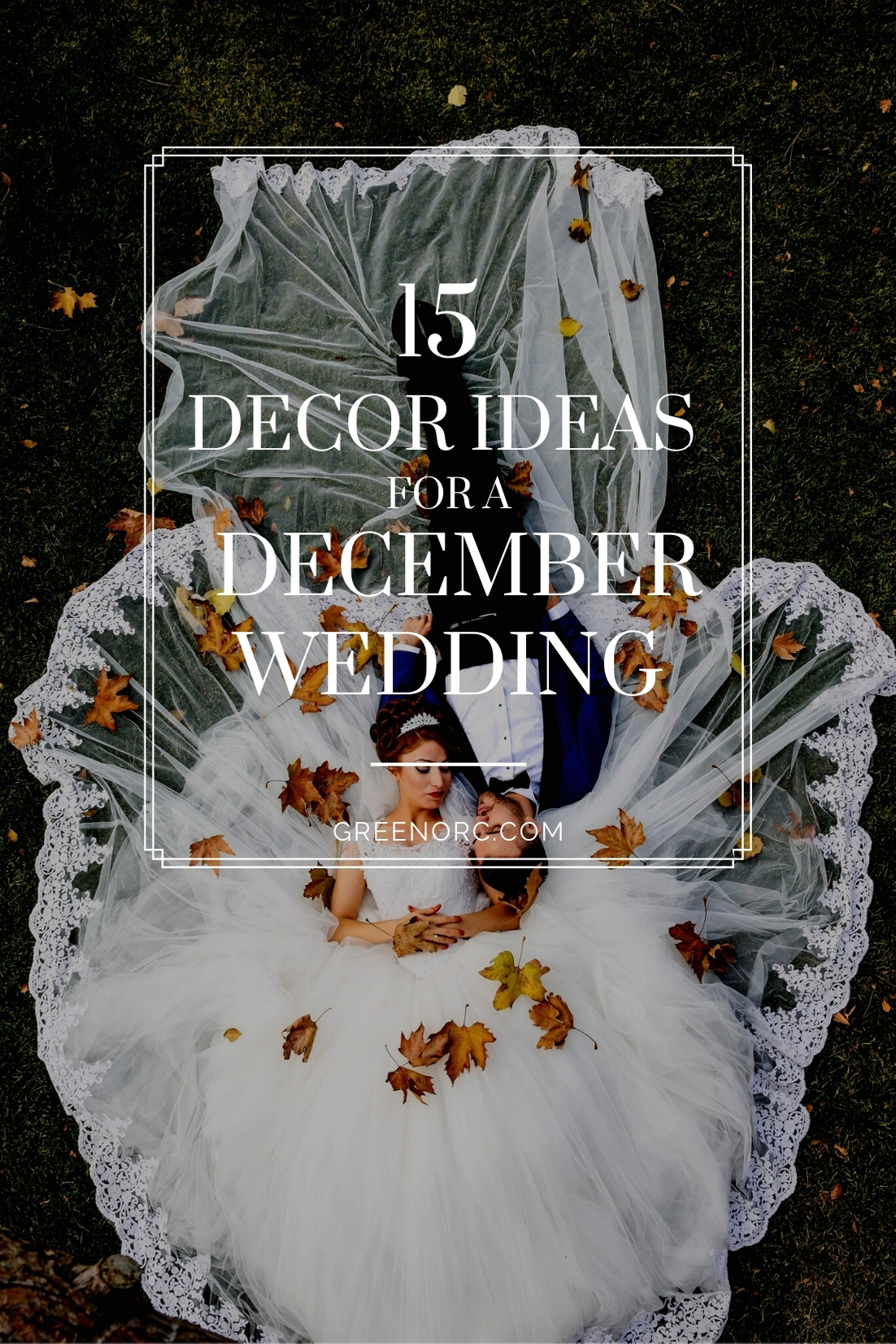 December weddings come loaded with the infectious magic of Christmas and the holiday season. If you are planning to tie the knot this December, you are here for a treat! Let's look into some different December wedding decor ideas.
1. Invitation Cards:
Let's begin with the most basic aspect of a wedding: invitation cards. Since your December wedding comes combined with the magic and coziness of Christmas, you might as well set the tone right away. You can opt for a snow themed or even one with pictures of winter trees invitation card. With Christmas right away, colors like ruby red, green and golden are quite popular for most December weddings. Wreath decor on invitation cards are quite a rage, and it gives off a festive, homely, and romantic invitation to your soirée. Fall themed wedding cards are exquisite, expressing a touch of sophistication to an extravagant celebration.
2. Venue:
For December weddings, this is perhaps the most crucial decisions to take. Winter wedding venues are a little trickier to decide. Whether to embrace the weather and host an outdoor wedding, or protect your guests from the bitter cold and hold it inside. Many couples even choose a rustic venue like a barn to host their wedding reception, for all the chic-aesthetic it brings. If you are looking for an enchanting backdrop for your December nuptials you may host it at a ski lodge, with the mountains as your backdrop.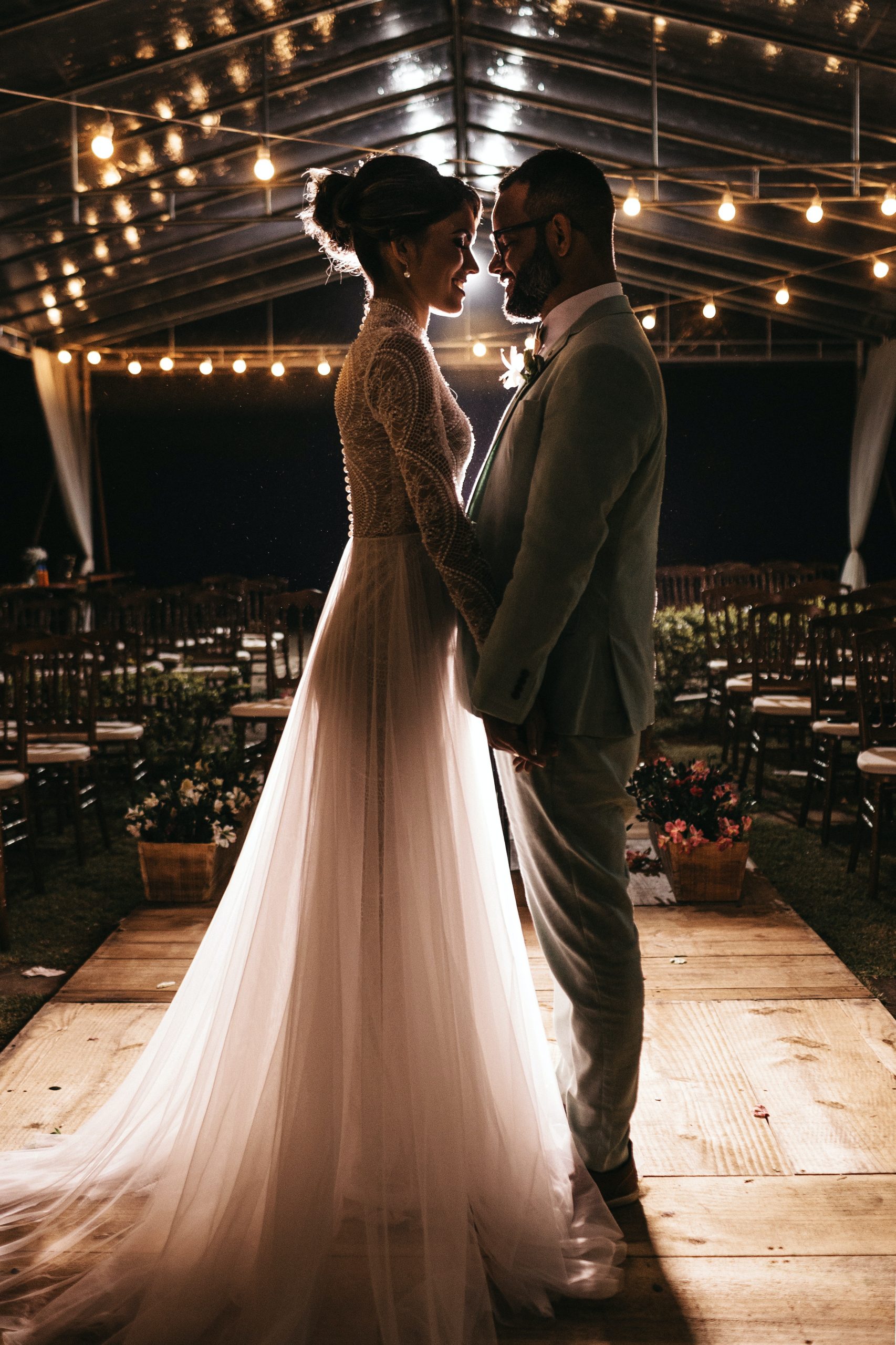 3. Color Palette:
December weddings are full of opportunities. With festive spirits up high, everyone is in the mood for celebrations. The color palette you decide to use for your December wedding needs to reflect this mood. There are two ways you can go about it: calm and somber like the Winters, or bright and extravagant like the festivities. If you want the best of both worlds then you might opt for sophisticated and elegant color palettes like forest green with white. Light rose and pale bush is a beautiful combination in the same category. For the former, gray with silver or silver green are cool color palettes. For the festive mood, dark wine with rose gold, and Moody Dark Navy and Forest Green are excellent choices.
4. Greens and Seasonal Flowers:
A lot of couples miss out on the opportunity of using all the greens and floral options available for their December wedding. It is the perfect place to decorate your venue with foliage. From window sills to church doors, adorn it with sage greens or foliage, and make it the ideal wedding location for a winter wedding. If you are having an outdoor wedding, you can have an arbor wrapped in greens and studded with seasonal flowers for the kick. You can use seasonal flowers for accessorizing your look and make it the highlight of your entire look. Add a little berry accents and red ribbons and give it a Christmas festive twist! You can even add a mistletoe at the end of the aisle and make for cheesy, romantic pictures with your partner.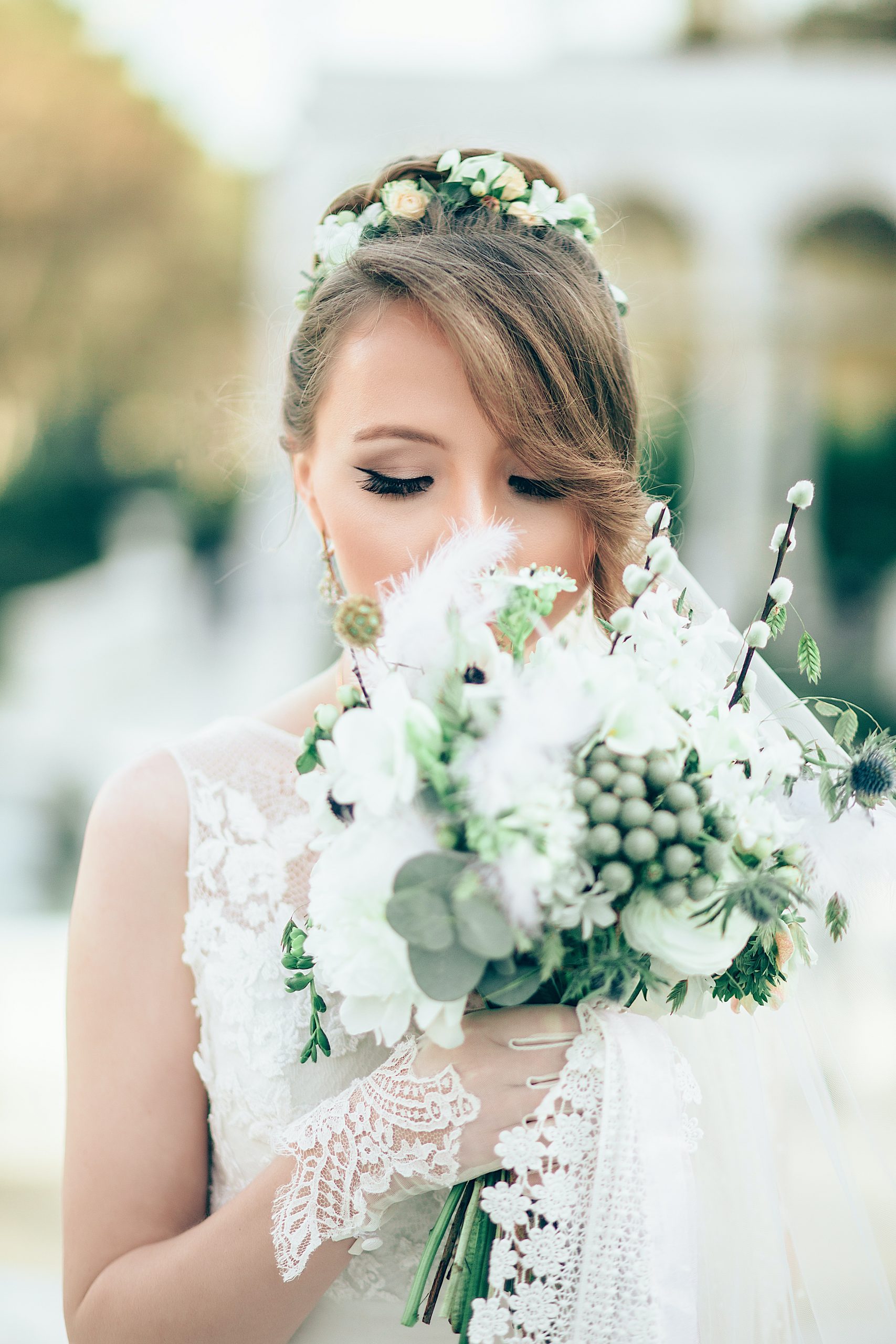 5. Attire:
December is the time of the year when we all love to pull out our big guns and bring our A game when it comes to fashion. Who says that the bride and groom cannot experiment with their wedding attire to suit the season? You can throw on a statement coat to match your gown, and become the talk of the town! It is very modern, chic and elegant and helps you keep warm. Opt for long sleeved gowns or elbow length gloves. Grooms can experiment with 3 piece suits or fashionable overcoats to align with their partners. You can only be fashionable if you are also warm and comfortable.
6. Lighting:
By the time your nuptials are over and you are progressing into the reception, it has probably gotten dark owing to the season. Given the circumstances, some soft lighting can do no harm. Create a magical, romantic evening with some twinkling fairy lights. Ditch the bulbs are use candles to light up hallways, and let the semi-darkness or the soft yellow glow be your romantic guide for the evening. No one can go wrong with a little extra fairy lights.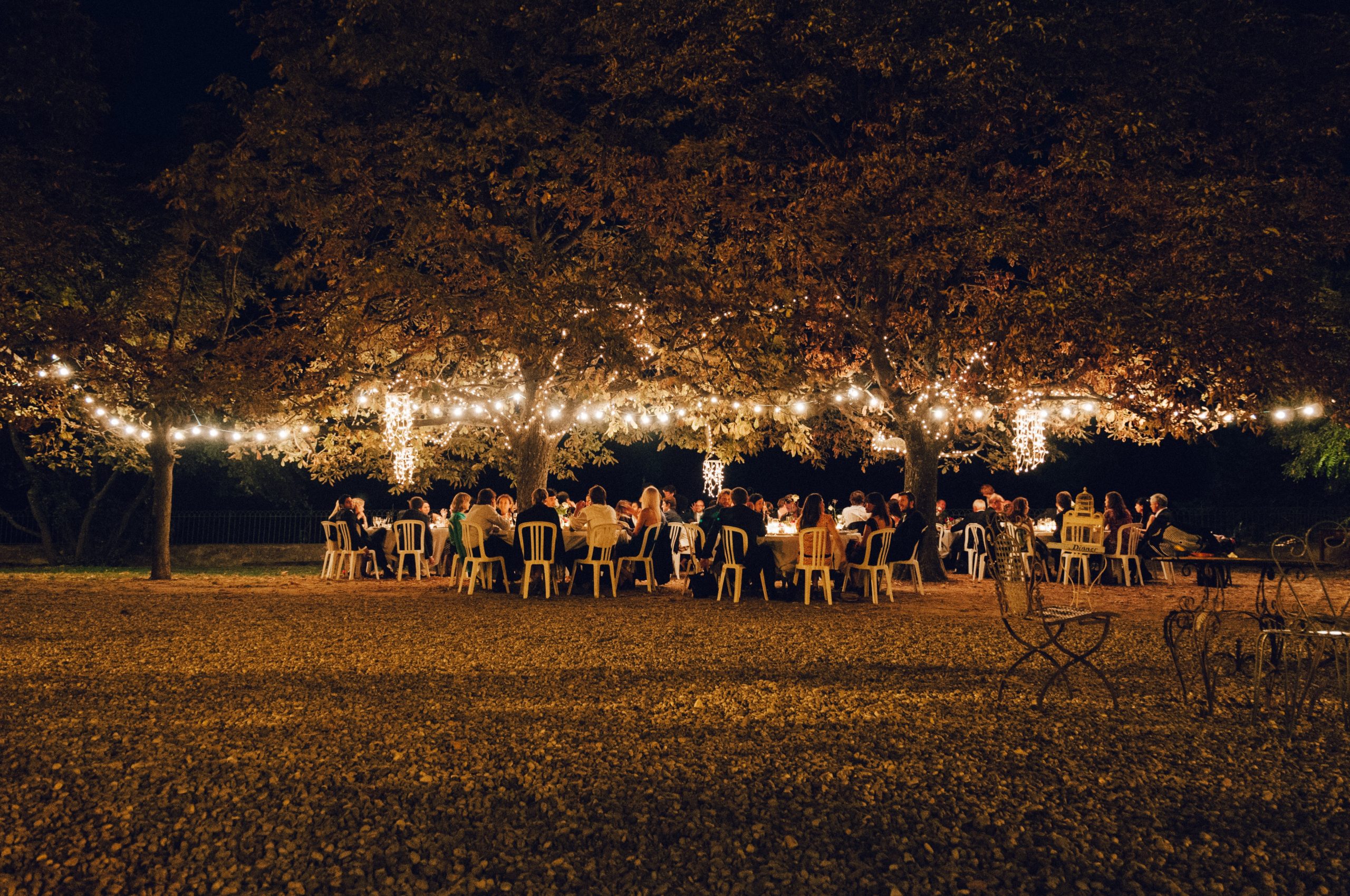 7. Winter treats:
There are some items that can only be enjoyed in the cold, bitter winters. Whether it's a glass of Bourbon or a cup of hot chocolate, winter treats are special. Allocate a corner to only winter treats and watch it become a complete hit with your guests. From old to young, hot chocolate and marshmallow soph mores are everyone's favorite. Relive your childhood as your guests go giddy with nostalgia in this corner. You may also have a hot beverage bar for your guests who would rather prefer a coffee or a honey tea instead.
8. Themed Place Cards:
Themed, unique place cards are quite popular these days. The more creative these place cards are, the more compliments come your way. If you are having a December wedding, chances are that your options of getting creative are galore. You can choose a Christmas theme and have them made using little bells, green ribbons and red bows. You may also use pinecones as place card holders, giving your wedding a unique wintry feel.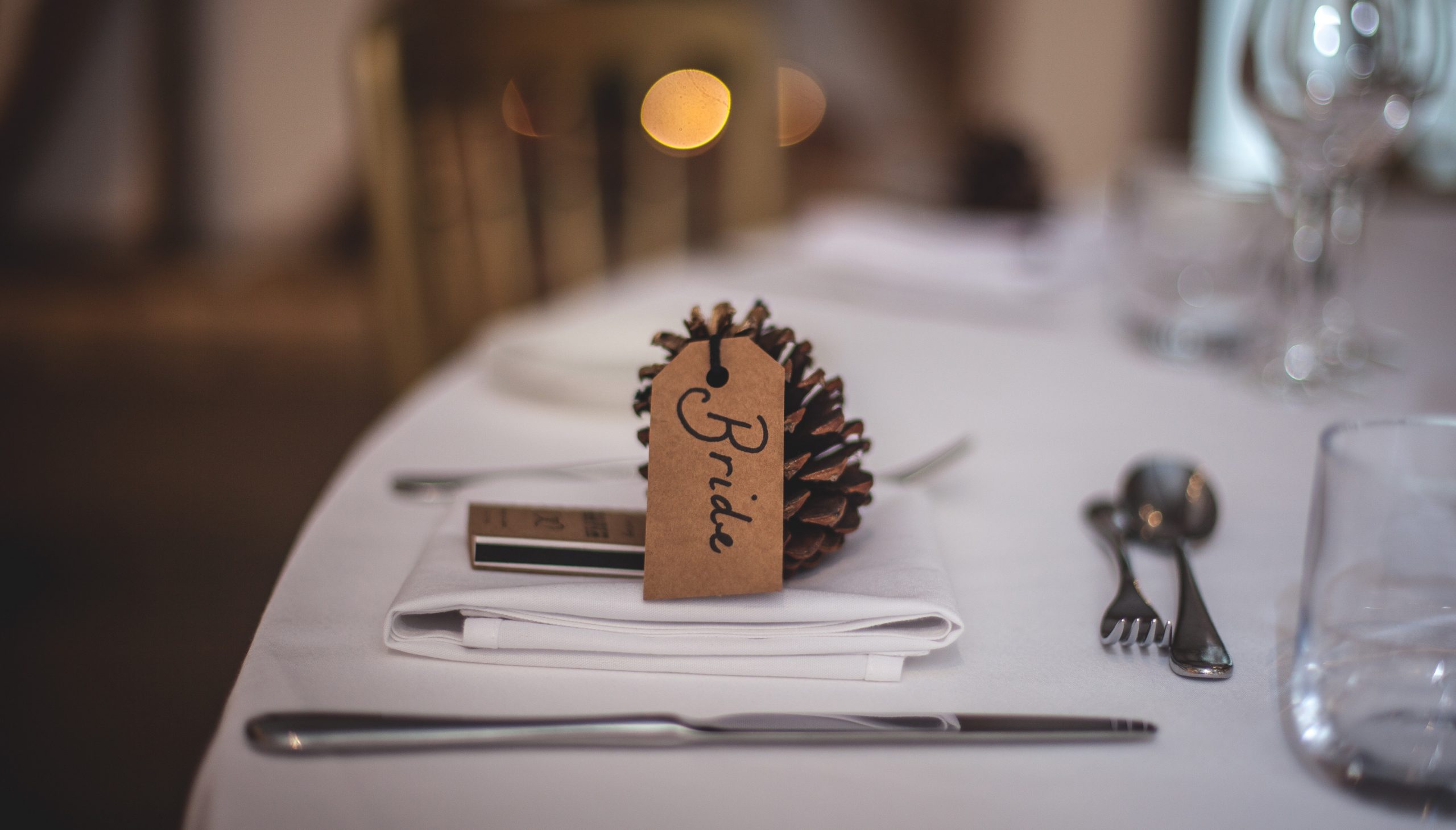 9. Transport:
Ditch the normal mode of transportation like a car, and get yourself a horse drawn sleigh! Not like your December wedding is not memorable enough, don't think twice about going a bit extra. It is your wedding day, and December is the best time of the year to give horse drawn sleighs a hand. Imagine riding away with your partner in the snow upon a horse drawn sleigh. Dreamy, right? They will also make for perfect pictures for the newlywed!
10. Centerpieces:
These are one of the most important aspects of a wedding. Since guests spend a considerable amount of time sitting at their dinner tables, the centerpieces end up attracting the most attention. You cannot have too extravagant a centerpiece that people have trouble looking at each other from across the table. Too minimal a centerpiece can be dull. For a winter wedding, you can look at options like ones with pine cones, candles and greens. Rose and thistle also make for beautiful clean, modern and winter wedding centerpieces. Seasonal flowers have an elegant and sophisticated impression like you may use Amaryllis and pair it up with a winter fruit like Kumquat. Thumb rule: stick to Wintry traditions for authenticity and to be able to stand out.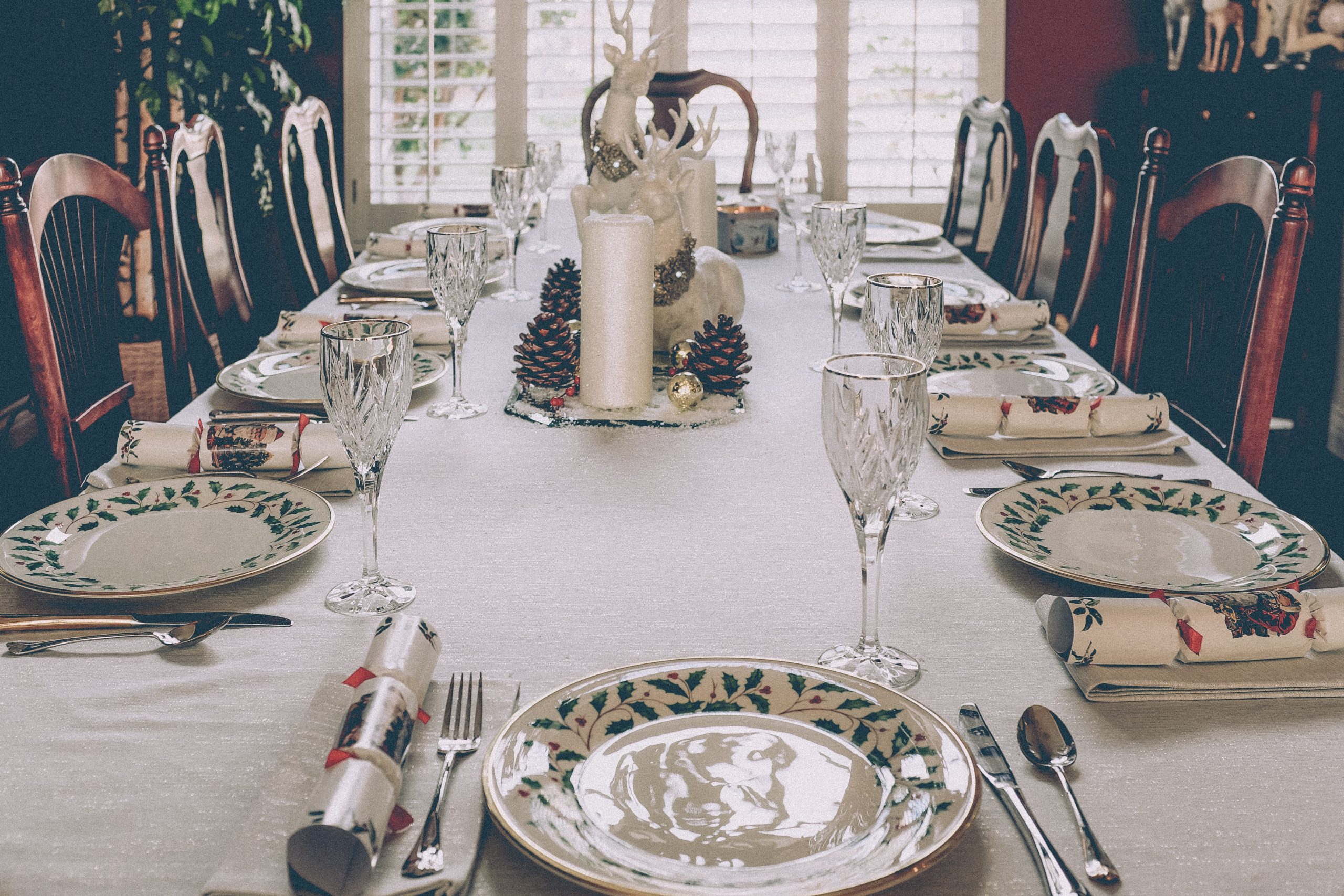 11. Chair Decor:
Dainty wreaths, rustic pine cones, rose gold colored stars, ribbons in red and green and glitter cuts are some common chair decor ideas you can try for your December wedding. Start the festivities with the right colored ribbons and golden stars amidst wreath, or you can give a warm rustic feel by using pine cones. Either way, chair decor is one of the most commonly implemented aspect for December weddings. Undecorated chairs can ruin the look of your wedding and look pretty dull.
12. Snow:
If you are planning your nuptials in December, you cannot miss up on the opportunity of using snow at your wedding. Irrespective of an indoor or outdoor location, snow fall over the newlyweds is necessary. It is magical and it is believed that a kiss under a snowing sky, is a promise of a life-long bond. Even if it does not snow on your wedding day, you can hire a snow gun for the day. Make picture perfect memories with snow. It can be when the bride walks down the aisle or the couple kiss for the first time. It makes for some beautiful nuptial pictures!
13. Blanket Station:
Often weddings in December are quite cold and uncomfortable. Make your guests feel a little welcome with an out-of-the-box idea like installing a blanket station. This is a corner where warm blankets are always available for your guests, in case they are feeling a little cold. Acts of kindness like these are some things that make your wedding memorable. Ditch expensive and useless grandiose acts like a champagne tower, and get quirky with a blanket station or tower.
14. Christmas Tree:
You know what would be a fun idea? Installing a Christmas tree at your wedding reception. You are having a December wedding when it is time for Christmas. Set against neutral and cool tones, a Christmas tree in a corner can light up the room. If you are using a festive color palette, the tree fits in perfectly. You can make it more fun by making it the gift keeping spot. This rids you of clumsy and unmanageable wedding gift storage area. It doubles as pretty pictures with gifts under a Christmas tree!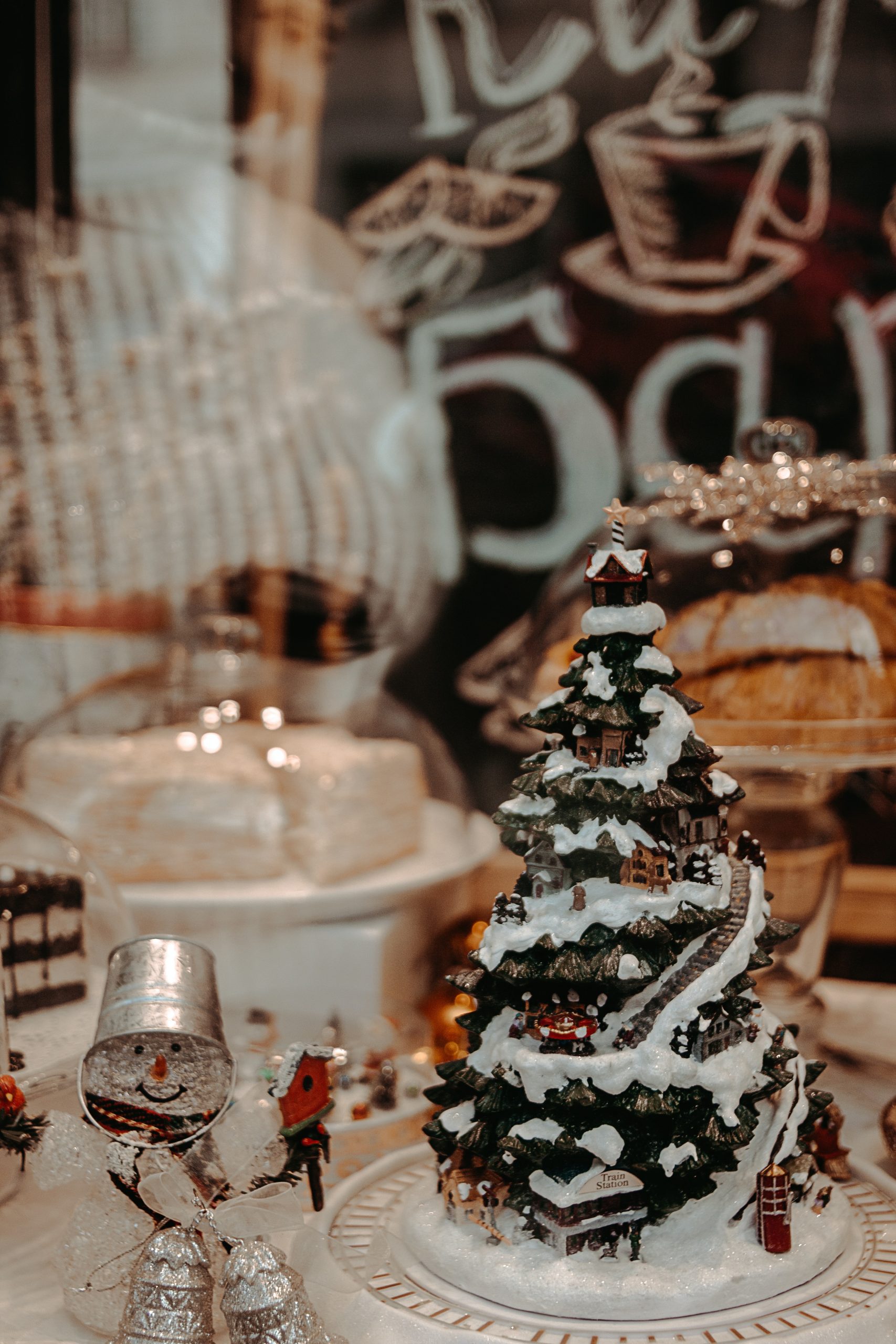 15. Fireplace:
The glow of a fireplace could make all the difference in the world for your December wedding. It can be the center of attraction and nobody would mind it in the bitter cold. You may have the guests seated around the fireplace for an even distribution of warmth through the room. You can even have it decorated with foliage, wreaths and mistletoe studded with berry accents and seasonal blooms. Make the area immediately before it the stage for announcements and speeches and even the dance floor.