Looking for the most romantic and mysterious kind of tattoo designs? Then this post is for you! Moon tattoo designs hold deep symbolic meaning and they can change their meanings depending on the nature of other tattoos that you add to them. Yes, moon tattoos are becoming extremely popular these days, especially among women who love being inked. Generally, moon tattoo designs are a symbol of eternity, purity, creativity, mystery, dreams, magic, influence, fertility, strength and feminine power. Also, here we present some Meaningful Dream Catcher Tattoos For Girls. But nowadays, many people also consider moon tattoo designs a representative of a variety of interests and expectations, making it a perfect tattoo choice for those who believe in the power of the celestial bodies.

Here, in this post, we've rounded up 7 wonderful examples of adorable moon tattoo designs and ideas. If you're looking for something unique and classic at the same time, please check out the following moon tattoo ideas and get inspired.
Adorable Moon Tattoo Designs And Ideas
Smoking Moon!
You'll love this! The moon is smoking out stars – indeed so clever idea. The thick lines of this moon tattoo and the detailing looks great. Yup, smoking is not good for boys and girls, but if you're the moon – you can do whatever you wish. One thing that is awkward here is why does he seem so hostile?
Happy Sun Moon Tattoo!
If you are looking for a tattoo that's going to brighten your day, then why not try this adorable moon tattoo design and idea. When you will walk outside and look towards the brightly shining sun, you will instantly feel alive inside with this happy sun moon tattoo design.
Colorful Sun and Moon Tattoo!
If you want something that screams beauty than colorful sun and moon tattoo design is all you need for your arms. This tattoo design is very popular among couples and lovers because it reflects the beautiful colors of their love life and spread positive energies that complement each other.
Supernatural Moon Tattoo!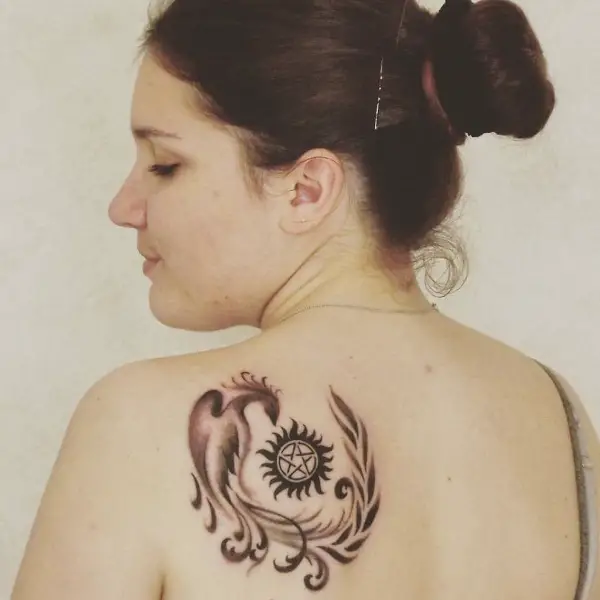 Image Source
These tattoos are an ideal choice for anyone who believes in astronomy or has faith in higher whimsical powers. This tattoo is a true indicator of the wearer's belief system and their connection with the dead and supernatural powers. Here we have some Purposeful Gothic Tattoo Ideas And Meanings.
Moon with Constellation!
This adorable moon tattoo design and idea look great inked on the wrist, and point towards your ambiguous nature which resonates with the nature of the outer world. Moon with constellation tattoos is the latest trend and you can easily find them on many body art lovers.
Triple Crescent Moon Tattoo!
Triple crescent moon tattoo design symbolizes the three aspects of women's life – mother, maiden and crone. The tattoo represents the goddess as 'Mother Night' symbolizing the life present in the womb. Although the symbol is small in sign, still it's an ideal design to get inked on places such as inner wrist and behind the ear. Here you find some Delicate Wrist Tattoo Ideas For Sensitive Folks.
Lotus Moon Tattoo Design!

Image Source
The combination of lotus and moon not only look aesthetically appealing but also together they form heavenly spiritual element spreading positive vibes. The lotus symbolizes birth and purity, and the moon symbolizes rebirth.
All these adorable moon tattoo designs and ideas are of great importance for humans as the moon is the most powerful symbol in the universe. Moon tattoo designs look fabulous on any part of the human body such as – ankles, back, neck, wrists but, I love getting them inked behind the ear. Such tattoo designs are not only beautiful and pleasant to look at, in fact, make your life more meaningful and interesting. Also, here we are giving you some Tiny And Extraordinary Tattoo Ideas For All Grown-Ups. So what more motivation you need to get yourself inked with a moon tattoo? Adore all these designs and be ready for compliments!