Tattooing is an art. But it is also beyond that. For many, who find it hard to express through words, tattoos can serve as a mirror that will show the world who they are. If you too believe in expressing yourself in this cool way, then getting a tattoo done would be the best bet. But there is something extremely challenging about tattoos- choosing them!

Yes, choosing a tattoo is difficult. And when you are too sensitive about everything, choosing a tattoo becomes all the more challenging. In such a scenario, you must make your choice carefully. If you want some fail-proof options, then the undermentioned Delicate Wrist Tattoo Ideas For Sensitive Folks are what you must go for. Also, Check out these Small Tattoos With Powerful Meaning for inspiration. Have a look-
Delicate Wrist Tattoo Ideas For Sensitive Folks
Flowers or floral patterns
If you want to flaunt the feminine side to you, just get a floral tattoo etched. Although there is no dearth of Delicate Wrist Tattoo Ideas For Sensitive Folks, there is nothing like tiny designs with maximum impact. Going over-the-top is not advisable for a wrist tattoo.
Powerful words on the wrist
Strength, peace, love, integrity- these are all examples of powerful words. And when you choose any such word for your tattoo, you will know in how many ways you feel satisfied. These tattoos are great because they help you express yourself without you really having to go through a lot of inking pain.
Animal tattoos
Talking about Delicate Wrist Tattoo Ideas For Sensitive Folks, you can't certainly skip animal designs. So, whether it is an elephant, a tiger or an owl that you choose, make sure it reflects your personality. Don't choose something that you think contradicts who you are.
Song lyrics tattoos on wrist
Is there a song you totally love? If yes, get an excerpt of it etched on your skin. If this excerpt inspires, you will never be short of motivation. This song will always remind you of the goal that it is linked to.
Religious symbols
For someone who has a strong religious inclination, religious symbols are what they should go for without doubts and apprehensions. So, whether it is cross or an ohm symbol, it will keep reminding you of the religious side that you boast of. Here are the best Cute Sleeve Tattoos For Girls that can suggest the best artwork for you.
Zodiac signs
A lot of people believe in astrology. If you too are one of them, you will only feel happy to flaunt your zodiac sign on your wrist. Zodiac signs can be linked in hundreds of different ways. If you want to flaunt minimalism, you can choose a single-coloured basic design. People also believe that it's lucky to get one's zodiac sign etched on their skin. So, with one on the skin, you might also make good luck rushing to you.
Foreign language wrist tattoos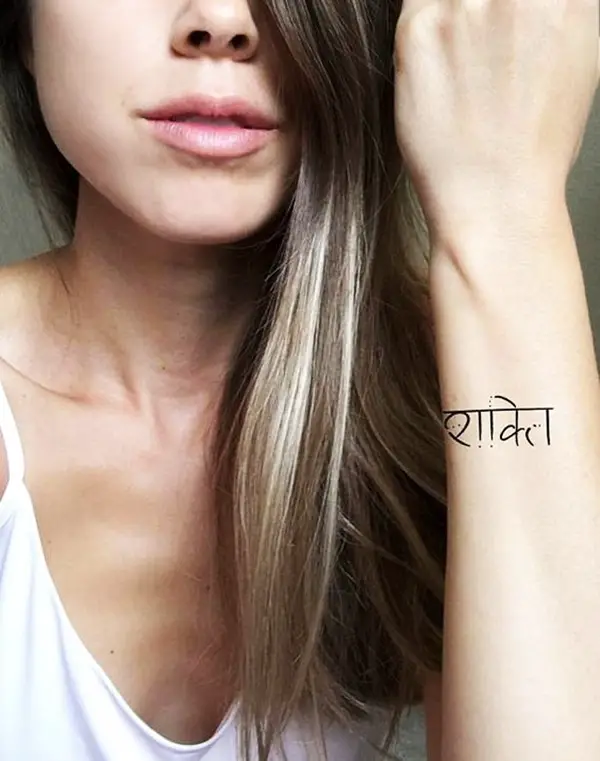 Image Source
It's a trend these days to flaunt text tattoos in some foreign language. Tattoos in Sanskrit, Japanese and Greek are the most popular. If you find foreign language tattoos cool and you want them to look subdued and glamorous at the same time, then choosing to have one on the wrist would be the best bet. Also, take a look at Purposeful Gothic Tattoo Ideas And Meanings.
Runes
Runes are symbols with special esoteric meanings. Besides being extremely simple, they look purposeful. With one on your wrist, you will make people turn around to steal a glance of it. All the rune alphabets have such amazing meanings, that you can go for one without much thought.
There is nothing more joyful than getting a tattoo done right and then receiving compliments for it. If you love tattoos and compliments both, then the abovementioned Delicate Wrist Tattoo Ideas For Sensitive Folks are the best deal for you. Just choose one from them, get it etched on your skin and then witness truckloads of compliments pouring in. Give it a try! Also, here we present some Futuristic glow in dark tattoo ideas. Check out-