Winters are here and we are all looking for bomber jackets and camel coats to purchase online or offline. Well, the craze for these winter essentials is understandable. But did you know you can appear as classy as a woman in a chic bomber jacket or probably classier in the humble cardigans lying in your wardrobe? Yes, that's right. All you need is to know how to style them. If you are looking for some fashion inspiration, then here it is. Below, you find some of the most amazing and beautiful cardigan outfits to swear by this winter. Here we have some Office Outfits to wear this Winter. Have a look-

Beautiful Cardigan Outfits You Must Try
Match your cardigan with a pair of flared denim pants- When it comes to beautiful cardigan outfits, there is nothing that can beat the charm of a pretty cardigan teamed with a pair of flared denim. With spectacles and hair let loose, you can look like a sexy nerd. And guess what, you will totally love yourself!
A pair of skinny jeans will enhance the beauty of your cardigan- Although there are many beautiful cardigan outfits, a pair of skinny jeans matched with a cardigan can never go wrong. While the cardigan offers the comfort you need, your skinny jeans give you oodles of style. The two paired together can make you look like a diva from the tinsel-town. For shoes, you can wear a pair of low boots for that rugged effect.
Striped dresses are the perfect partner of your cardigan- Do you love striped dresses? Well, we too do! But in winters wearing them becomes a headache. After all, you can't match them up with anything and everything. But this fix gets resolved with a nice cardigan. Yes, cardigans go extremely well with striped dresses- whether long or short. With sneakers and a hobo bag, you can set the streets on fire.
Here We have collected some of the best Elegant Winter Work Outfit Ideas.
Cardigans and boyfriend jeans make a winning combo- If you are a teenager, too fond of cardigans, then you can probably wear them with boyfriend jeans. Boyfriend jeans and cardigans go so well together, anyone of any age can pull this outfit off with great ease. Make sure you wear a tank top underneath your cardigan to offer the total getup a touch of elegance. You can also choose to enhance your look with some junk jewellery. Just keep in mind that you are not to overdo it.
Add life to your monochromatic look with a pretty cardigan- Monochromatic outfits are the order of the day. Starting form teenagers and young adults to forty-somethings, everyone seems to be in love with the monochrome colour scheme. Although the idea of wearing a top-wear and bottom-wear in the same colour might not impress you, it's quite in trend. To add some vibrancy to the getup, wear a cardigan over your monochromatic outfit.
Also, you can take some idea from these Cozy Winter Outfit Ideas For Women.
Cardigans with shorts- This is probably the sexiest outfit option we have here. Although the shorts make this outfit wearable only in less cold days, you can wear it on painfully cold days as well, with a pair of stockings. But stockings might make the look of the outfit a little less attractive. And that is why it is advisable that you wear this outfit only on those days when the cold is not biting or spine-chilling.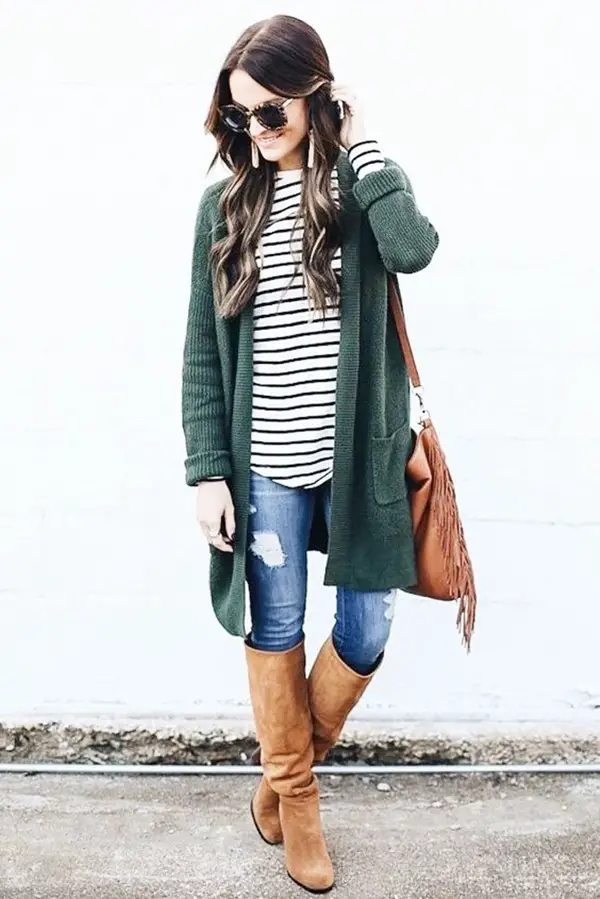 Image Source
How many times does it so happen that you slip into a chunky sweater and feel so hopeless? Well, why always pick that tasteless sweater to protect yourself from the biting cold outside, going a little off-routine doesn't really harm. So, this winter, take out all your pretty cardigans, team them up with the right bottom-wears and shoes, and help them create beautiful cardigan outfits for you! Here are some of the most amazing and Cute Winter Outfit Ideas For Teens 2018. Check out