One really needs to be smart to understand how fashion changes instantly. Fashionables! Today, in this post you'll be reading how shades of darker grey outfits for this season have become a massive trend among women. Are you in love for the dark color? Let's see will grey become more than a sweater, a pair of pants or a coat in a look this fall season? Undoubtedly, ALL-GREY has replaced everything, especially all-black and all-white outfits.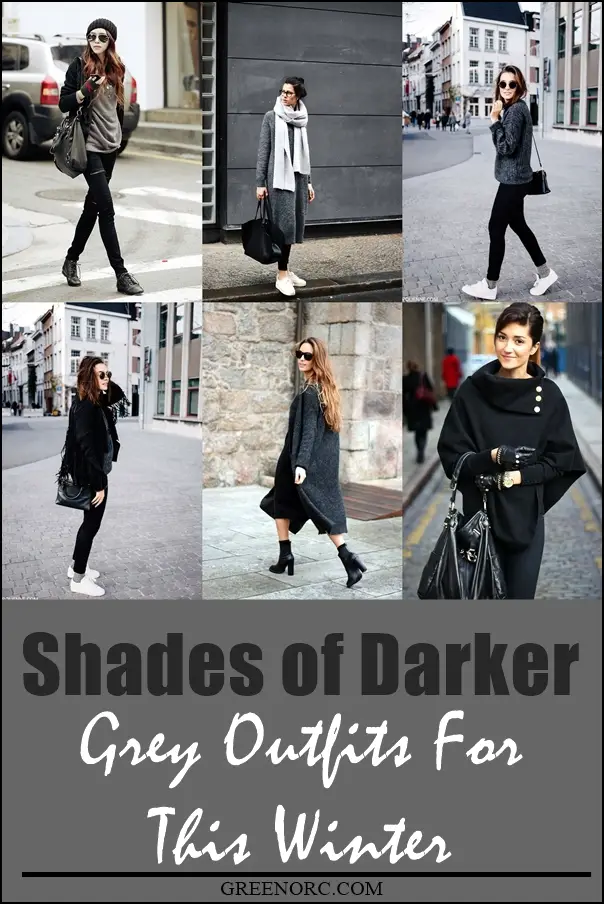 Hey…Ladies! Have you ever thought of the result? It's an extremely elegant shade and if you ask me, it's my personal favorite with a touch of cool, poised class and a cold refinement. But, what I exactly love about this cool shade is the fact that being neutral makes it goes with everything, YES!
Shades of Darker Grey Outfits For This Winter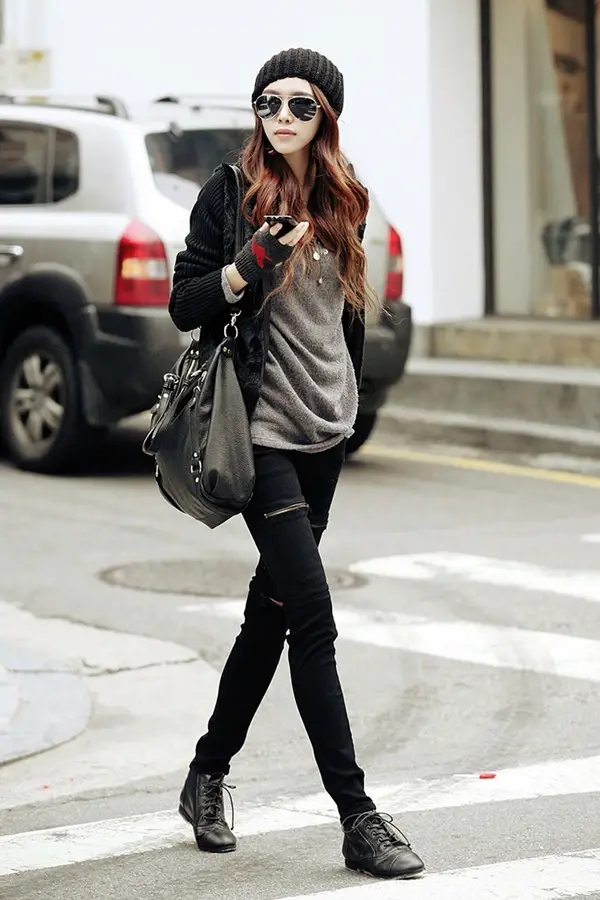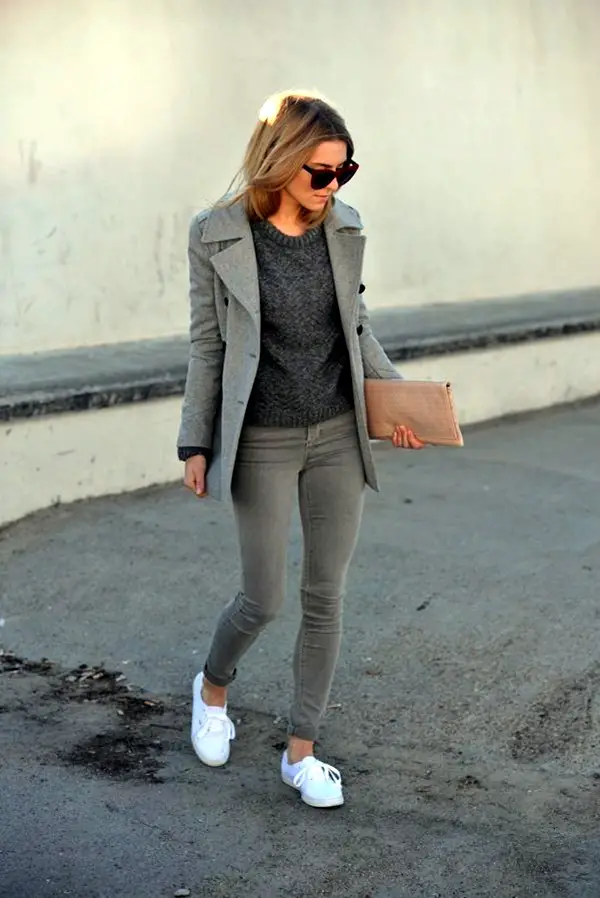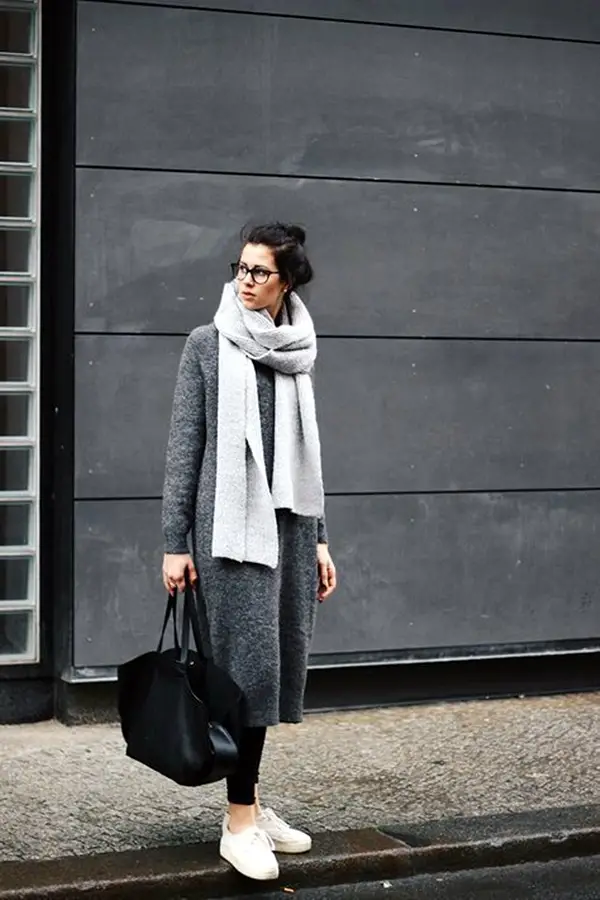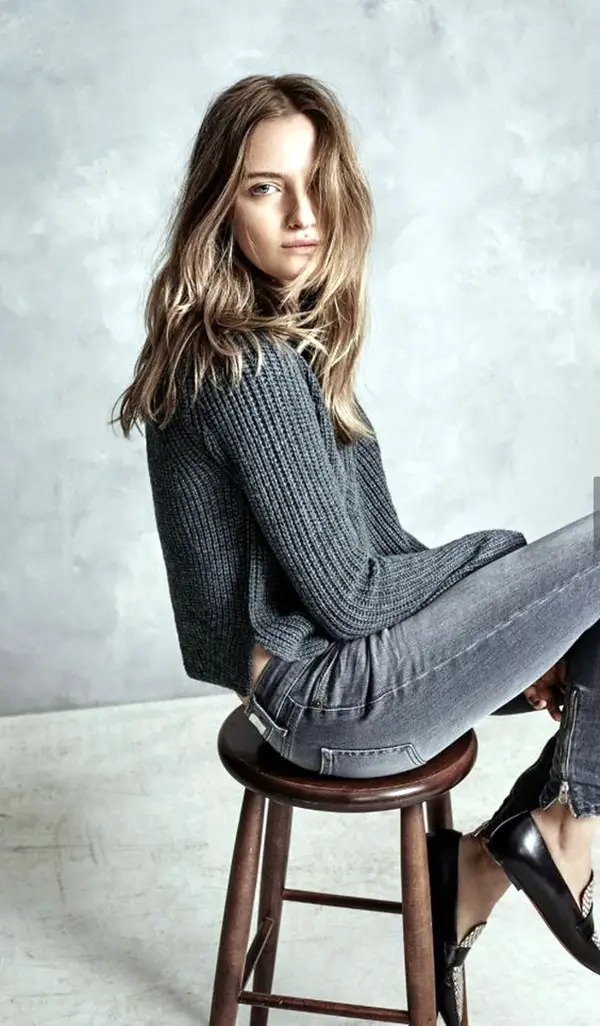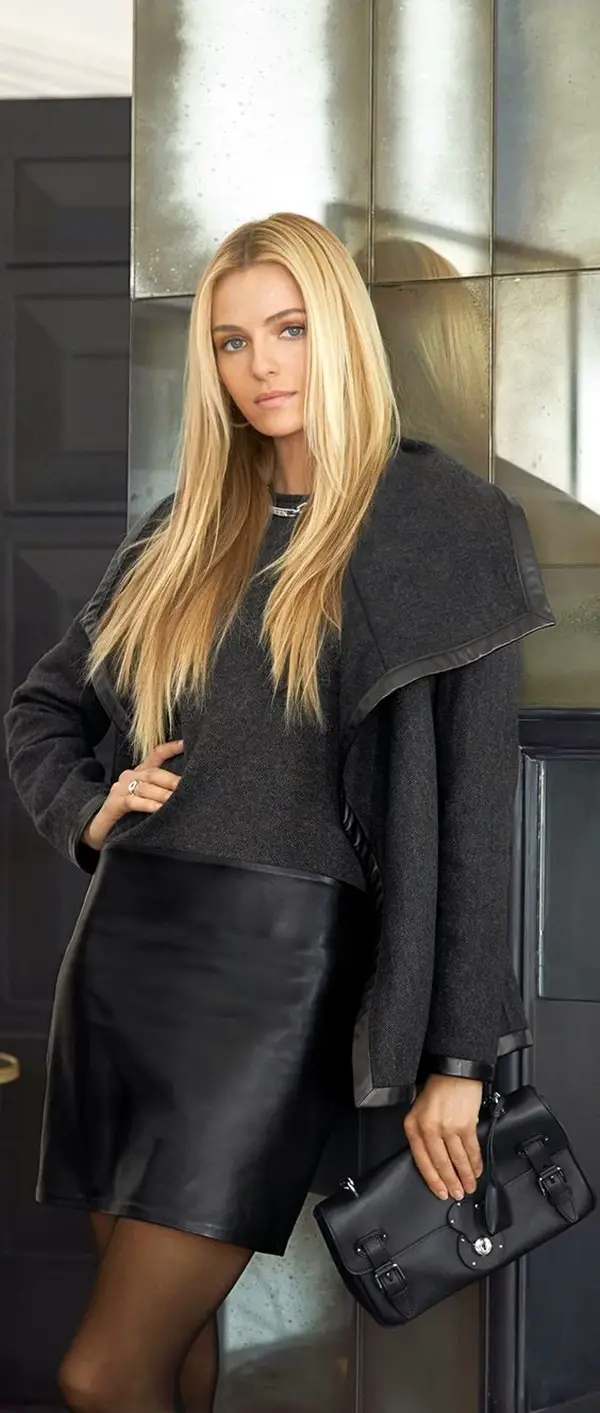 Yeah…grey is a short word, but when you'll blend layers of grey together, you will be actually surprised by its depth and diversity. Here are few ideas you inevitably want to go through when you decide to wear dark grey outfits!
Wear Grey Jeans with Similar Shades of Grey!

Smart Beauties! If the monochromatic look or all-grey outfit scares you, try mixing up textures by adding a chunky knit with your grey jeans which means you're still sporting a monochromatic theme. Have you noticed that even all celebrities are wearing grey on grey? But it's important to know about tips to wear ripped jeans with style in order to avoid looking grungy! Well! It's super easy and looks effortlessly chic.
Grey Clothing with Prints and patterns!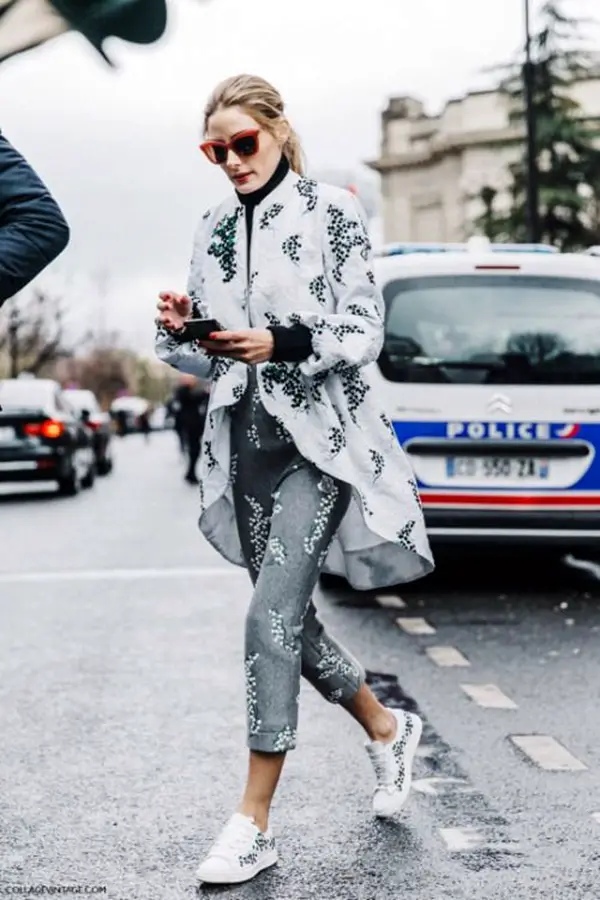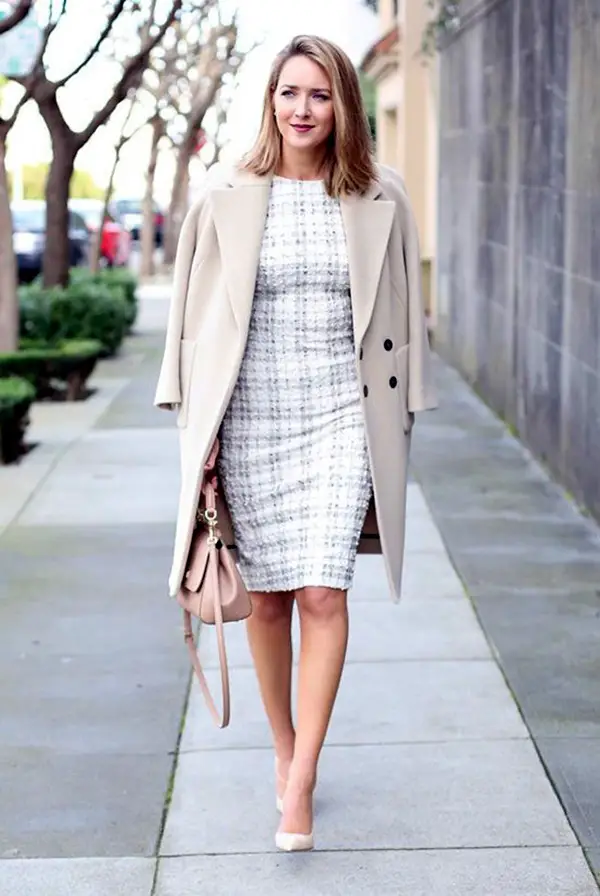 Divas! Don't you prefer shades of darker grey outfits for this season to be soft and flowing?  One of the great examples would be a grey floral print blouse with a drape bow….basically a kind of thing you would wear under a charcoal grey blazer to look fab. Moreover, the monochromatic floral dress paired with geometric print scarf adds a funky touch to your overall look.
Grey Maxi Layered with Sweater!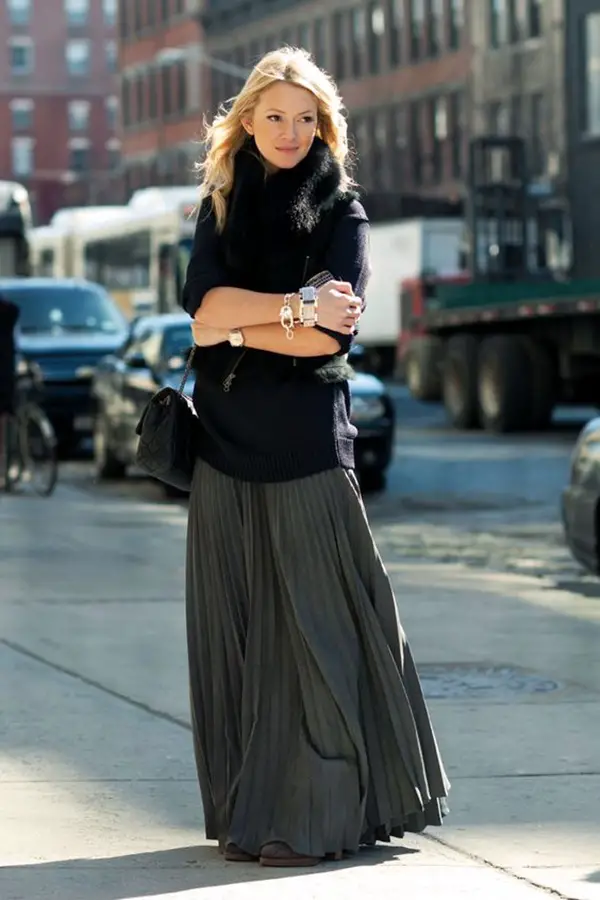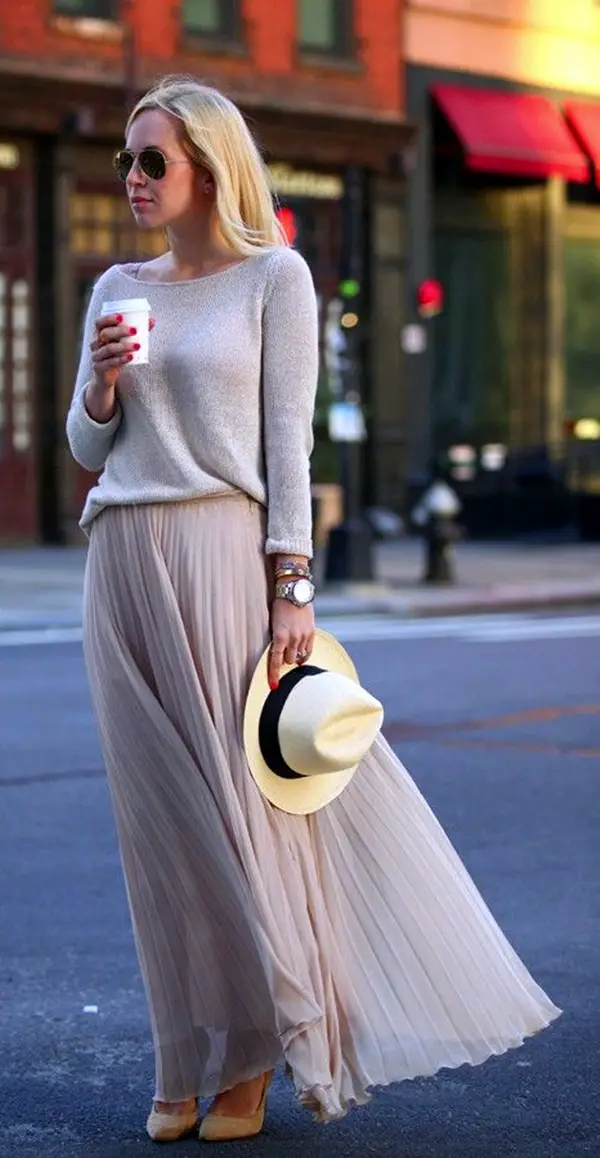 Give your grey maxi a complete different look this winter season by layering it with your favorite pair of sweater, basically dark, vibrant colors such as – red, blue, purple. And, Ladies! You would be surprised with the result – polished and fresh daytime look!!
Pair Dark Grey Jeans with Hues of Cream or White!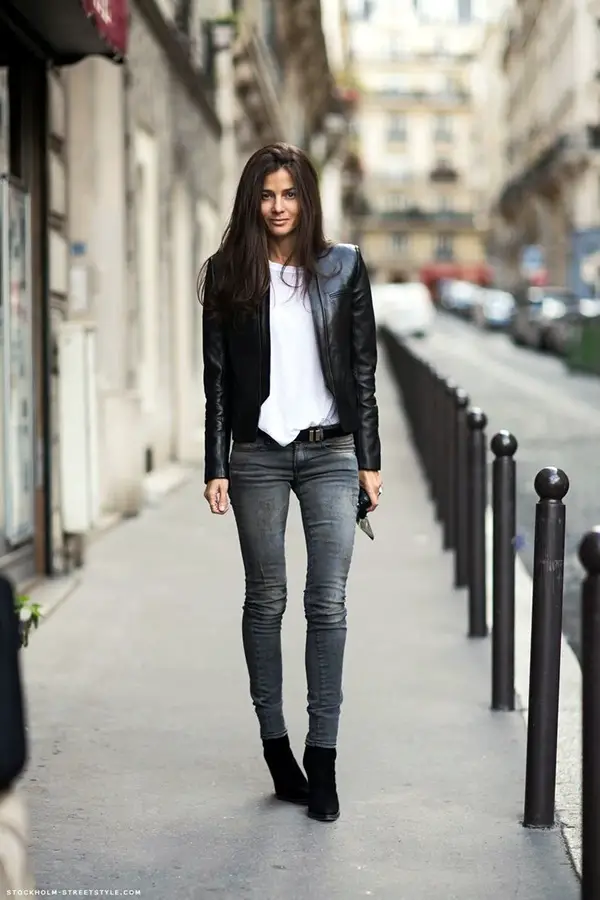 For an overall neutral look, wearing FLATS that aren't booties at all is the right choice to pair with your dark grey jeans. Yeah, there is something so special about the color combination of this outfit that you'll definitely love and get inspired of creating new looks out of pieces already in your closet. Here are several party outfit ideas to break the stress of dressing up right. So, stock up your closet and get ready to try the handy style advice.
Sheer Grey Top with Skinny Jeans!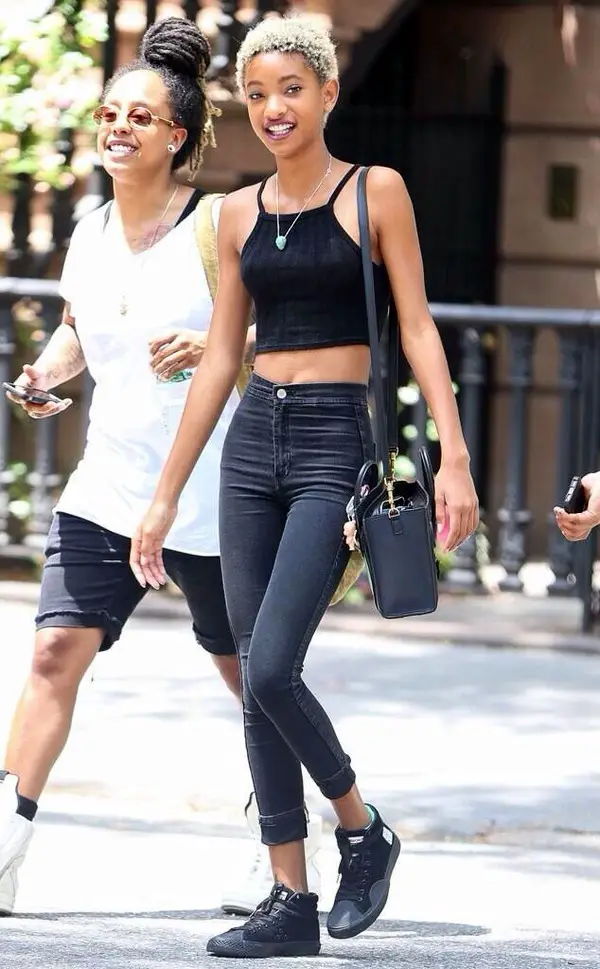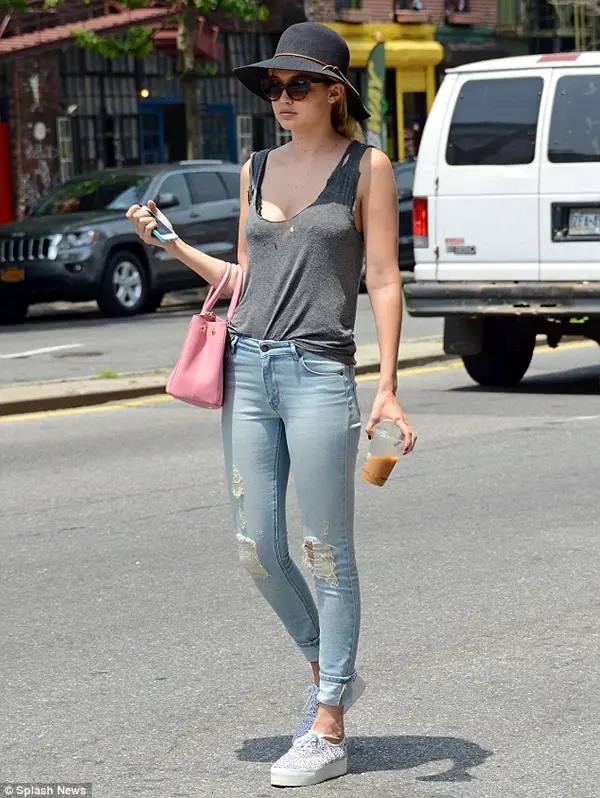 Sheer dark grey top may seem to be too precious for your tastes, but a flowing kimono over sheer grey top adds perfect amount of delicacy to bulky bottoms and make them work well in the real world. This outfit combo proves to be among shades of darker grey outfits for this season.  Add punch to your winter grey fashions with bright accessories.
 Classy Grey Trousers paired with Silk Tank!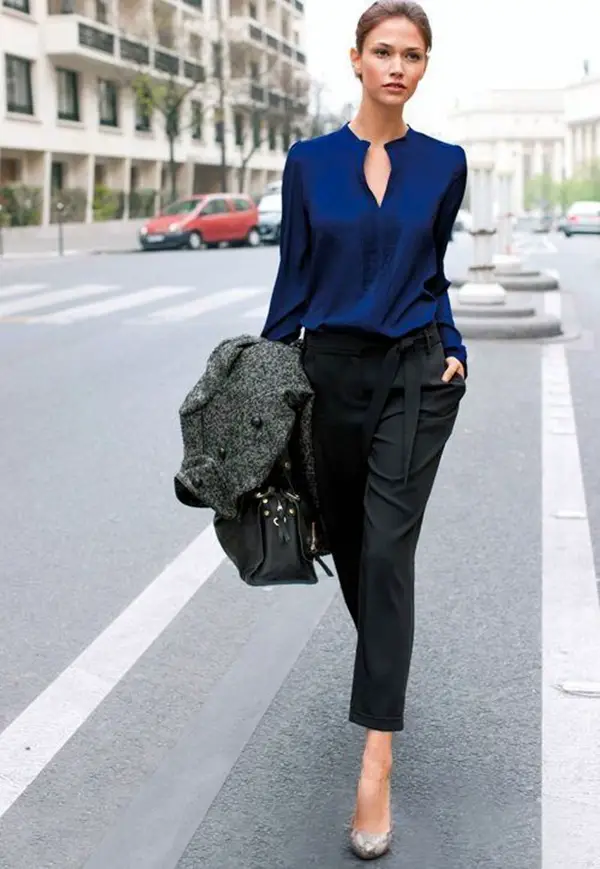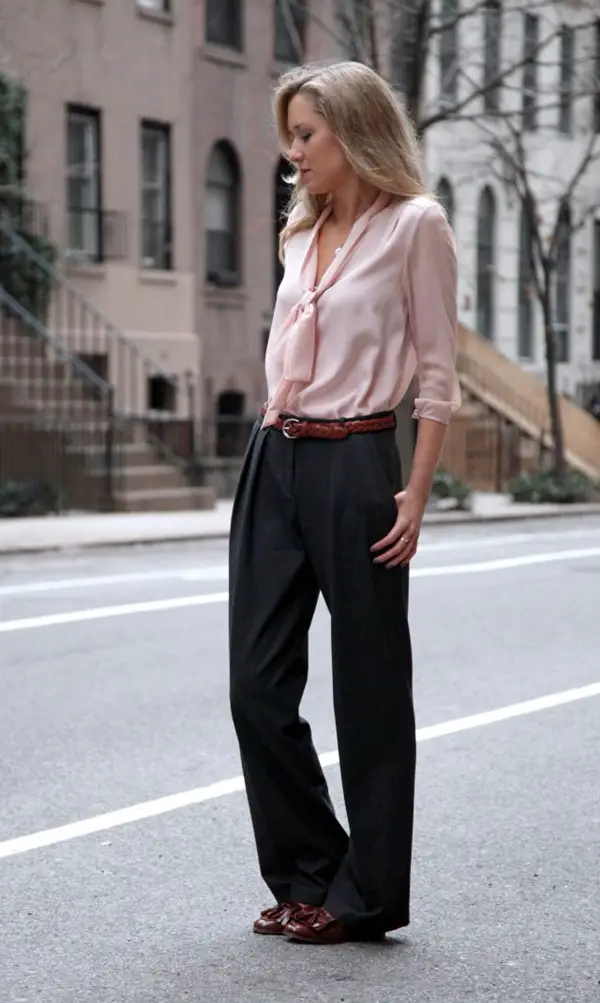 In colder weather, if you want to keep your DARK GREY outfit choice simple and refined for formal meetings with clients – don't feel hesitate to pair a classy grey trouser with a contrasting silk tank for an outstanding effect. Opting for colorless head-to-toe grey monochrome is a latest fashion statement!
Printed Trousers with Plain Dark Grey Top!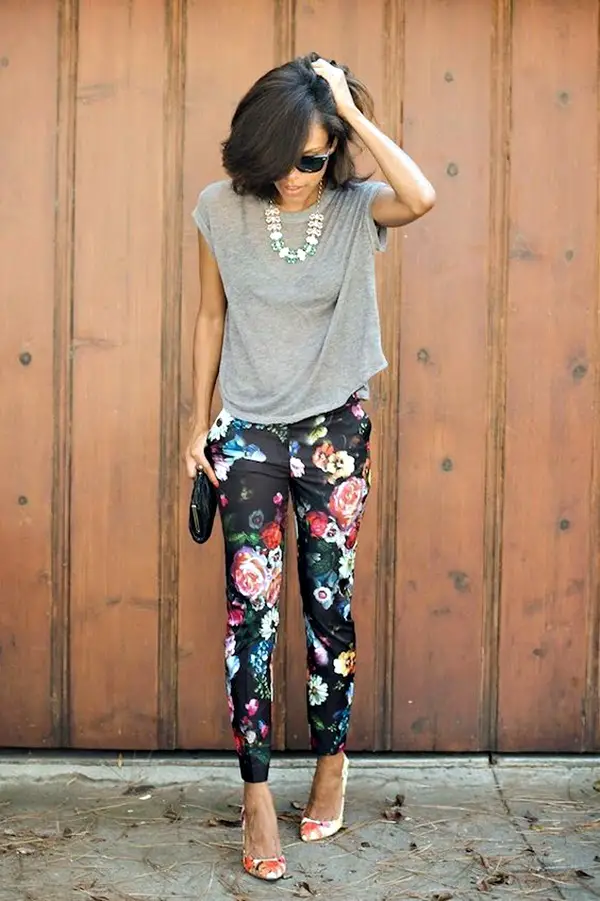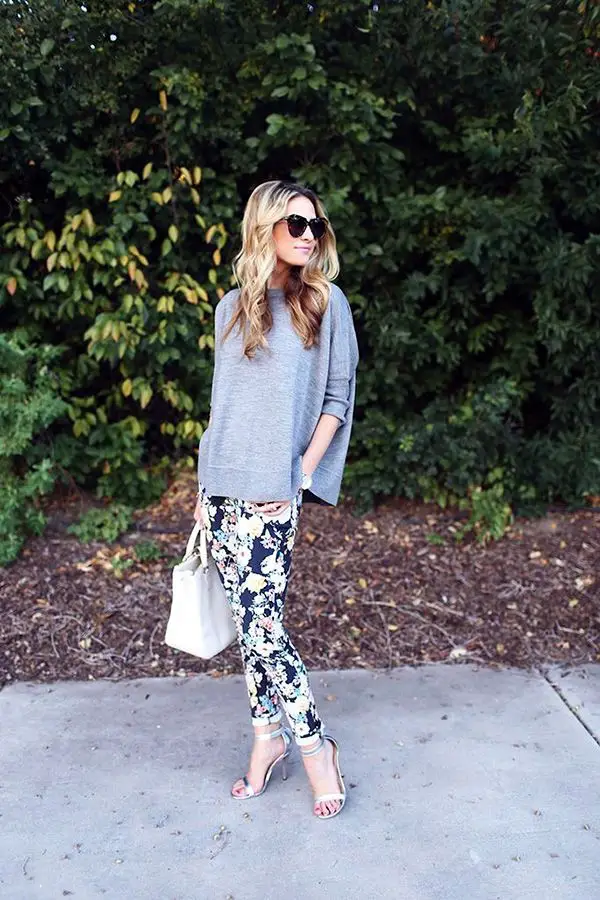 Isn't this correct Gals? You really enjoy wearing printed trousers with a plain grey top then a sleeveless blazer for outdoor visits with friends during weekends as latest blazer outfits. For a more polished look, accessorize it with eye-catching sleek side purse. To look different everyday, it's important to play with the trends and let your style speak volumes. Check out some latest fashion outfits here!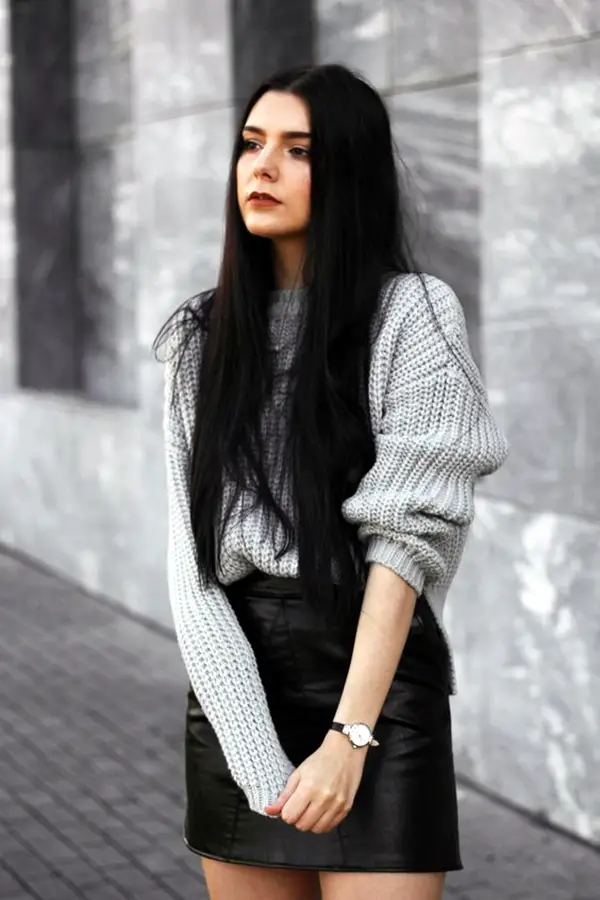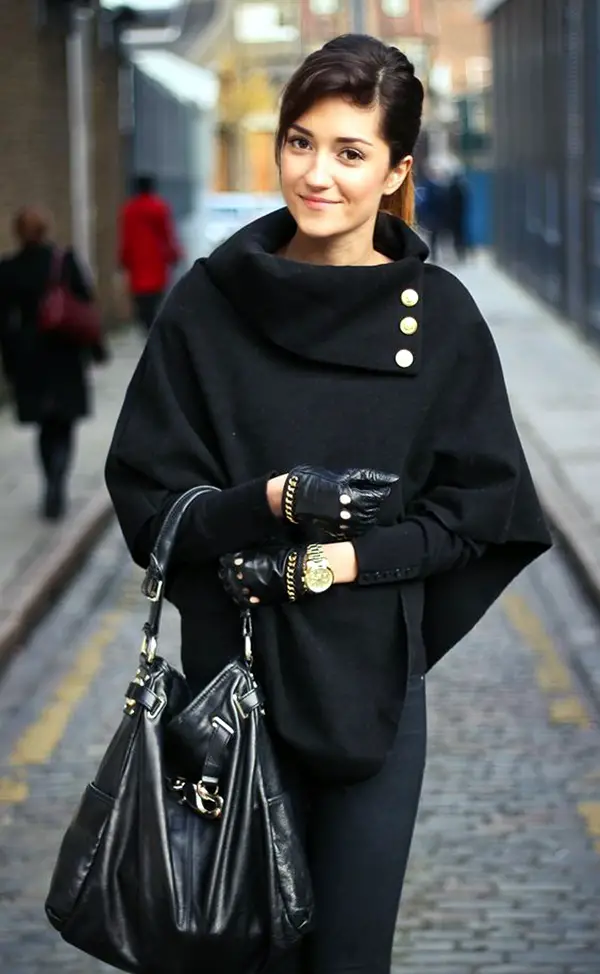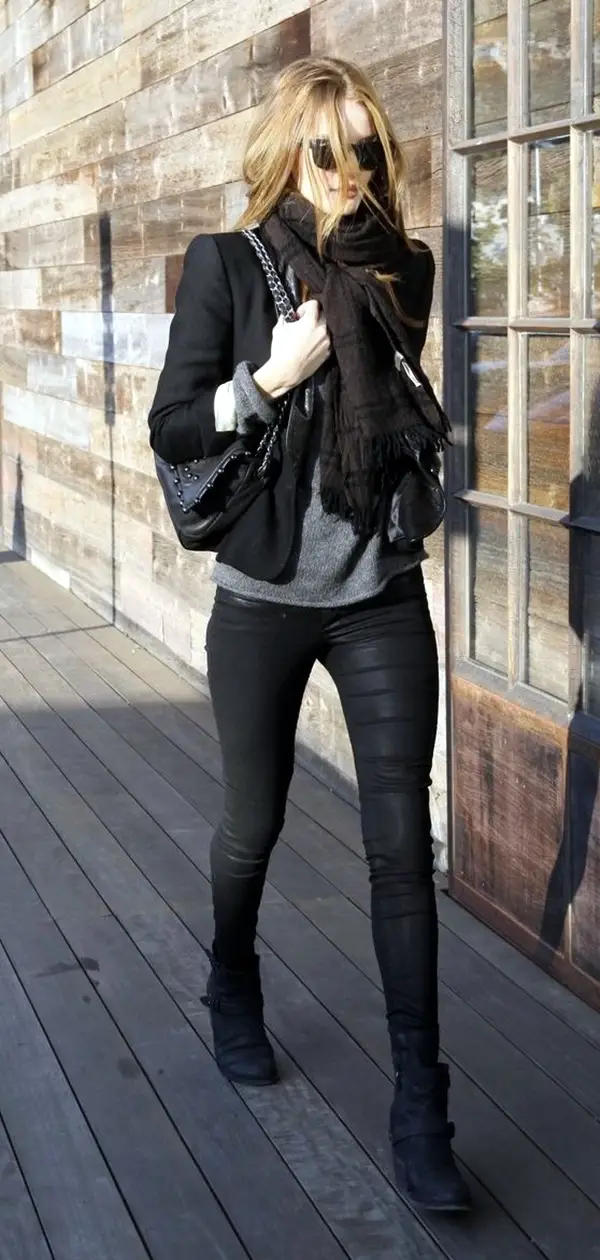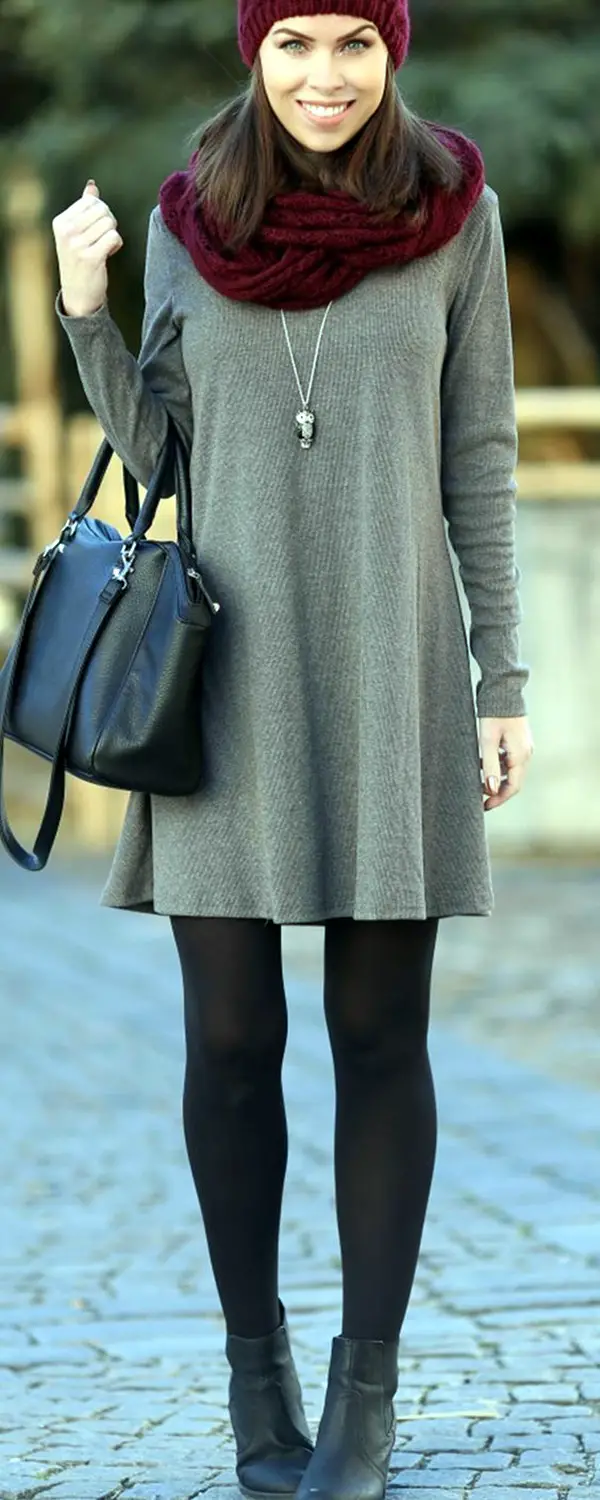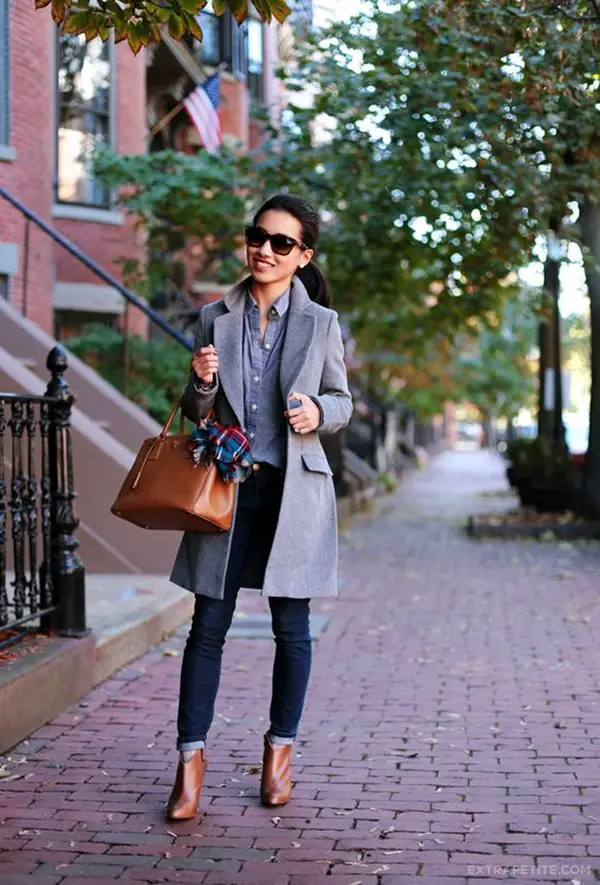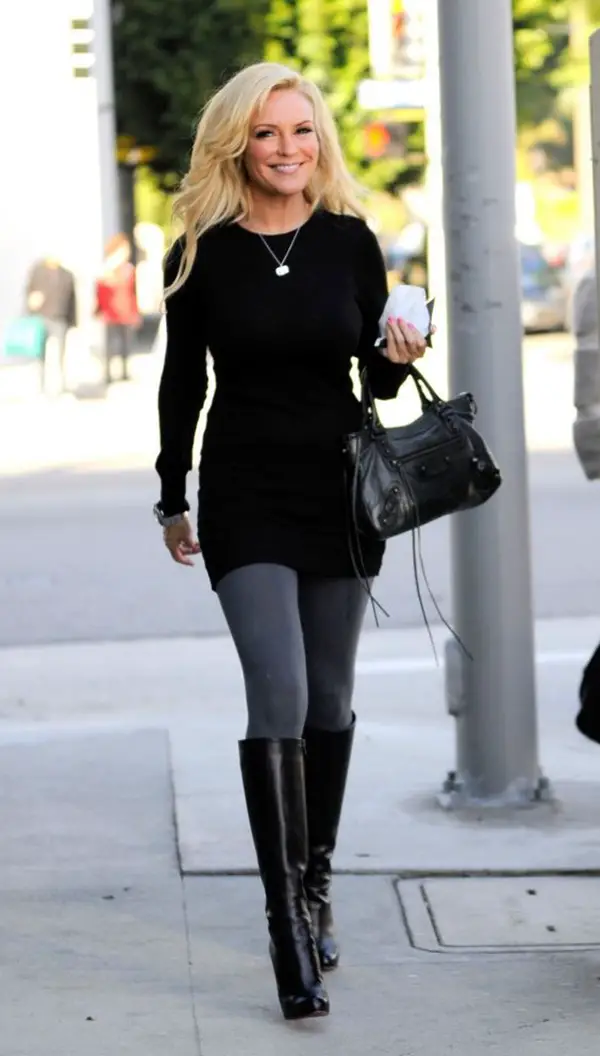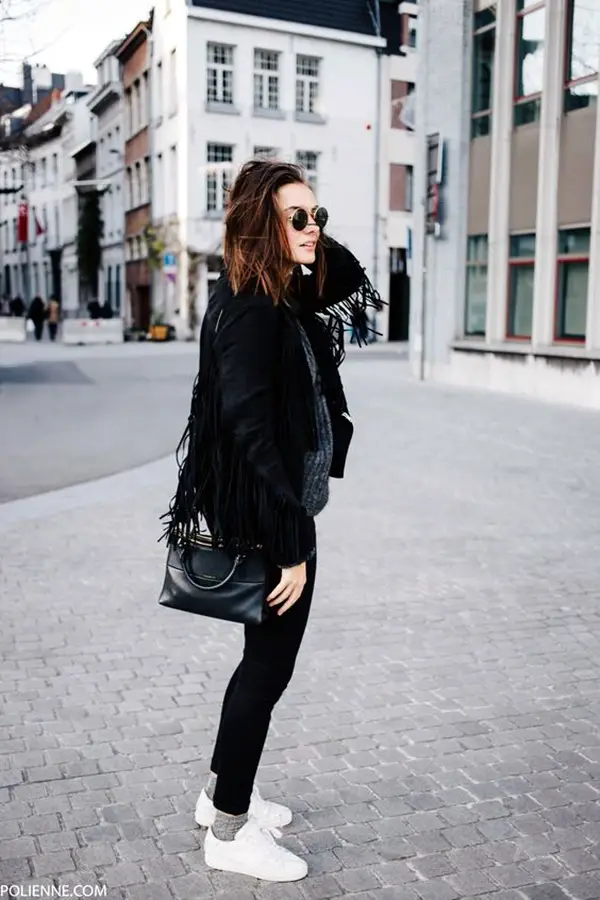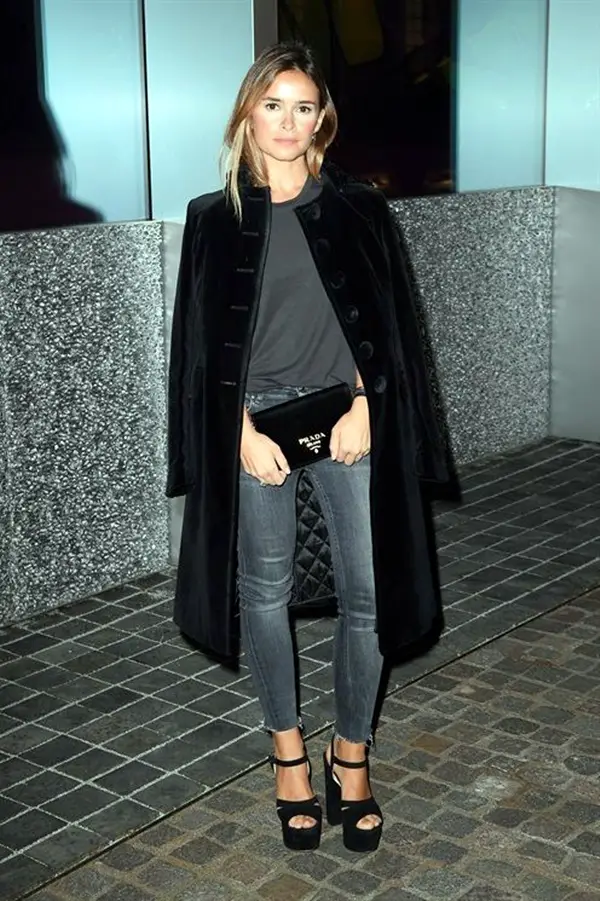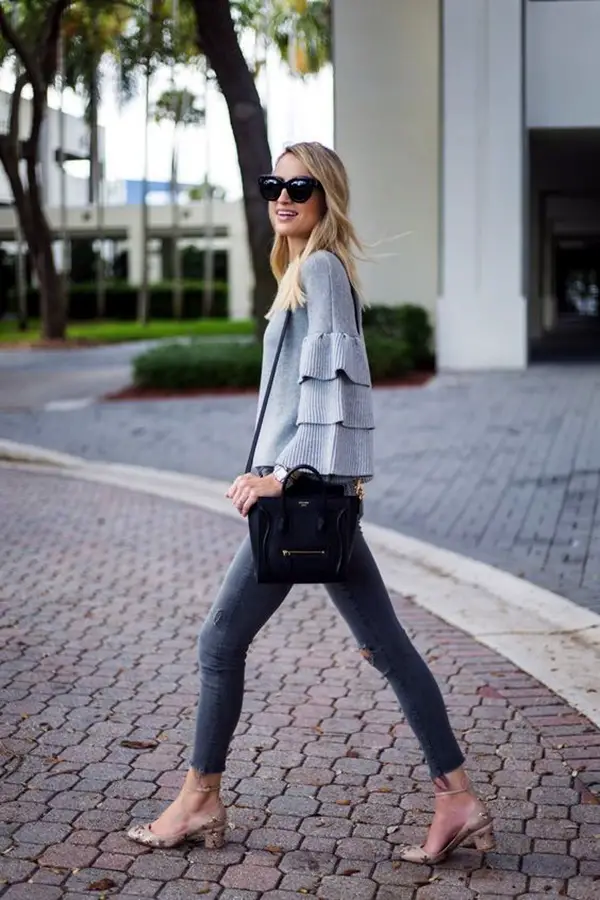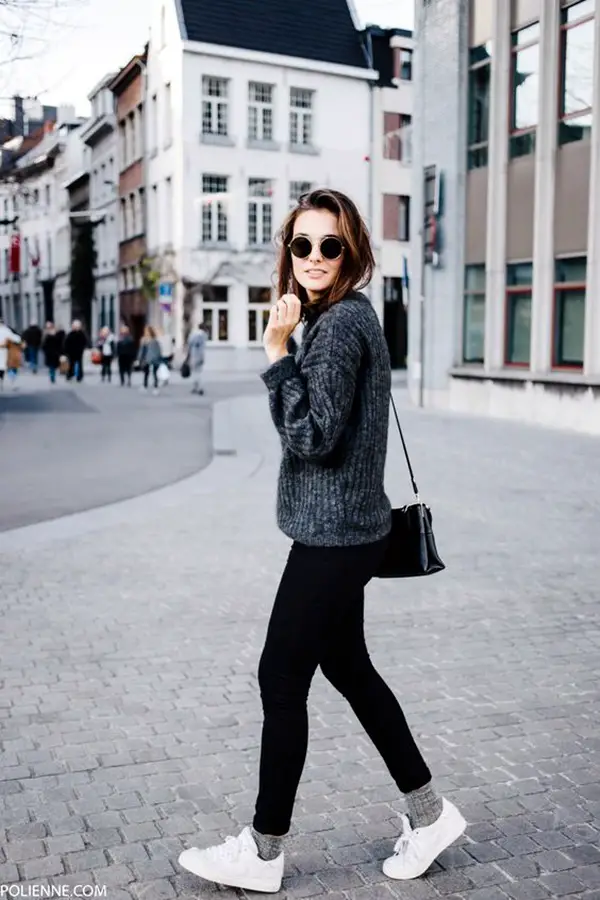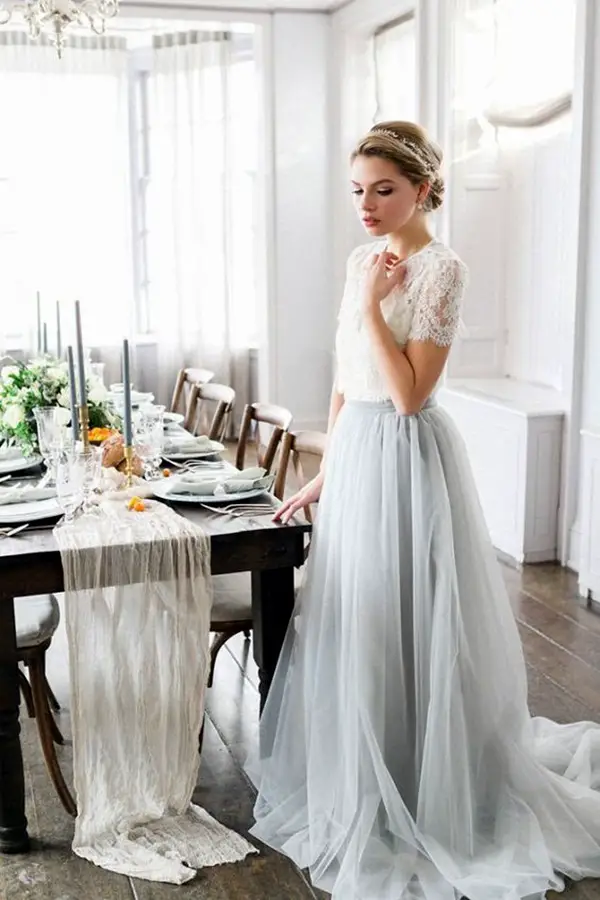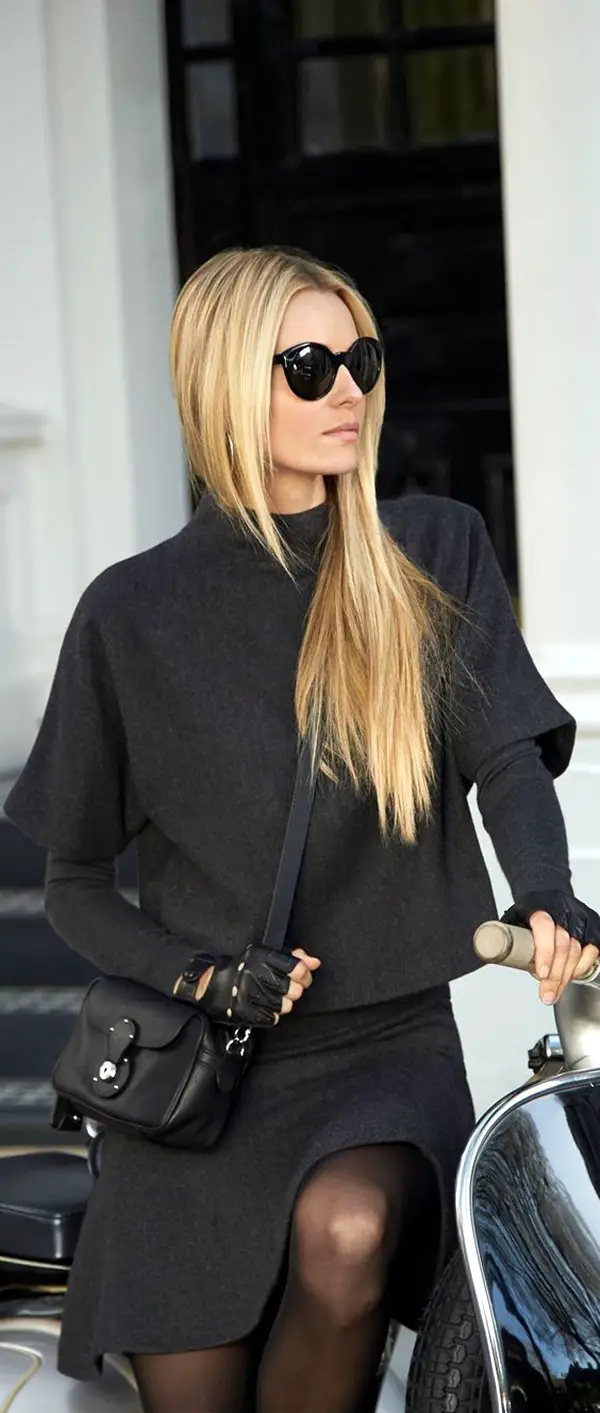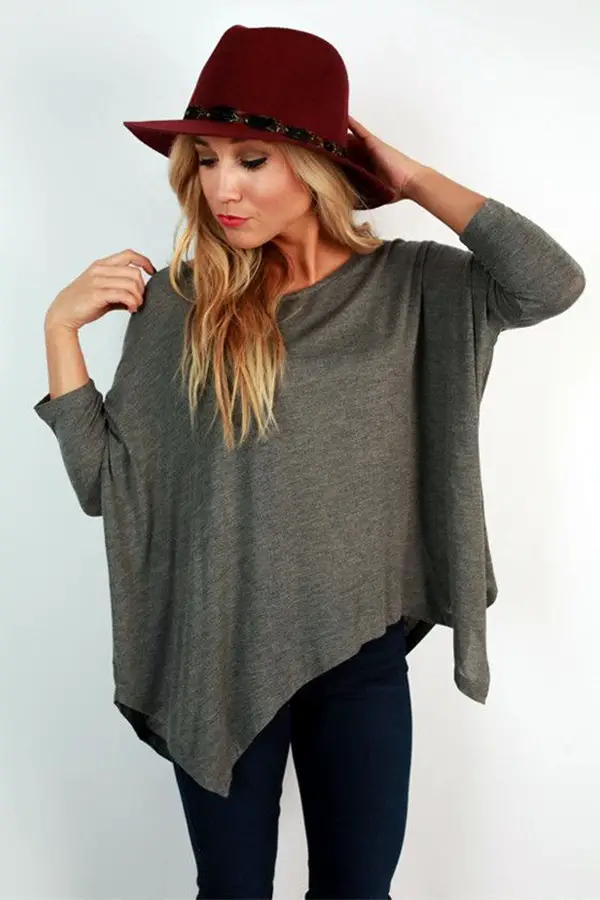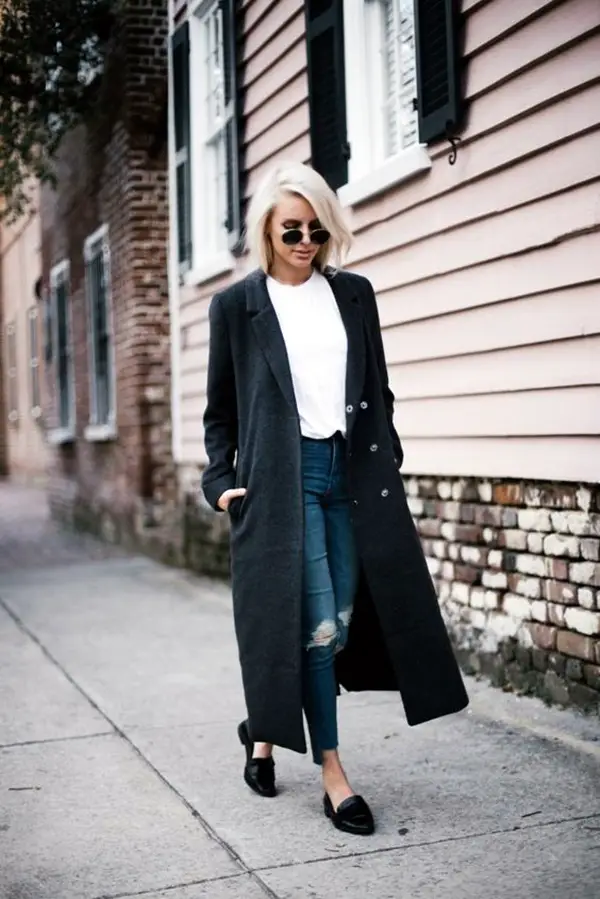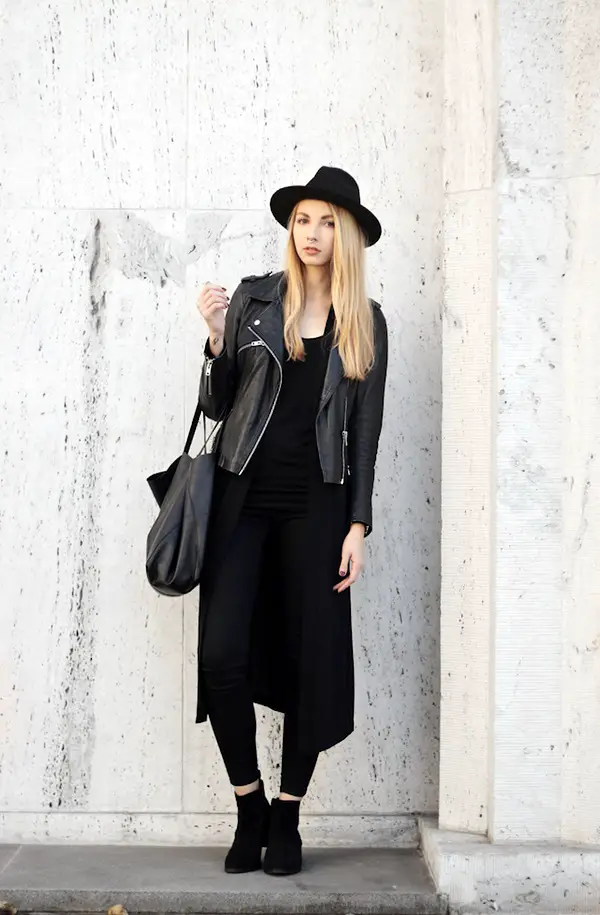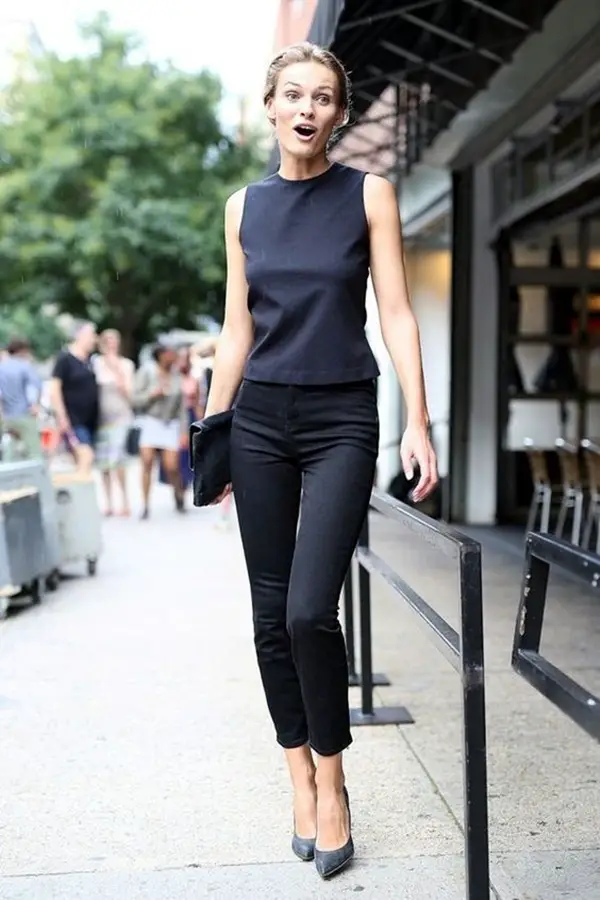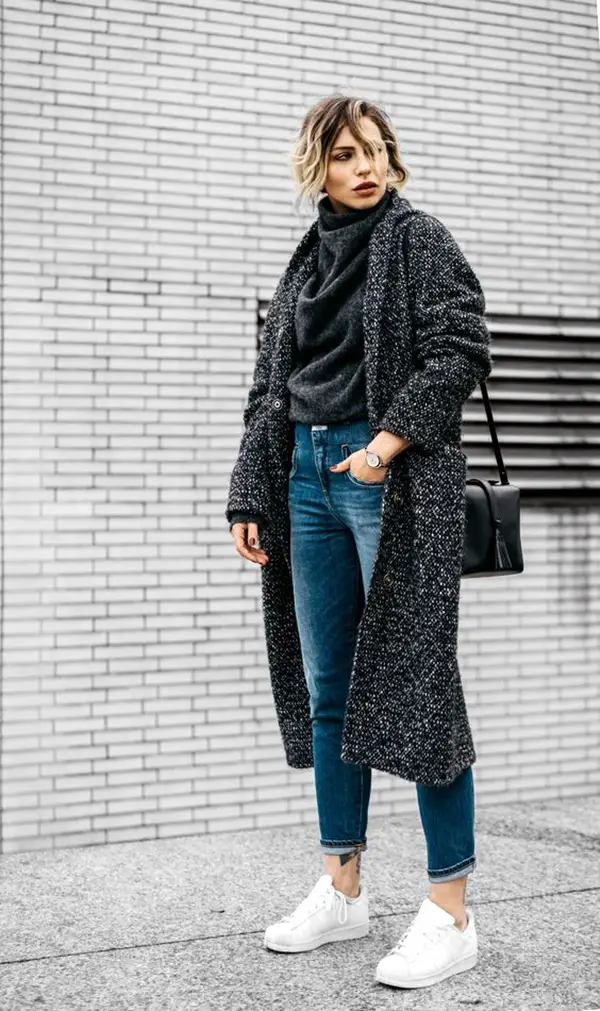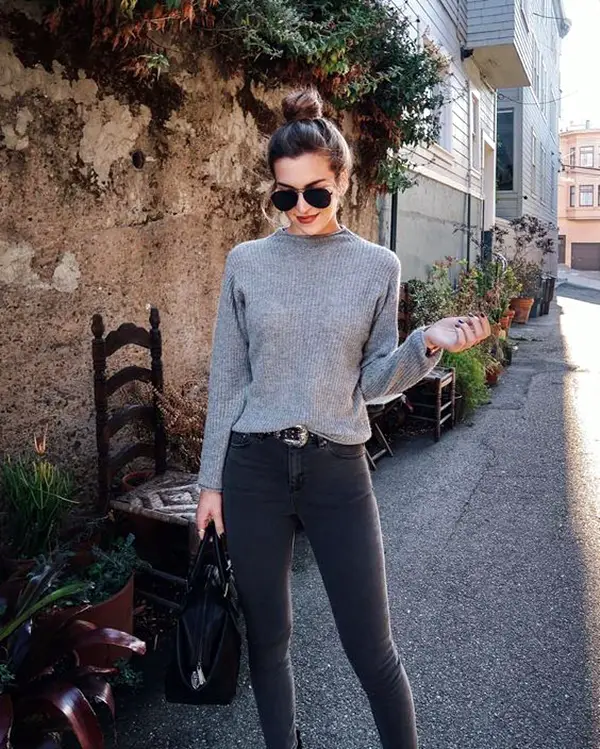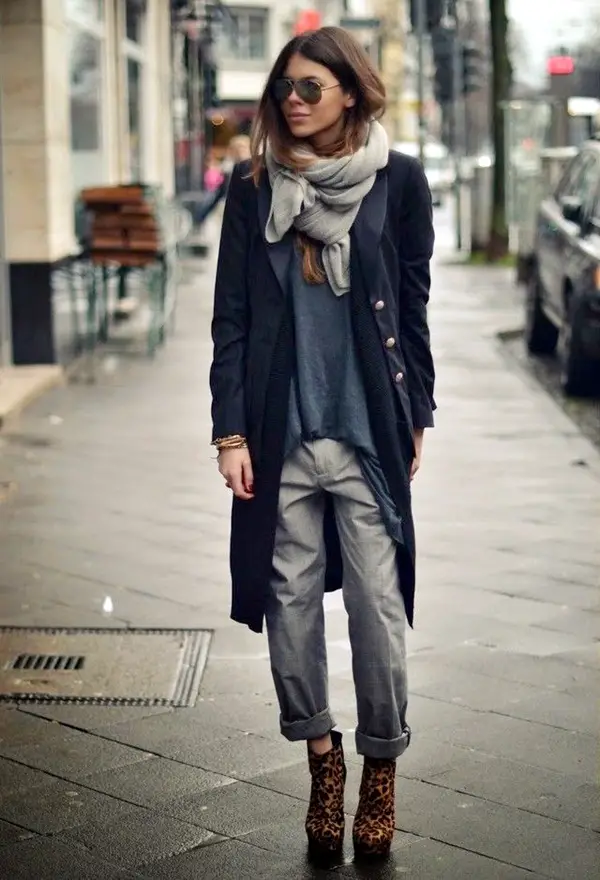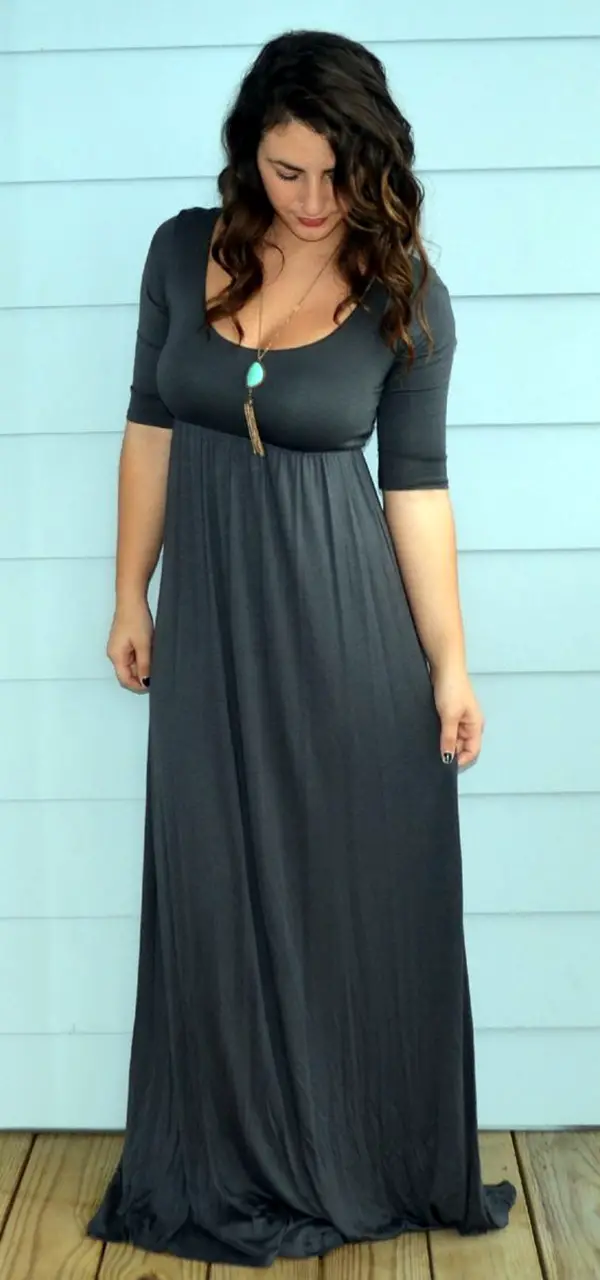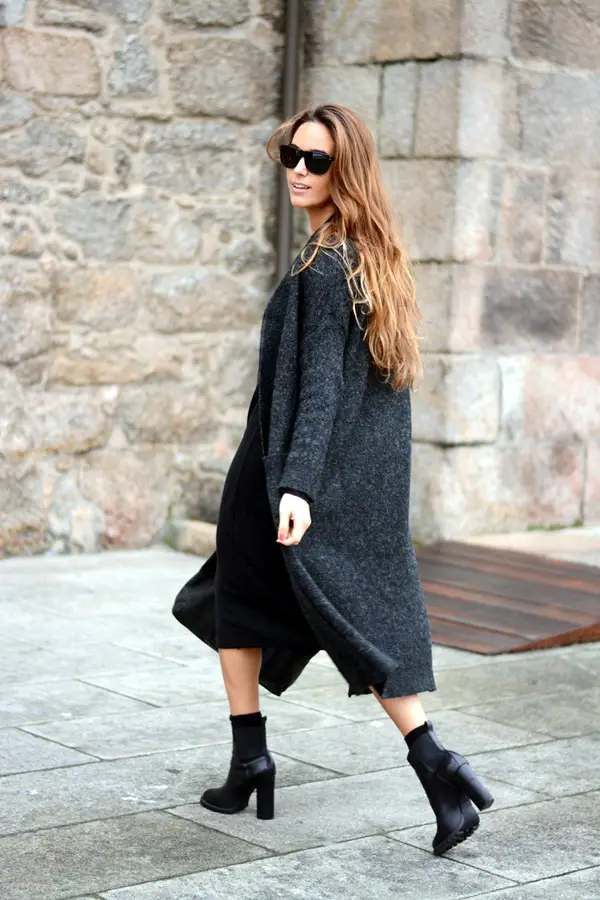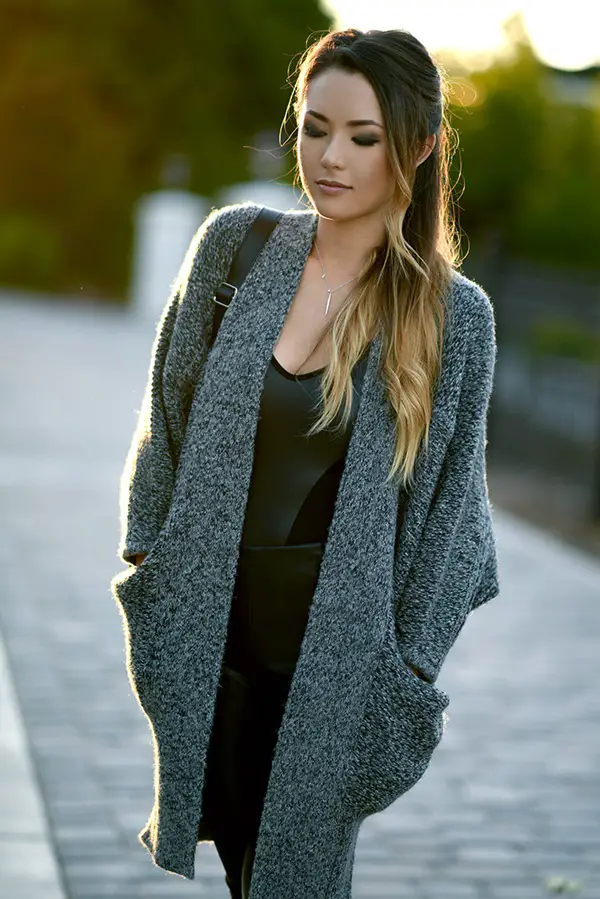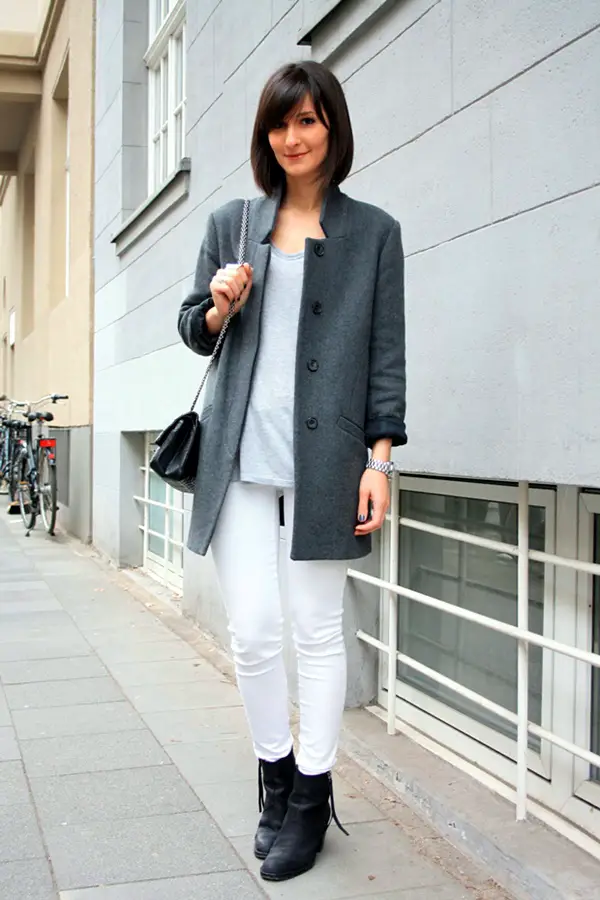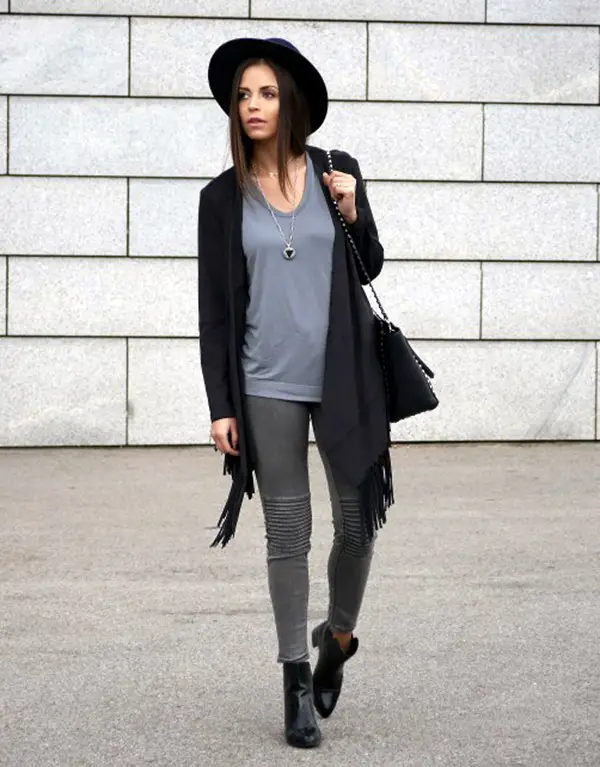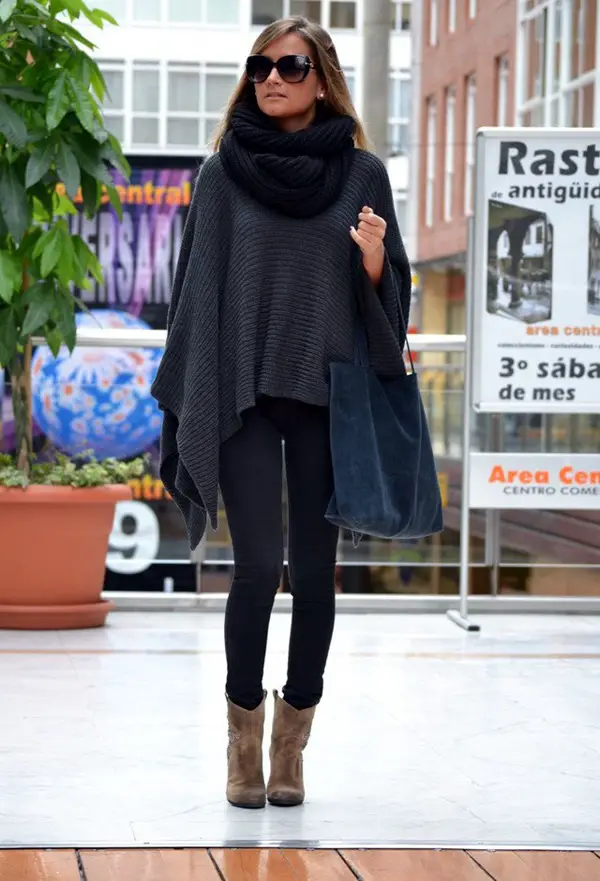 It thus becomes important for us to maintain a close relation with shades of darker grey outfits for this season, whether as an all-grey-look or just a grey item in your outfit…go for it confidently! Here, we can state categorically that grey on grey is having a moment and this is nowhere more apparent than in knitwear. It's not only trendy, but dark grey shades are easy to match, to style and to rock. It's classy and chic!