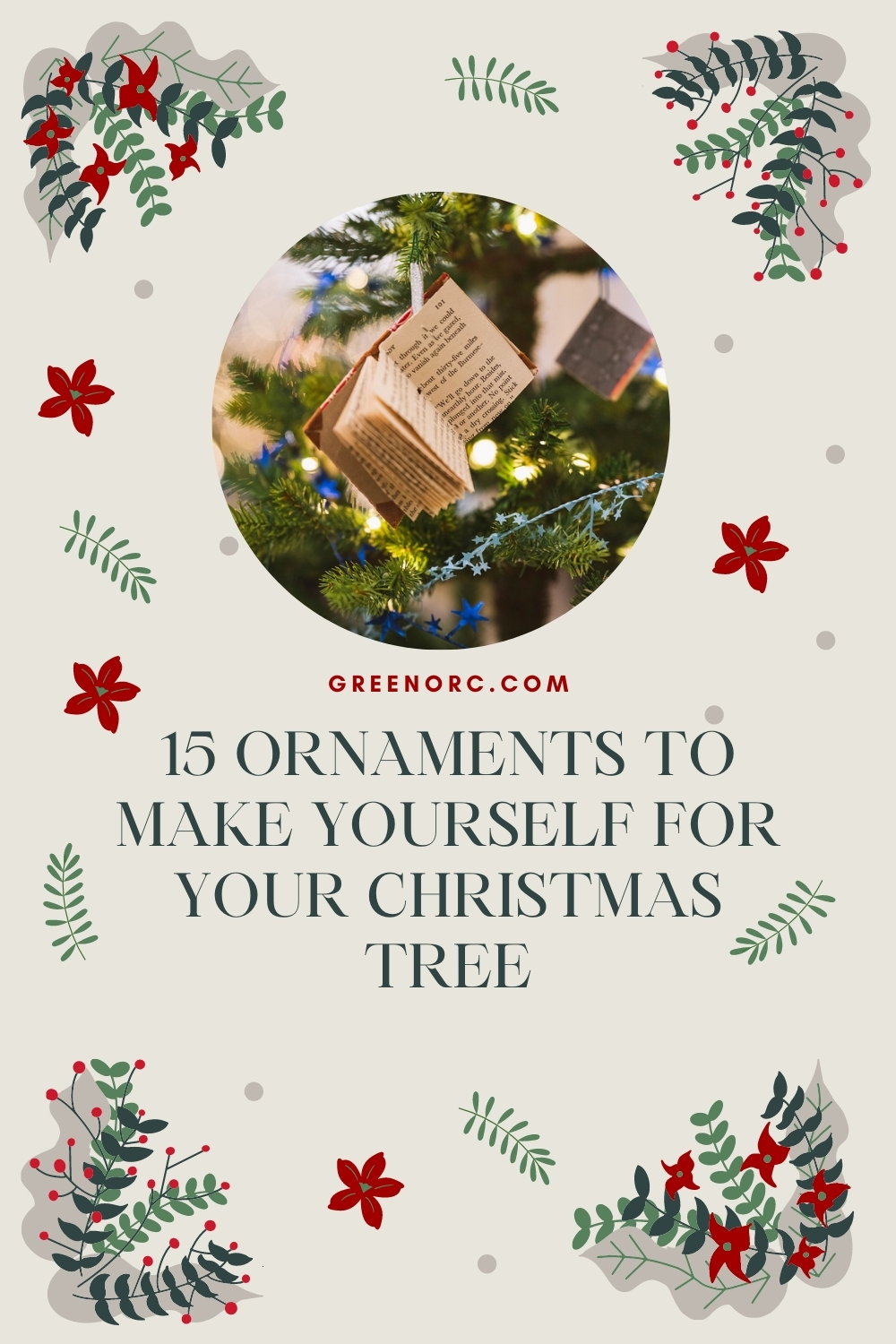 Unleash your creativity this Christmas! Here are 15 ornaments that you can make for yourself for your Christmas tree. These are easy to make, with only a few items and simple steps. Dive in!
1.     Clothespin Snowflake.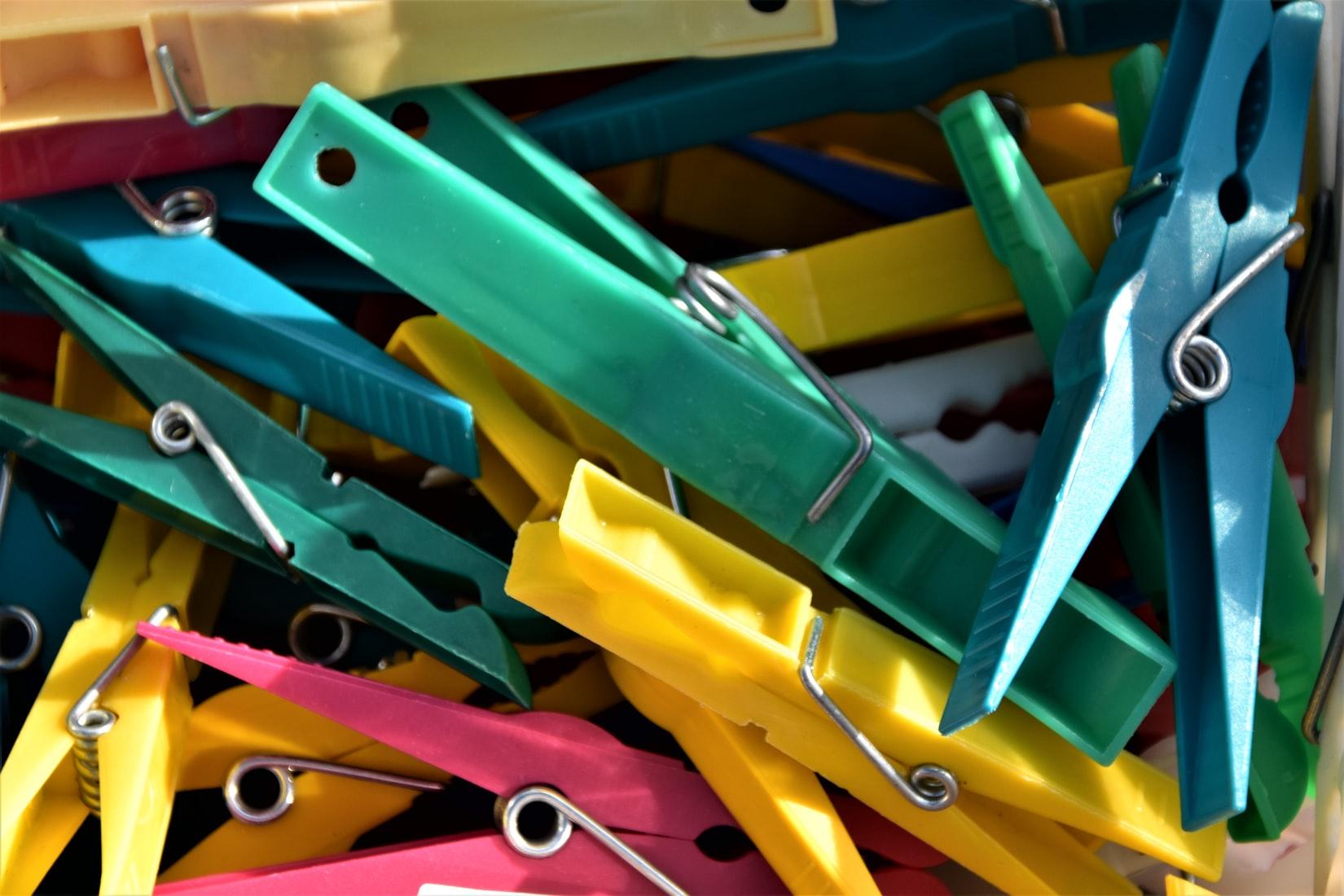 Here is a very easy ornament that you can make for your DIY Christmas tree. All you need are a few items-
Mini clothespins (or regular sized ones)
Superglue
Paint (Your choice of colors)
Glitter (optional)
Remove the spring from the clothespins. Invert the pins over so that they touch back to back. Glue them so they stay in place. Repeat the step with at least 13 other mini clothespins and then glue them together to form a circle. Paint the circular ornament and add some glitter. Stick a loop of twine at the back and now you can hang it on your Christmas tree!
2. Wine Cork Reindeers.
What's better than making little reindeer ornaments for your Christmas tree? Read on and do it yourself!
All you need-
Wine corks
Pipe cleaners (3" each)
Red pom
Small paper eyes
Twine
Pinecone
Hot glue
Punch three holes at the circular wider base of the cork in a straight line. Loop some twine, put glue into the middle hole, and stick the twine in (for hanging). Cut the pipe cleaners into two 3" pieces. Stick it inside the other two holes. Shape it like antlers. Stick some pine scales around the antlers. Now come to the front face of the cork and put on the eyes, and the red pom as the nose.
3. Mason Jar Ornaments.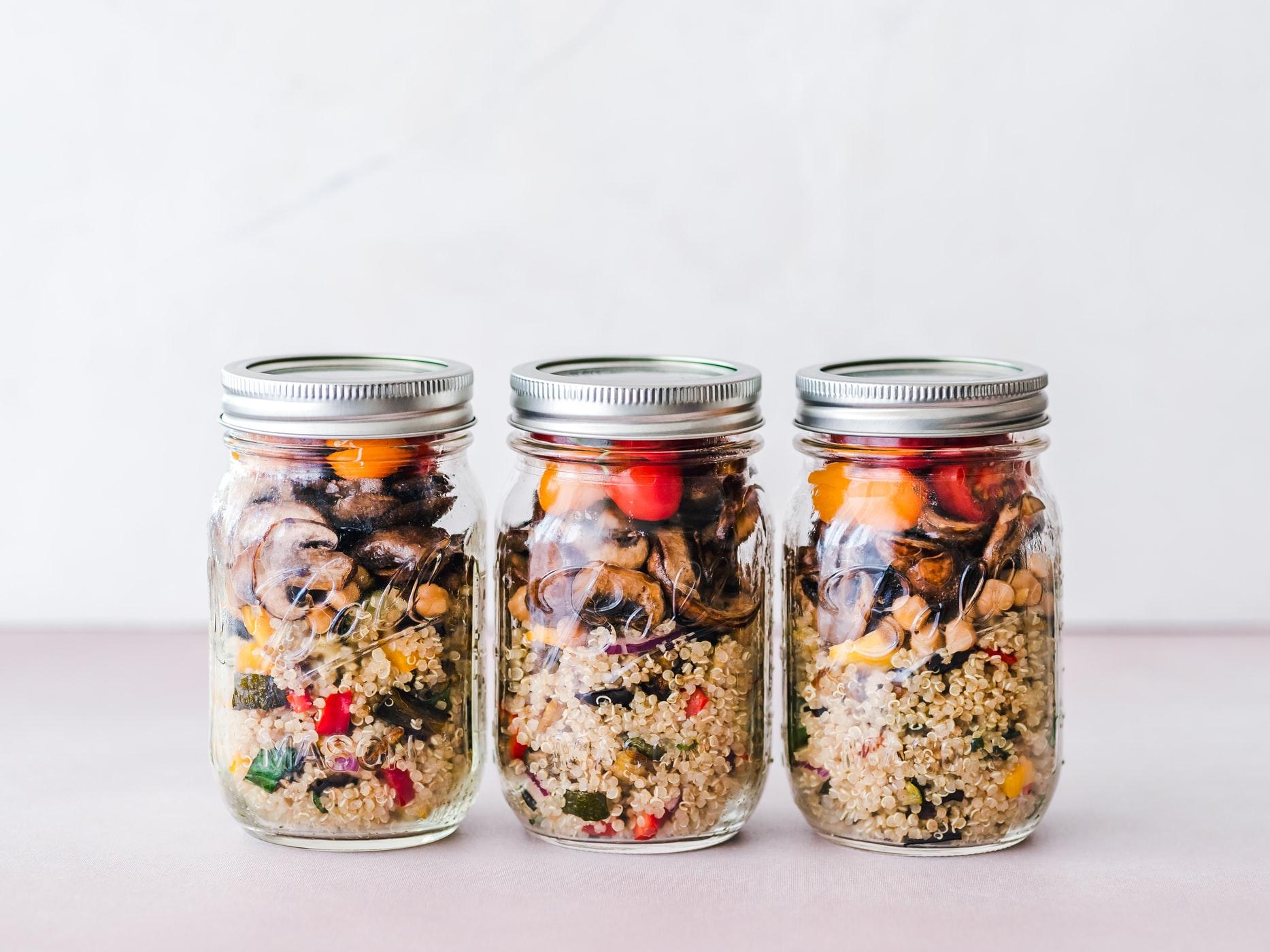 Pick up those mason jars that are lying around your house and turn them into something Christmasy. Here are the items you would need-
Mason jar lids
Twine
Glue
Some paper
Scissors
Old fabric
Take the mason jar lid and cut out the circular top part. You will then get the lid screw ring and the circular top part separately. Wrap the circular part with colorful fabric and glue it. Remove the excess fabric. Use white paper and cut out shapes and patterns of reindeer, snowflakes, stars, etc. Glue a paper pattern on top of the circular fabric and then put back the circular piece with the fabric into the lid screw ring. Use twine and hang onto your DIY Christmas tree!
4. Scrabble Tile Ornaments.
Make an ornament that looks beautiful and carries a message! All you need is –
Scrabble tiles
Twine
Glue
Snow texture paint
Paper plates
Choose any letters to make a short word or sentence with the scrabble tiles. Place these letters on the paper plate and arrange the sentence/s in a way that you want to. Glue them onto the paper plate and cut out the excess paper plate. Glue a loop of twine on top. Spray some snow textured paint on top to give it a nice Christmasy look and hang it onto your tree.
5. Ribbon candy.
This ornament is the easiest to make on this list! All you need is-
Fabric stiffener
Ribbons
Some Beads and twine
Paint a 24" piece of ribbon with fabric stiffener and let it dry for an hour. Fold the ribbon into loops. You can choose any shape and fold the ribbon into that shape using glue. Glue a bead onto a loop of twine and glue the whole thing onto the ribbon. Make many and place it onto your DIY Christmas tree.
6. Buttoned Snowmen.
Make cute little snowmen with some buttons! All you need-
Three white two-hole buttons.
White and gray felt
Glue and twine
Stick the buttons on top of another on a piece of felt, in the order of increasing size. The holes on the bottom two buttons are vertical and horizontal on the smallest button (the eyes). Cut out the excess felt, leaving a small margin around the snowman. Cut out a hat from the gray felt, and glue it on his head with twine. Hang it on the tree with the twine.
7. Fabric Christmas tree.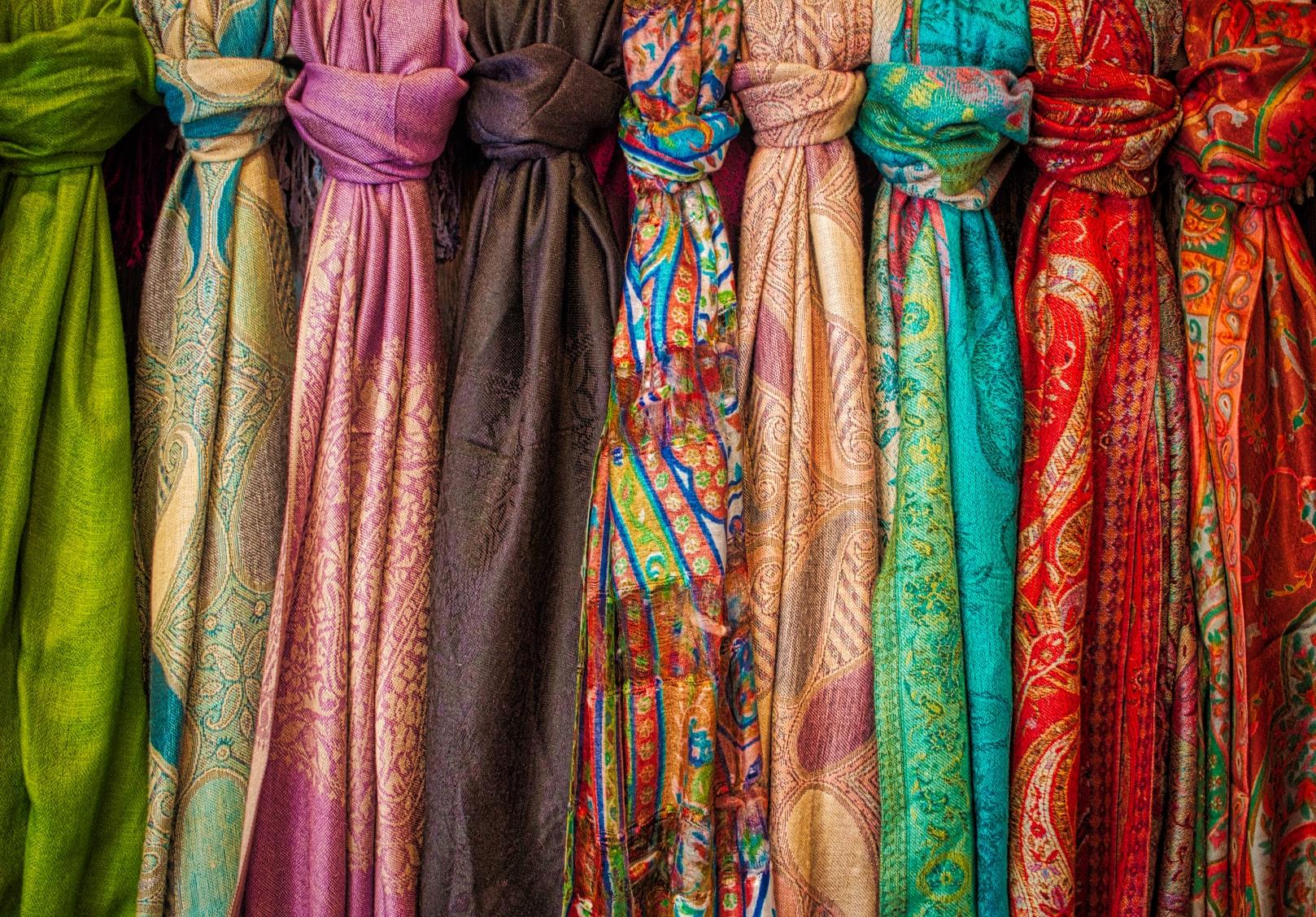 Here is an ornament that is soft, pretty, and easy to make. These are the items you would need –
Patterned fabric
Cotton
Cinnamon Stick
Glue and twine
Cut the fabric into two pieces of triangles that are 5" in height and 3" in width. Glue the long edges of the triangle. Stuff cotton into the space between the fabric. Insert the cinnamon stick as the stalk of the tree at the bottom. Glue the fabric closed around the cinnamon stick, insert the twine at the top and hang it onto your DIY Christmas tree.
8. Twig Snowflakes.
Add an earthly look to your DIY Christmas tree with this beautiful ornament. All you need is –
Some twigs from a tree.
Scissors
Twine and Glue
Cut 8 pieces of twig that are identical in size. Leave one twig aside, and cut the rest in half. Place two cut twigs horizontally at the middle of the vertical uncut stick and glue it. Take the rest of the pieces and glue them to the vertical stick in an "x" shape. Add some extra pieces of twigs at the end of each twig to make it look like a snowflake and wrap the meeting point with twine. You can add some ornaments to it if you want.
9. Dried Citrus Garland.
Why not add some real fruit to your DIY Christmas tree? All you need is –
Four oranges
An oven
Twine
Cut circular slices of orange crosswise. Heat your oven to 250 degrees Fahrenheit (ca. 121 °C). Line a baking tray with parchment paper, dry the orange slices, and put it in the oven. Let it bake for 3 hours at 350 degrees Fahrenheit (ca. 177 °C), turning them over midway so that they dry flat. Once done, remove the slices and thread the twine through all the slices to make a garland. Or hang them individually!
10. Velvet Christmas Balls.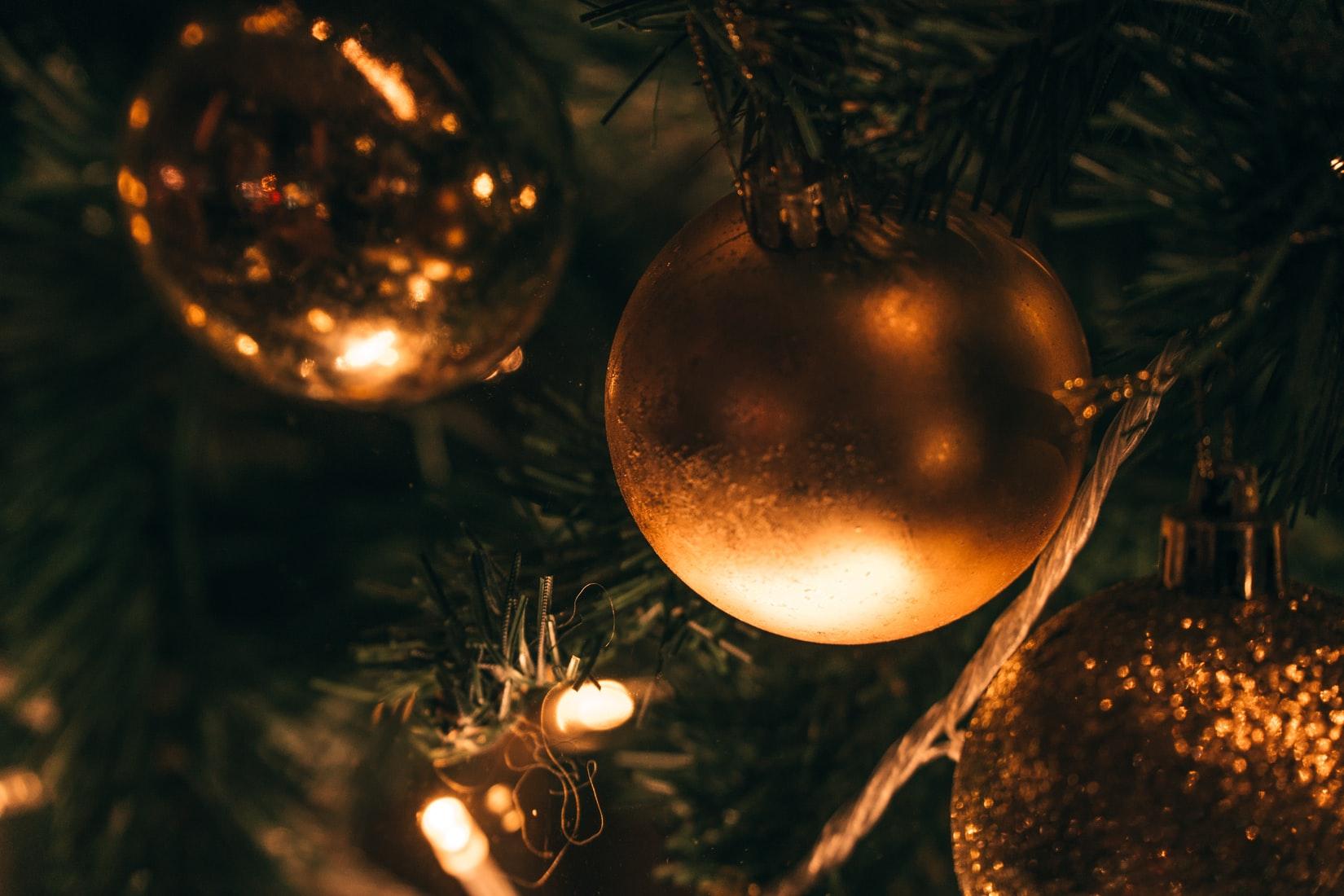 Turn your basic Christmas balls into something prettier and more elegant. All you need is-
Velvet fabric
Christmas Ball ornament
Ribbons
Glue
Take a Christmas ball ornament. Wrap the ball in the velvet fabric and cinch it at the top with ribbon. You can add another ribbon or some twine to make a hanger. Glue some small beads or other ornaments on the ball if you want and hang them on the tree!
11. Walnut Reindeers.
If you are a fan of Rudolph, then this ornament is for you! All you need is-
Half of a walnut shell
Red pom
Paper eyes
Brown Felt
Glue
All you need to do is make a hole at the top part of the half walnut shell and put twine through it. Paint the walnut shell brown. Attach the red pom as the nose and put the paper eyes on the shell. Then take brown felt and cut triangles for the ears, and stick them on. And you're done!
12. Cinnamon Rosemary Tree.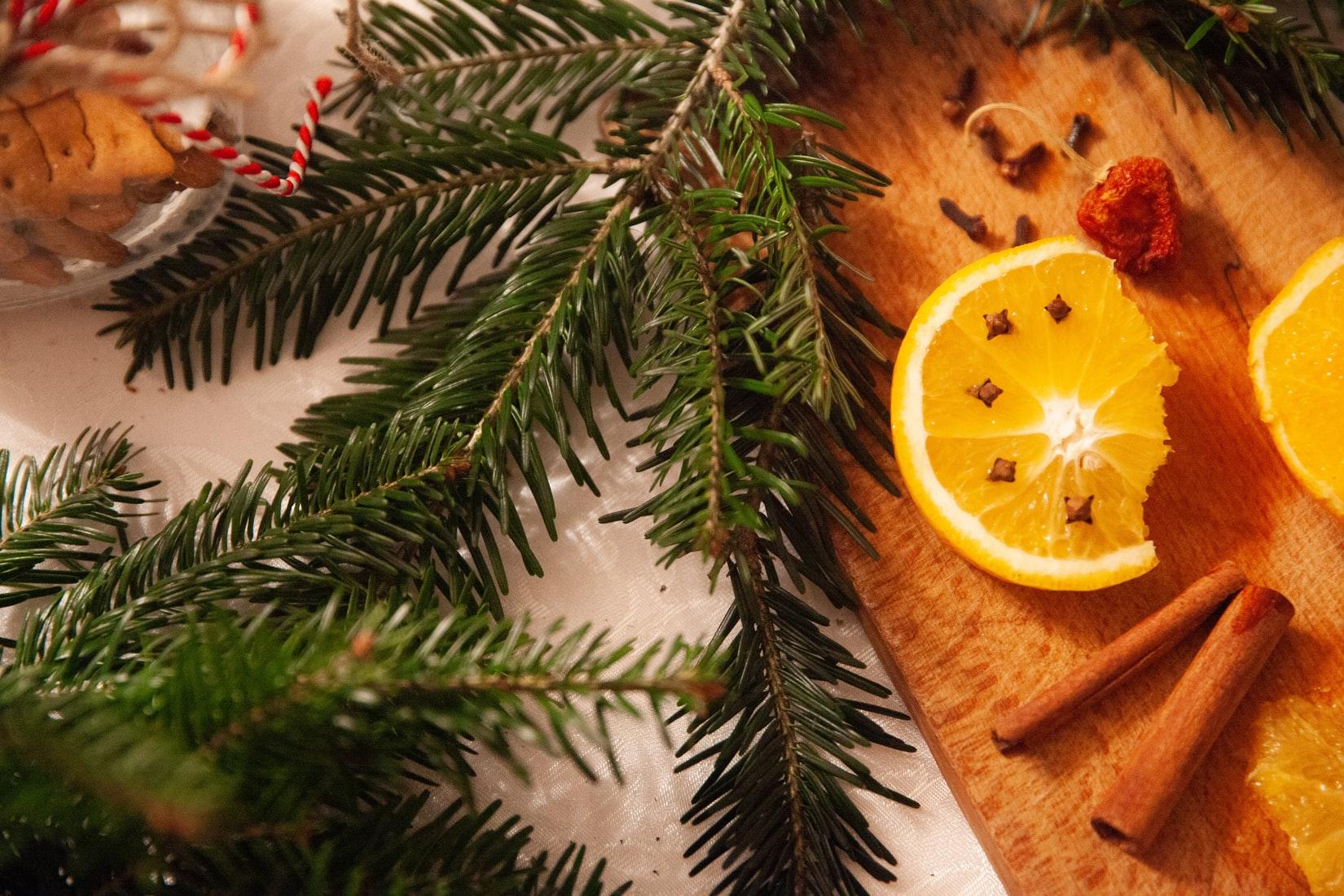 An ornament that you can make out of the ingredients from your kitchen! All you need is –
Cinnamon Sticks
Rosemary leaves
Coiled Wire
Glue
Ornamental Beads
Glue two pieces of cinnamon sticks together. Use a naturally coiled wire and push it into the hollow spaces of the two sticks to form a loop. Take out some rosemary leaves and cut them in descending order of size. Start sticking the longest strand at the bottom and work your way up. You should get something that looks like a Christmas tree! Then use the twine, tie it around the coiled wire on top and hang this beautiful ornament on your DIY Christmas tree.
13. Cardboard and Twine Christmas Tree.
If you're looking for a fresh farmhouse look, add this ornament to your DIY list! All you need is –
Thick Cardboard sheets
Twine
Glue
Cork
Paint (optional)
Cut triangles out of the cardboard in your preferred size. If the cardboard isn't thick enough, then stick two pieces of triangles together to make it thick. Then wrap and glue the twine evenly around the triangle, starting from the bottom. Add a star ornament on top and maybe some beads on the tree. Glue a sliced piece of cork to make a base. Add a loop of twine and hang it on your DIY Christmas tree!
14. Cork and Button Christmas Trees.
There are so many things you could do with cork. For this ornament, you will need-
Cork stoppers
Button
Star ornaments
Glue
Take four pieces of cork and glue them together side by side to make a base. Add the next three layers, to make a pyramidal structure. Make sure the buttons are in the same radius as the cork. Glue the buttons on the circular bases of each cork to make the tree colorful. Add a star on top and stick some twine to hang it on your tree!
15. Twine Ball Ornaments.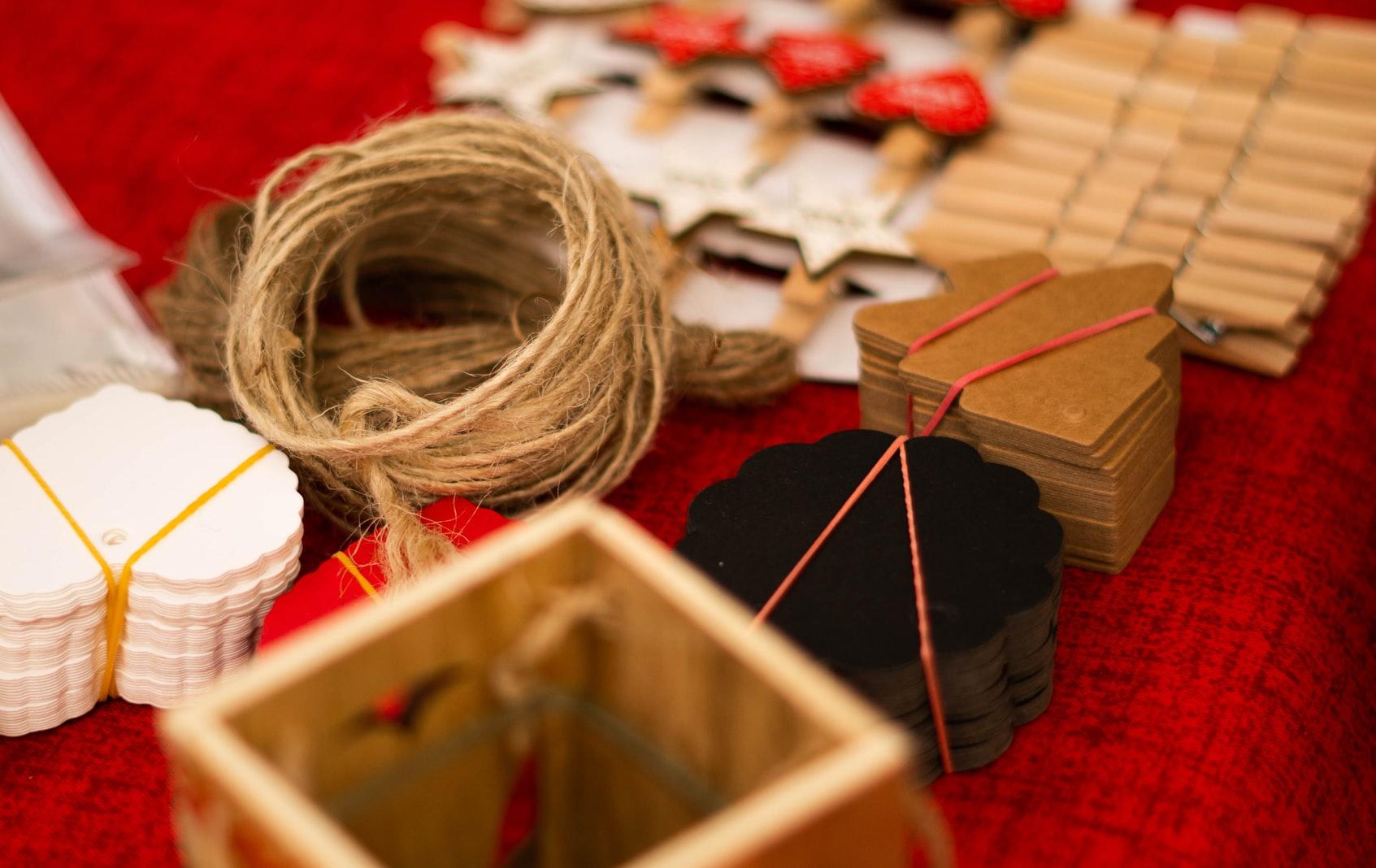 This wonderful ornament can even be fitted with fairy lights for extra beauty! All you need is-
Circular balloons
Twine
Glue
Fabric stiffener Inflate the balloon. Wrap twine around the balloon to make a twine ball with spaces in between. Do not cover the whole balloon in twine. Add a layer of fabric stiffener all over the twine. Glue the twine in place so that it doesn't unwrap. Let it dry and then deflate the balloon. You will get a twine ball! You could add fairy lights and then hang it on your DIY Christmas tree.