Tattoo Lovers! Getting tattoo inked means a lot, so you have to be extremely careful about selecting the perfect design for you. The reason could be anything? Maybe you want to get a tattoo for motivation or to remind yourself of something. Besides this, when you are going through tough times in your life and need some courage – a tattoo can serve you as a reminder and makes you strong. So, if you need some inspiration for cute minimalist cross tattoos for women, look no further than this post.

If you're looking for a design that never goes out of style, then we're glad to say that you have landed at the right place. A beautiful cross tattoo is one of the most versatile and classic tattoo choices a woman can make. Also, here we present some amazing Minimalist Tattoos with Sophisticated Meaning. Have a look:
Cute Minimalist Cross Tattoos For Women
Graceful Rose Cross Tattoo!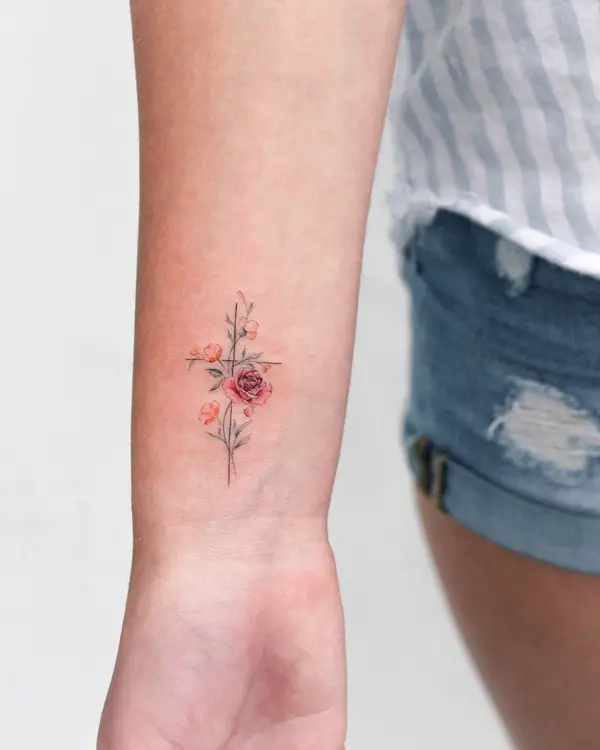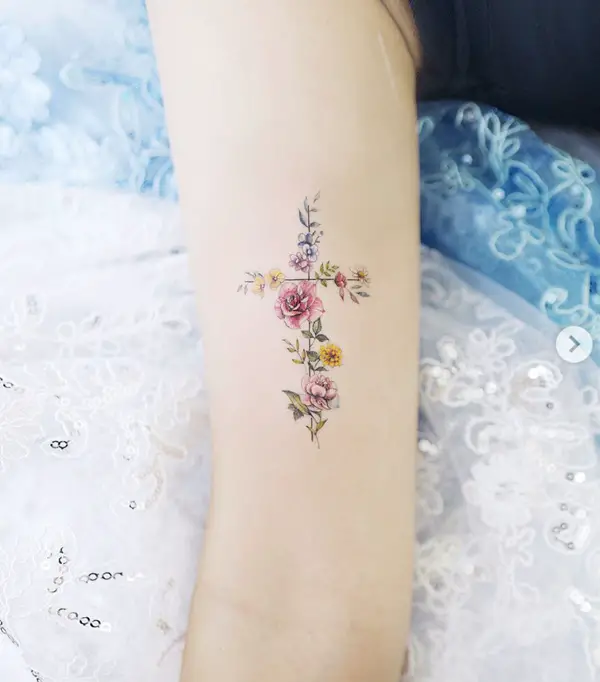 Women love to get it inked on the bottom of the arm. Designed like a piece of pretty jewelry, two stems with thorns, leaves, and roses are crossed over each other to make the shape of a cross.
Scary Cross Tattoo!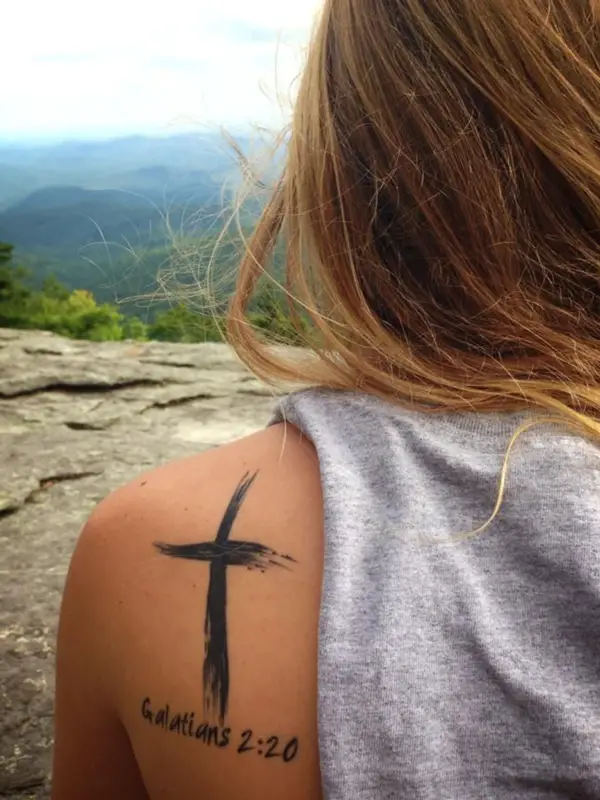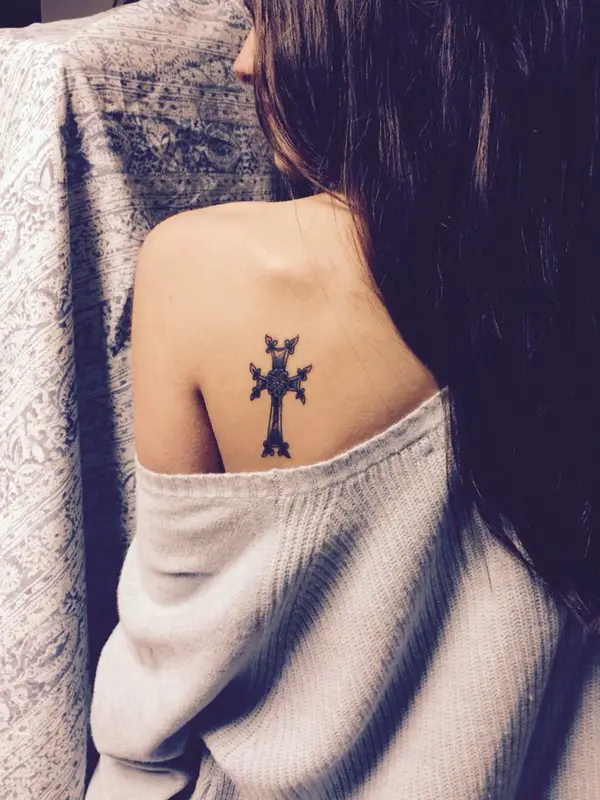 If you want to reflect diverse sides of our spiritual dimensions in your tattoo, add some creepy image into a cross design. The scary elements used in the design carry dominant meaning and enhances the overall outlook of the wearer. The use of pink shade in the design makes the tattoo stand out.
Awesome Cross And Heart Tattoo!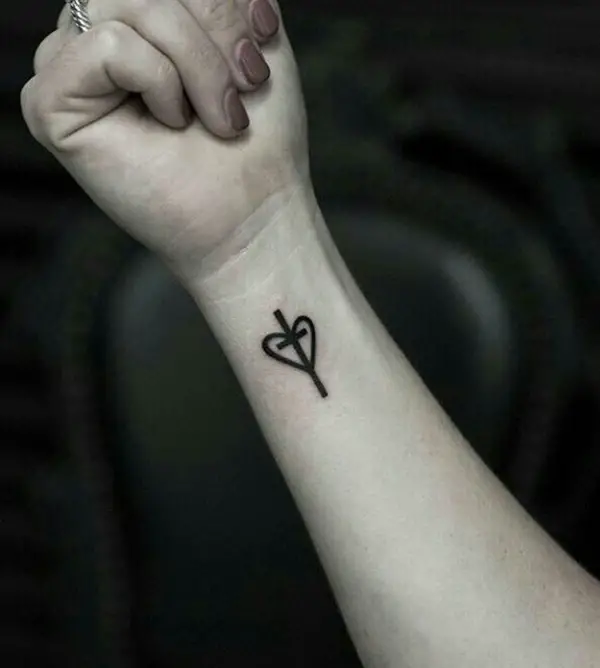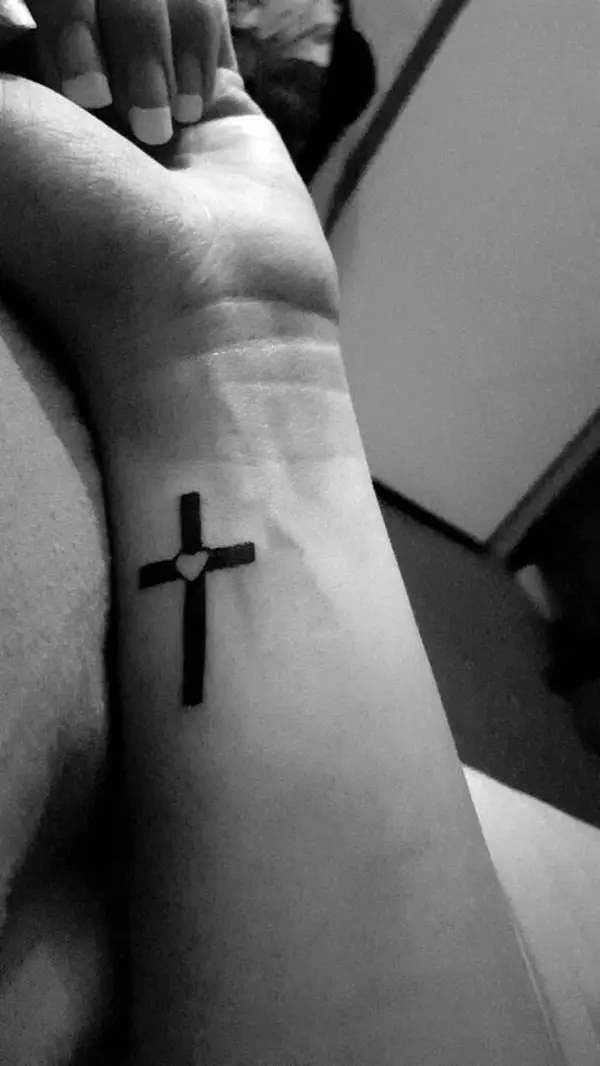 The captivating cross and heart design are among the cutest minimalist cross tattoos for women and blends beautifully with the elements used. This tattoo features a big red heart at the center with angel wings to create the shape of a cross. This piece is quite simple but works really well. 
Tribal Cross Tattoo with Wing!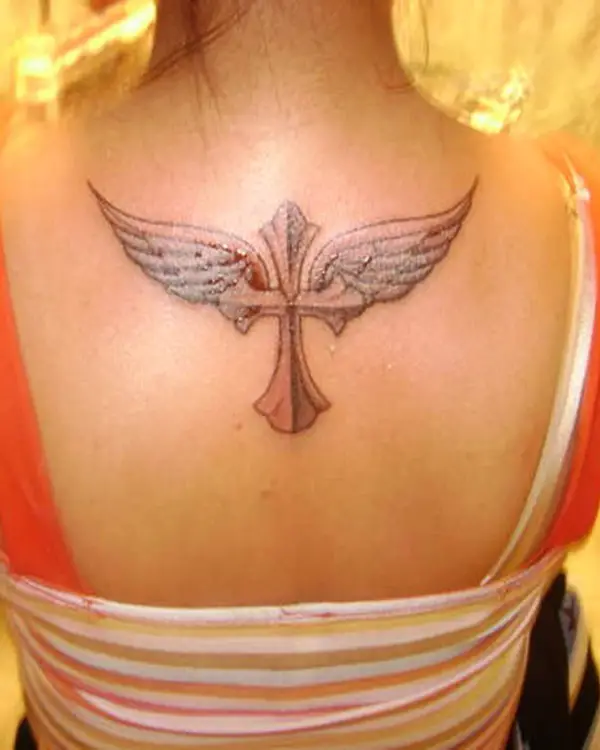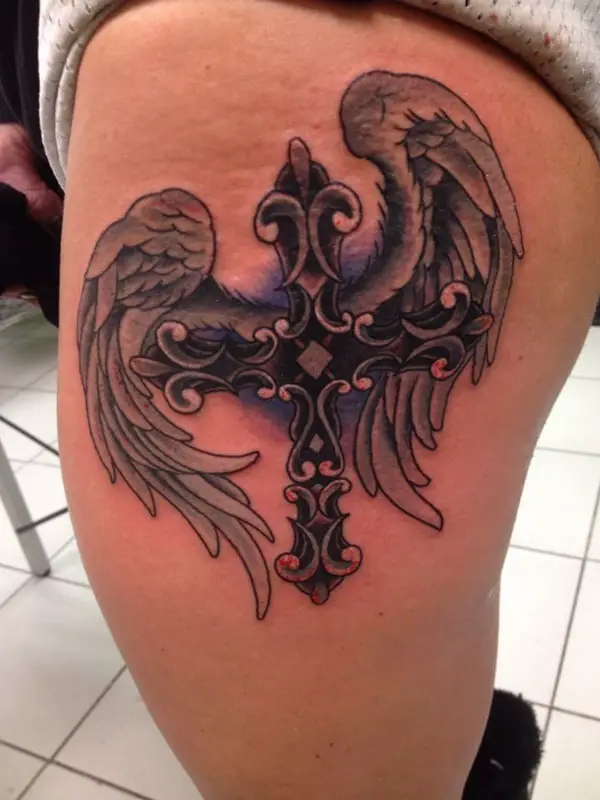 If you're looking for a cross tattoo in a unique area of the body, this small one on the inner arm is the right choice. This incredible drawn tribal cross tattoo with wings is a stylish and captivating design to have.
Stylish Celtic cross Tattoo!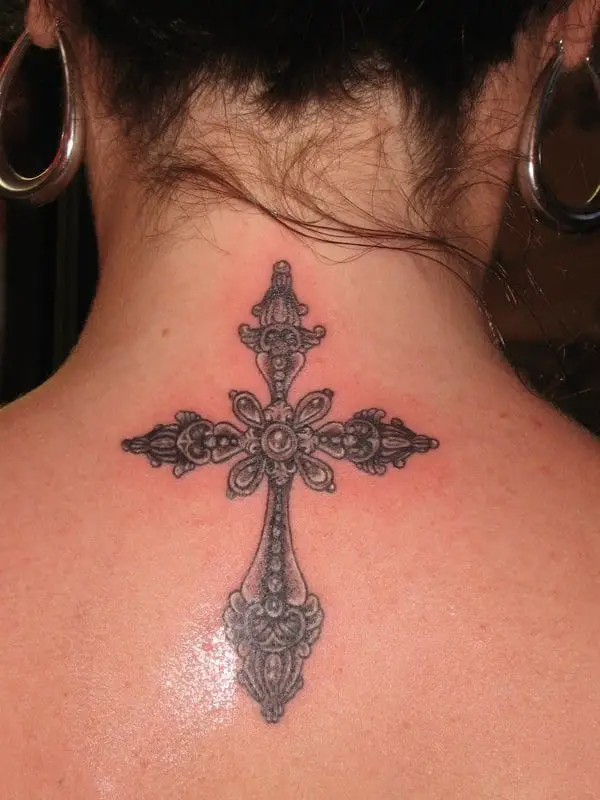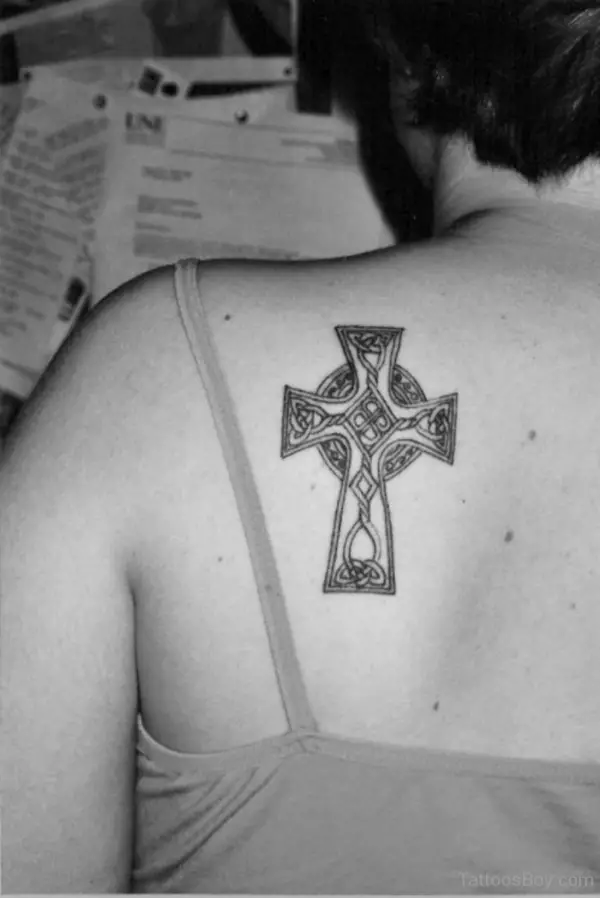 Looking for cross tattoo ideas? This piece is worth considering if you want something bold and catchy. This stunning Celtic cross tattoo with a rose in the center looks very appealing on the top of your back but would also suit other areas of the body.
Cross and Balloons!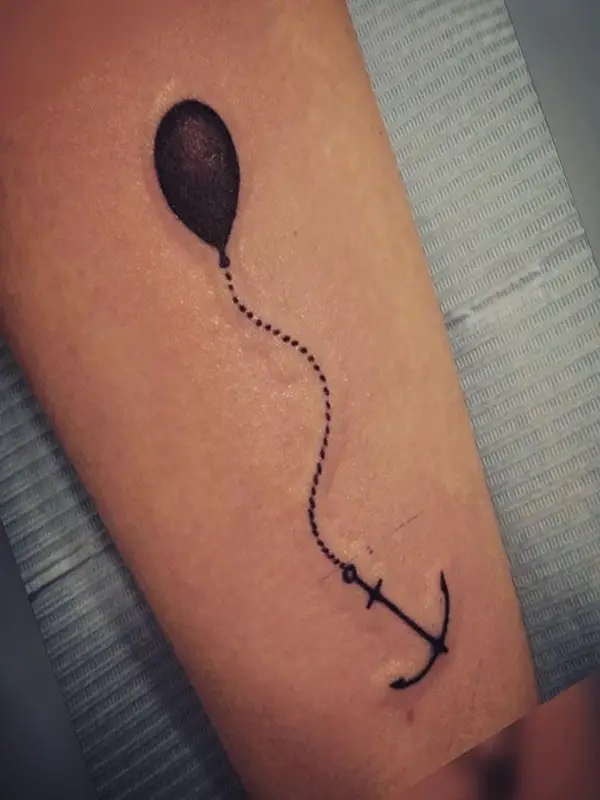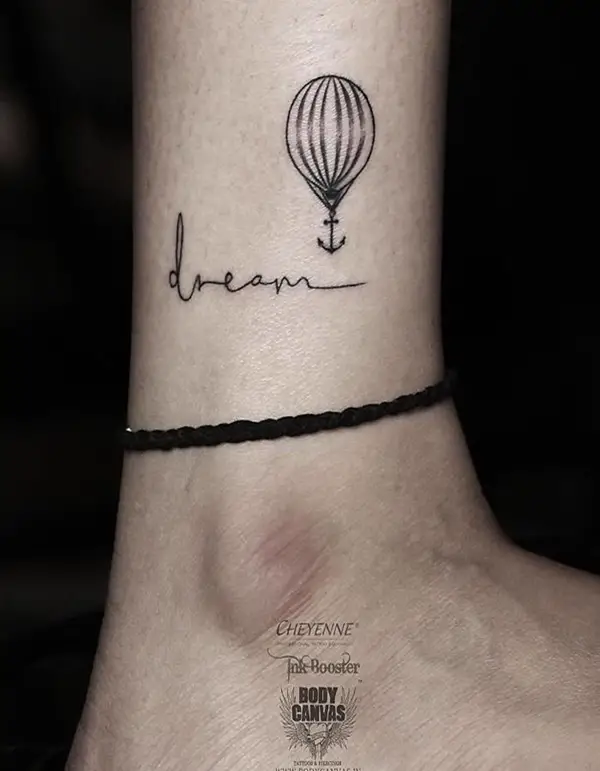 Do you love to fly high like a balloon? This tattoo is meant for you. It's a very unique combination. The color shades used in the design blends so beautifully with the dark and light color combination making the entire design really pop. Also, take a look at these Cute hot air balloon tattoo designs.
Jesus on the Cross Tattoo Idea!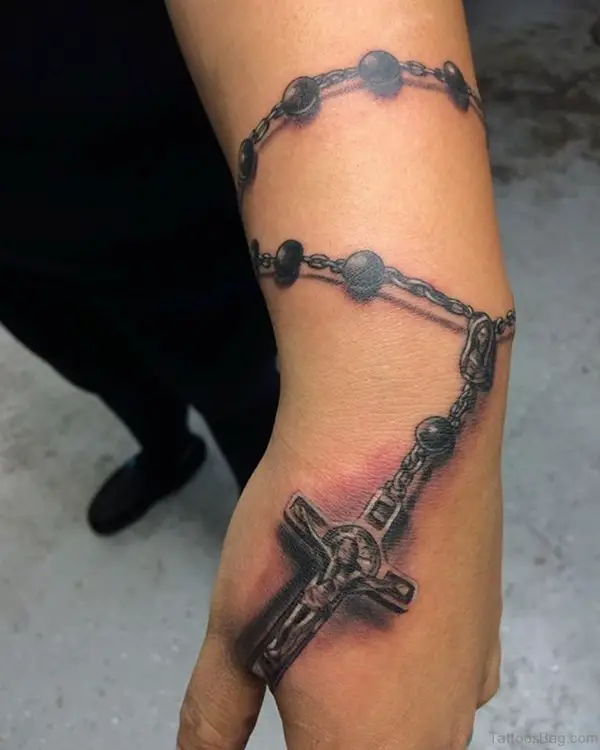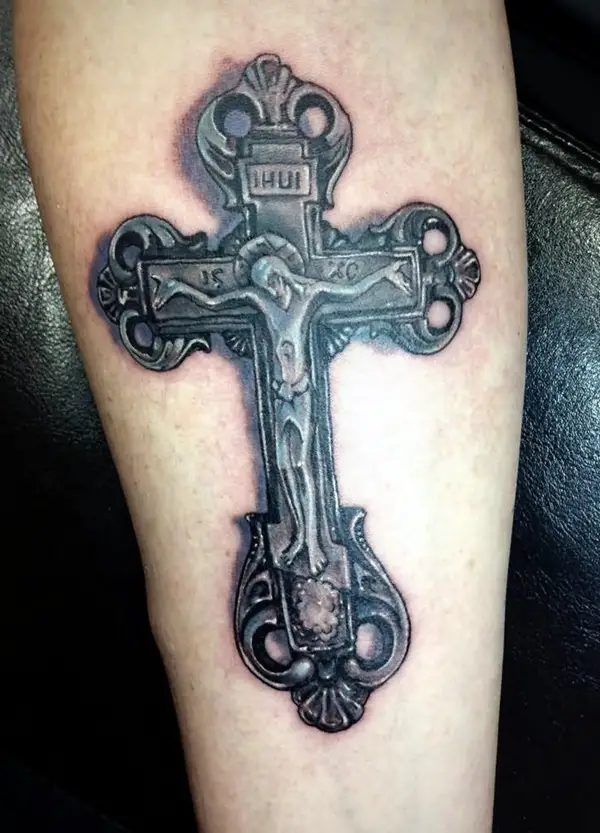 If you want a tattoo to show your religious belief, choose this cute minimalist cross tattoo for women? The gorgeous Jesus on the cross arm tattoo is perfect for your religious thoughts. This piece is shaded beautifully with eye-catching detailing.
Cross with Birds Flying!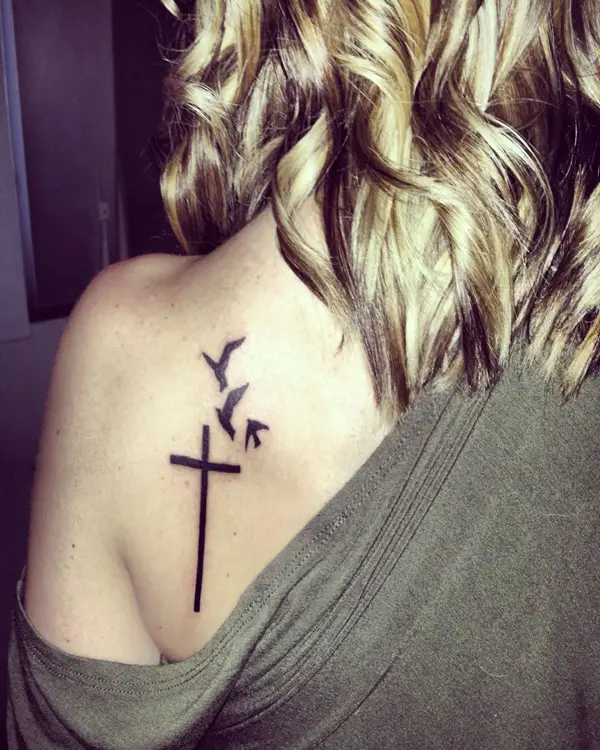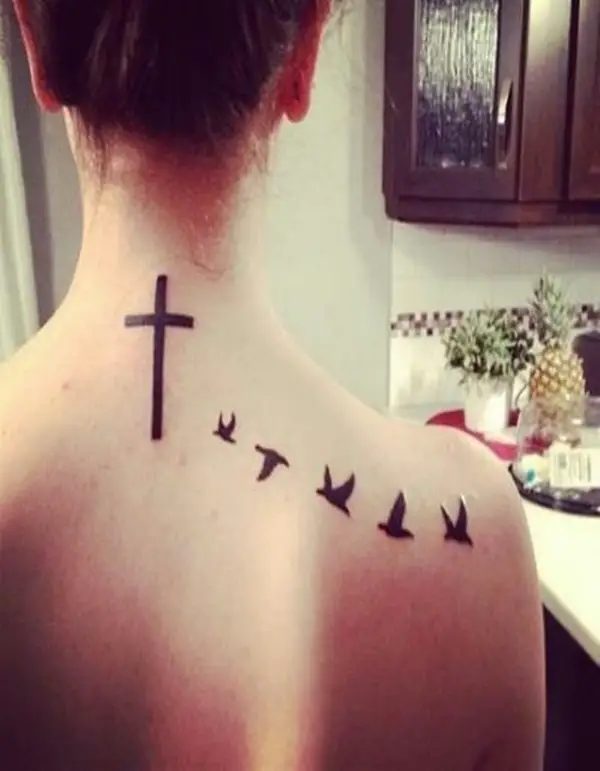 The symbol of a classic cross with birds flying towards it looks outstanding and reflects well on the wearer's skin. The use of dark colors is not only adorable but also makes the tattoo stand out spectacularly.
Wooden Cross Tattoo Idea!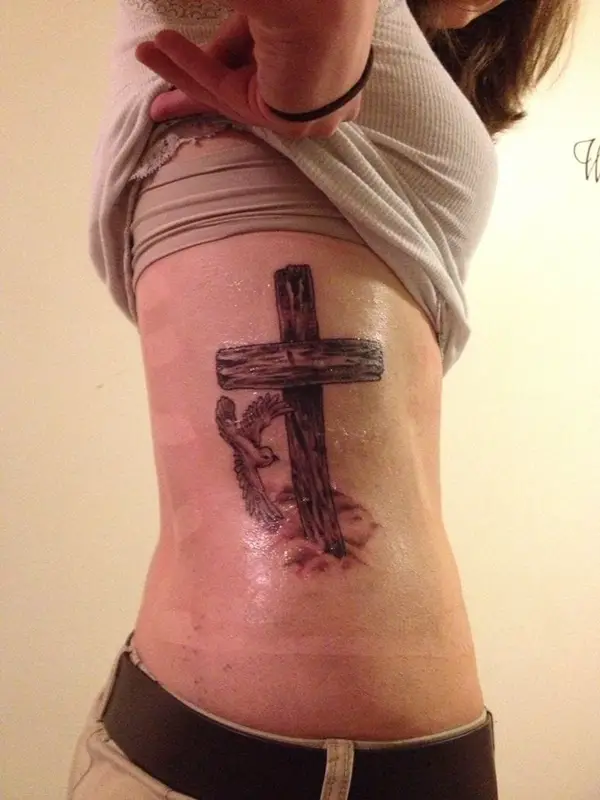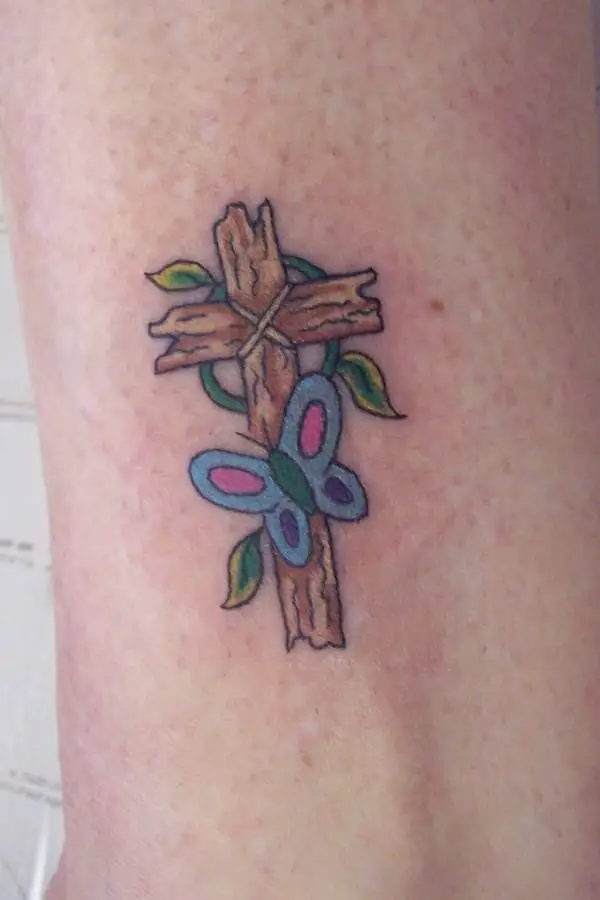 This cross tattoo holds a deep religious meaning that goes with the fact that Christ was hanged on a wooden cross. The use of grey color makes it look flawless and the best place to get it inked is behind the ear.
The Flower Cross!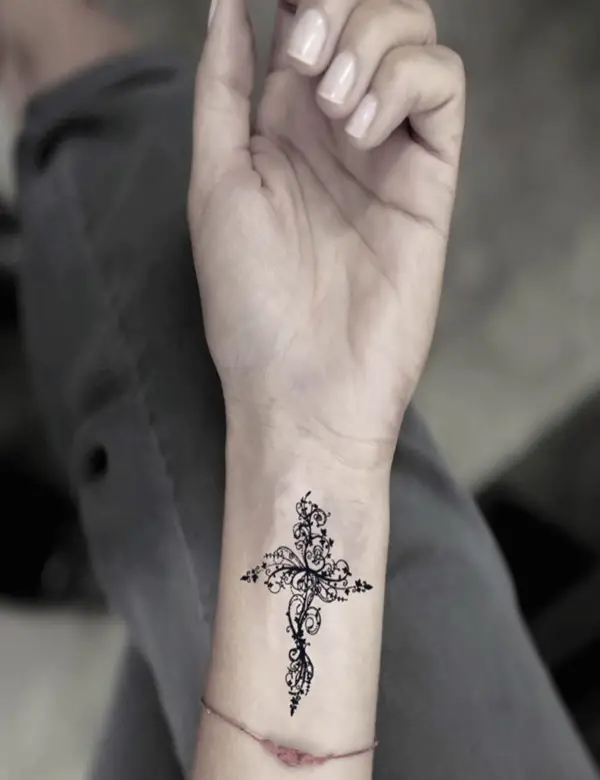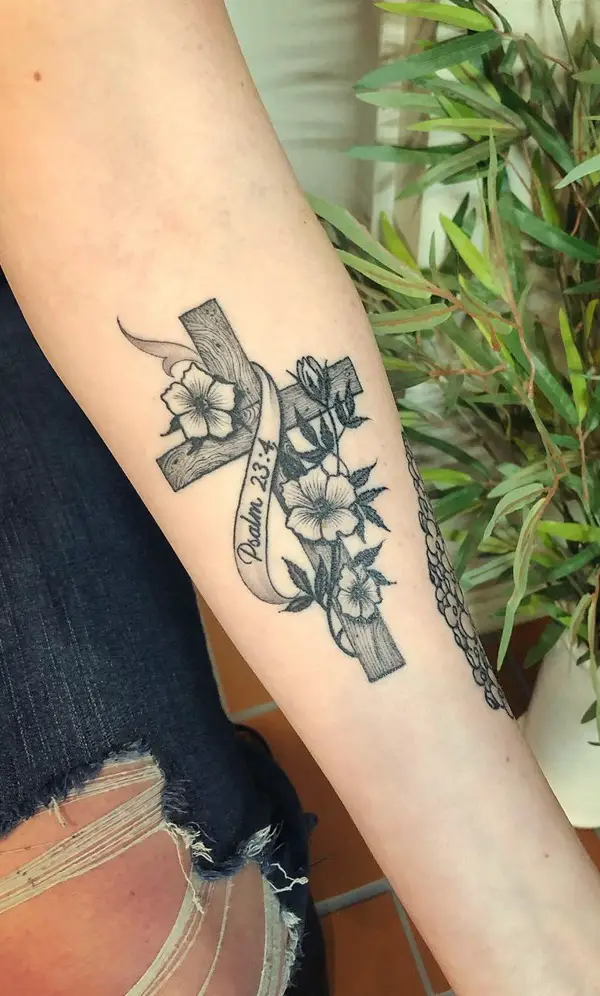 The combination of flowers with cross design highlights the artistic aspect of the adorable design. The little dots and patterns intricate in the design make the entire tattoo look simply gorgeous.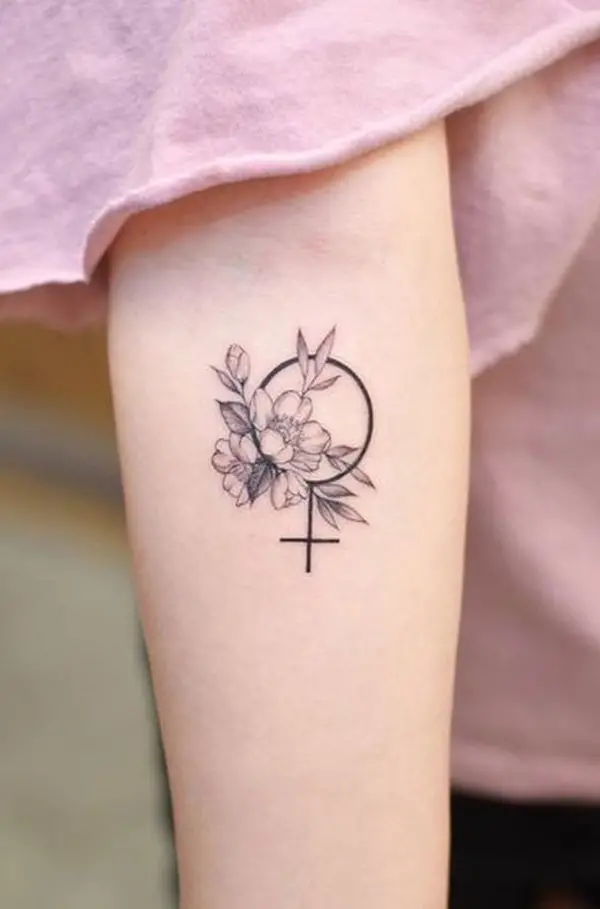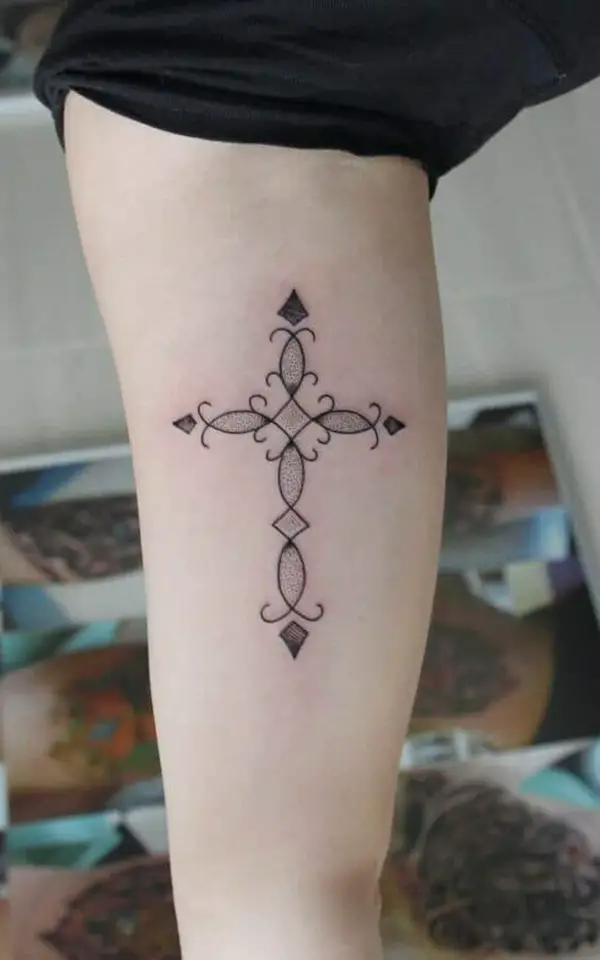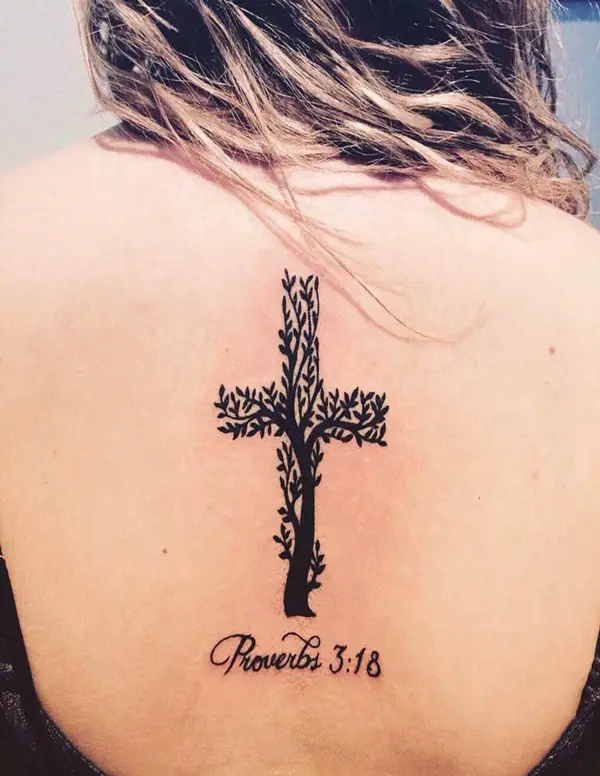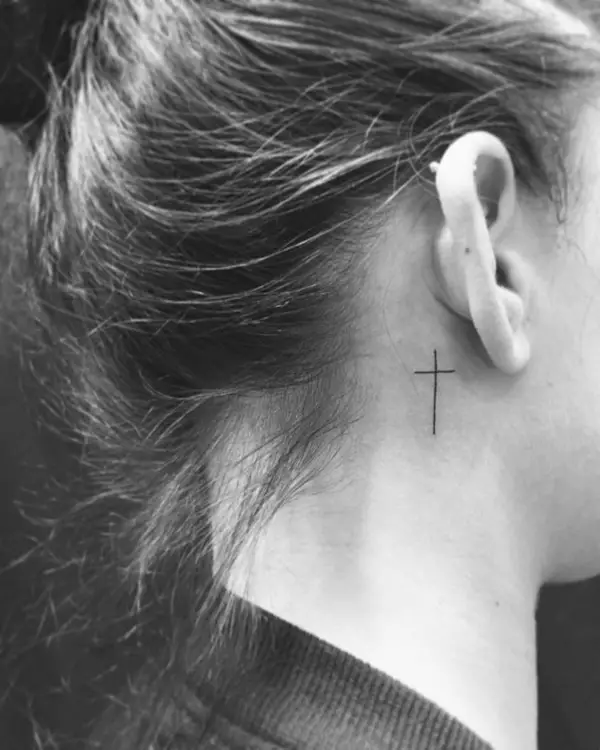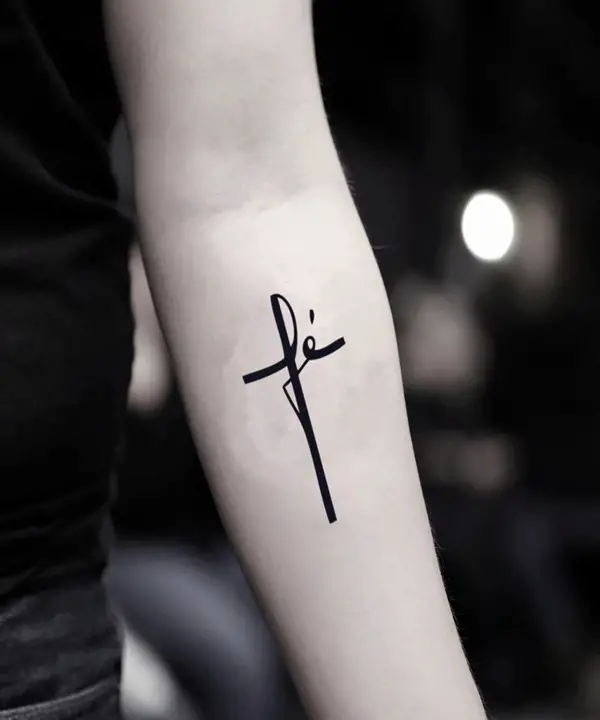 On seeing these examples of cute minimalist cross tattoos for women, it can seem obvious why so many women choose the cross and the results are breathtaking. Also, here are the best Cute Sleeve Tattoos For Girls that can suggest the best artwork for you. Though cross tattoos symbolize one's spiritual feeling, religion, devotion, and sacrifice still it's a perfect design in creating an appealing visual outlook.