There are people who head to the tattoo parlor and get any random stuff inked, just because they are told by the tattoo artist how hot that tattoo design is. Fast forward a few years, and you will see these people getting their tattoos removed, with expensive procedures. Have you ever wondered why people face such situations? It's because they don't put much thought into what tattoo they should go for.

This is the worst thing to do when something as permanent as a tattoo inked on the body is concerned. Go for the tattoo of your choice, even if it's an elephant that you like. You will be surprised to know that there are thousands of elephant tattoo designs available to choose from. Some of the best have been dished out here. Also, here are so many cool Geometric Animal Tattoo Ideas these days, that you will feel spoilt for a choice. Check out-
Different Elephant Tattoo Ideas With Meaning
Polynesian elephant tattoo
Different Elephant Tattoo Ideas With Meaning mean different things. The Polynesian design is linked to nature. So, go for it to portray your love for nature.
Elephant head tattoo
There are Different Elephant Tattoo Ideas With Meaning, but not all look as impressive as the elephant head tattoo does. It has an uncanny charm and definitely looks more visually appealing. What is even more popular under this category is the head of the Indian deity, Lord Ganesha, which oozes out a great sense of spirituality.
An elephant head with butterfly ears
While an elephant stands for wisdom, a butterfly depicts freedom, faith, and transformation. Both together can mean a lot of things, which an elephant head with butterfly ears could depict.
Elephant family tattoos
If you love and value your family, then you can't say no to a cute elephant family tattoo.
Elephant trunk making heart
If you value love and have an immense fondness for animals, then you can go for a tattoo where an elephant's trunk can be seen making a heart.
Animated elephant tattoo
We love elephants because of their cuteness. Animated elephants look even cuter. What a cartoon elephant tattoo could mean is a mixture of innocence, youthfulness, and curiosity. Also, you can take some idea from Butterfly Tattoos Designs for Girls.
Dali's elephant
Dali's elephant is an artistic creation by Salvador Dali. This elephant has extremely thin elongated legs. A tattoo of Dali's elephant could mean a deep love for mother nature.
A pink elephant tattoo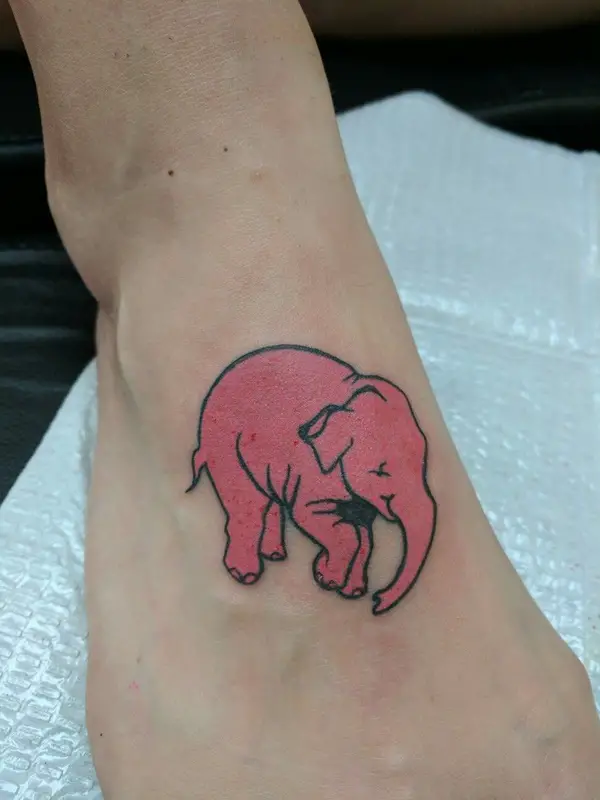 Image Source
If you love boozing and you love being out of senses, then this tattoo is for you. A pink elephant symbolizes hallucination after boozing and a state of fun.
Geometrical elephant tattoo
If you love geometry and are fond of symmetrical objects, then a geometrical elephant tattoo is what you need.
A routine elephant
Although there are Different Elephant Tattoo Ideas With Meaning, the simplicity of a normal elephant tattoo is simply matchless. It stands for purity, strength, and wisdom.
Tribal elephant tattoos
This tattoo design is for those who have a special fondness towards tribal art. You won't believe how authentic a tribal elephant tattoo looks and feels.
An elephant with a raised trunk
In the language of elephants, the raised trunk of an elephant could mean a warning or a greeting. With a tattoo of an elephant with its trunk up, you can reflect whichever out of these two meanings you like.
If you are an elephant lover, and you wish to express your love for elephants pretty overtly, then getting one of the above tattoos done would be the best bet. These are Different Elephant Tattoo Ideas With Meaning that will make any animal lover go wow. If you are looking for Purposeful Gothic Tattoo Ideas And Meanings, then the list will certainly help you. So, what makes you wait? Get one done and do justice to your love for elephants.