Gone are the days when a round face with ebony eyes is what people considered beauty. With time, it's not just people who have changed, the concept and idea of what is beautiful have changed too. Today, with a good face, skin and hair, you also need an enviable height to steal attention.
In fact, the craze for height is such that there is no dearth of people in the world that suffer from the severe inferiority complex because of their short stature. Also check out these Bohemian Style Outfits To Try This Summer, right away. If you are short or moderately tall and wish to look taller, then it would be valuable for you to know that there are tips to do so. What are these Essential Fashion Tips To Look Taller? Check out here-
Essential Fashion Tips To Look Taller
If you are a woman, then you can add a considerable amount of height to your body by simply tying your hair into a top knot. Also Here are so many Easy Summer Hairstyle To Do Yourself. This topknot will create the illusion of height in an effortless manner.
Medium length dresses are not really meant for short women, they need something too short or floor-length. Anything in between can make you look oddly tall. So, either go for maxi dresses or micro minis.
Instead of infusing all imaginable colours into your clothing, try to keep things simple, rather monochromatic. Thankfully, the monochromatic dressing is quite a rage these days.
Try to wear fitted clothes. Large clothes can make your body look horizontally expanded, which could make you look shorter. Instead, you can wear clothes that cling to your body and add height to your stature.
If you want your legs to look long and lanky, go for high waisted bottom-wears. Maybe you can wear a pair of high-rise jeans or a skirt a little above your navel area so that the bottom of your body looks elongated. Make sure you complete the look with a crop top.
Although there are many Essential Fashion Tips To Look Taller, this one is probably the most popular- wearing vertical stripes. You also find some of the most Practical Fashion Ideas for Skinny Women. If you love stripes, then you will definitely approve of this tip.
That gigantic bag, fashion-forward women are head over heels in love with, is not really for you. Go for petite bags like the sling variety.
Out of all Essential Fashion Tips To Look Taller, this one is definitely summer-friendly. What are we talking about? Well, we are talking about chopping your hair off.
If you are short and have a shorter neck, then the best fashion tip for you would be wearing v-neck clothes. Thankfully, v necks are everywhere. Starting from dresses and t-shirts to trendy tops, almost all kinds of top-wears can be found in v necks. If you are someone who loves the v neck style, then it's definitely a reason for you to cheer up.
When it comes to shoes, always-always go for heels. And no, your heels won't have to be a pair of uncomfortable stilettoes. Even tall wedges can serve your purpose. And guess what! Heels are much more stylish than flats!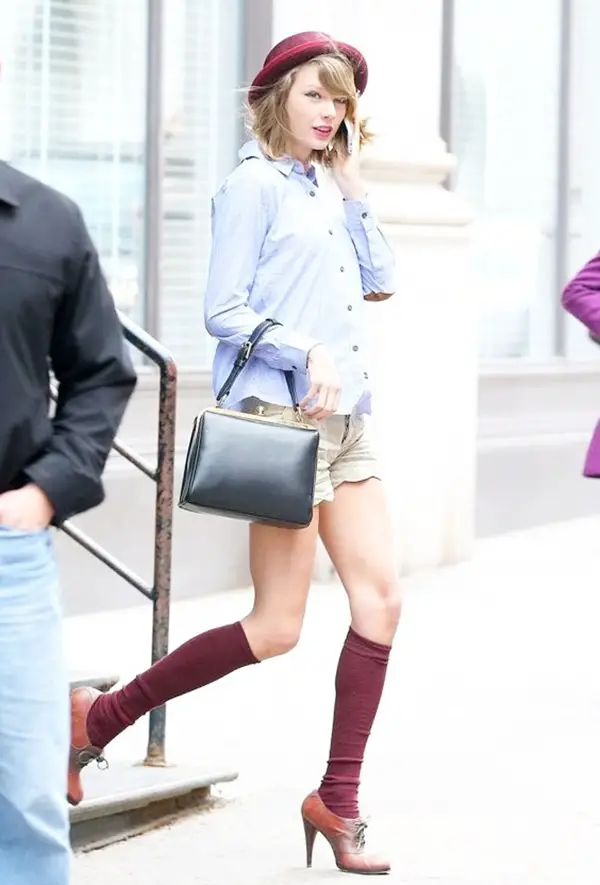 Image Source
There is no denying the fact that a tall body build can enhance an individual's personality to several notches. And guess what! A little extra height can make clothes look so amazing on you. And that is probably the reason why people so earnestly wish to look taller. And if you are time-tested him then there is good news for you- the Essential Fashion Tips To Look Taller dishtime-testede are time tested and almost always work. Here you find some amazing High Heel Looks For Teen Girls to try out. So, try them out and make yourself a subject of envy for the people around.