Are you bored with your usual look? Searching for an amazing idea to surprise your husband tonight? What is that one thing fashionable girls wish to crave on their skin these days which reminds them of something really significant?  Can anyone guess? Well, it's time to think about getting a unique kind of makeover! You won't believe, but it's true – even getting a small cute tattoo inked on your body can transform your entire personality. Below, we present small but cute meaningful tattoos for women for your inspiration.

Tattoos can rightly be considered unique accessories for women as they can make the inked area look more appealing and are really helpful in expressing our hobbies, interests, or spiritual feelings. Come on, let's see! Here we present some Simple Tattoos With Sophisticated Meaning. Have a look-
Small But Cute Meaningful Tattoos For Women
Feather Tattoo!
The best way to reflect your free spirit and celestial essence is by getting a feather tattoo inked somewhere on your back or forearm. This design shows your wish to be as free as a bird or something you may have already achieved. But, if you want to combine freedom with strength and power, then undoubtedly go for eagle feather tattoo design.
The Galaxy Tattoo!
It's an extremely beautiful tattoo idea! Just imagine – all kinds of stars, big ones, small ones, and very small ones combined in one single tattoo design with other elements of the galaxy. If you wish to make it look more natural, but exact colors into the picture for a real galaxy effect.
Small Arrow Tattoo!
Like stars, arrows are categorized among small but cute meaningful tattoos for women. To give it a typical cupid look, you can add a small heart in between the two arrows. Further, if you dream of an archaic arrow looks, don't forget to add carvings and other details for a complete look.
Positive Dolphin!
Have you ever thought of portraying dolphins roaming through sea waves on a body? If not, then this design is surely a scene worth to be admired for ages. This small tattoo idea looks cool on young gals and ladies. Dolphins are usually described as human life-savers and seem to be highly social creatures, thus signifying friendship, goodwill, and intelligence. Also, you can try out these Hot Air Balloon Tattoo Designs. Have a look-
Ladybug Tattoo!
This tiny red insect is a positive and inspiring tattoo idea for women of all ages. When in doubt, whether to go for tattooing or not – these pretty red insects covered with black dots prove to be super functioning. This tattoo is best done on the wrist, finger, shoulder, or lower back. Overall, the ladybug symbolizes good luck and prosperity.
Luxurious Diamond!
Are you looking for a unique way to show your love for luxury and beauty? Well, DIAMOND is the word meaning 'unbreakable'. Diamonds tattooed on a gal's finger signifies strength and power rather than just luxury. This design is also considered as one of the most popular small but cute meaningful tattoo ideas for women and young girls.  Also, check out these Lovely Key Tattoos for Girls.
Geometric Design!
Geometric tattoo designs are in huge demand for the last couple of years. This tattoo design gives you timeless appeal and will get you many compliments from people around you. Isn't that cute? In other words, geometric designs are more socially acceptable and look stunning on your forearm.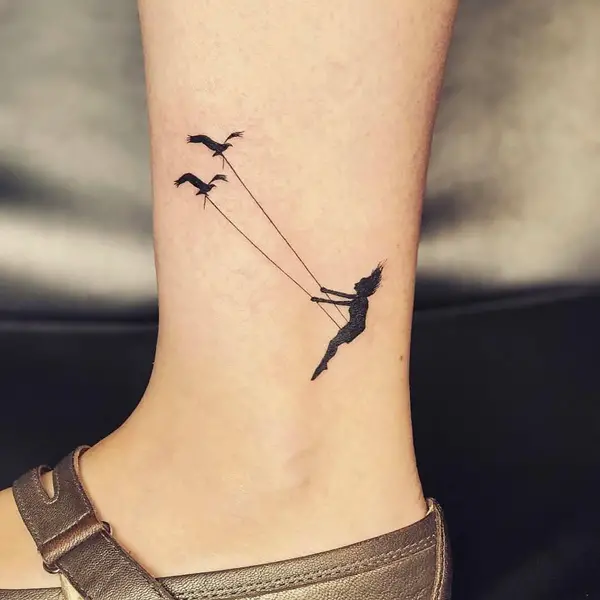 Image Source
In short, there are multiple ways in which you can shape your tattoos to express your individuality. In fact, your tattoo can be a symbolic representation of your personal journey. For example – when you feel let down in life or if you are broken heart, a glance at your small but cute meaningful tattoos will make you strong from within and will definitely help you in seeing the brighter side of life. Also, here are some beautiful Butterfly Tattoos Designs for Girls. Check out