Songs are next to breathing for a lot of people. And tattoos are a way of life. When you mix the two, you get pure perfection. If you are someone who loves tattoos and music at the same time, then going for a song lyric tattoo would be the best bet.

For someone looking for the best options, the Song Lyric Tattoos Ideas dished out below would be ideal. Also, Check out these Small Tattoos With Powerful Meaning for inspiration. Have a look-
Song Lyric Tattoos That Will Inspire Your Music-Loving Soul
"Don't look back in anger" by Oasis
Although there are many Song Lyric Tattoos Ideas, this one can be opted for by anyone, irrespective of gender or age. Although the connotation with which this line was used in the song was different, we could look at it as something really inspiring- your past was your past, bitter or sweet, you must learn from it and not look at it with scornful eyes.
"We can be heroes just for one day" by David Bowie
Can't we all be heroes just for one day? Yes, we definitely can. And that would change many things in the world and it would be a better place to live in.
"Nothing except love in the end" by David Gray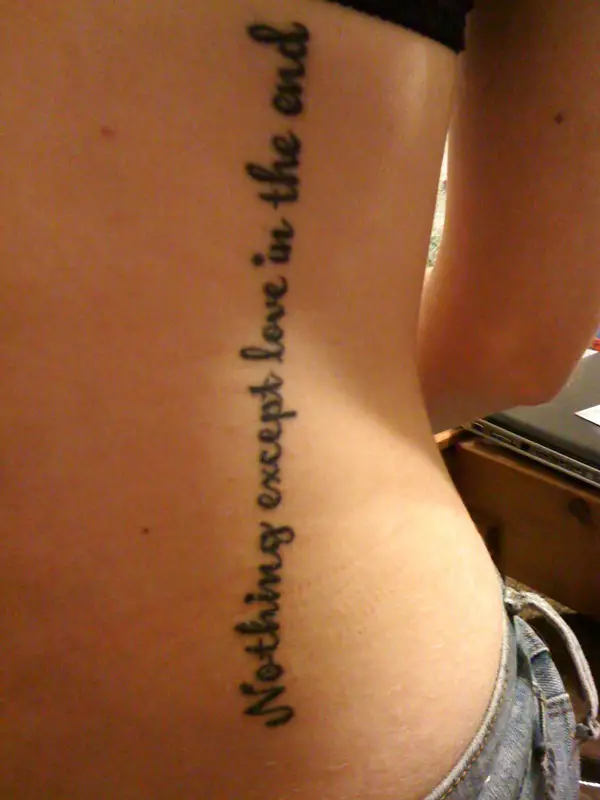 Image Source
No matter how much hatred you nurture for others, it's not anything but love that lasts. With this tattoo, you will definitely show your positive side.
"It's just a spark" from last Hope by Paramore
If you are too fond of this song, then get this line etched on your skin. The use of the word spark itself brings new life to this tattoo. Perfect for women!
"I am not afraid to keep on living" from famous last words by Chemical Romance
If you have seen many ups and downs and have still managed to move forward with grit, you are a real inspiration for yourself and others. And this tattoo is reflective of who you are. Also, take a look at pleasant floral tattoo ideas for girls.
"Though I try to resist I still want it all" by artist Troy Sivan
For the winner that you are, this excerpt from one of Troye Sivan's songs is the perfect tattoo text for your tattoo. Get it inked and flaunt your life's philosophy.
"But she found herself and somehow that was everything" from Tailor swift's Clean
It's when a girl understands herself the most, she is the happiest. And this line reflects this thought. As a tattoo content, this line is just amazing. Here are the best Cute Sleeve Tattoos For Girls that can suggest the best artwork for you.
"You are alive" by the band 1975
Yes, you are alive, despite all the hardships that you have gone through, and all the criticisms that tried to pull you down. And it is this celebration and triumph over hardships that you can represent with this tattoo.
"Everybody's got their demons" by the band 5 Seconds of Summer
Talking about the decent side of people with positive Song Lyric Tattoos Ideas is not enough, you also need to talk about the demonic side of a man's personality. If you feel it's cool to flaunt your darker side, get this line etched on your skin.
"Life has a hopeful undertone" by Twenty One Pilots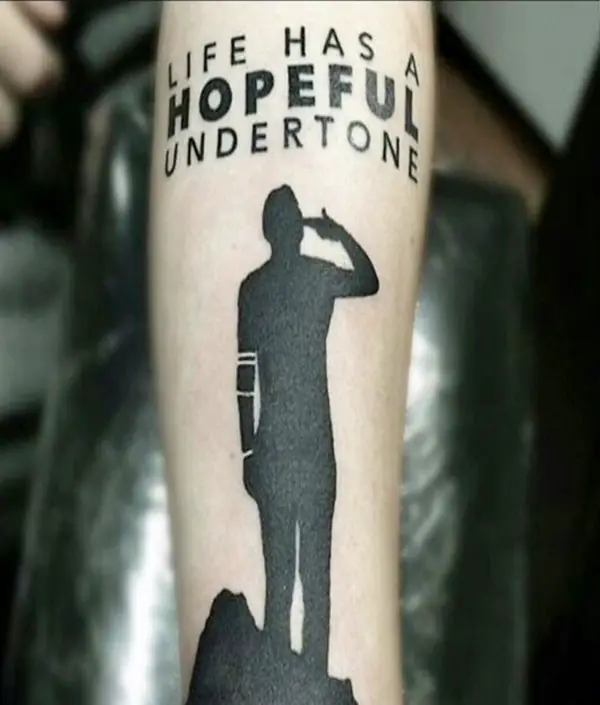 Image Source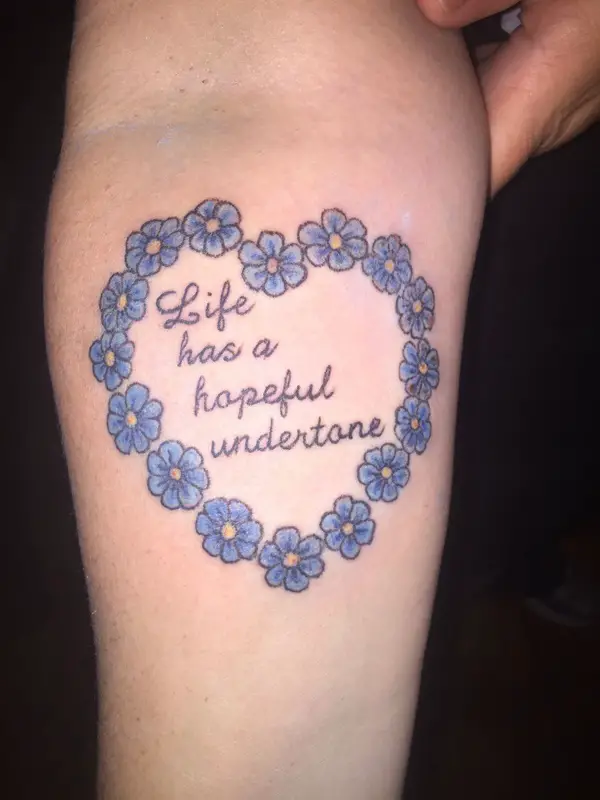 Image Source
Yes, life has a hopeful undertone, and it is strong and conspicuous. With a lovely tattoo inked on your skin that spreads this positive message, you will really feel great about yourself and your taste for tattoos.
When it comes to Song Lyric Tattoos Ideas, we like them to be subtle yet impactful. But sadly, in most cases, subtle is not impactful in the present-day scenario. So, does that mean the same rule applies to tattoos also? Actually not! Tattoos are sexier when they are simple yet powerful. A gaudy design might catch people's attention, but they will never make you subject to compliments. But something that is simple as well as impactful will earn you a lot of appreciation. Also, here we have some amazing Inspiring Travel Tattoo Ideas For Wanderers. So, try out the above ideas that are not just minimalistic, but also extremely impressive, and make people go wow.