Do you really love crafting? And do you want your crafts to be out of the box? If yes, then it would be valuable for you to know that unique crafts get created with unique resources. And now, when we say unique, we also involve paint stir sticks. Are we kidding? Not at all! The paint sticks that you pick from the shop when you buy paint, can be a great DIY resource. To believe it, you have to read on the following. Below, we have some of the most visionary DIY paint stick craft ideas to try at home. Here we have some Seashell craft DIY ideas which are an idyllic way to indulge in fun and adventure that lets you weave a thread of memories for your lifetime. Have a look-

Visionary Diy Paint Stick Craft Ideas
Decorative Arrows
Although there are many visionary DIY paint stick craft ideas, this one is pretty easy to create. Yes, we are talking about decorative arrows. All you need is to glue the paint sticks together in the form of arrows, and you are good to go. You can paint the arrows to make them match your house's interiors. Apart from using these arrows for the purpose of decoration, you can also mount them on the wall to show the direction to certain areas like the toilet, the patio or the guest room.
A pretty Sunburst Mirror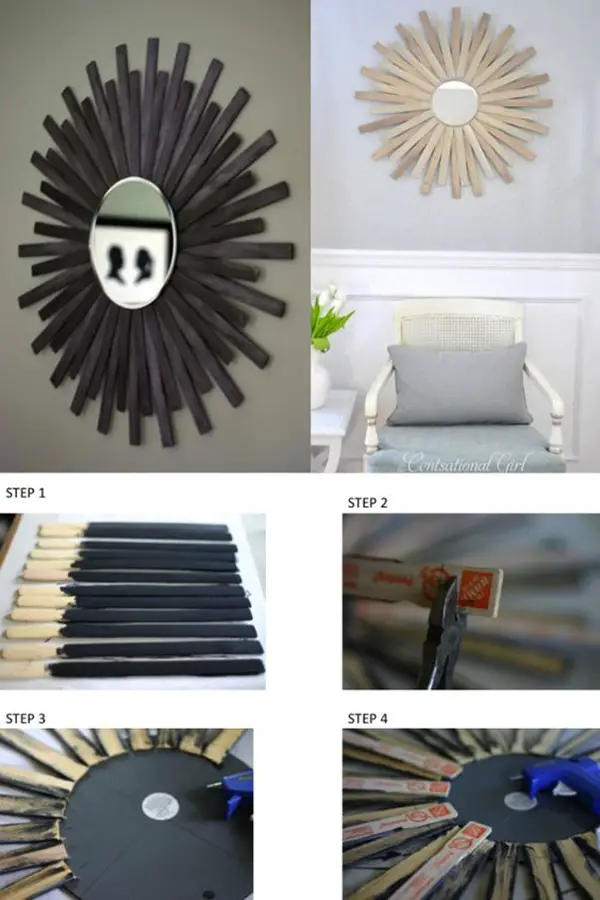 Image Source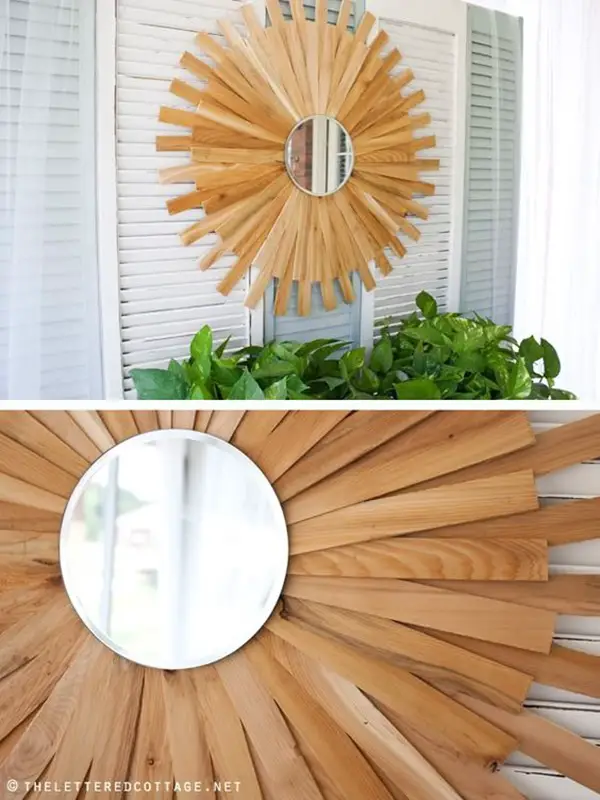 Image Source
When it comes to visionary DIY paint stick craft ideas, the sunburst mirror really deserves a mention. No matter what you create a sunburst mirror with, it is going to look visually appealing. The attractiveness of the craft grows hundredfold when the material used for crafting it is painted sticks. With a little bit of extra decoration, your paint stick sunburst mirror will attract quite a lot of gazes. Also, take a look at Sewing Projects To Make And Sale that you will definitely find useful.
A lovely Lampshade with Paint Sticks
Yes, you can create a lot of crafts with paint sticks, but there is nothing like creating something useful. Take a paint stick lampshade, for instance, it can simply spice up your bedroom scene. The best thing about this craft is that it is super easy to create and it doesn't take a lot of your time. With this craft at your home, you will definitely earn compliments from your guests. If you love being complimented for your efforts, try crafting a paint stick lampshade right away.
Amazing Table Runners
Another functional craft that you can create with paint sticks is a table runner. Your dining table won't be that boring anymore, your paint stick table runner is an absolute stunner, after all. So, what makes you wait? Dump that boring burlap runner for a woody paint stick runner, and enhance your dining experience. Moreover, here are some DIY ideas for kid's room.
Paint Stick Wall Décor
You need something on the walls to make your interiors look sophisticated. Yes, you can shell out cash and get any decorative item you like, but the feeling of having self-made wall decors at home is simply amazing. And guess what, there are millions of ways in which you can use paint sticks to create a wall art, and you can get as creative with them as you might like to.
Paint Stick Flags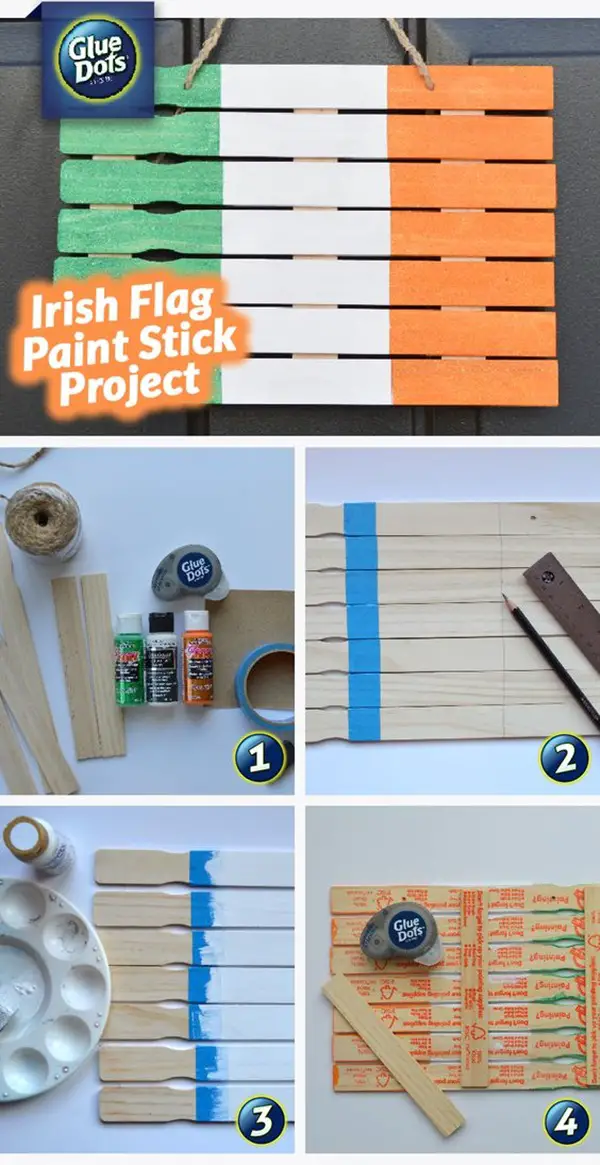 Image Source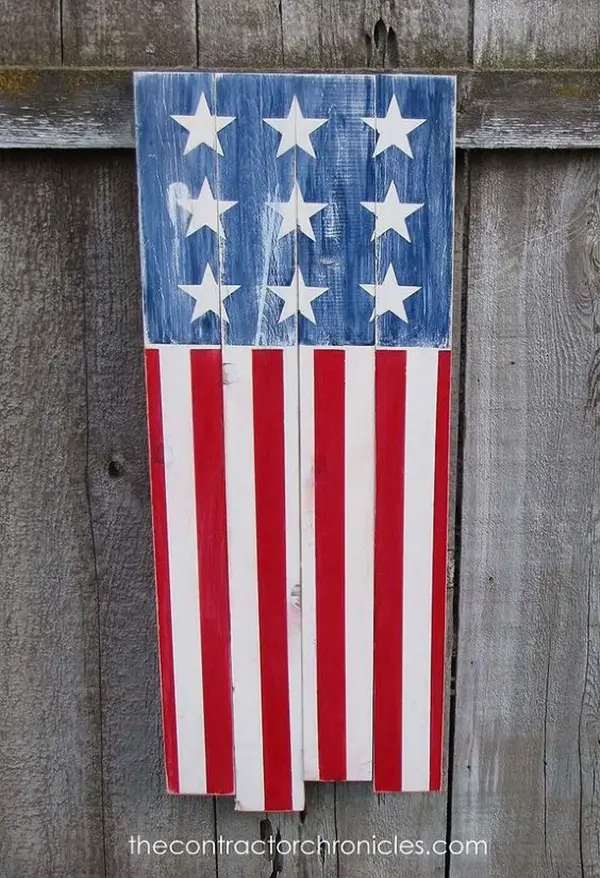 Image Source
You don't really need a reason to craft a flag. Still, the decoration is a valid enough cause to try your hands at this craft. And all that you would need is a little glue, a couple of paint sticks and some paint. This is definitely a great way to indulge in your fondness for flags.
The above visionary DIY paint stick craft ideas are great when you don't know what to do with all those paints sticks lying at your workshop. And guess what, the items that you create turn out to be so amazing they almost look store-bought. You can not just create decorative items with paint sticks, but also super functional household essentials. So, get creative with paint sticks and add some attractive and functional items to your home's interior space. Also, take a look on DIY geometric craft and decor ideas.