When a painter starts his journey, he often paints landscapes to have a better idea of perspective, the impact of natural light on objects, and of course, the magic of colours. But the compositions he tries out are often simple. If you too are a beginner-level artist, looking for some enigmatic yet simple landscape compositions to paint, then the following ideas will help you immensely.

Below, you find some of the most Simple and Easy Acrylic Landscape Painting Ideas to benefit artists of all expertise levels, especially beginners. Also, here we present some Examples and Tips About Acrylic Painting. Have a look-
Simple and Easy Acrylic Landscape Painting Ideas
The silhouette of a tree against a beautiful sky
Although there are many Simple and Easy Acrylic Landscape Painting Ideas, the best one is definitely the composition wherein a tree features against a beautiful sky. You get a better effect when the tree concerned is in a silhouette form. Painting trees are easy; more so, when they are required to be given a silhouette effect.
A lighthouse with water around
Lighthouses have always been an object of fancy for people. And landscapists show a special fondness for them. After all, their inclusion in landscapes makes them so much more interesting. But what is the reason that we include a lighthouse equipped composition in this list? Well, lighthouses are easy to paint. And they can make any routine sea landscape look special. Perfect for beginners!
The silhouette of a boat sailing over calm river water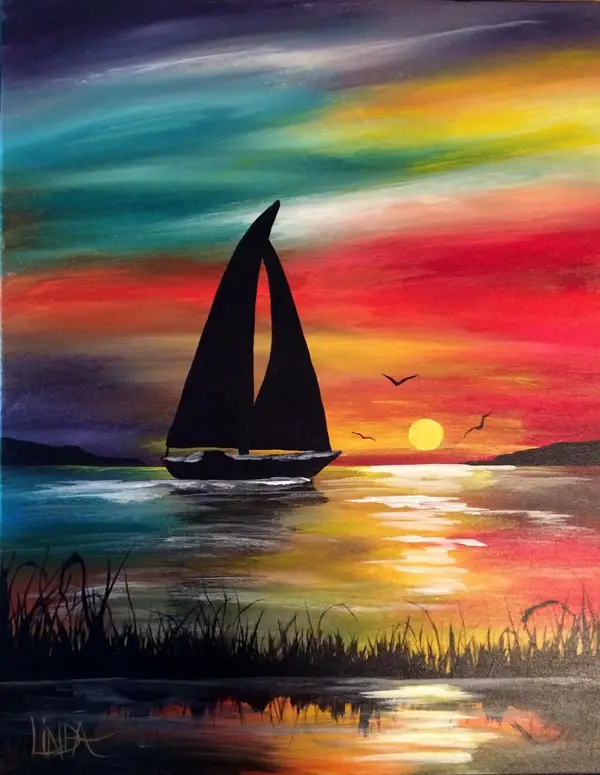 Image Source
When you were small, you were probably made to draw boats sailing across rivers by your art teacher. Have you ever wondered what makes this composition so popular among school-level learners? It is easy to draw and paint. And for the same reason, we have included it here. A 'boat and water' landscape is not just easy to paint, it also looks mesmerizingly beautiful.
A beautiful waterfall
Have you ever painted a waterfall? Unless and until you do, you will keep thinking they are difficult to paint. Just try a waterfall composition once, and you will know it is not just simple to paint but also extremely beautiful to look at. To make your waterfall look surreal, add additional natural elements like trees and birds around it. No matter how you create this painting, with acrylic colours, it is going to look great. You can take some idea from these Creative Acrylic Painting Ideas For Beginners.
The horizon
Talking about Simple and Easy Acrylic Landscape Painting Ideas, we can't overlook a composition that features the horizon- that line where the sky meets the earth. Horizons are popular! And they have always been a favourite among landscape artists. The fact that they can be created in many different ways makes them a popular choice even among painters who love to paint out of the box. Try this composition and boost your acrylic painting skills, almost effortlessly.
Painting a meadow
Meadows are beautiful beyond question. Dotted with flowers, bunnies, and trees, they look spectacular. And guess what, with acrylic paints, their beauty on canvas gets accentuated manifold. Also, take a look at Beautiful Acrylic Portrait Paintings Ideas.
A moonlit landscape composition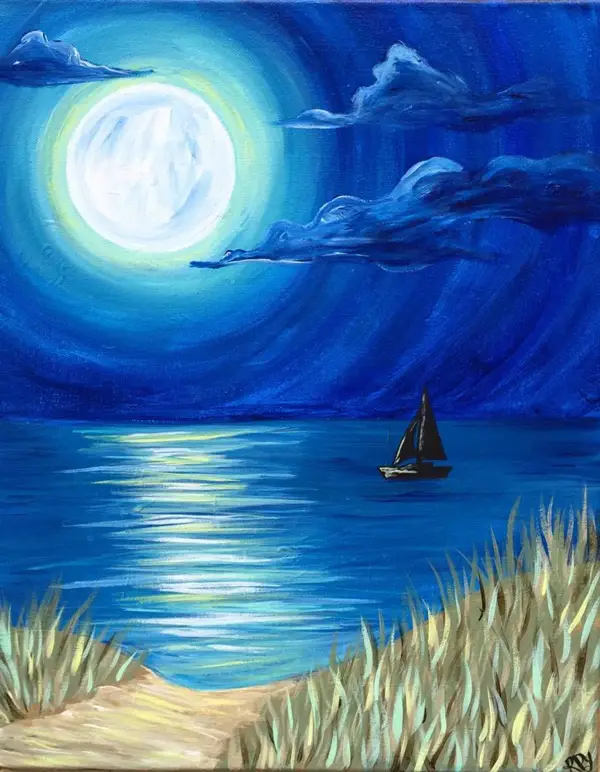 Image Source
Just stare outside the window to observe the moonlit sky. It has everything in it to soothe your eyes and heart. Interestingly, you can cause your moonlit night sky landscape compositions to have the same effect by doing them right. Use good quality acrylic colours and paint with love, passion, and patience, you will get the results you want.
Painting with acrylic colours is fun and challenging at the same time. Acrylics don't have a runny consistency as do watercolours. And that is why working with them is a sweet-bitter experience for many. Nevertheless, the results you get with acrylics are outstanding. You will be even more glad to create paintings based on the above Simple and Easy Acrylic Landscape Painting Ideas as they are simple and creative at the same time! If you love acrylic colours and wish to create beautiful paintings with them, then the following beginners' guide on easy acrylic canvas painting ideas is what you need today.