It's oodles and oodles of fun to work with acrylic paints. This paint has a consistency that makes painting even the most boring of compositions super amusing. And guess what, you can use acrylic on almost all sorts of surfaces. Doesn't that make this painting medium super fun and exciting? Well yes, why not! If you love acrylic colors and wish to create beautiful paintings with them, then the following beginners' guide on easy acrylic canvas painting ideas is what you need today. Also, Check out these Beautiful Acrylic Portrait Paintings Ideas. Check out-

Easy Acrylic Canvas Painting Ideas
A simple Abstract Painting
Although there are many easy acrylic canvas painting ideas, there is nothing that is easier and fun to paint than a simple abstract composition. So, what is so good about abstract paintings? Well, such paintings need not be too accurate. For instance, an abstract eye doesn't really need to look like the real eye; it doesn't need to be too realistic. And that is an amazing advantage beginner can expose themselves to.
Sky Compositions
You probably love staring at the beauty of a star-studded sky. You also probably love how beautiful a sunlit sky appears. If you love the sky and appreciate how it changes its beauty with the change in time, then choosing it as a composition for your paintings only seems indispensable. If you are a beginner, and you don't want to enter the complexities of painting a sky, then choosing a pretty sky composition to paint with a simple foreground would be the best bet. Also, here we present some Creative Acrylic Painting Ideas For Beginners.
Flowers
Who doesn't love flowers? They are a thing of joy and can make you feel happy just with their sight. And a lovely composition that flowers are should definitely figure in your paintings. Do paint them with acrylic paints, so that the opacity you get makes the flowers look real. Try having different flowers within the same frame so that you can test your versatility as a painter. And don't forget to derive inspiration from existing works. Trust us, that is the best way to learn.
Patterns
Out of all easy acrylic canvas painting ideas we have here, this one is pretty interesting and of course, easy. All you need is to figure out what exactly you want to paint and then get going. Patterns are not really too difficult to paint, but without the right planning, they can be a mess. So, undertake the planning part a little too seriously. For extra precision, you can always first draw the patterns on the canvas. Make sure the pencil strokes you make are not too hard. Otherwise, they could show from underneath the paint. Although chances of that are bleak, being careful doesn't harm.
Minimalistic Landscapes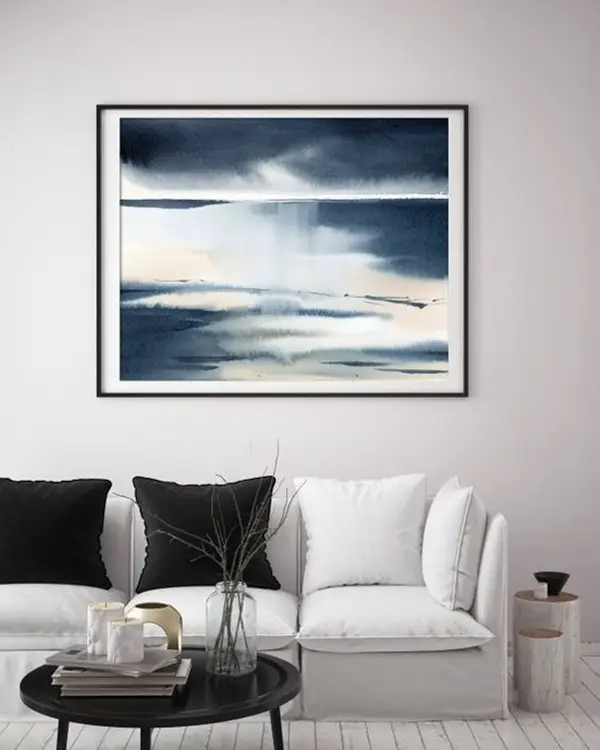 Image Source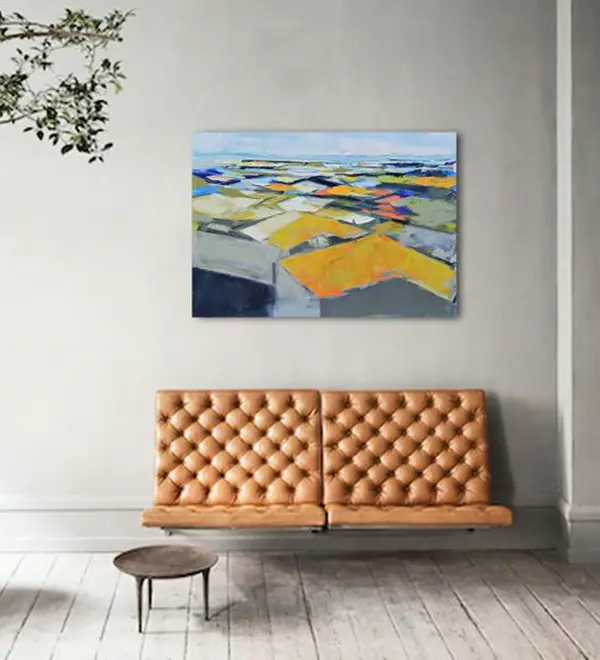 Image Source
Landscapes are not an easy acrylic painting composition. And for a beginner level painter, a landscape could be the hardest thing to paint on his canvas. But when you choose a minimalistic composition, the difficulty level of reduces to half. And that is why you should choose easy landscapes to paint during the early days of your painting career. With simple compositions, you will have more time and patience to offer to each and every element in the frame. And that will surely give you a better picture. Here we have some fantastic Abstract Painting Techniques And Ideas for you to try on.